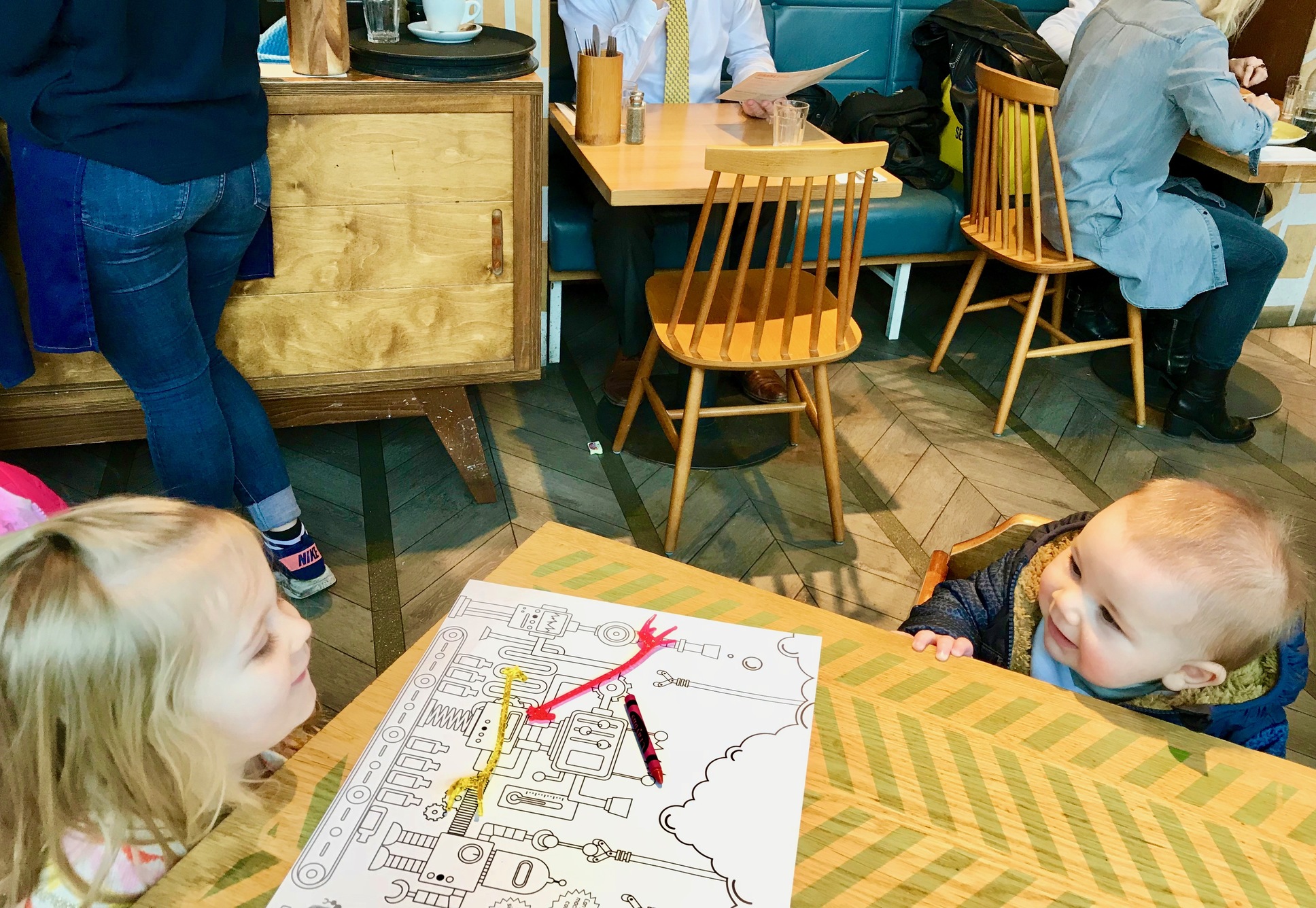 What does a family that's travel obsessed do when they're at home? We eat our feelings, obviously. We're suckers for meals that remind us of our global adventures without draining our piggy bank for future travels. One might think that sounds like a pretty attainable restaurant goal until you add in those tiny ducklings that seem to follow us everywhere we go. Not only are these stage 5 clingers known to make a scene, but they're experts at waiting impatiently, make a hobby of refusing to eat what's being offered and generally cause side eyes from anyone in the near vicinity. When you put those filters into your restaurant search you're left with very few places where you can actually enjoy a meal, or even show your face at again.
Enter Giraffe World Kitchen.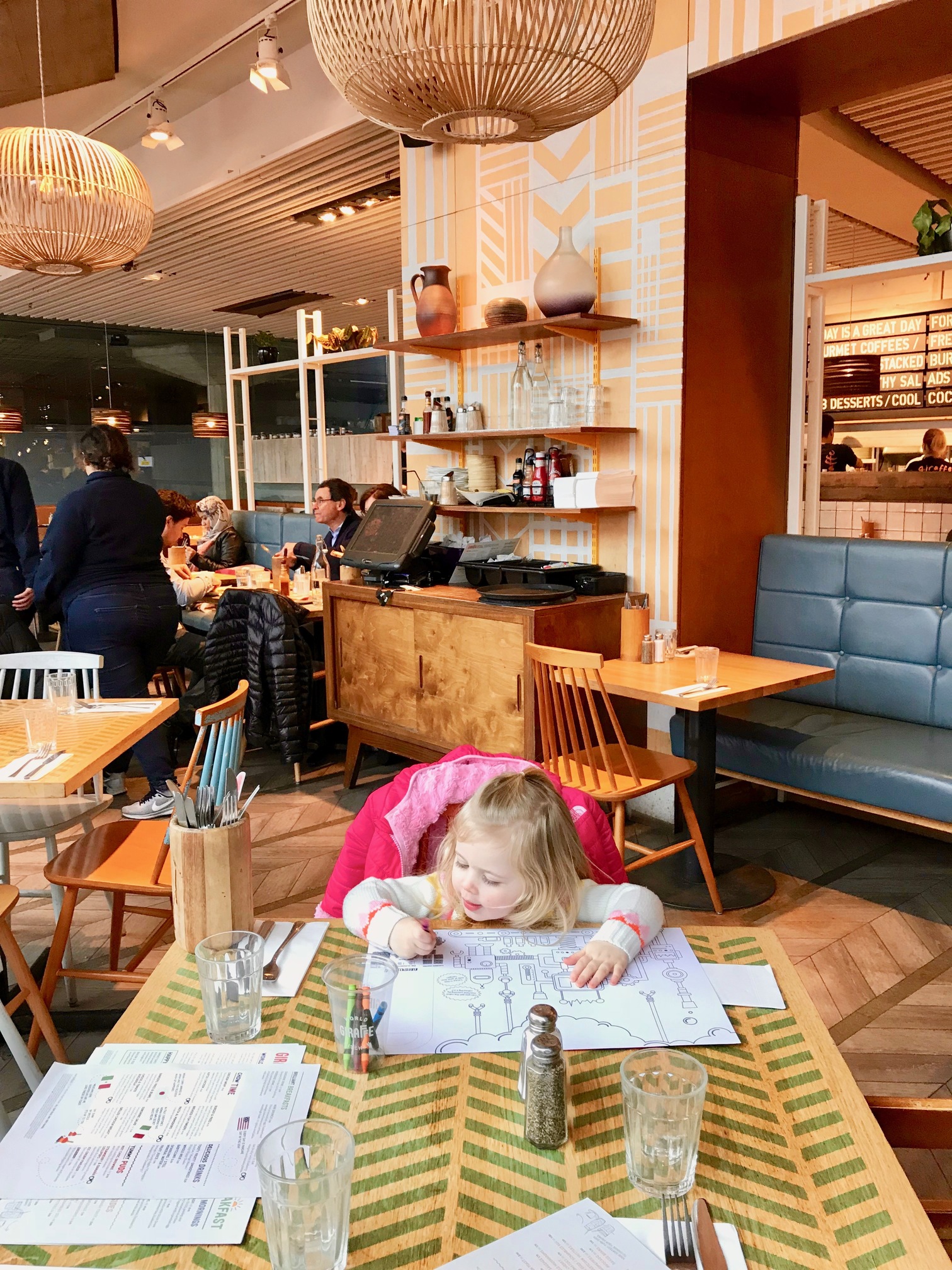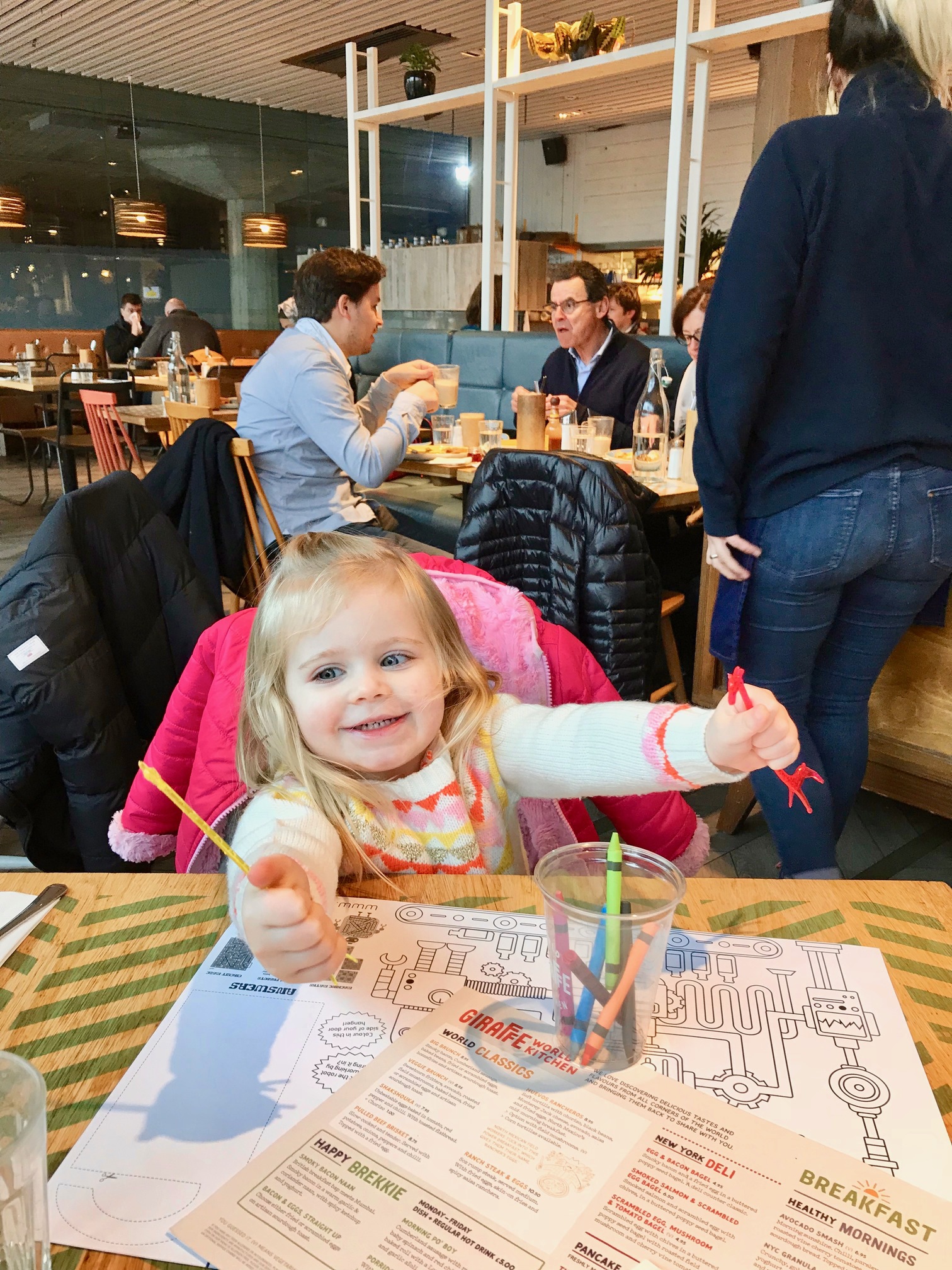 A place where travel bellies like ours thrive and "kid-friendly" means more than just a waitress that will tolerate your children's existence. I'm talking a buggy parking zone, high chairs as far as the eyes can see, baby changing facilities and a kid's menu that every kid can find something they'll love. They even had crayons instead of those sharp pointy colored pencils that you're certain will result in your child being "that kid with the eye patch" for the rest of their life. A small detail, but one I truly appreciate as a parent of two unpredictable, and generally stabby minions. Between the free plastic giraffes for the toddler and the fresh banana given for the baby to slobber on, we were able to actually eat our meal amidst other humans in public. Shocking, I know.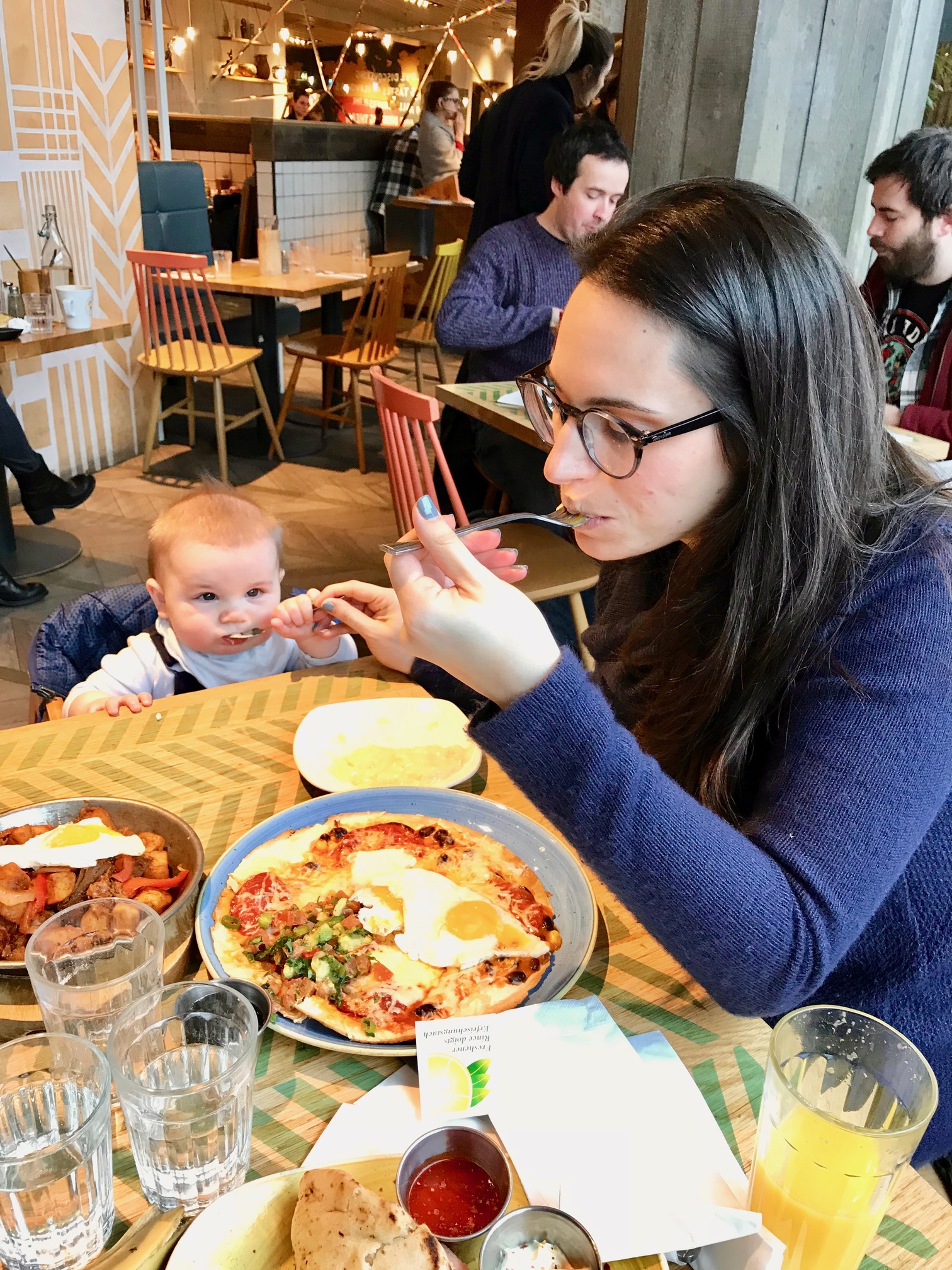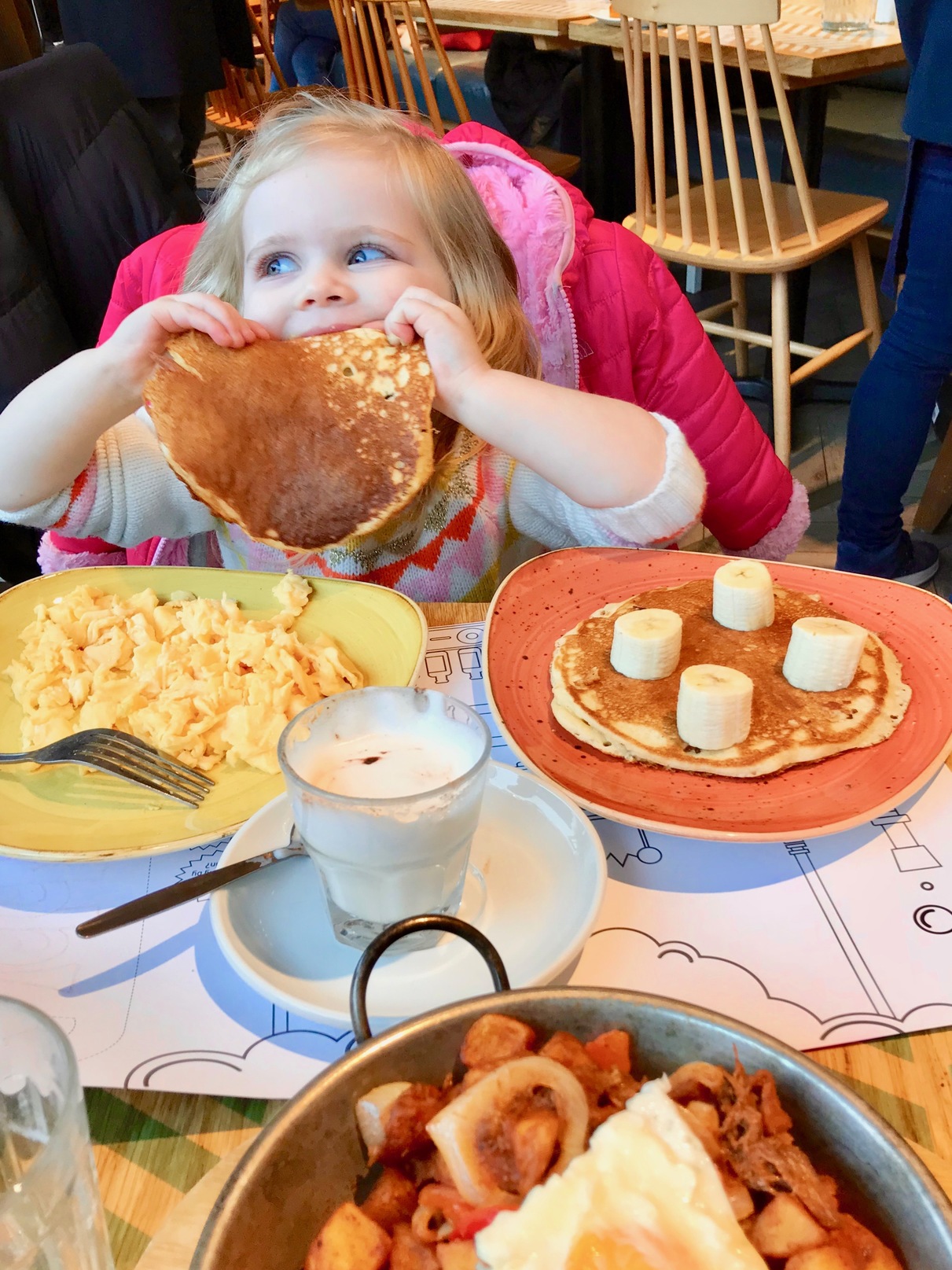 Having been on a travel break for a few months, we decided to go on a round-the-world eating tour at Giraffe World Kitchen. American Po'boys and brisket hash, Mexican huevos rancheros, Indian naan breakfast sandwiches and pancakes from Toddlerville. It's safe to say we might not be hungry until our next trip. The toddler shoveled food into her mouth like we hadn't fed her in weeks, and the waitress supplied spoon after spoon with a smile for the baby who kept chucking them. All this for a bill that totaled less than a taxi ride and in a short enough timespan that the baby actually stayed in his highchair the entire time (i.e.: pretty fast).
As a traveler and a parent I've come to really appreciate places like Giraffe World Kitchen. Somewhere I can actually get flavors from my adventures in an environment where I won't feel shunned for bringing my offspring, and at a price I can afford to order food for my kid and then not cry if she doesn't eat it. To make things even better, Giraffe World Kitchen is offering a Kids Eat Free Over Easter deal. So if you're like us and have decided to conserve funds by not traveling over Easter weekend, you can treat your stomach to global goodies and not pay for something kid related for once.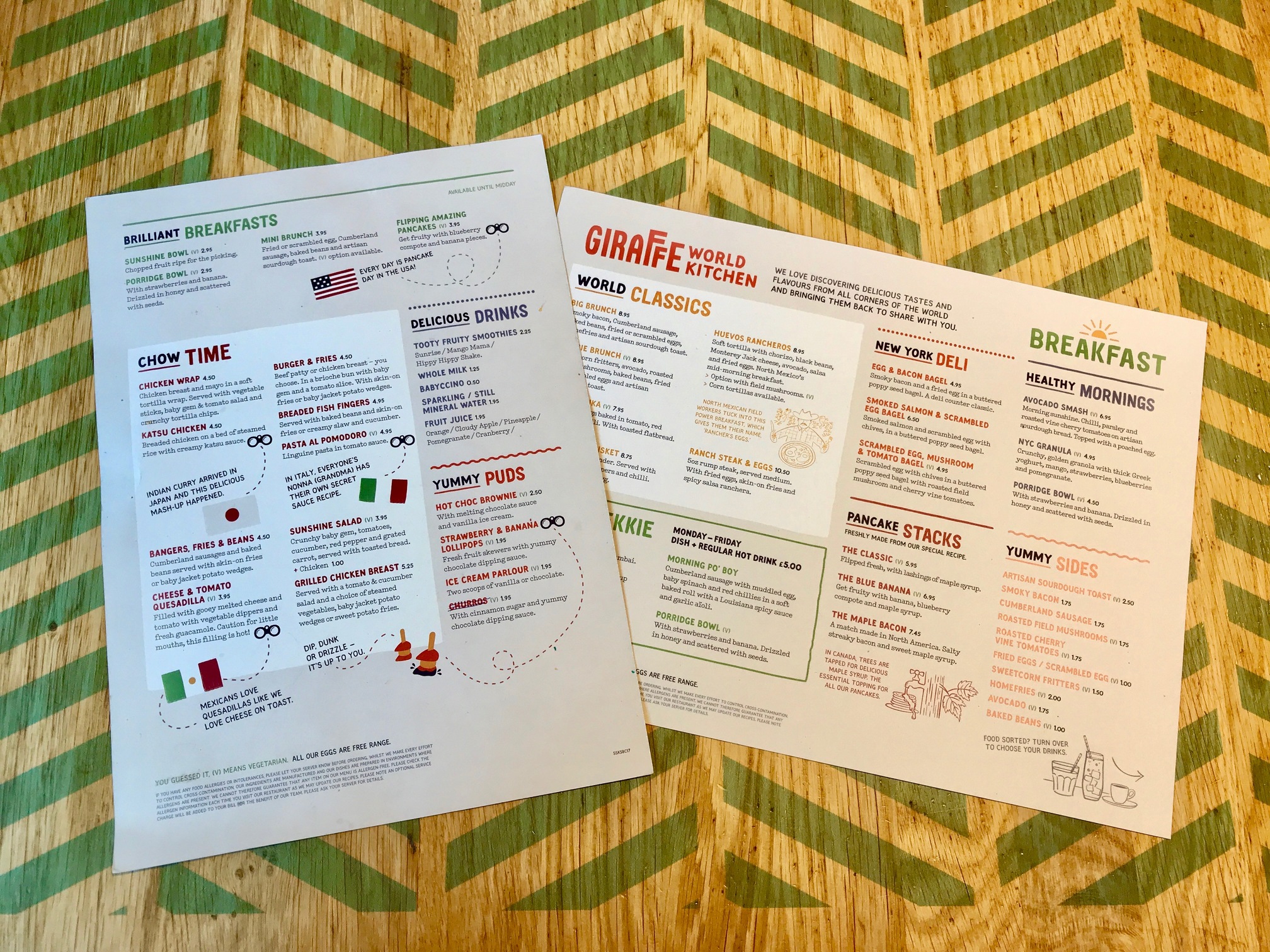 I'm excited to partner with Giraffe World Kitchen to sponsor this post and highlight their Kids Eat Free Over Easter deal. Not just because they gave me free food, which is in fact the way to my heart, but also because they have a great global menu in an environment that's not easily found, as in one that you can take your children to without fearing the outcome. So go enjoy some food over Easter with Giraffe World Kitchen!