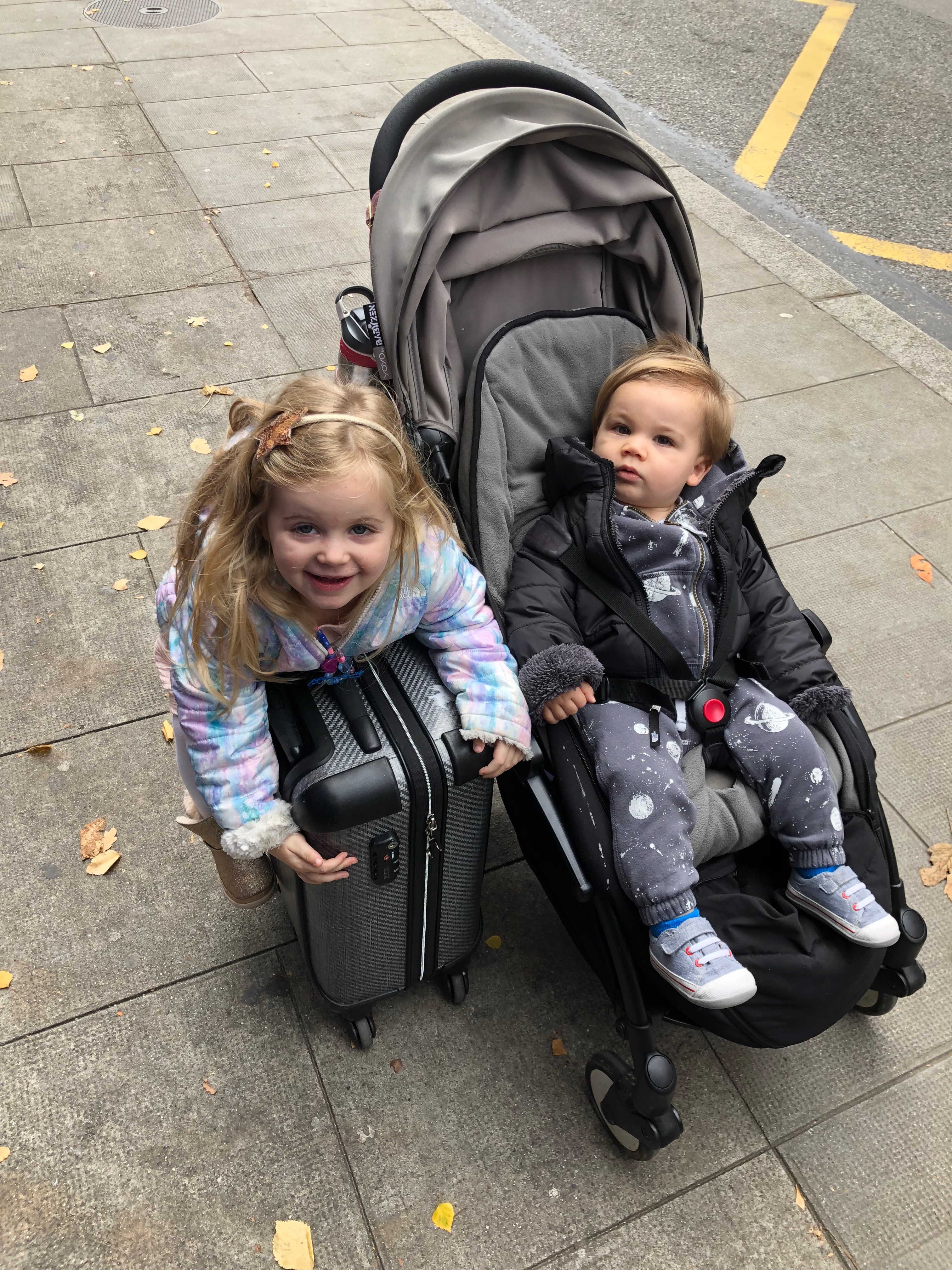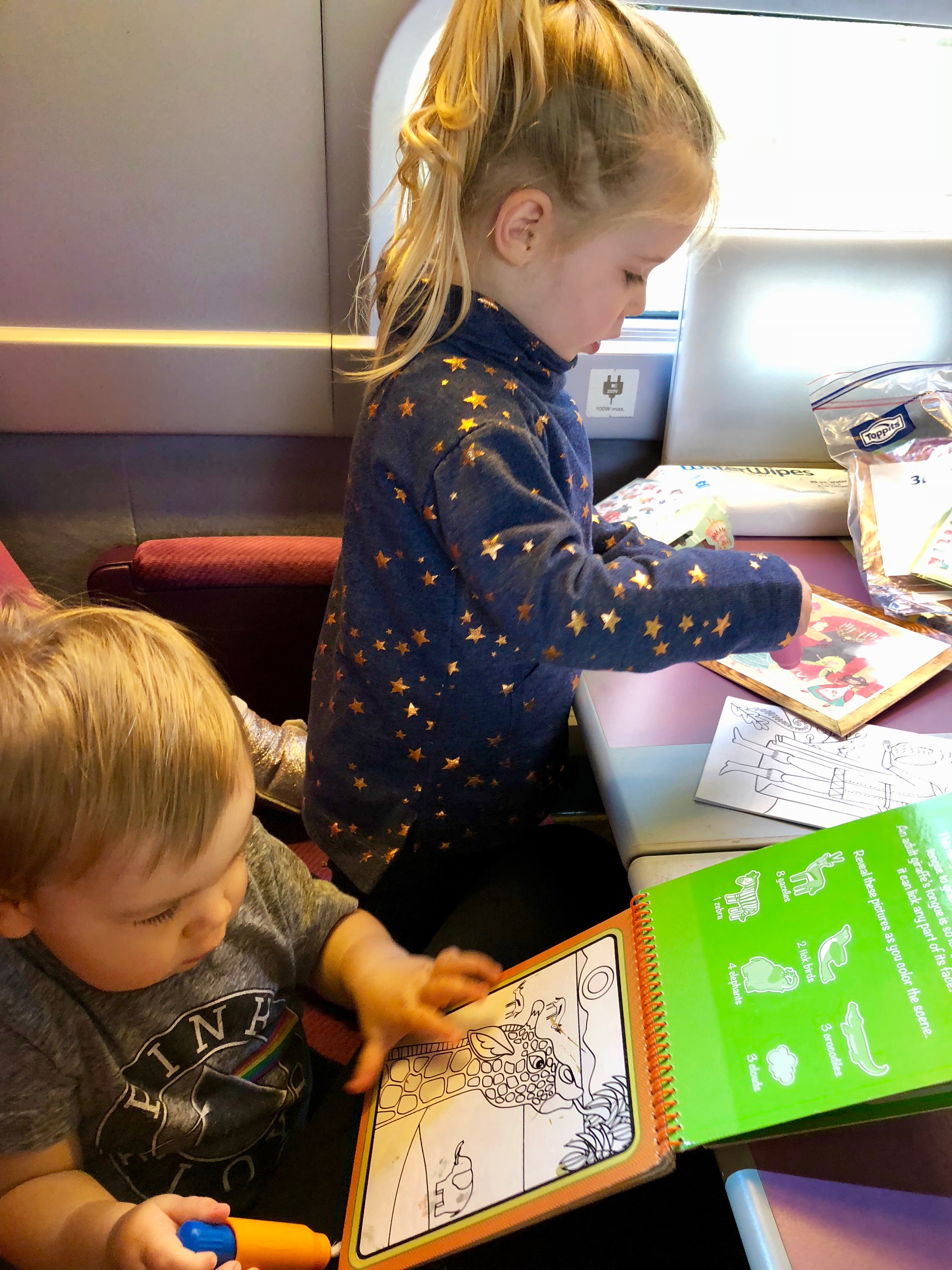 Travel toys for toddlers need to tick a lot of boxes to make the cut. Our kids are 3 and 1 years old, so we need items to be compact, low on the mess scale, entertaining enough to schlep, ideally playable for both ages, and have the fewest amount of pieces that can be dropped on the airplane floor so we can avoid bringing home The Plague along with our travel souvenirs. Like a millennial's Starbucks order, this is a nonfat, no room, orange mocha frappuccino level order to fill. To help with this vente request I've found that bringing just a few parts of some toys is enough. For example, it's hard to find small coloring books, and I don't need a 50-page monstrosity taking up their entire bag, because once they're over that activity they're over it like palatzo pants. So if I can't find a small coloring book, I'll just rip out a few pages of a larger one to bring along. With that in mind, while this list contains the full products, I'll rarely have it all in our bags so we can stay light and agile, similar to a pregnant cat.
Magnaformers – These don't follow my "fewer pieces fewer germs" rule for travel toys, but they're at least magnetic so they stick together. Both the 1 and 3-year-old can play with them without risk of it getting stuck up their nose and they're a great open-ended play item that always seems to be in my purse or travel bag. I bring about 10 squares of them at any given time.
Melissa & Doug Water Wow Coloring Books – The gift that keeps on giving, I have about 6 of these in the house and some have been in use for 2+ years. You just fill the pen with water and the kids use them to unearth the colorful scene on the page. They're great for both kids to play with and are zero mess, my favorite kind of toy.
Melissa & Doug Paint with Water Activity Books – A fun activity and one that requires just some Q-tips to be thrown in the bag to use as paint brushes. Each page has solid squares of paint at the top which turn into watercolor with…you guessed it…some water. I rip out about 6 pages to bring at a time and it's super lightweight and entertaining travel toys.
Small Coloring Book with Stabilo Colored Pencils – I'm a bit of a coloring book hoarder. Whenever we're at a restaurant or on a plane where the kids are given a small coloring book I put one away in their travel pack since they're always the perfect size, and they're just the right price of FREE. When those run out I cut some pages out of whatever her latest cartoon craze is whether it be Paw Patrol or My Little Ponies. I bring about 10pgs at a time and both kids can let their artistic toddler rage out onto the page. Also, screw crap crayons, these Stabilo colored pencils will keep the pirate patch at bay and leave super bright color on the pages. P.S. When you get excited about colored pencils you know it's time to get a hobby #SOS
Dot Stickers and Templates – I keep seeing these on all the Pinterest mom sites and I'm ready to join the dot sticker parade. It combines a kid's love of all things stickers and a focused attempt at creating or following directions. I love that the 1-year-old can sticker anything from the water bottle to the inside of his mouth and the 3-year-old can do the actual activity. Buy the dot stickers and then print out some dot sticker templates from Pinterest and poof, you have yourself some travel toy gold.
Little Cosmetics Pretend Makeup Set – Because between flights one must always reapply. This kit is compact, self-contained in the small bag it comes with and includes a bunch of fun items for them to play with. There's no actual makeup as it's just solid plastic so it's mess-free and open-ended play. And if you're thinking this is a girl toy, shame shame! My 1-year-old boy loves playing with this as much as the 3-year-old. Boys can be fabulous too.
Lace-Ups – It's amazing how totally incapable a kid can be when they want to be, but then you blink and they've laced, crocheted and basically knit you a new winter wardrobe. This lace-up kit is great for their eye-hand coordination, which clearly our accident-prone preschooler could use, and it takes a while to accomplish, all in all, a travel toy win to me!
Lakeshore Learning Adventure and Fantasy Backpack – I haven't used this one personally, but it's on my holiday wish list because I think it looks awesome. The back unfolds to make a play scene and it comes with either unicorns or dinosaurs for whichever tickles their fancy. It can be their carry-on and their travel toy, which is a double win.
There you have it! More than 10 travel toys that are all perfect for traveling tots whether by plane, train or automobile. Even though the iPad still reigns supreme, kids get bored of the zombie life during long travel days, so we always have something on hand for when they look up from their Netflix, learn to blink again and want to play with us. Side note, protect that pricey iPad with a great case like the one we use by Cooper Dynamo and the only headphones my kids will tolerate for more than 2min is the hilarious looking CozyPhones. For more presents, products, and parenting survival picks head to The Worldwide Webers Amazon Store for over 100 items that we love and use! Good luck with your holiday travel and may the family travel gods be ever in your favor!
FYI: None of these travel toys are sponsored, but most of the links here are affiliate Amazon links. If you want some more present ideas definitely check out last year's Holiday Gift Guide for the Whole Family, which contains tons of toys we are still in love with year after year.