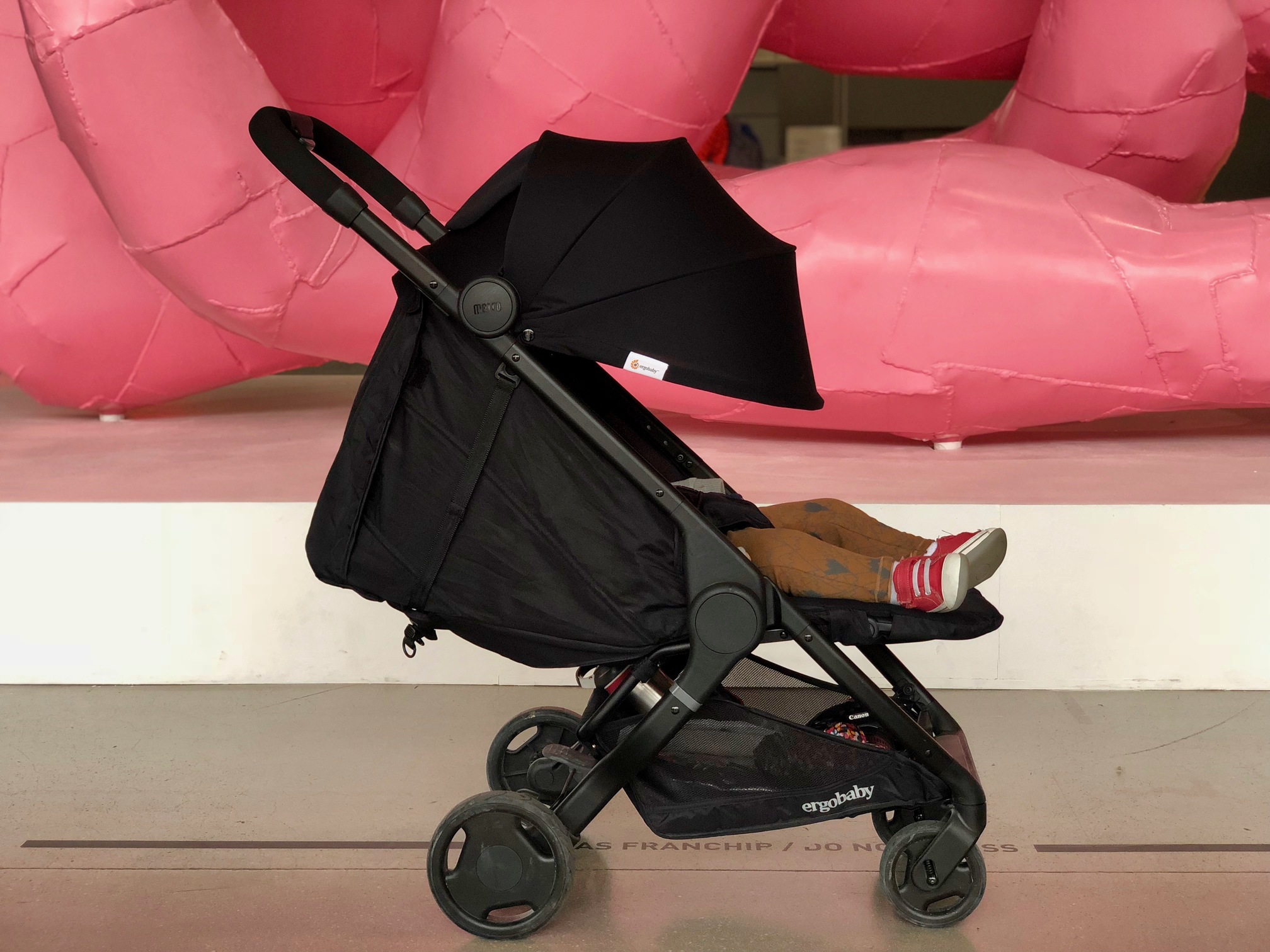 If it walks like a duck and talks like a duck it must be a… stroller made by a baby carrier company? At least that's how I think the saying goes. To be honest, I was fully prepared to write a semi-snarky Ergobaby Metro Stroller review about how this new travel stroller had good intentions but amateur execution. This being Ergobaby's first foray into the European buggy market, I had realistically low expectations. However, much to my surprise, the new Ergobaby Metro Compact City Stroller totally blew me away!
Here's the thing about travel strollers: they often reside somewhere in the safe zone, a.k.a. not the winner's circle of strollers. Why? Because in their quest to be as compact as possible, most companies have driven their features down to be minimal and sufficient, but nothing to write home about. That's where I think the Ergobaby Metro Buggy really stands out from the mediocre crowd. Comfort and safety for both parent and kid reign supreme for Ergobaby products, and they certainly spared no expense when transforming those values into a pushchair, giving all babywearing parents a sigh of relief. Don't get me wrong, I love babywearing, but after 2 kids and 40+ countries traveled, give me a travel stroller for the love of all that is holy! My back thanks you.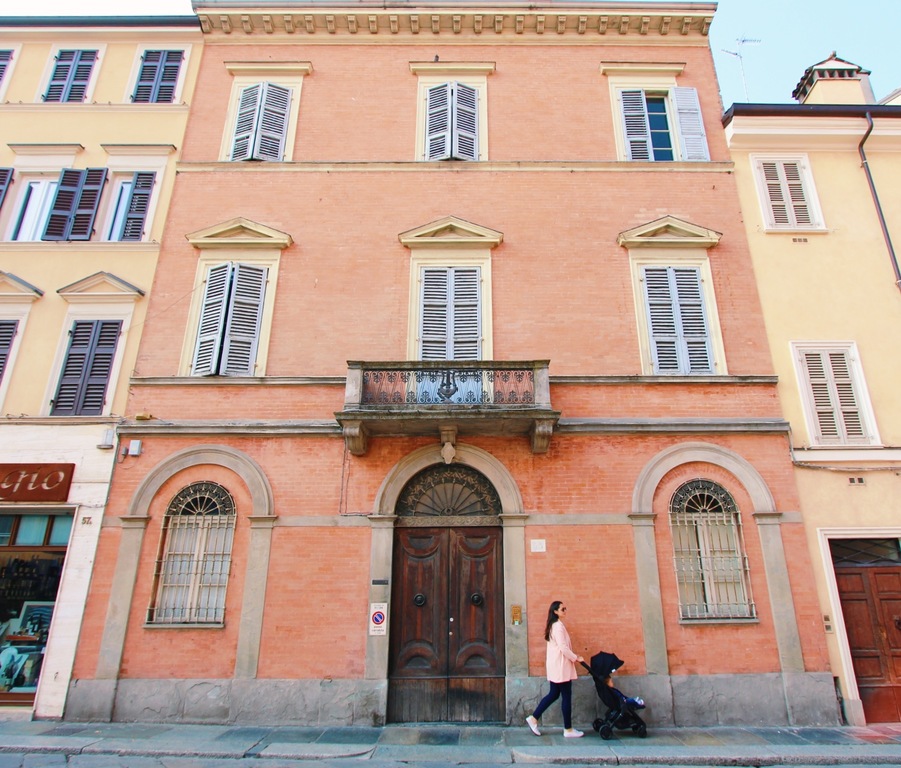 Ergobaby Metro Review: Stroller Specs
I tested this puppy from Parma to Paris and am here to break down all the features from the beautiful swan to the ugly duckling. So let's get this duck tour started!
Ergobaby Metro Price: £299.90 in the UK and $299.00 in the USA
Ergobaby Metro Age: Birth – 6 months with a newborn kit (sold separately)
Ergobaby Metro Weight Limit: 18kg / 40lbs weight limit for the forward facing configuration
Ergobaby Metro Stroller weight: only 6.3kg / 14lbs
Ergobaby Metro Dimensions: folds down to 52 cm x 44 cm x 23 cm / 20.8 x 16.9 x 9 inches
Ergobaby Metro Accessories: Rain shield included and comes in 3 colors, black, grey, and a bright blue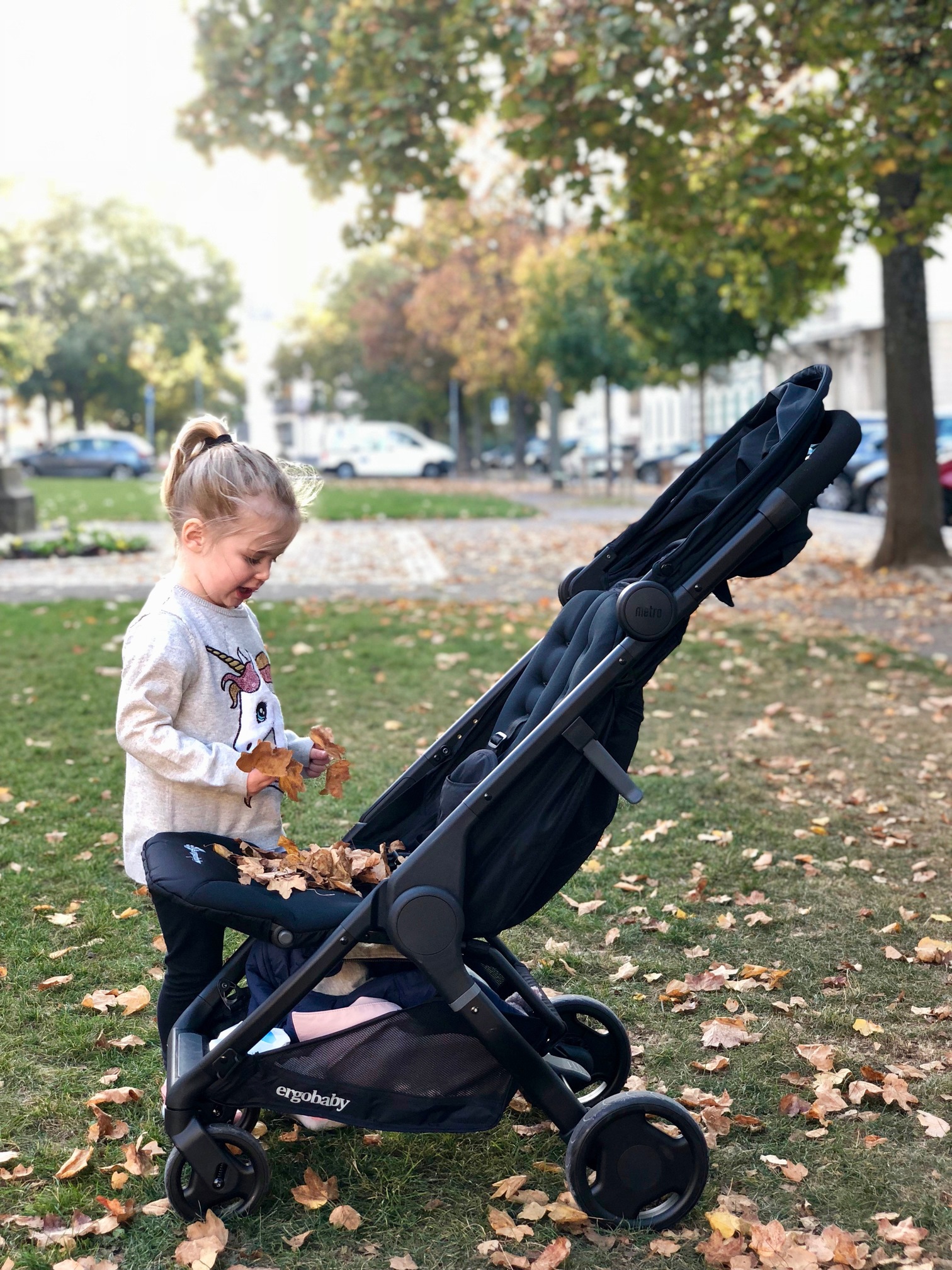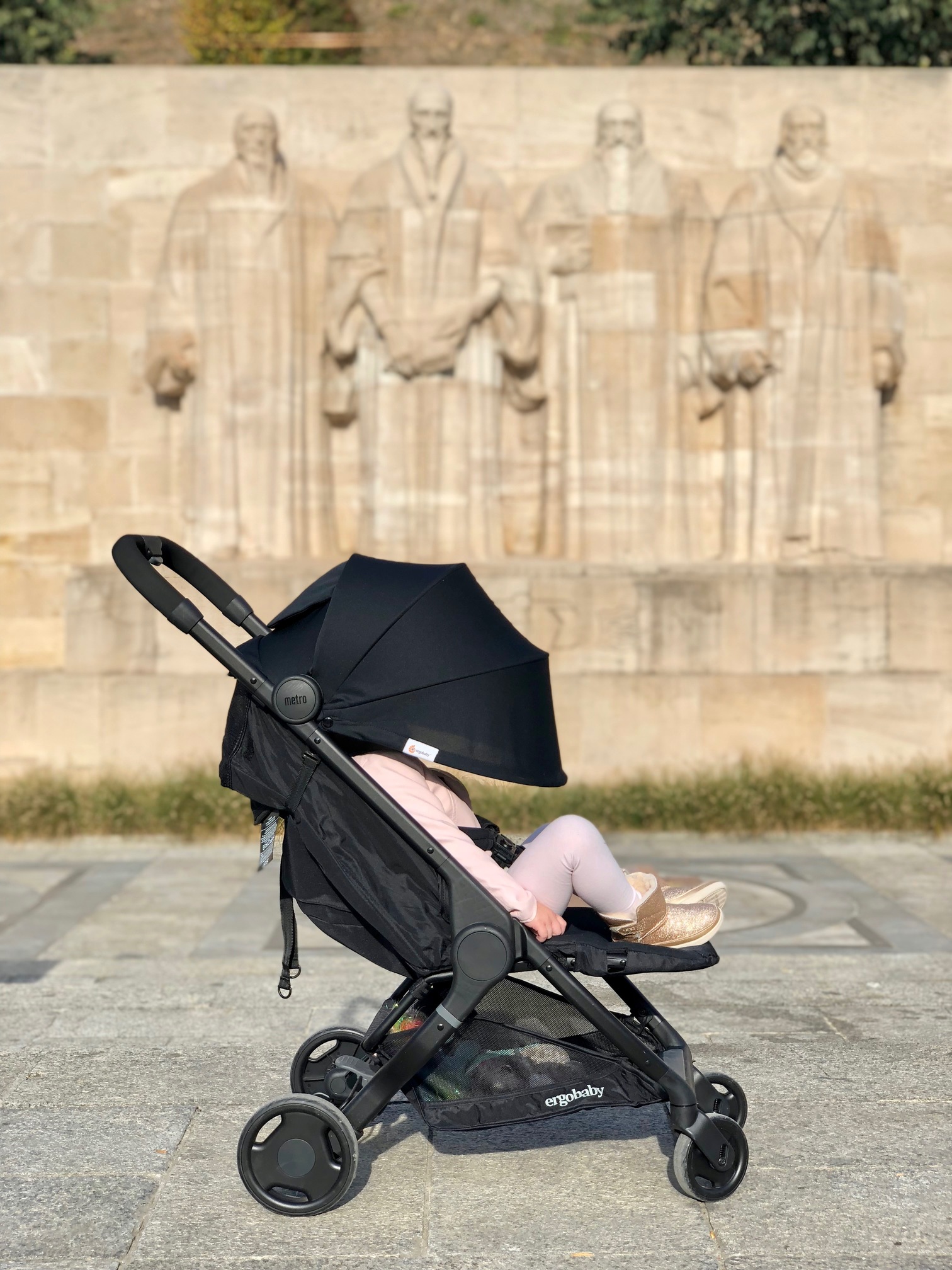 Ergobaby Stroller Metro Strengths:
Comfort – Warning, bold statement ahead: The Ergobaby Metro Compact Stroller might be the most comfortable stroller for a kid ever made. And I'm not just talking travel stroller. I mean all strollers. The padded seat and backing are more like a Tempurpedic mattress than a seat. It's super thick, plushy, and kept the baby's butt from getting sore after many Parisian cobblestones. In fact, it's the only stroller currently on the market certified as "back healthy" for baby and parent by the AGR of Germany.
Major Recline – This doesn't just slightly recline, it goes almost all the way. My kids are not great stroller nappers, and the 3-year-old doesn't even nap anymore at all, yet the Ergobaby Metro City Stroller managed to lull BOTH kids to sleep on separate occasions. That's basically magic in my book.
Sun Shade – Another place where most travel strollers ride the average train, the Ergobaby Metro comes in with a crazy big UPF 50 sunshade that would block out even the Eiffel Tower during nap time. It extends almost all the way down basically making a little nap cocoon that any of us would like to hibernate in.
Ergobaby Compact Fold – It fit everywhere from a restaurant entryway to a train's upper compartment. It definitely earns its name as the Ergobaby Metro Compact Stroller.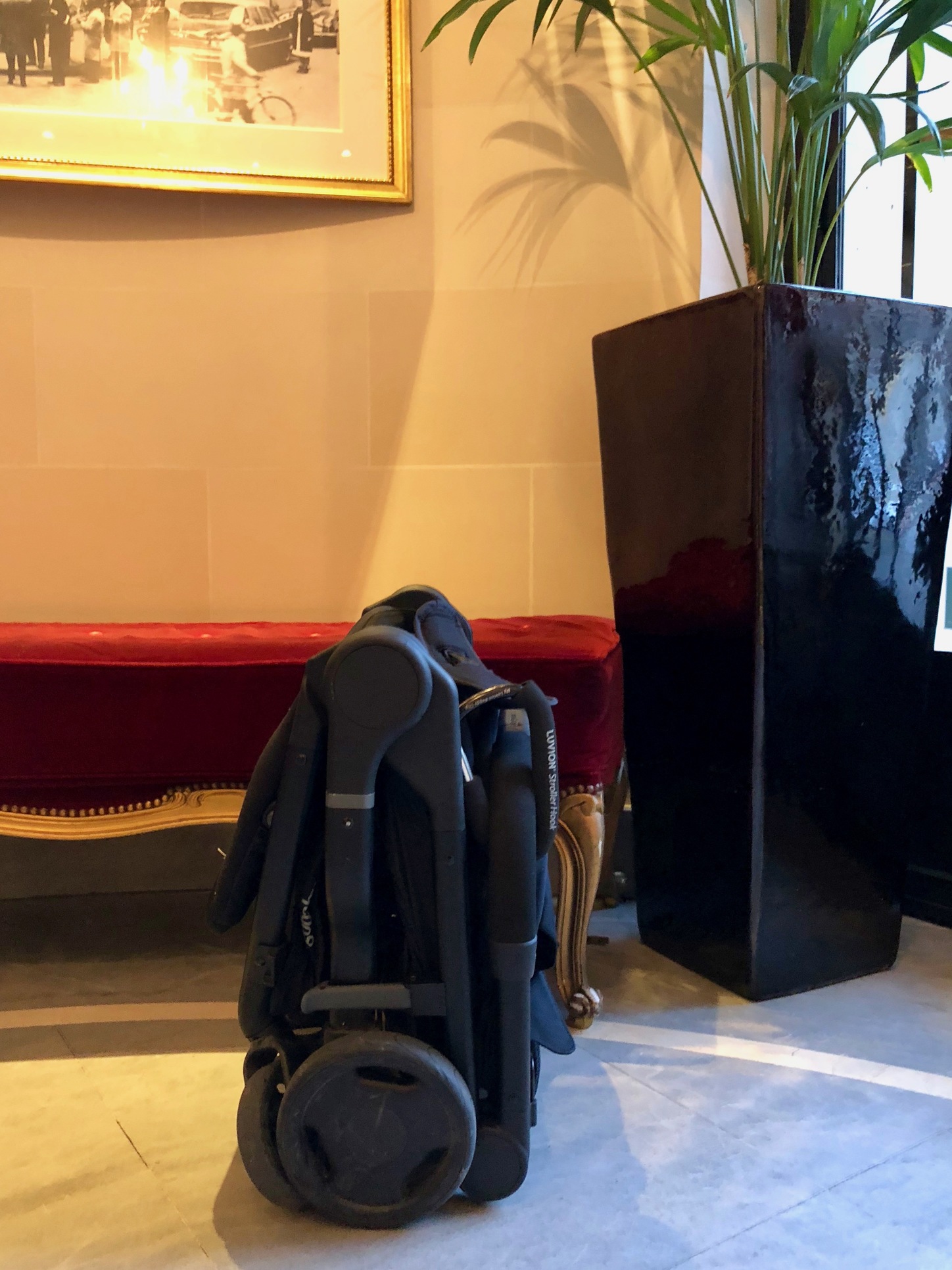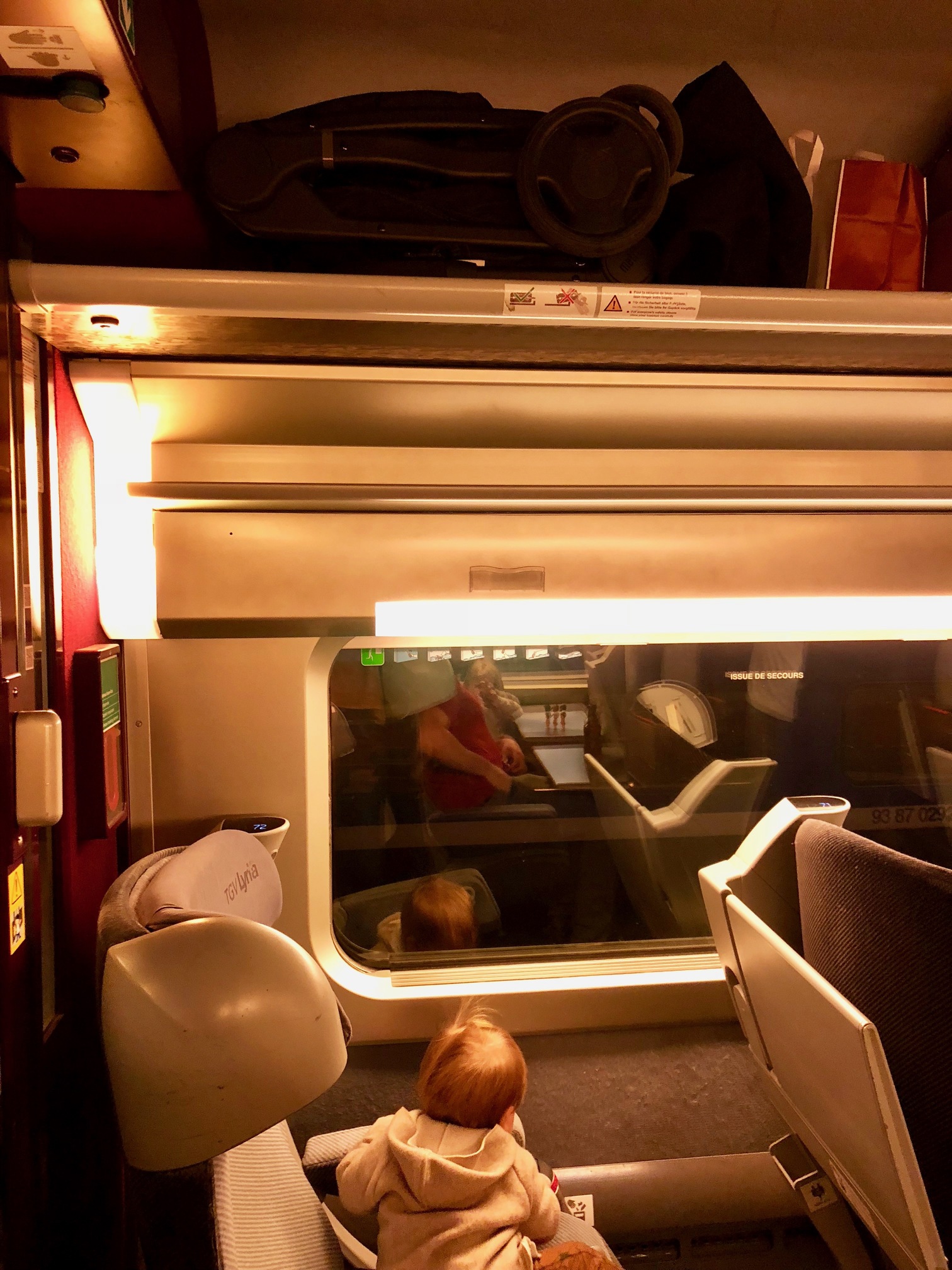 Ergobaby Metro Compact City Buggy Strengths:
Big Pocket – Like with dresses, everything is made better with pockets. The really big back pocket extends all the way down the backside of the stroller, which in combination with the decent under basket, which can hold up to 4.5kg / 10lbs, makes for a lot of storage for this Ergobaby lightweight stroller.
Leg Rest – Leg rests have been considered dispensable by most travel strollers, as companies try to keep them lightweight, but that's not the case for the Ergobaby Metro Compact City Stroller. Keeping a kid's legs up for sleep or slightly down for adventures is definitely an added comfort that's noticeable.
One Handed Push – I've never understood a stroller that requires 2 hands to push, mostly because I've never had two empty hands to push one! This compact stroller has a singular handlebar and is lightweight enough to push with just one paw.
Narrow – From crowded streets to narrow buses I was able to fit the Ergobaby Compact Stroller everywhere without any issues, which is a key feature in any stroller for me. I hate width, whether it be in my midsection or in a stroller wheelbase.
Breezy and Insulated – The mesh backing makes it super breezy during summer months, and for the winter months just snap the shield on to make a fully insulated seat where no cold air is going to get in.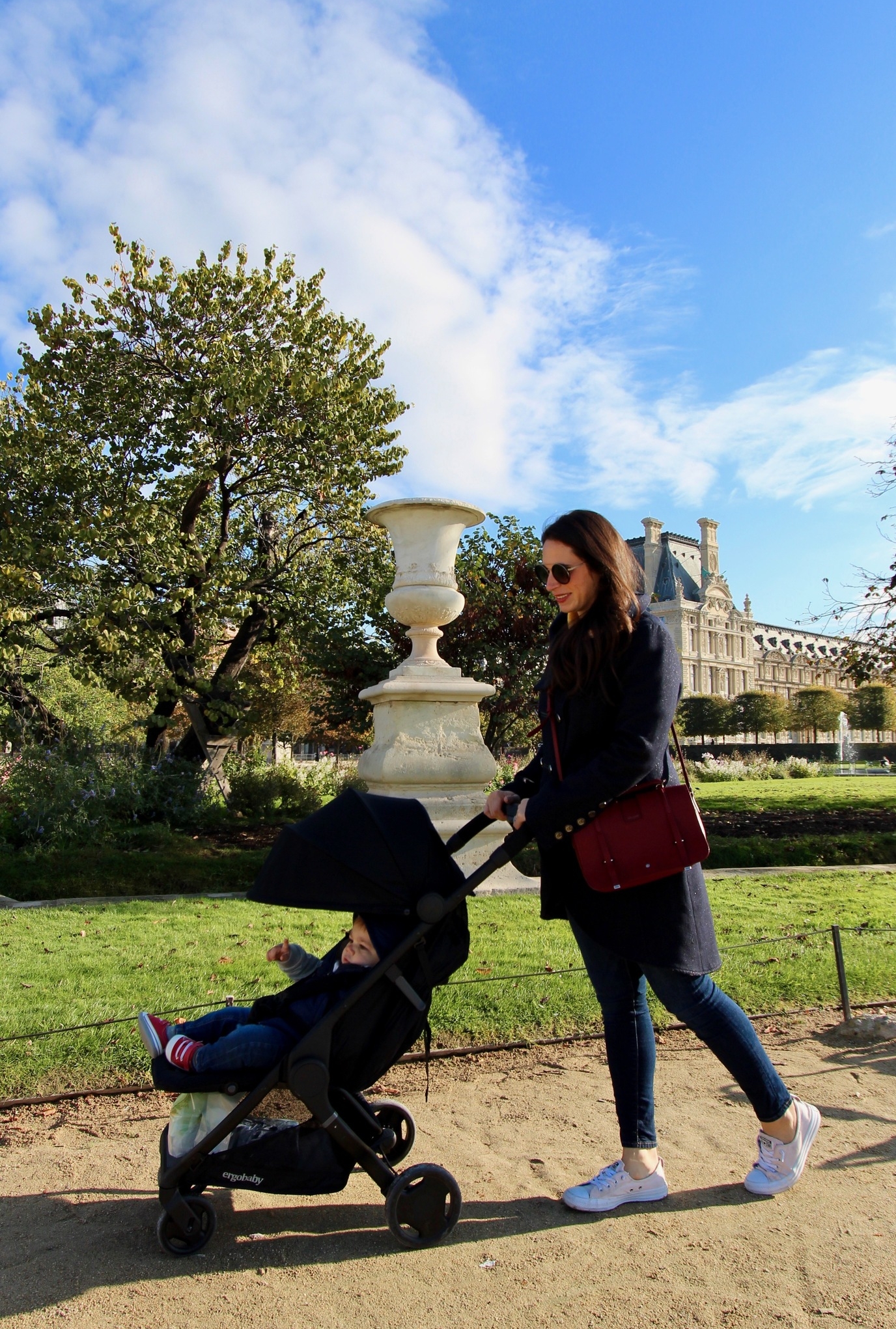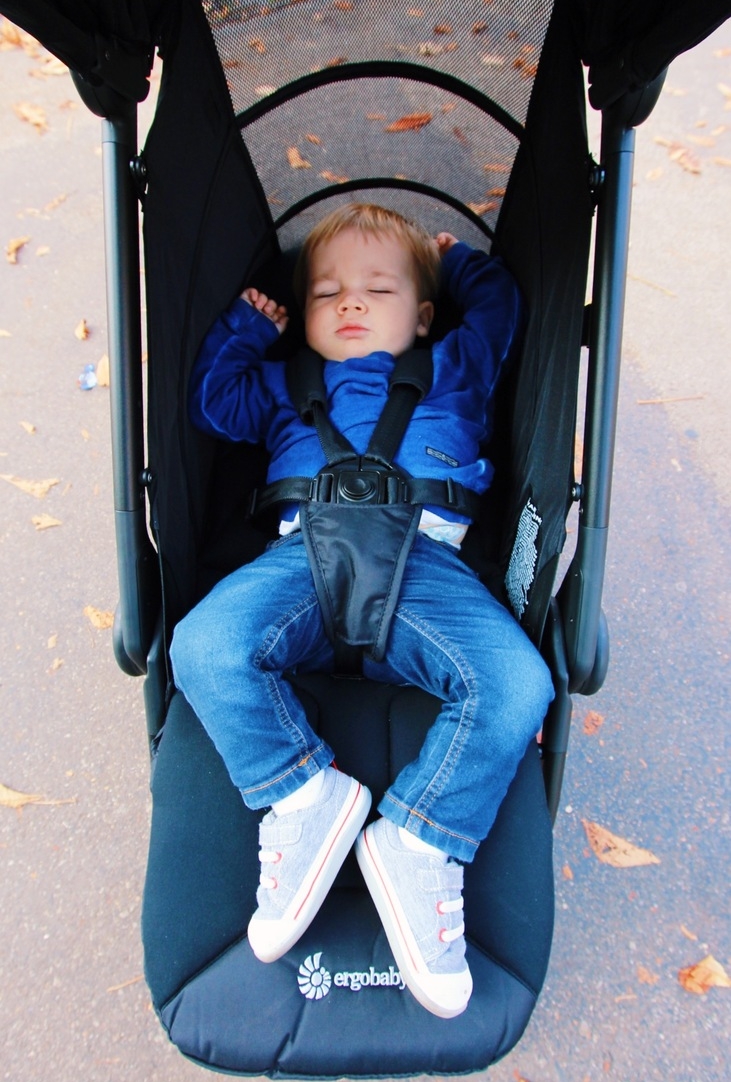 Ergo Metro Stroller Weaknesses:
Back Pocket Closure – When using the winter shield to cover the mesh backing you pull it out of the back pocket, which unfortunately means you can't zip the back pocket while using it. This isn't ideal when trying to store things in the pocket while needing to fold the stroller up quickly.
Jerky Open/Close – It's not that the open and close is difficult, technically it can be done with one hand, but the motion isn't as smooth as butter, to say it nicely. Definitely not a deal breaker but just something noticeable in comparison to its competitors.
Questionable Carry-on – Most airlines from Easyjet to British Airways set their carryon limitations at 56 x 45 x 25 cm and the Ergobaby Metro comes in at 52 x 44 x 23 cm. So will the Ergobaby Metro City Stroller be allowed on a plane? The answer: It should, but it looks bigger than a lot of other travel strollers so it might take some persuasion at the airline gate.
Not Car Seat Adaptable – While the Ergobaby Metro Newborn kit makes the Ergobaby City Stroller newborn friendly, it doesn't have the ability to attach car seat adapters to it. Which means the Ergobaby Metro car seat friendliness factor is low.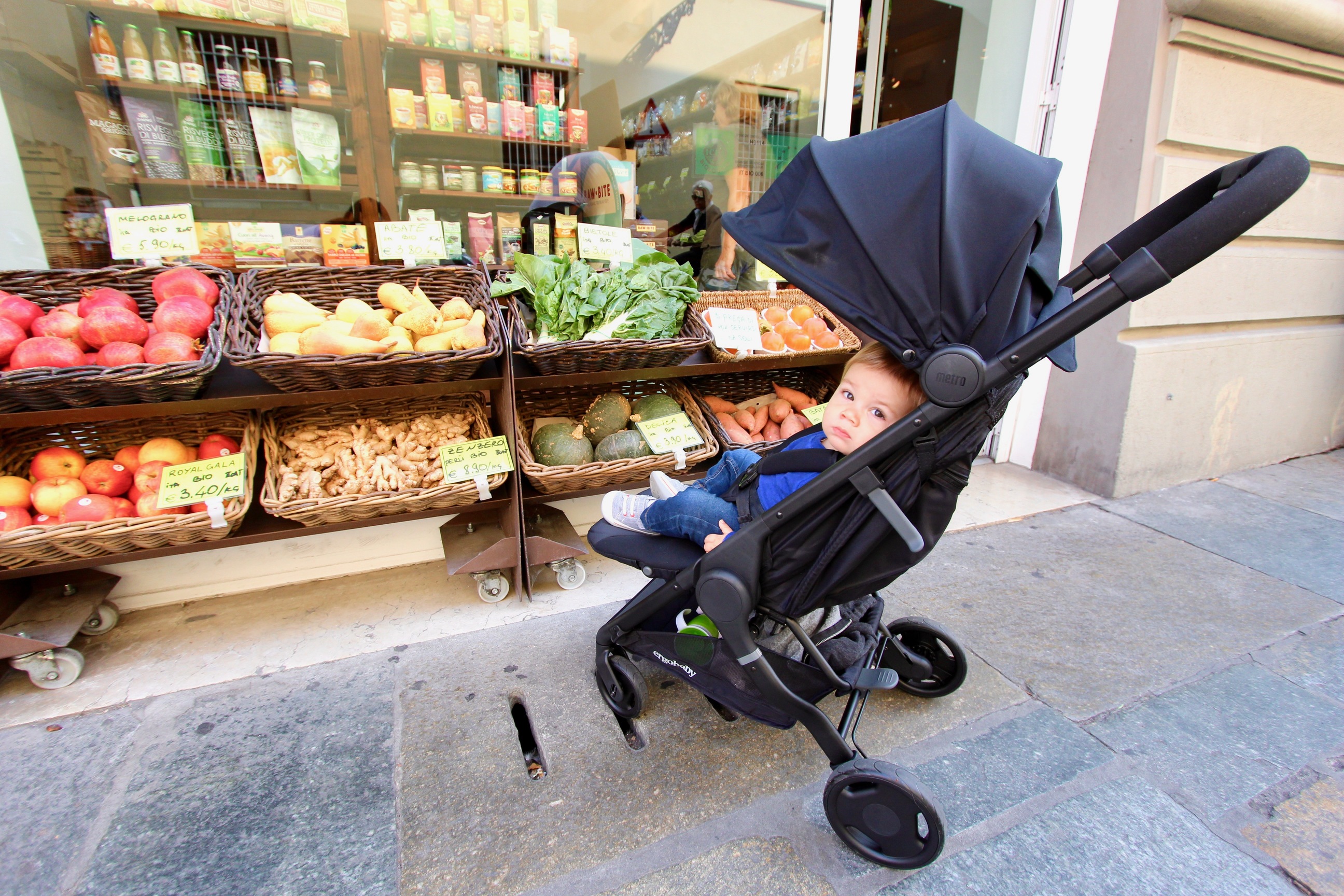 Ergobaby Metro vs Babyzen Yoyo:
It's no secret that I'm a Babyzen Yoyo fan as it's been my stroller of choice the last few years whether at home or on the road. So how does the Ergobaby Metro vs Yoyo debate turn out? Truthfully they're both great strollers in their own right and have different things going for each.
Price: The Ergo Metro Stroller comes in at almost half the price of the Babyzen Yoyo which is a major point in the Ergobaby Metro Buggy column.
Adaptability: The Babyzen Yoyo can attach a car seat to it and has a buggy board seat for when you need to trot two around town. So that's a big point for the Yoyo.
Weight Limit:  The Ergobaby Metro can comfortably hold a child until they're 18kgs/40lbs, while the Babyzen Yoyo weight limit is low at just 15kgs/33lbs.
Size: The Ergobaby Metro Compact City Buggy is slightly larger than the Babyzen Yoyo but still technically within airline cabin baggage regulations.
Comfort: For me this is where the Ergobaby Metro beats all other strollers, not just the Babyzen Yoyo. There's no comparison between the plush seat of the Ergo Metro and it's travel stroller competitors. Ergo wins this one hands down.
As you can see, the Ergobaby Metro Compact City Stroller vs Yoyo competition doesn't exactly have a clear answer because they're both great buggies. I think it comes down to whether this purchase is for your primary pram or if you're looking to add to your stroller collection. If you're an avid flier, or need to get two kids around town, and are looking to invest in a full stroller system from newborn car seat to second kid, then the Babyzen Yoyo might be the right choice to pour a large quantity of money towards. Whereas if you're looking for a great additional stroller for traveling or just need an everyday lightweight stroller to use, that doesn't cost your kid's preschool tuition, all while giving yourself peace of mind that your babe is getting the most comfortable seat you could possibly give them, then the Metro might be your better choice.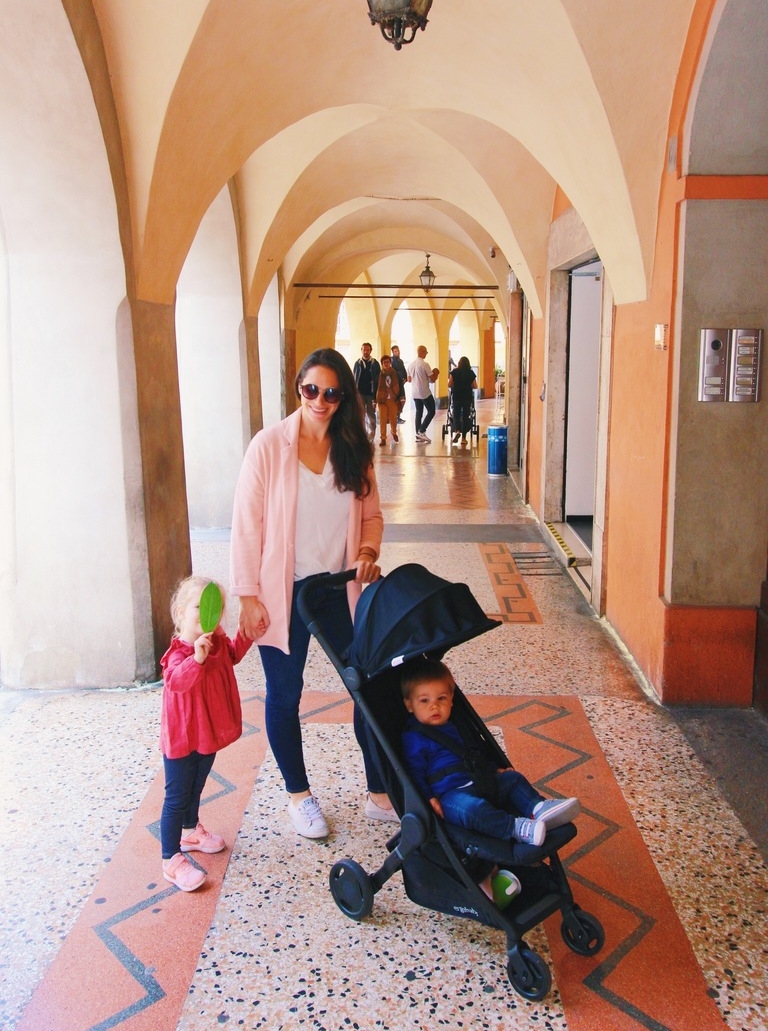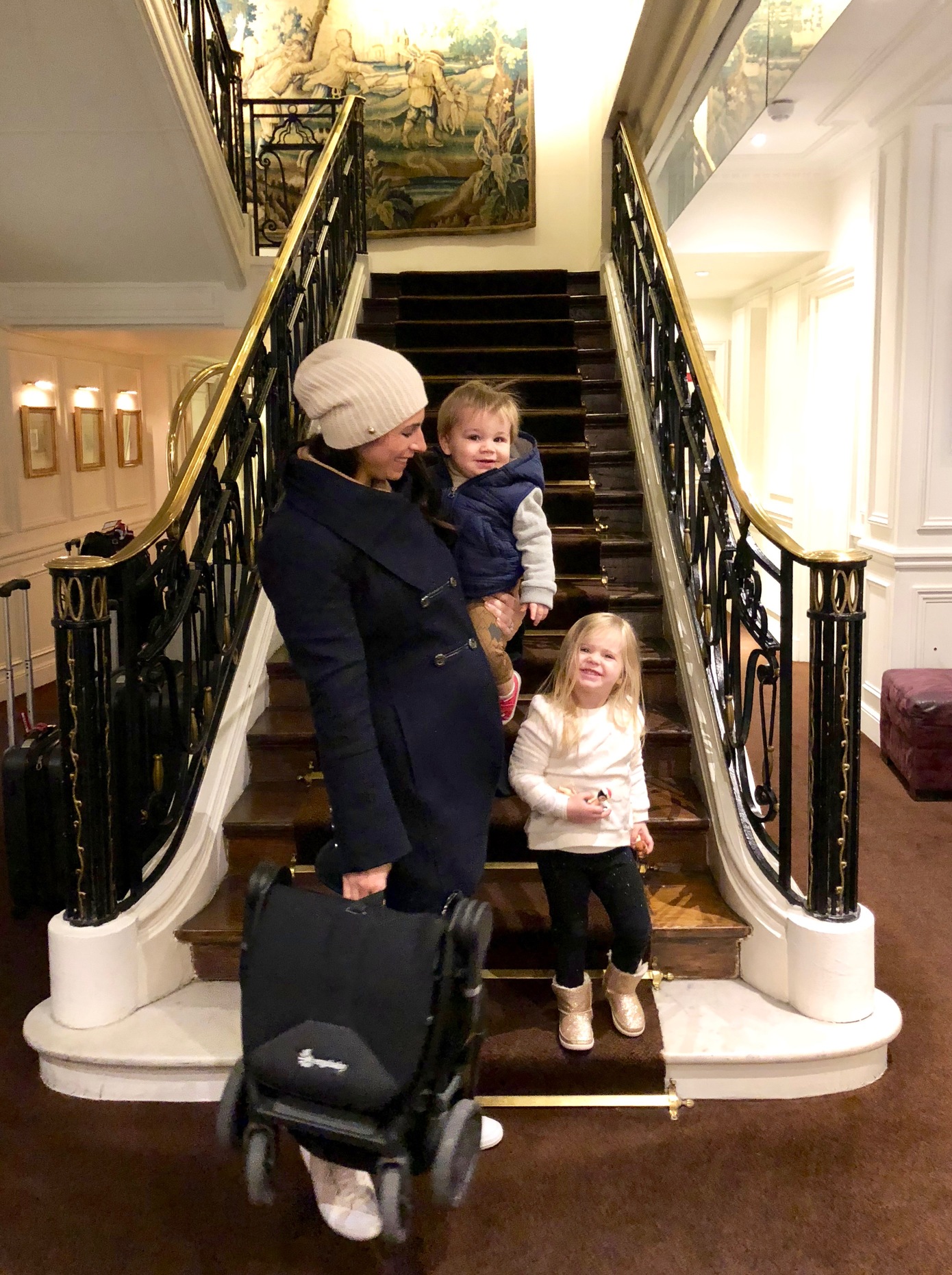 Ergobaby Metro Test Conclusion:
So who is this stroller for? Pretty much everyone, if you ask me. It'd be great if you're car-bound or perfect for city dwellers on public transport. It would work for newborns and for toddlers up to about 4 years old. It's light enough to bring everywhere and small enough to stash it anywhere. I'm pretty smitten with this puppy and wish it had a buggy board with seat attachment so I could make it my everyday wagon for my two crazies.
Thanks Ergobaby for sponsoring this post and asking me to honestly review the new Ergobaby Metro Compact City Stroller. And well done for jumping head first into the buggy market with such a solid travel stroller, I give it the "Most Nappable" award and two big thumbs up from this travel mama!
To purchase the Ergobaby Metro Compact City Stroller you can buy it on Amazon, the Ergobaby USA site, or the Ergobaby UK site. As well as many other baby stores worldwide.
If travel gear is what you're after, check out our other travel product reviews: