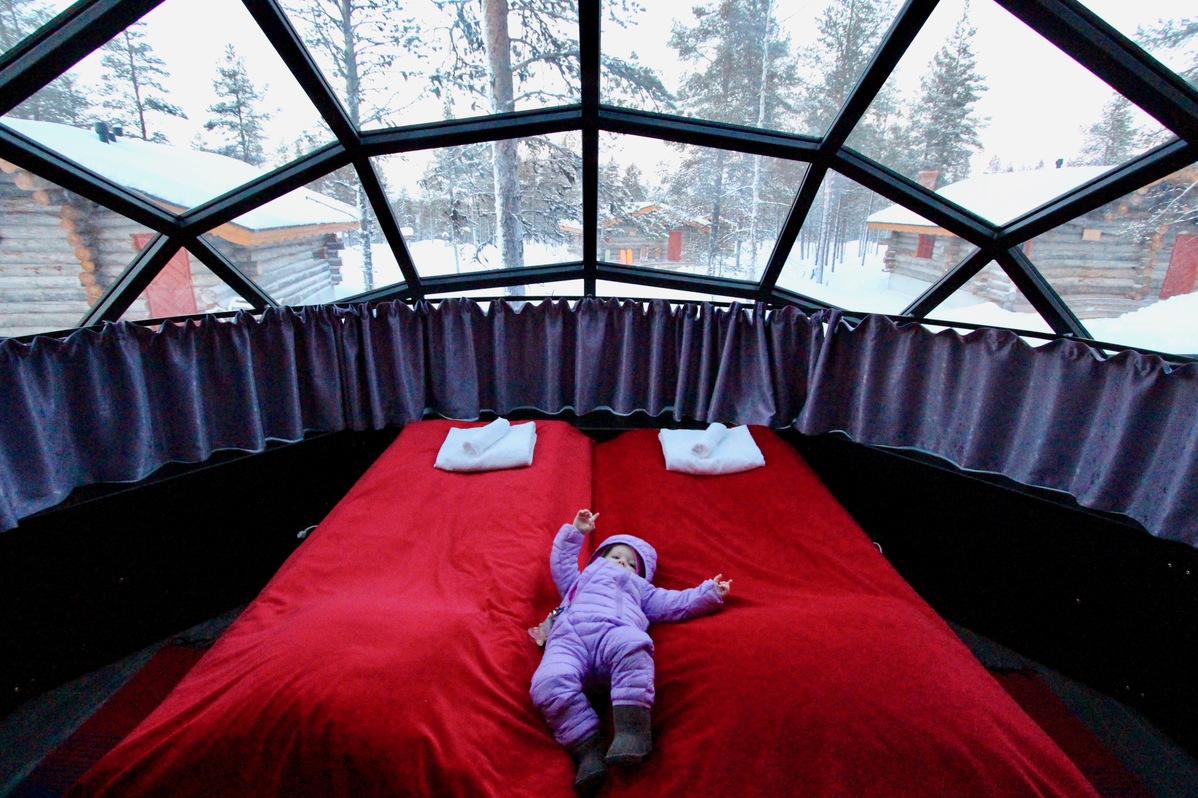 Why would we choose family travel in Finland? More specifically, bringing our 16 month old to the Arctic Circle in the Laplands of Finland? Well, since she's a toddler and therefore consistently living in a glass case of emotion we figured it was only right to join her and sleep in a glass cased igloo. Totally logical no? And since our parenting style tends to ride the fine line between adventurous and mild child abuse this place seemed right up our alley.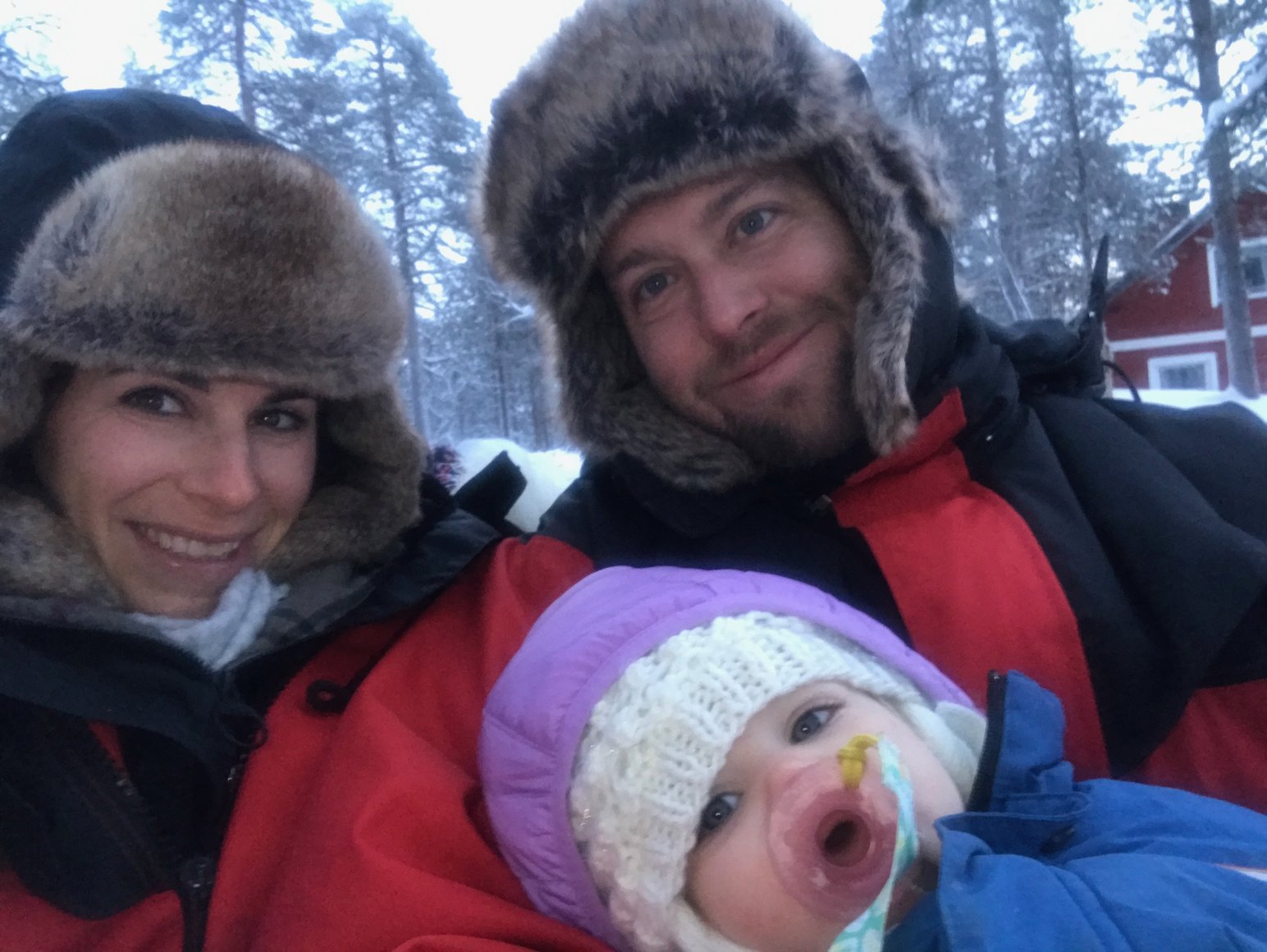 One might think taking a toddler on a reindeer safari in the snow at -18C/0F is a bad idea, but surprisingly it wasn't! Our family travel in Finland included the kid napping in a husky driven sled, aurora hunting by horse sleigh and being pulled by Rudolf through the arctic forest. With 10 fingers and toes we figured she had enough appendages in case she'd lose one to frost bite. Kidding! Kind of…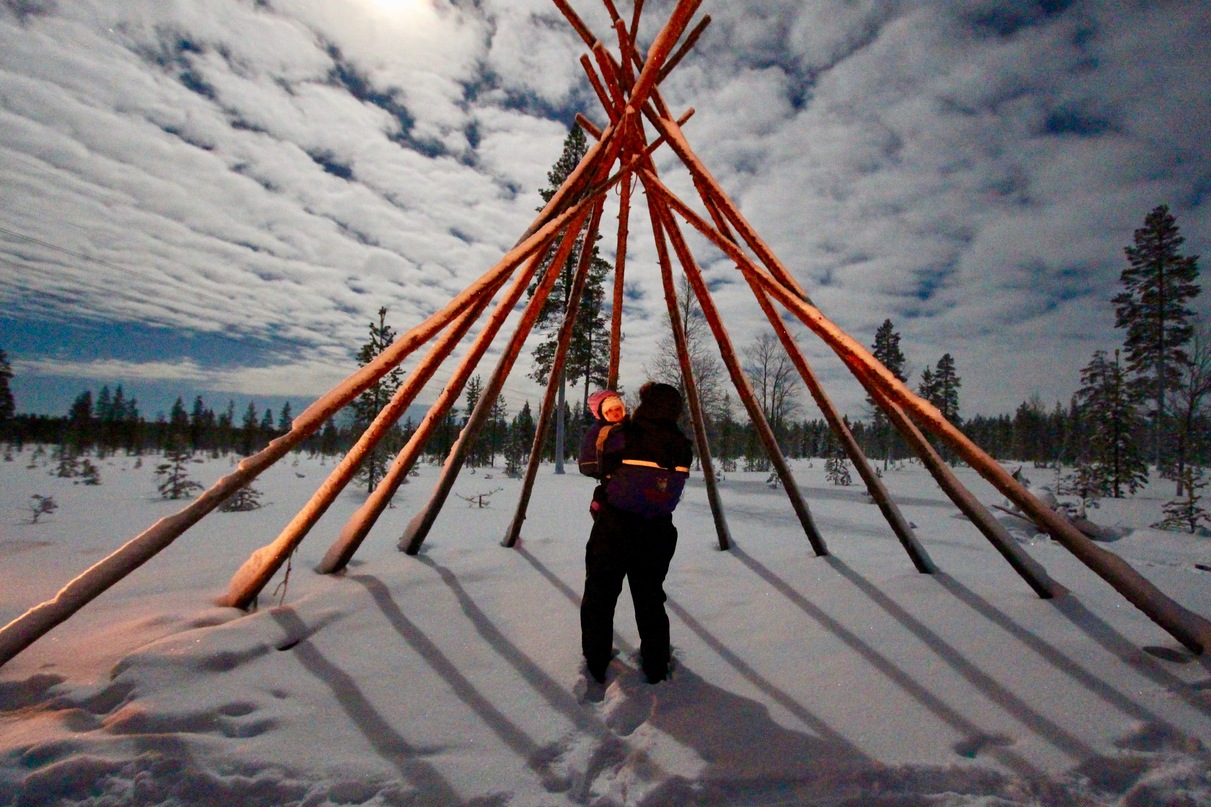 How did the baby do in such brisk conditions? Since she doesn't talk yet we assumed her squeals were those of joy instead of cursing us. And it's safe to say that it'll be quite difficult to explain that Frozen isn't real given what she's seen here. This trip also taught us a very effective method in quieting a toddler, which is to put them in a situation where they're slightly paralyzed by clothing and temperature. With that being said, she was a gem during this arctic adventure. Outside of a husky puppy stealing her cinnamon roll and the 17 layers of clothes we had to put her in, she appeared to enjoy it all.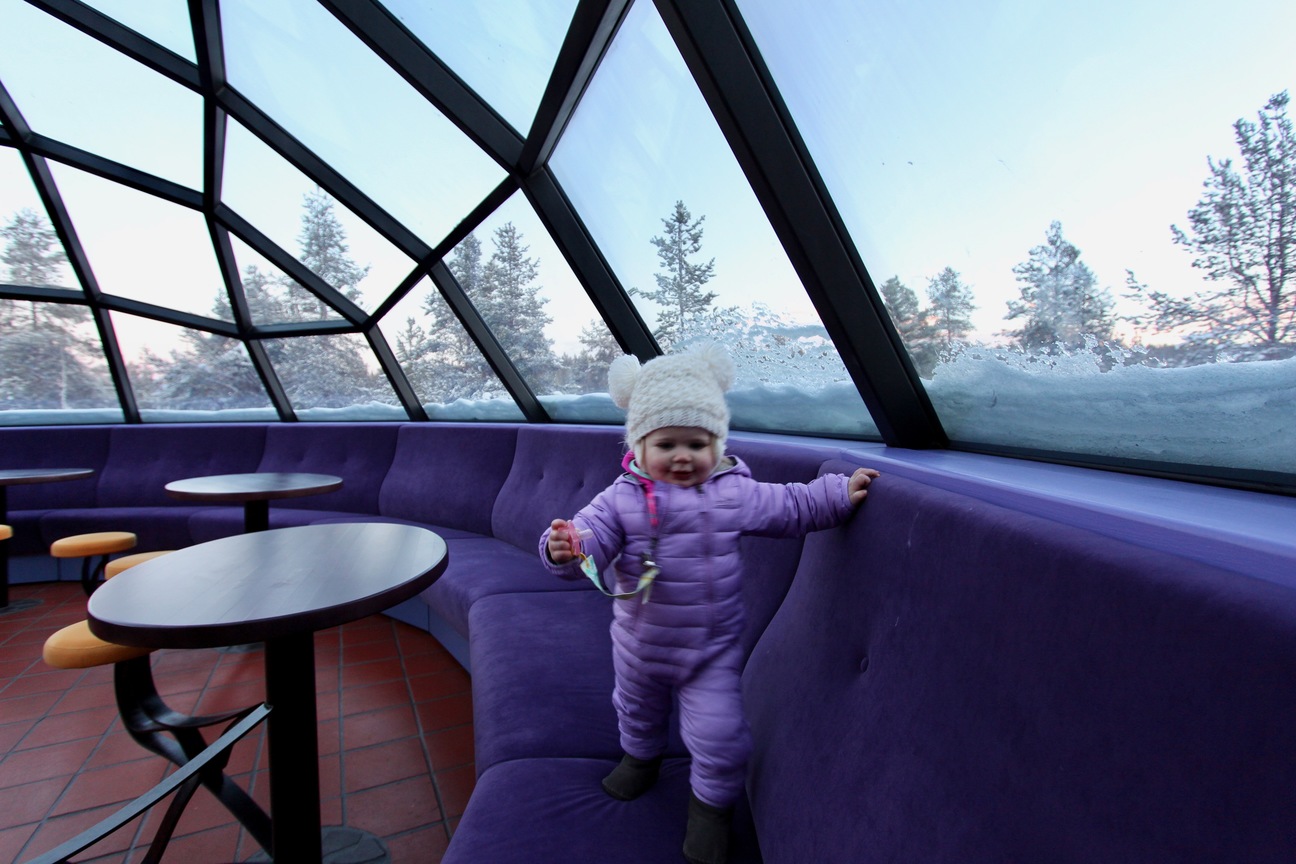 So how many layers does it take to get to the center of a frozen toddler in the arctic? Too many to count is the answer! I'll admit that we weren't exactly prepared for the cold as well as we could have been. But we made it through by basically pulling a Joey Tribbiani and dressing her in all her clothes at all times. And no I'm not exaggerating. Here's what she wore on any given day: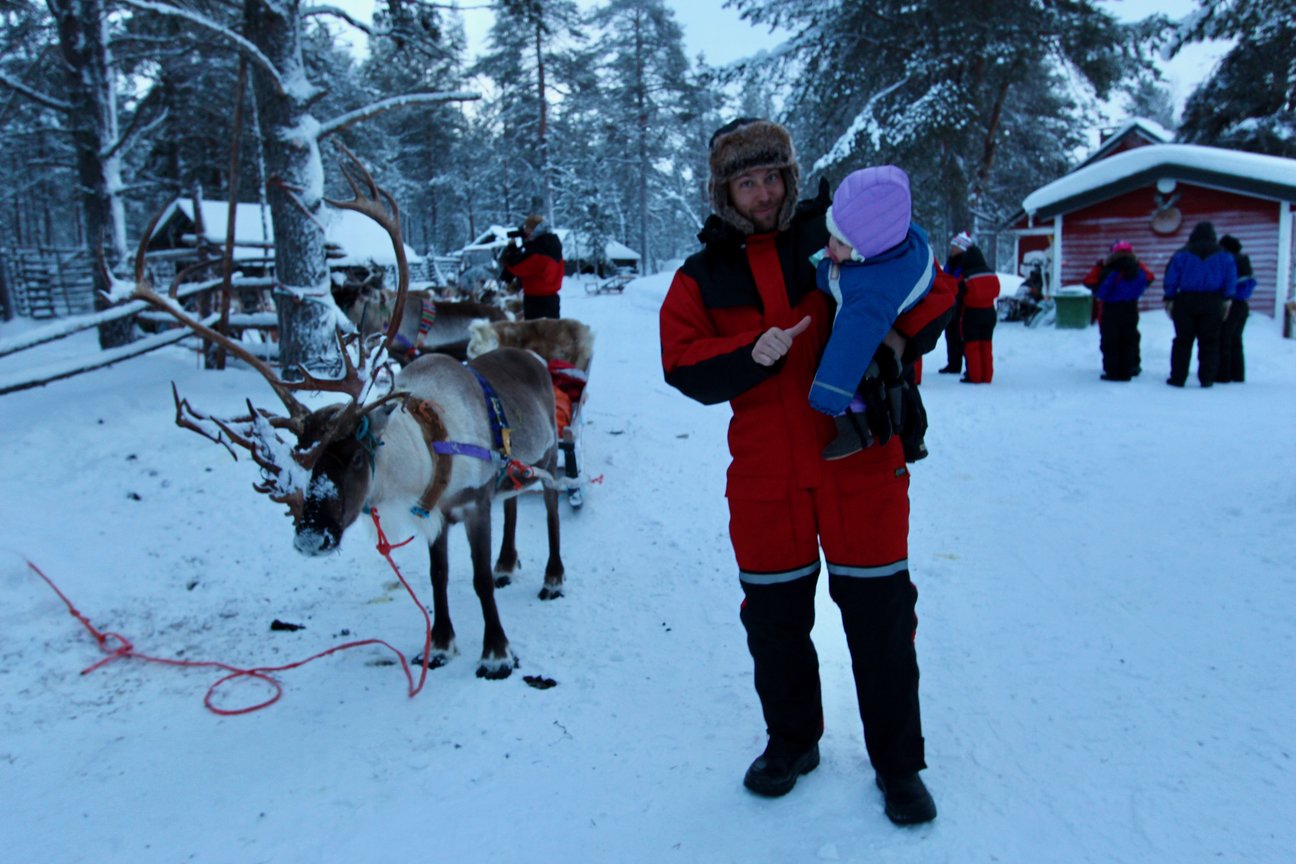 And of course, the moment we put her in all this she'd shit her pants and we'd have to start the process all over again! Funny and true (insert internal parent cry here). At least we got plenty of video of her waddling around as the abominable toddler as an entertaining keepsake.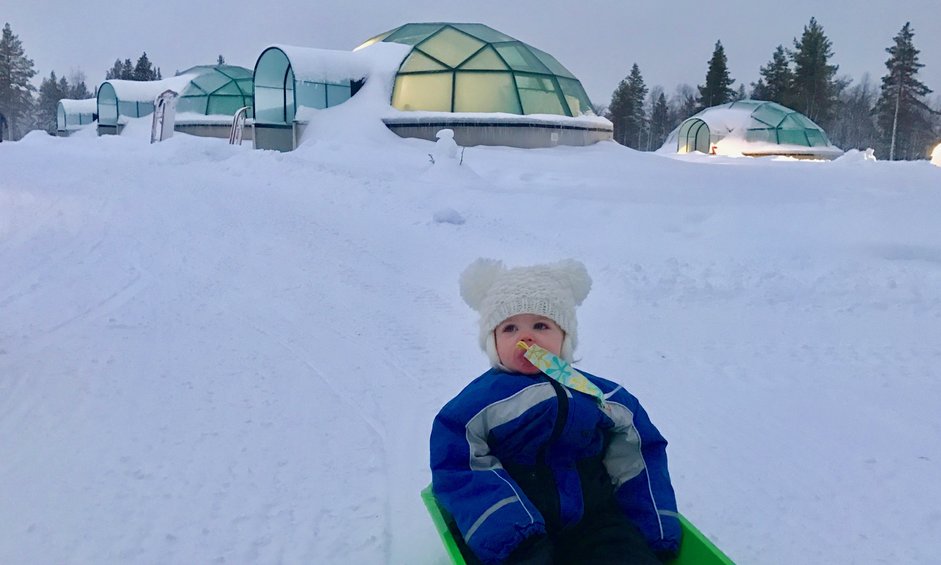 While it may have been too cold to build a snowman, and at 16 months and 17 layers she kind of just rolled off a sled, experiencing our family travel in Finland was pretty cool. I'd say the only thing to fear is fear itself but that's not exactly true. Fearing the actual possibility of freezing to death and being covered by snowdrift is where your anxiety is best placed. So with that out there as an option, being worried about the baby seems like child's play!
Read more about our stay at Kakslauttanen Arctic Resort in Finland here!