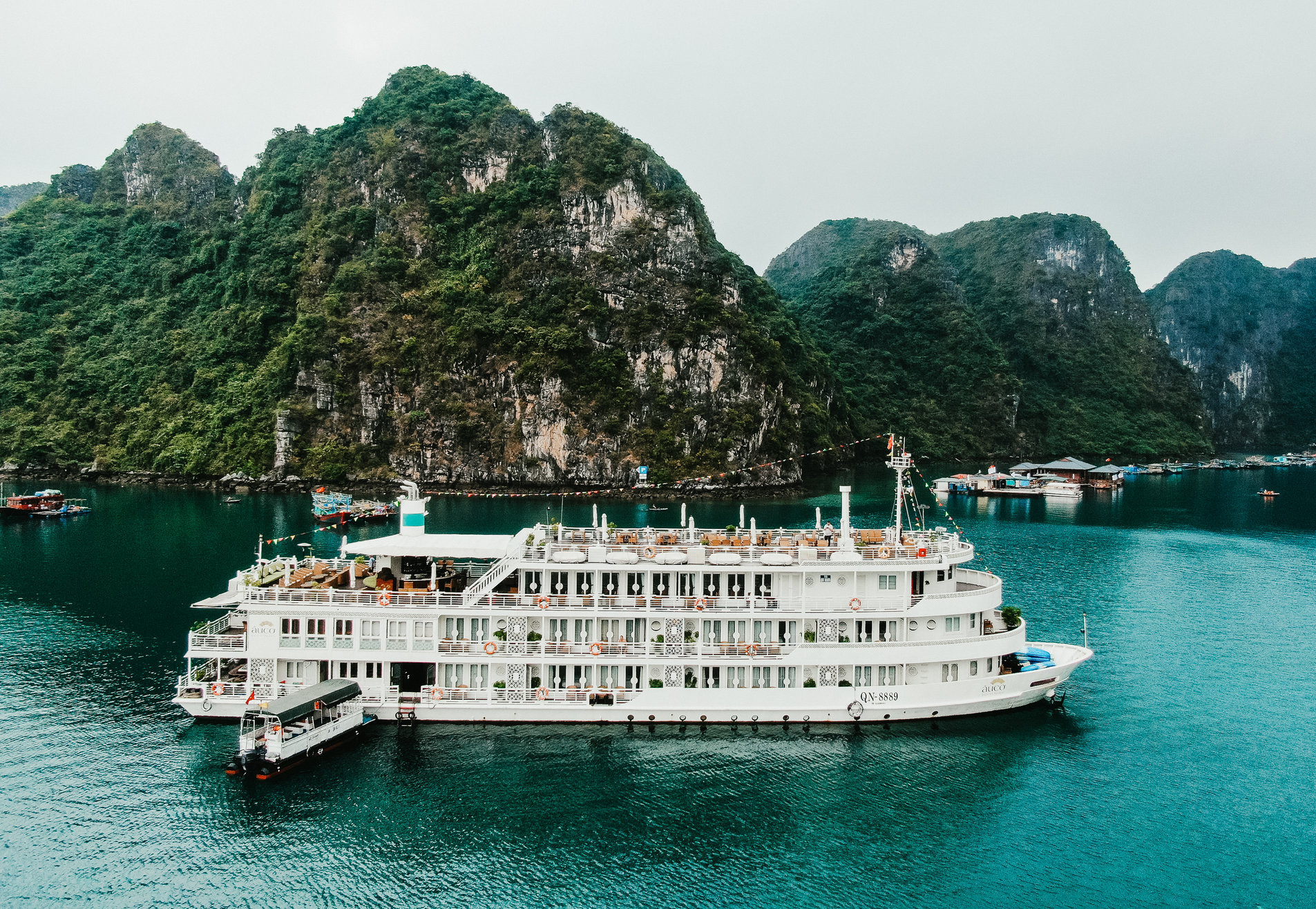 I'm on a boat!   
Well actually I'm almost on a boat, because while researching Halong Bay, Vietnam cruises it's very quickly become clear to me that there are no less than a hundred different boats to choose from, which is basically my worst travel booking nightmare. The more options I'm given, the more I get confused about what's the best, what's the difference and what the hell I should choose. It's like toilet paper…I don't need an entire aisle of single, double and triple ply with puppy dog eyes and chubby fat bottomed bears trying to persuade me their way, just give me the best one. That's basically how I feel about booking a Halong Bay Cruise, except instead of a dingleberried bear, I have dozens of boats staring back at me through the screen. That's when I stumbled upon Bhaya cruises, and right away I was happy to be there, and I wasn't even on the boat yet!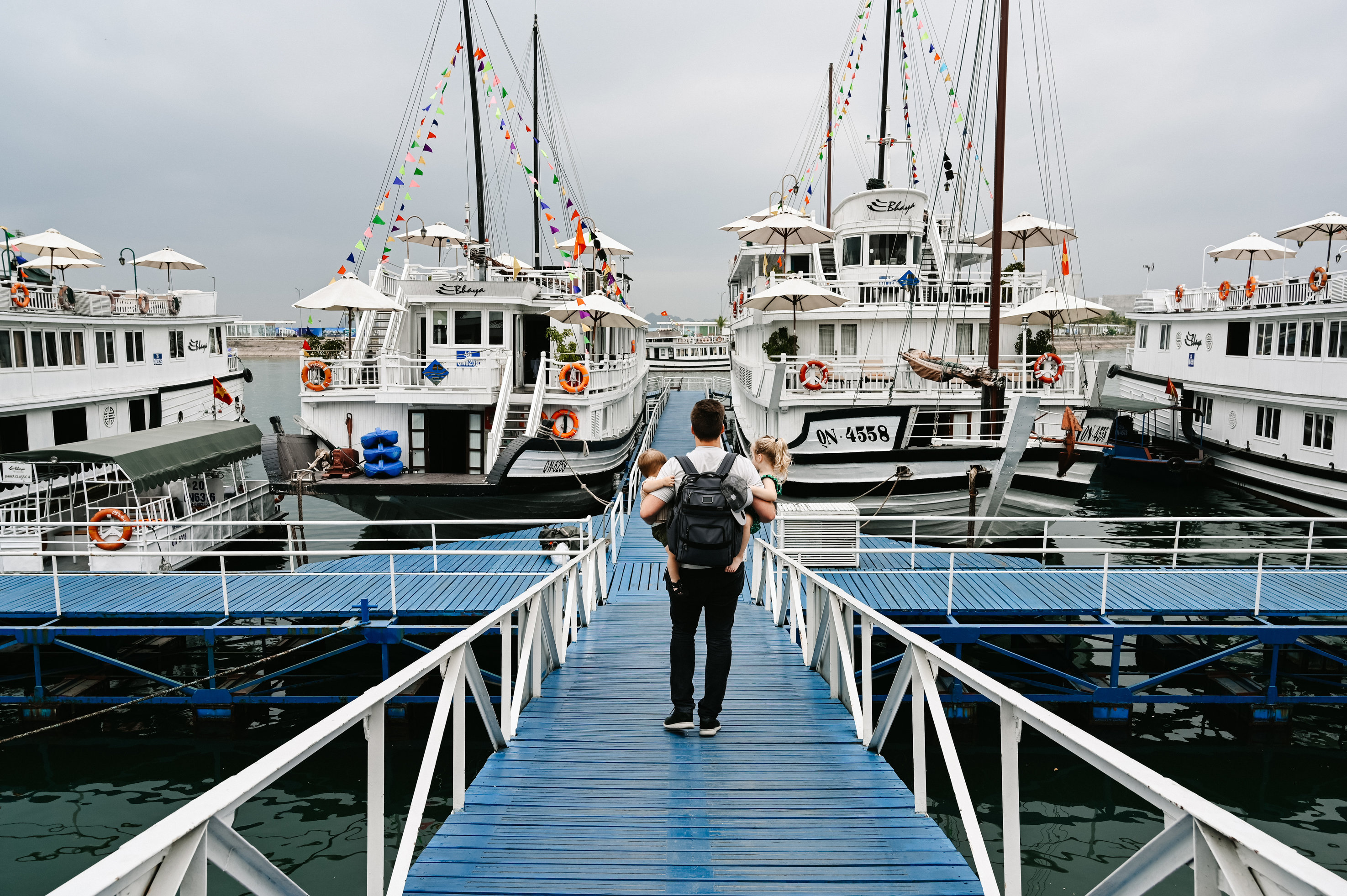 Bhaya is the biggest boat operator in Halong Bay with 19 boats ranging from classic, premium, private to luxury making them about as reputable as one could hope for. Being lucky enough to partner with Bhaya meant I was able to tour all 4 of their boat types, and I'm happy to report that they're all legitimately nice and would suit any type of traveler. In fact, the actual cabins are pretty similar across the boats, with traditional decorations and dark wood paneling for most of the rooms. The main differences are cruise lengths (3 days vs. 2 days), boat size, number of cabins, bathroom style (shower only vs. tub), pricing, balcony options, and food offerings. Having been offered to check out their luxury boat by the name of Au Co, I knew we were in for a treat.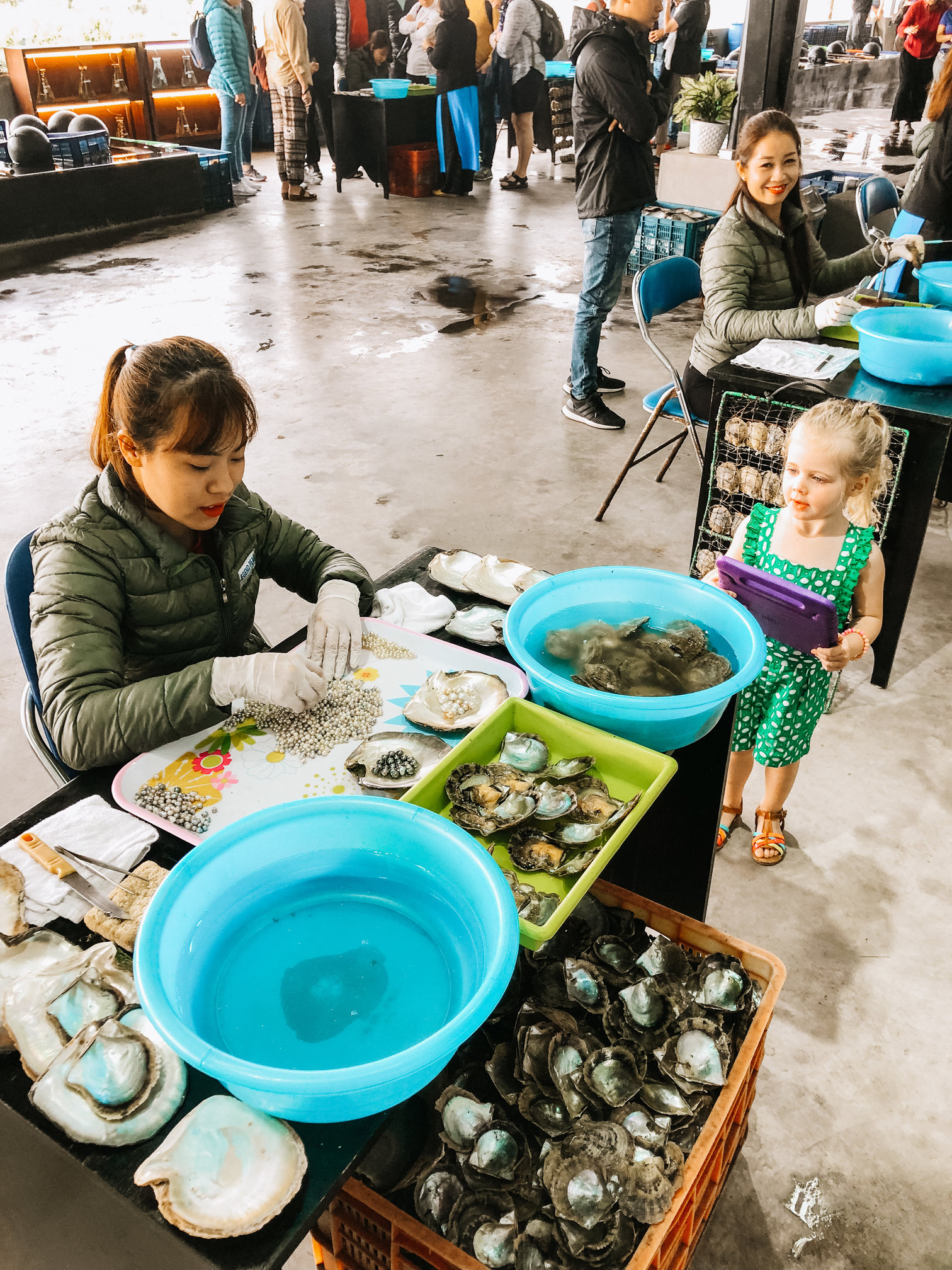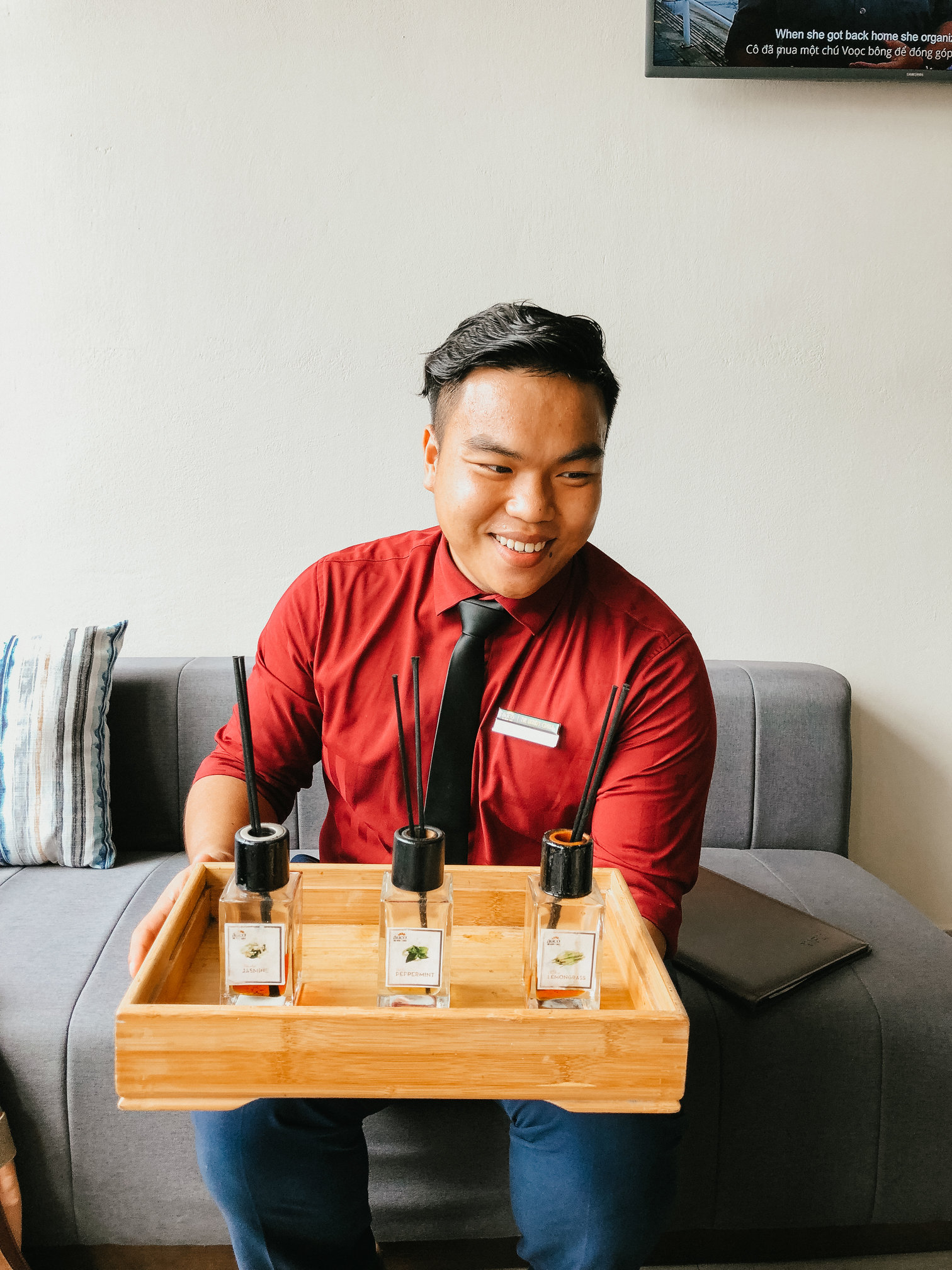 We departed Hanoi at 9 am on an 8-person luxury minibus that any Real Housewife would approve of. It must have been Opposite Day because our 18-month-old Sir Screams a Lot and 3.5-year-old Princess Puke managed to be the Instagram version of themselves, instead of the real monsters they usually are in cars and made it the entire 2.5–hour journey quiet as can be. Aside from me telling the toddler not to eat his stickers and my daughter asking for more Barbie Dreamhouse episodes, I'm pretty sure the driver didn't even know they were there. I'm calling this the "Bhaya Effect" because I truly have no other explanation for it since it's a complete first for us. In fact, we were so nervous about the drive we almost didn't put Halong Bay into the trip itinerary, but it's been a dream destination of ours for so long we figured we'd make it happen. 2 hours into the ride we had a quick potty and pearl harvesting stop, a common combination in this part of Vietnam, but two activities not to mix-up with one another. By 11:30 am we had arrived at the Bhaya port center for check–in. It was clear from the start that this was a luxury experience as the cruise manager Sam sat us down to choose our room scent. Spoiler alert: we chose Jasmine, which was a huge upgrade from our normal odor of Eau d' baby diaper.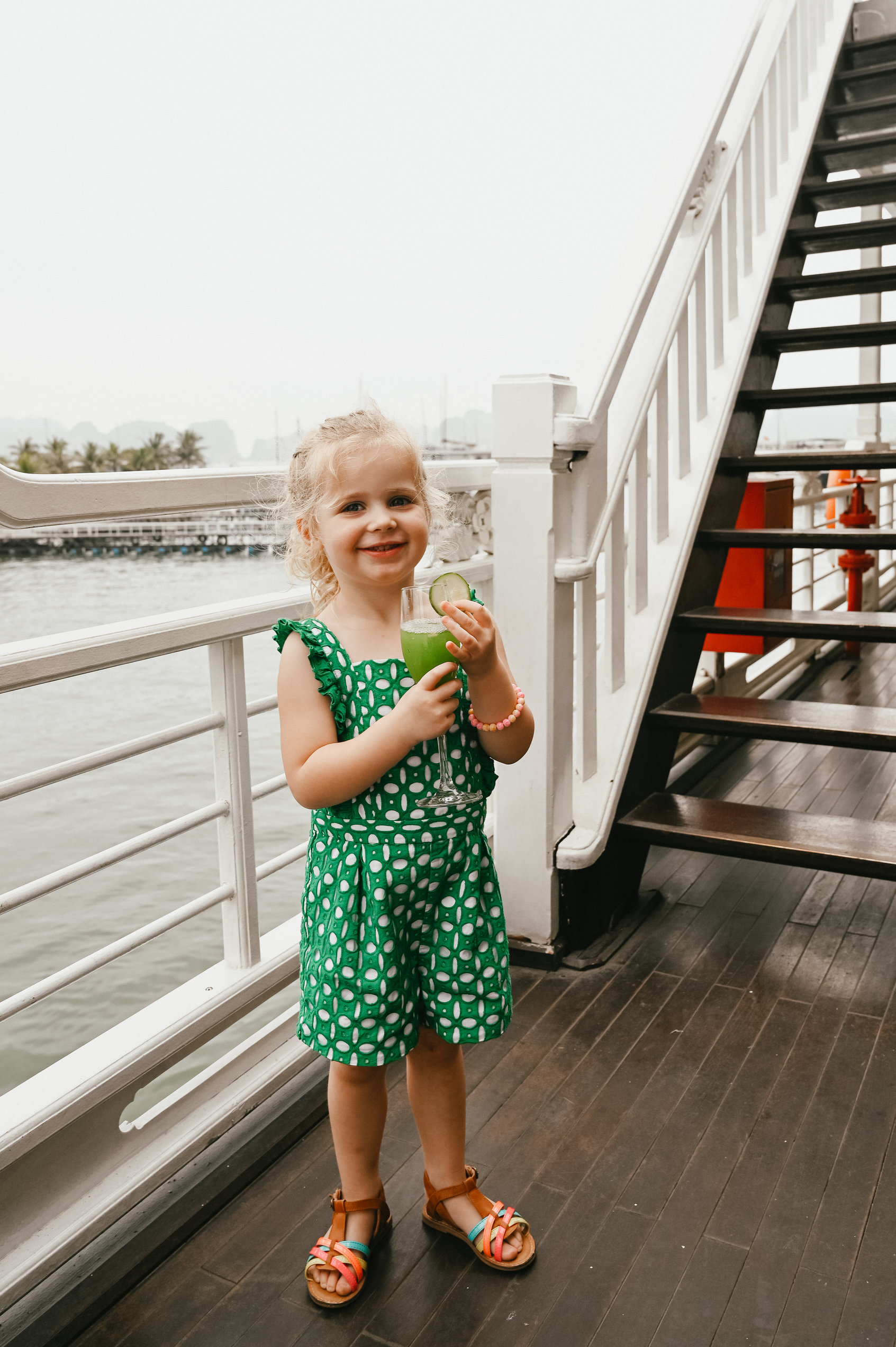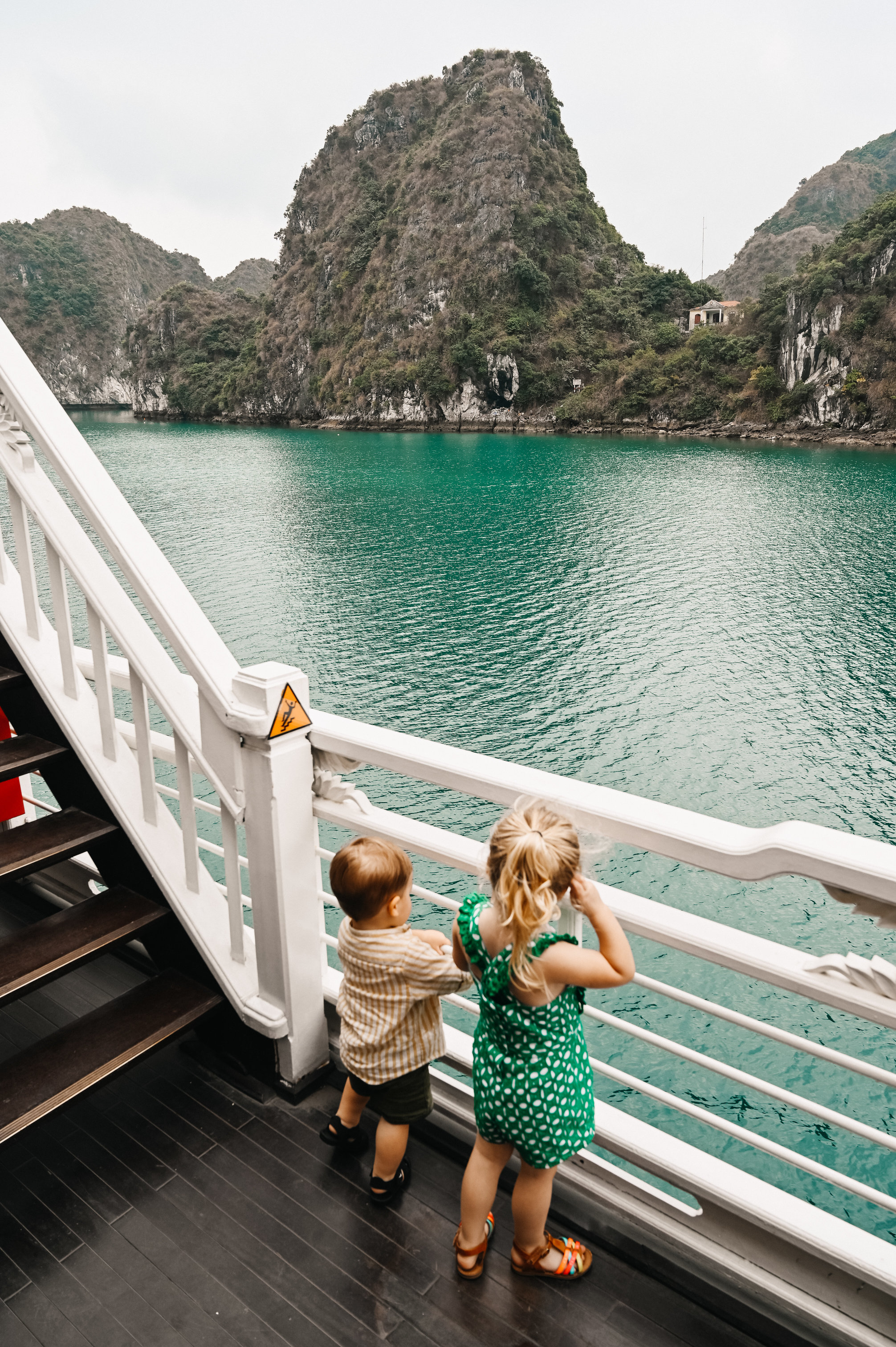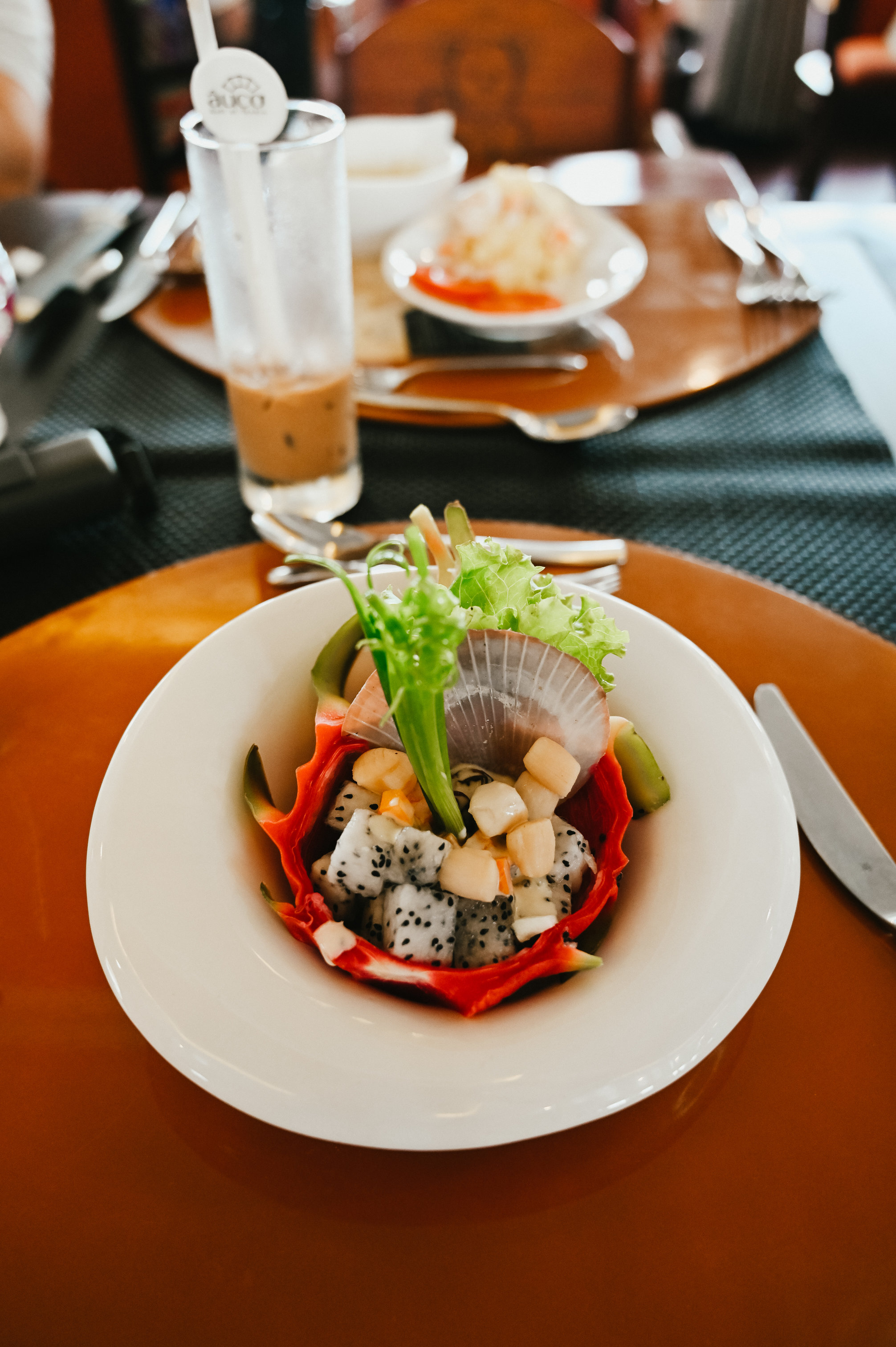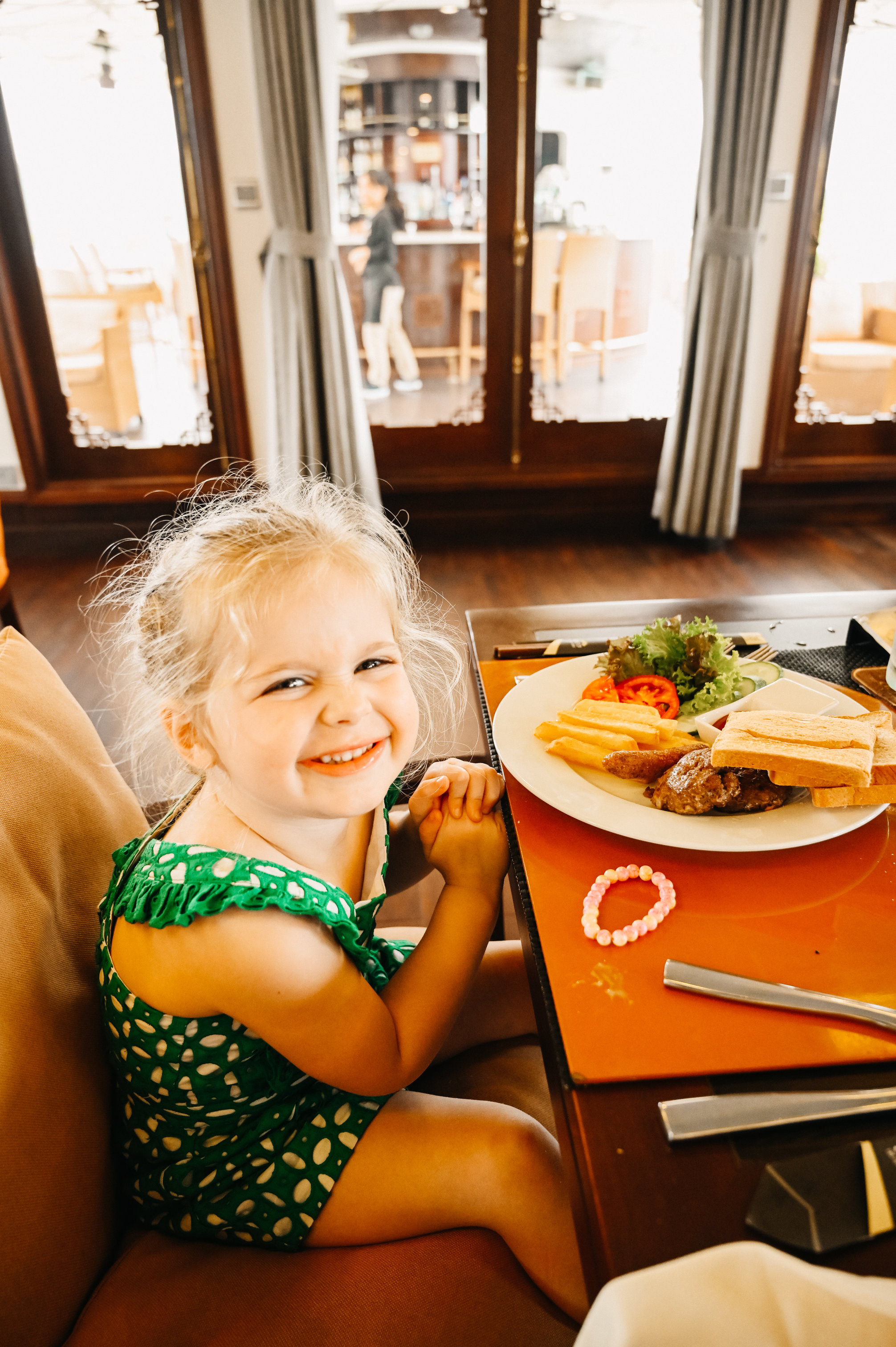 By noon we were on board, welcome drinked, safety briefed and ready to eat. Set menus for the adults with exotic dragon fruit salads and chicken fingers for the kids made everyone feel right at home in what we were hoping to find a secret spot to stow away in unnoticed for a few weeks. The luxury treatment continued with our room, the special Au Co suite at the front of the boat. Given most of the rooms across all their boats are a good size but decorated with dark wood and only fitting 1 extra bed, the Au Co suite was legitimately perfect for our family of 4 with a big bright open space, white walls, a window bench turned toddler bed and a baby cot. It came with a shower, tub and private deck where the kids could run without disturbing the general peace. The main boat has a big dining room, bar, lounge, spa and upper deck that they were constantly wiping clean from all the drool coming out of everyone's gaping mouths as we passed through the limestone islands jutting out of Halong Bay to our cruise's next destination.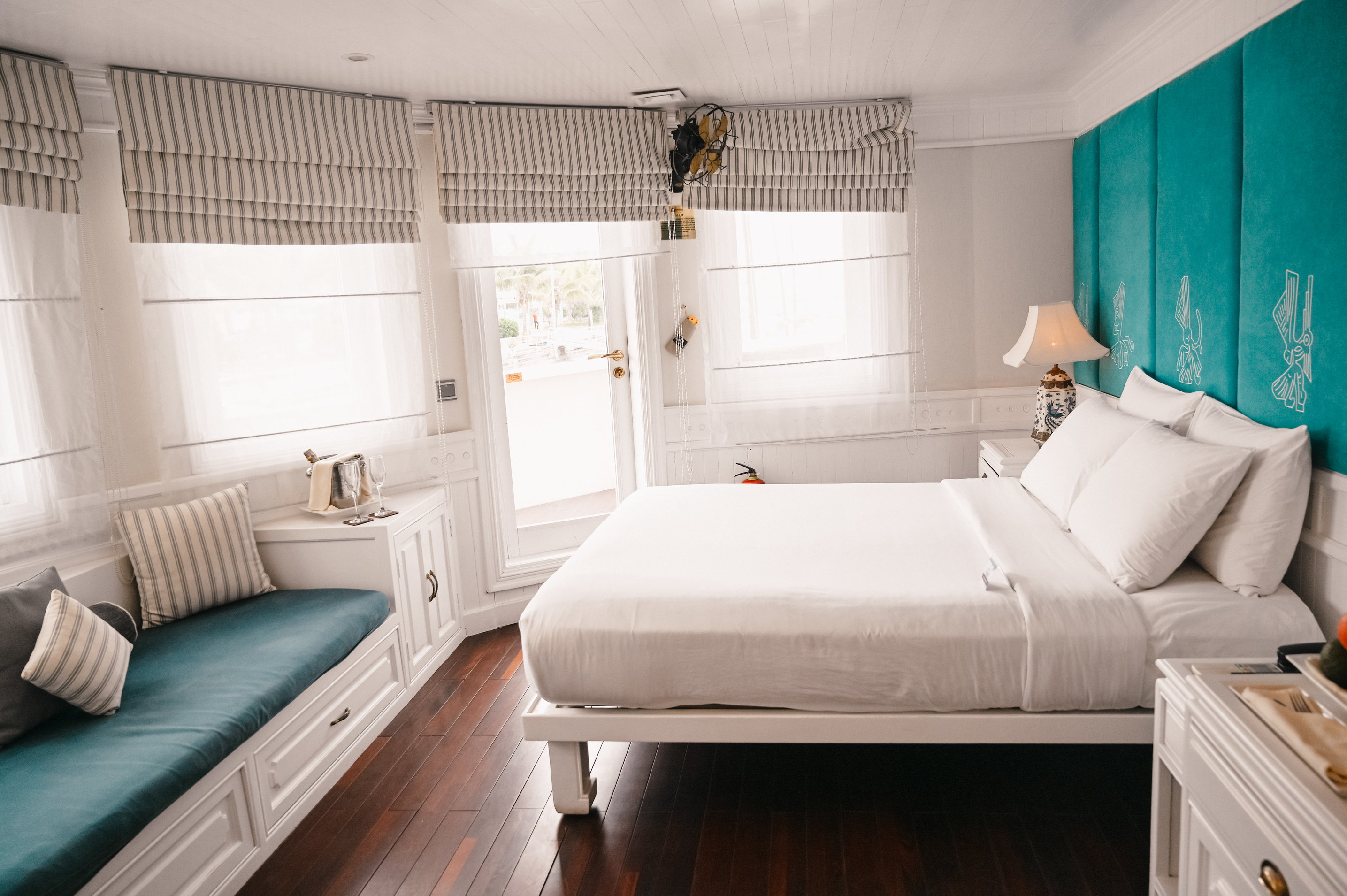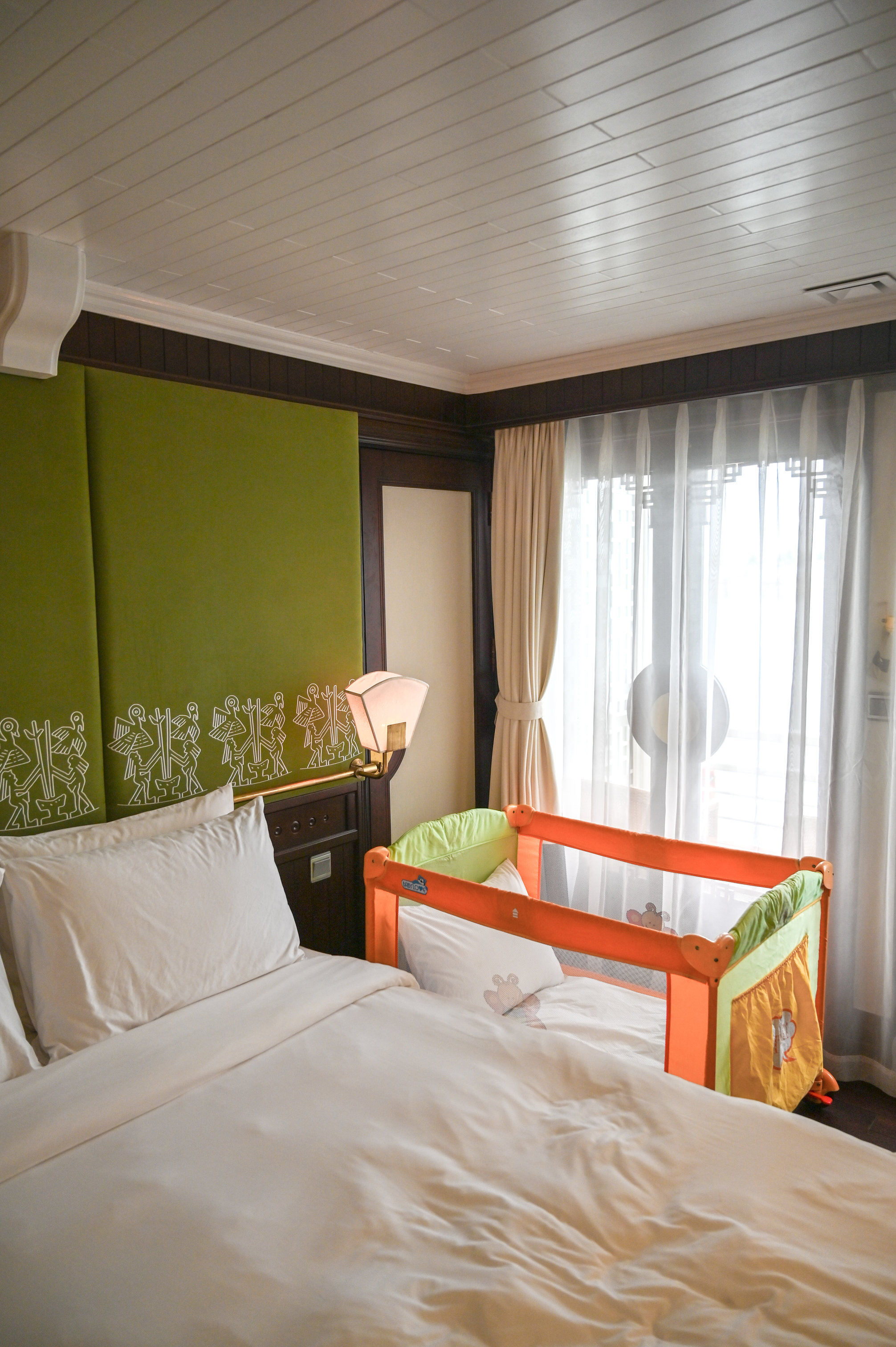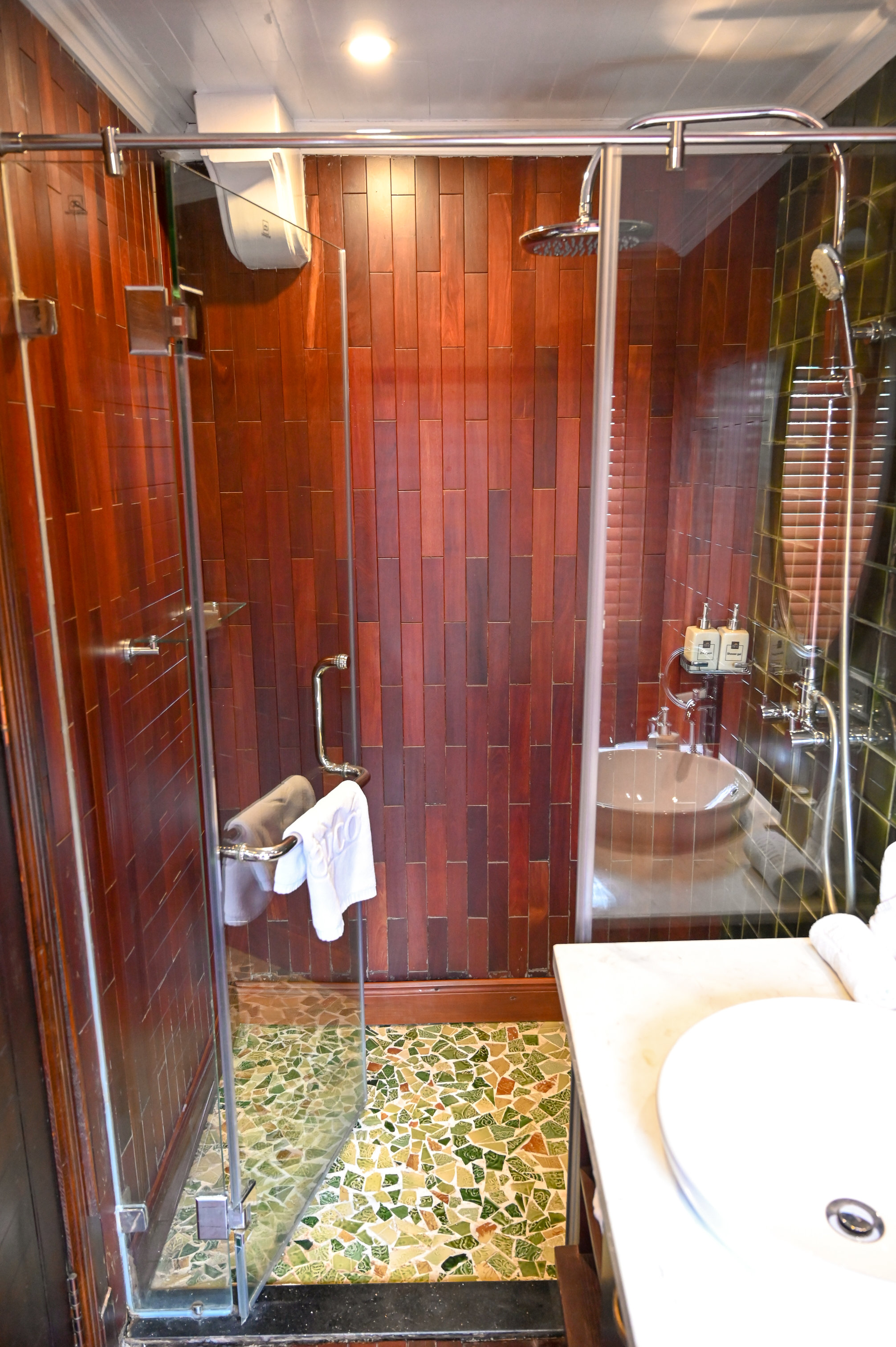 Our first stop was to the island of Viet Hai which gave the options of taking a bike or electric buggy to the organic gardens and town. Bhaya is very involved in the conservation of the langur monkeys which have just 70 left on this island, and can only be seen in this part of the world. Note to self: do not tell your 3-year-old that they're going to see langur monkeys, because while it's technically possible, it's highly unlikely, which left me back peddling quickly into the "monkeys are shy" explanation faster than you can say bananas. Up next was a cooking demonstration on the boat so everyone could go home knowing how to roll the best Vietnamese spring roll possible for their next party. After dinner and an outdoor movie projection, everyone slept like babies. The next day included a great breakfast buffet and the floating villages. We departed the cruise at this point but for those that stayed, they enjoyed kayaking, swimming, caves and water puppet shows, activities that make a longer itinerary well worth it.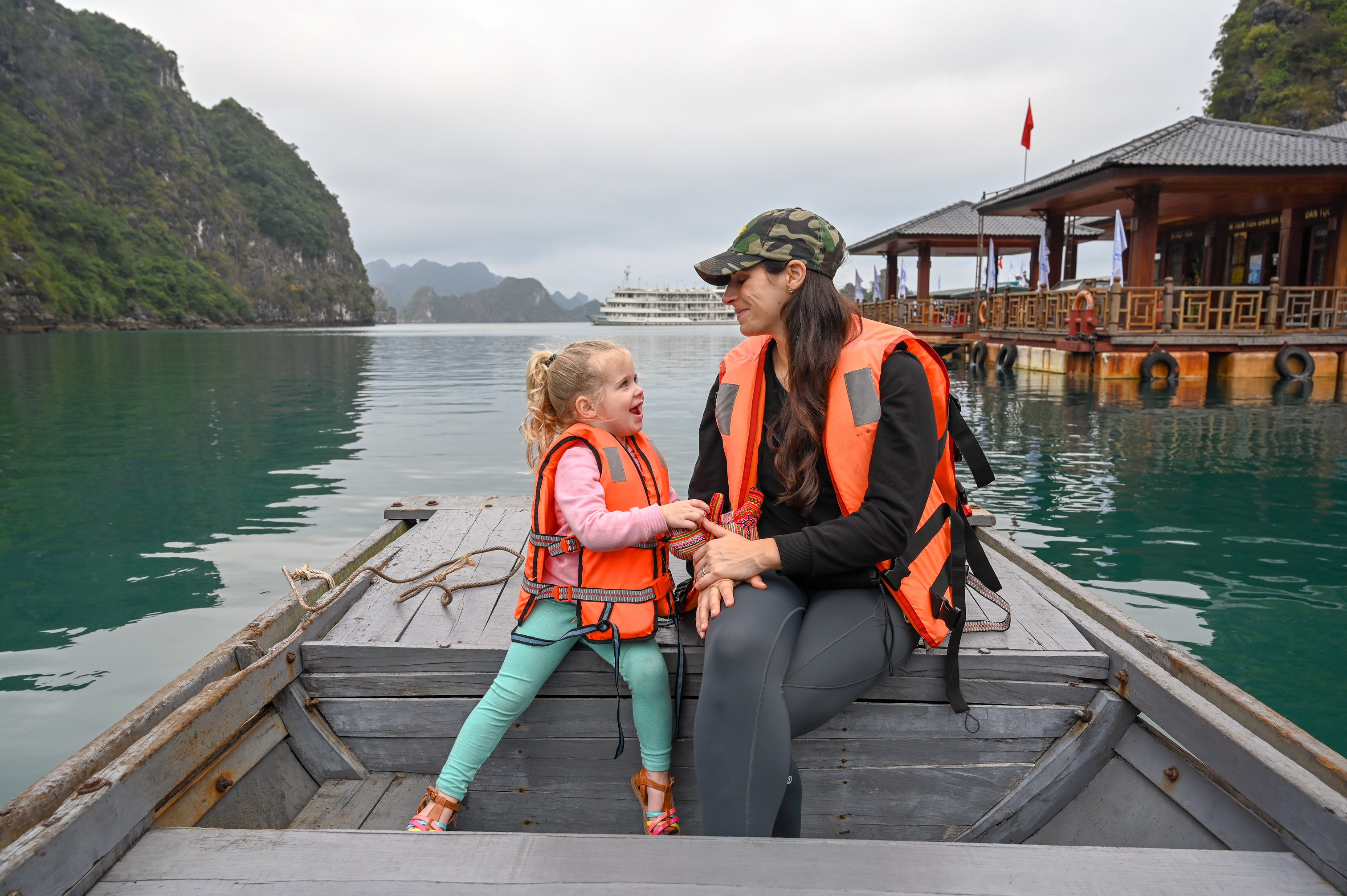 So, I'll give my recommendations like a Vietnamese coffee order. Would I recommend Bhaya cruises? That's a strong, condensed milk filled YES. Their boats are truly among the best in the bay, and I can't imagine a better company to tie your line to out here. Would I recommend the Au Co boat option for a young family? That's a medium brewed yes. The boat was definitely luxury, our room couldn't have been more perfect for our family, and there was plenty of room for the kids to run around. So why the medium brew? The clientele that we had on our Au Co cruise was a very nice group of older people. It was basically like having 30 grandparents around which was really welcoming and warm for us and the kids, but we were the youngest group on the boat by about a generation, with off boat activities that matched the general age of the population on board. Also, the boat's normal itinerary is 3 days and 2 nights, which, with an 18–month-old in our crew felt daunting to achieve, whereas maintaining him on a 2 day/1 night aquatic adventure felt way more manageable. But for even slightly older families, with kids out of diapers that won't try to fling themselves overboard, the Au Co is perfectly set up with interconnecting rooms, off-board activities and food options that'll make everyone happy. And I think no matter the type of boat, you'll find the baby boomers in a large percentage of the rooms, because I'm pretty sure that's what you do when you're retired, you just enjoy life through a variety of cruises away from children you no longer support. I mean I can't blame them, can you?! So if I had to do it again, I'd either wait until the kids were at a slightly less suicidal age and book the Au Co again, or I'd book one of Bhaya's private Legend boats which has 2-3 rooms, choose the itinerary ourselves and have a little less worry that we're bothering anyone with our rambunctious bunch. And I'd try to recruit some friends of ours to come with us so we could make it a real party. But that's what's so nice about Bhaya, you have options of price, type and boat size, all while being confident that you're with a real company that knows what they're doing, not a random captain that's going to take you to a floating village and accidentally leave you there.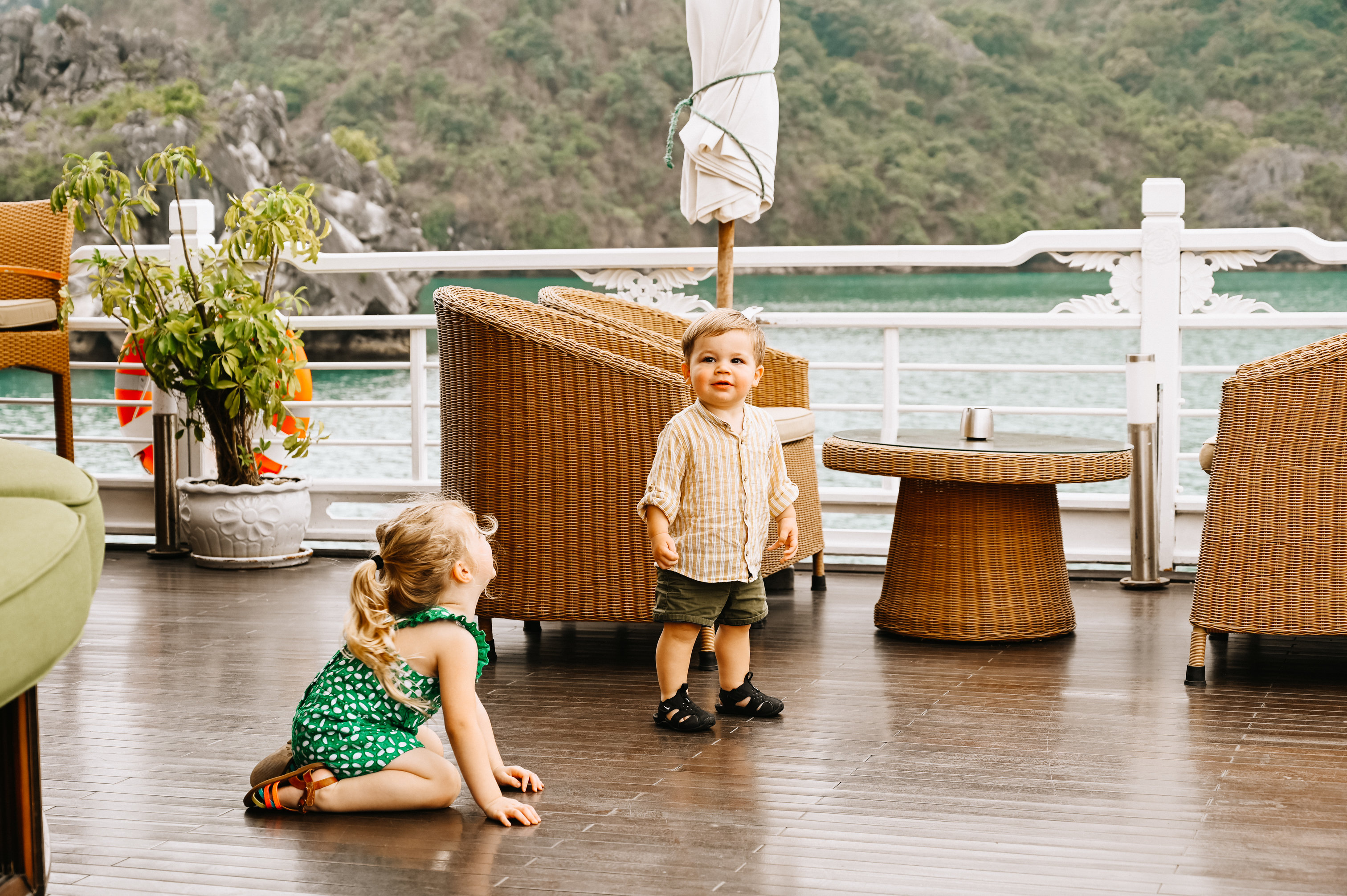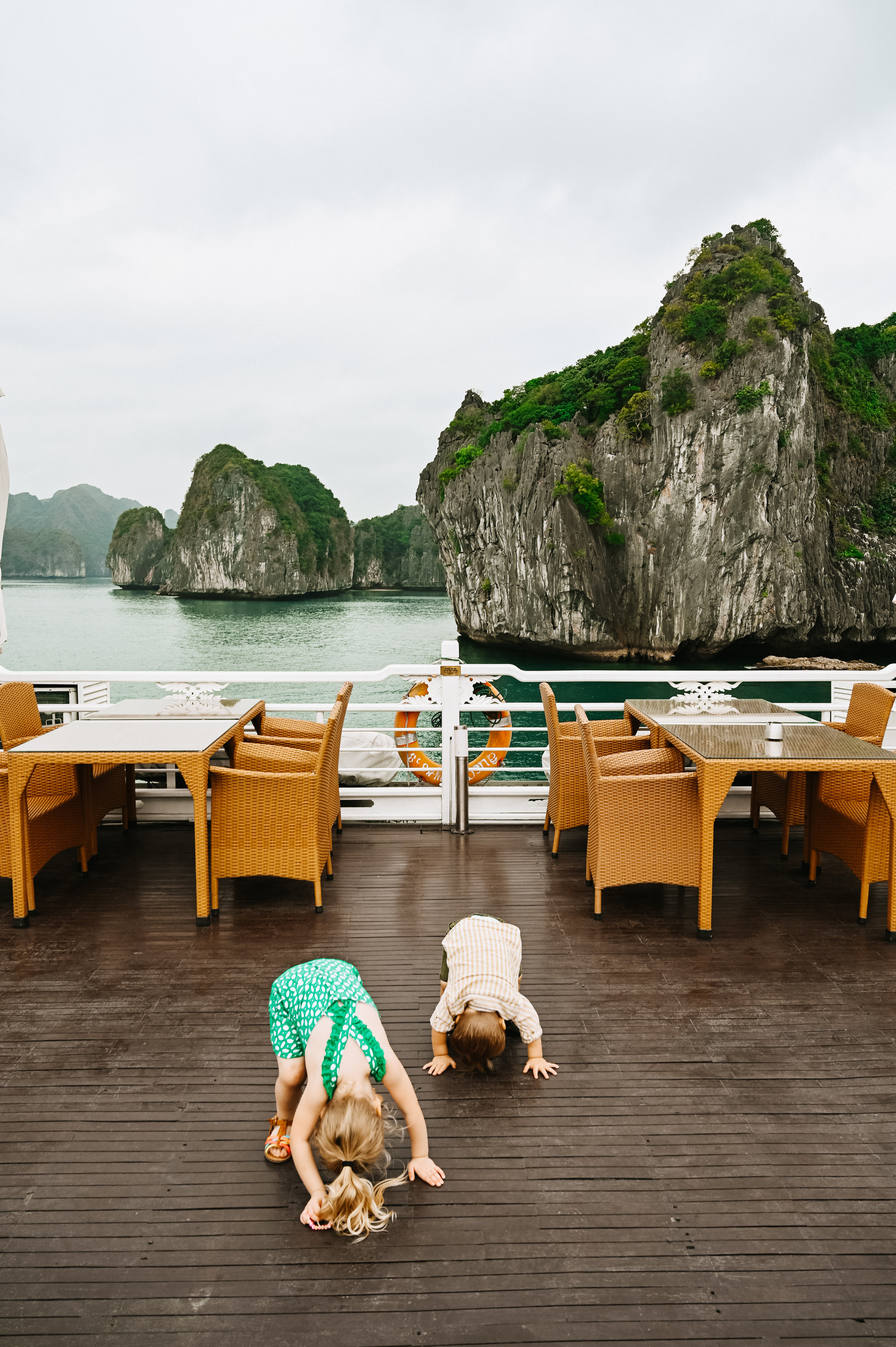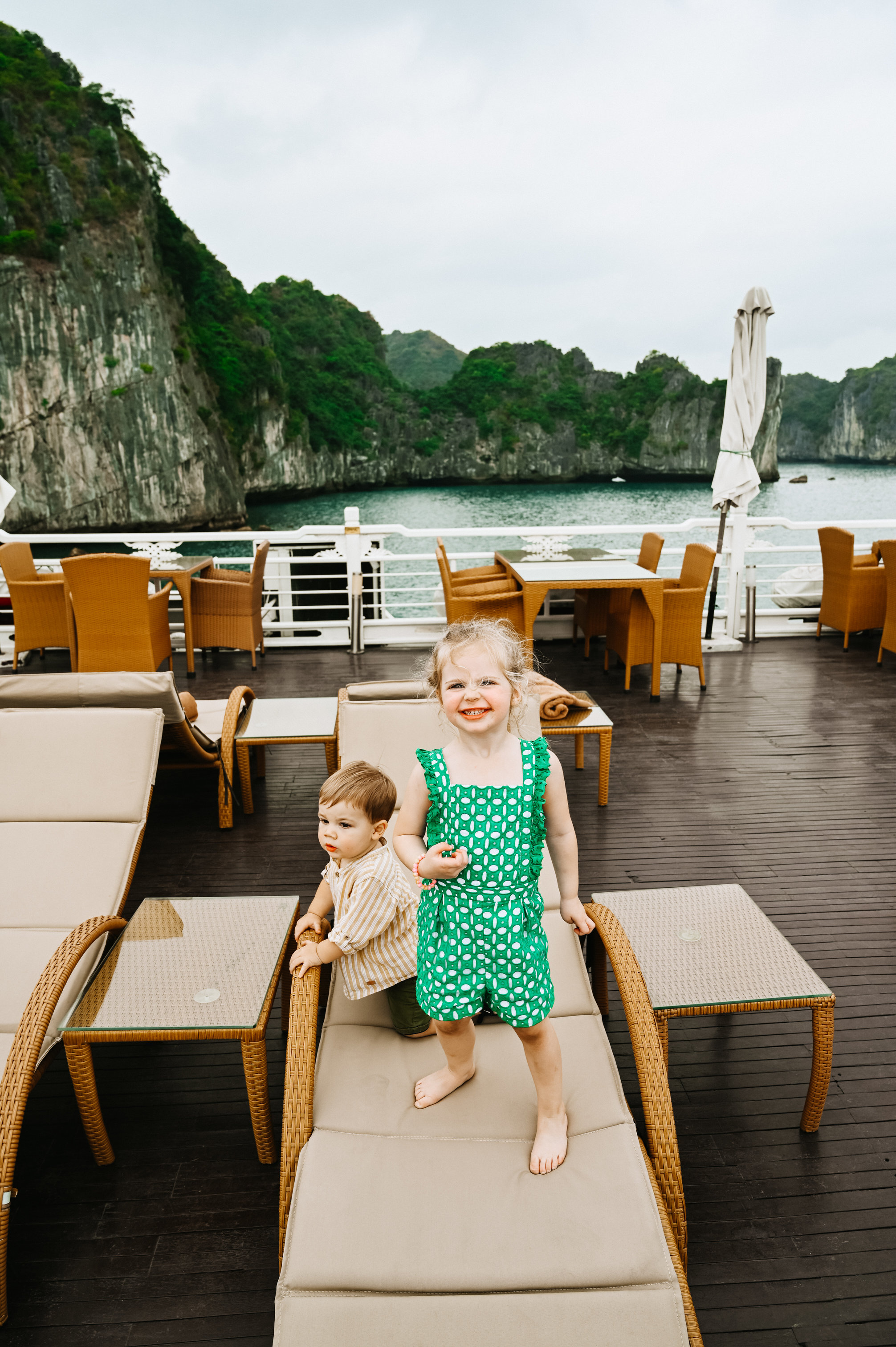 With so many boat companies and types to choose from it can be quite overwhelming, so I was happy to be confident in booking with Bhaya. Their professionalism shows in every aspect, from the rooms, service, activities, port center, transportation, and an overall feeling that this is a well-oiled hospitality machine. I have to say that Halong Bay has been something I've dreamed of for almost a decade, and the scenery was as unique and magical as I could have hoped for. There's truly nowhere in the world like it, and I couldn't have been happier to partner with such pros who made the whole experience come to life with ease.  Stay tuned for a video that we're making of our time with Bhaya and you'll find even more pictures of our time below!
Thanks for having us, Bhaya, if you find one of our kids onboard, we didn't leave them behind accidentally, they requested to stay and I have no doubt your staff will be happy to keep them. And last but not least, Bhaya's been super generous and they've extended a 20% off discount to all Au Co Cruise bookings (cruise only) traveled until December 20, 2019, with the code TWWW20. And for more information about traveling to Halong Bay, check out Bhaya's new handy guide. For more family-friendly adventures in Asia check out our Hotels page and book an amazing holiday asap.