Two words you don't often put together are KIDS and SILK! Regardless, we took our wash and wear young family to Uzbekistan, a key stop on the infamous Silk Road. Little did we know that no bravery or Tide sticks would be necessary as we explored one of the most beautiful up-and-coming destinations in Central Asia.
Let's be real for a minute. If someone said they were going to Uzbekistan, 9 out of 10 times the response would be "but why?!". I've traveled to almost 100 countries, and even I was grouping the 5 Stan's (Kazakhstan, Kyrgyzstan, Tajikistan, Turkmenistan and Uzbekistan) and applying a one size fits all Borat sticker on top. Was I totally incorrect in my expectations? Definitely. Was I disappointed that I didn't see even one person in a neon thong bathing suit? Absolutely. Either way, I was psyched to partner with experts as we ventured into Central Asia with Steppe Journeys, a family owned and operated Uzbekistan tour operator.
Whatever you think Uzbekistan travel would look like, the reality is most likely completely different. So prepare to be amazed as we break down our tour with Steppe Journeys, which took place over 4 days, 3 cities, and 3 train rides. Pack some Uzbek Plov (aka rice pilaf) and let's go!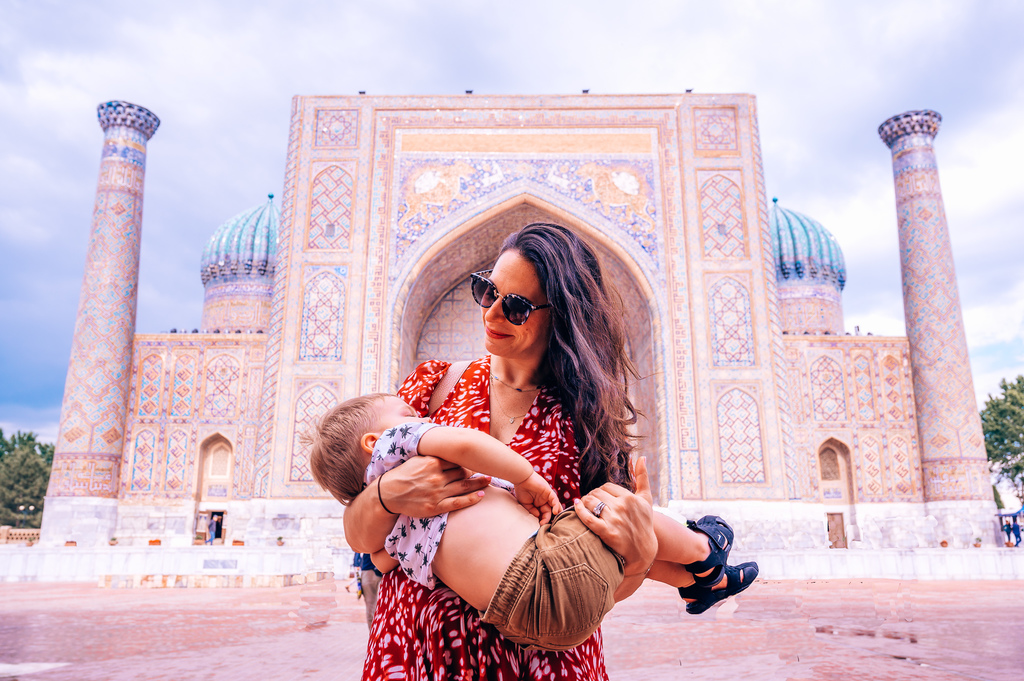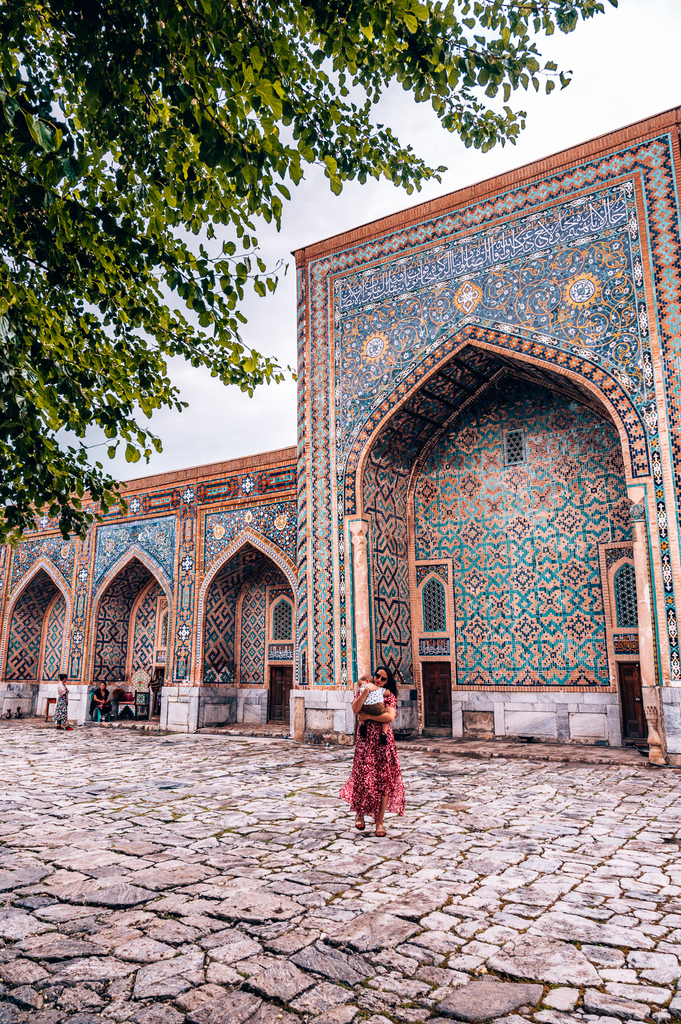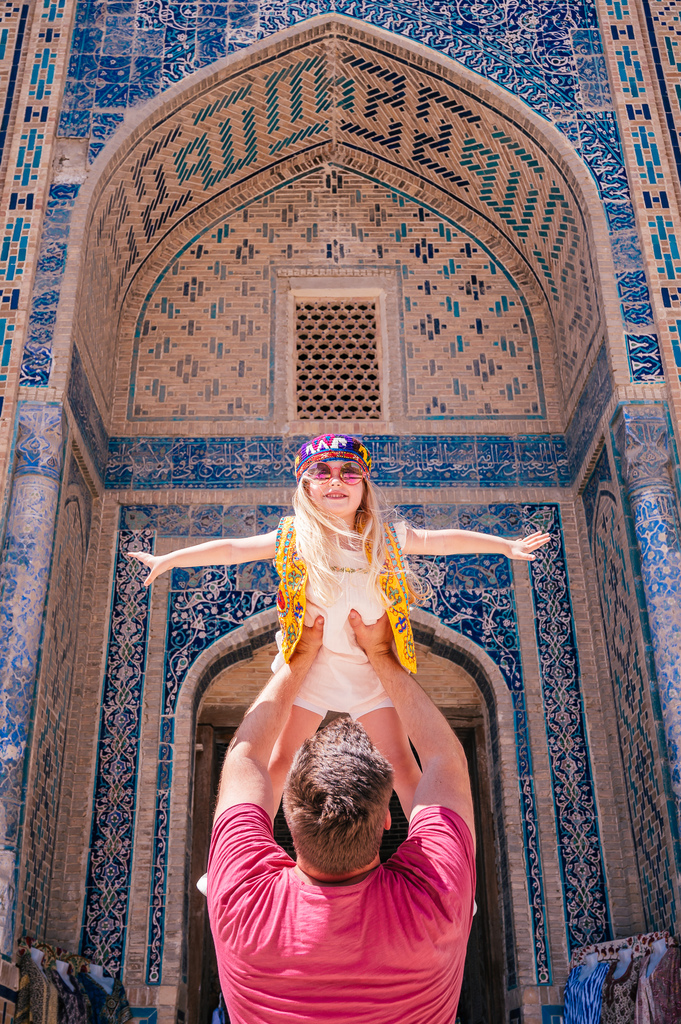 Experience the Best Uzbekistan Travel Agency and Silk Road Tours with Steppe Journeys
As if going to a new region of the world isn't stressful enough, the idea of putting our Uzbekistan itinerary into the hands of someone else put me, a natural planner, into a bit of a sweat. But even with all my research for "best time to visit Uzbekistan" or "Uzbekistan tour packages," I still didn't feel like this was a place I wanted to conquer with just Google as our guide. Enter Steppe Journeys, our Uzbek holiday knights in shining armor. Their 5-star TripAdvisor rating, speedy response to my emails and clear knowledge on anything I'd ask before our trip had me totally sold from the get-go.
Steppe Journeys calls themselves a team, an Uzbek travel agency that knows the entire Silk Road and Central Asian tour route like the back of their hand, but what they don't say is that they're an actual family. Run by a large, local family that's been in Uzbekistan and the Central Asia tourism industry for over 30 years, these guys know what they're doing. And within 12 hours of landing, I had already met 3 siblings and felt like an extended family member.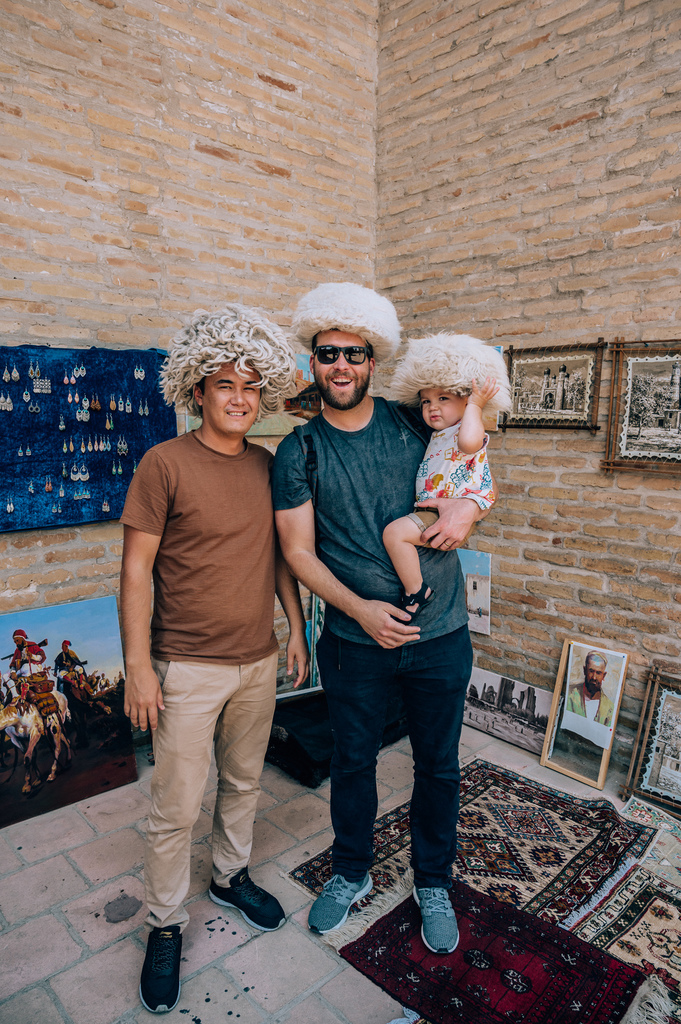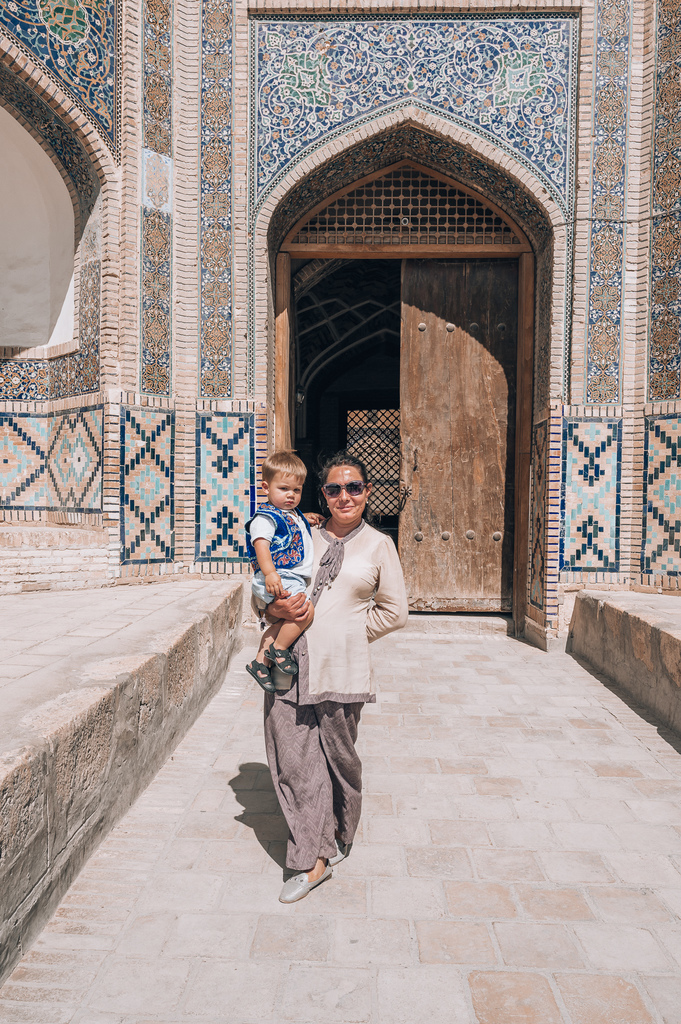 Steppe Journeys mapped out our 4-day itinerary, booked our accommodations, bought our train tickets, took care of entrance fees and set up guides and drivers in each of the 3 cities we'd visit. The fact that I didn't have to do everything for this family trip made it that much more enjoyable for me as well!
Each guide was friendlier than the next and immediately understood we were a shade finding, fast running young family with kids that wanted to see and hear as much as possible but at a rate that kept the kids moving, cool and interested. They carried kids, pushed strollers, held hands, donated their jackets to keep them shielded from the rain and took family pictures even when we tried to resist. With 3 cities, 3 hotels, 3 train rides, and 2 airport runs at 3 am, the logistics were a piece of baklava for Steppe Journeys. They put us directly on trains and picked us up at stations, pointed out the best restaurants in the area and put a smile on even when the kids were completely melting down mid-mosque visit. Without a doubt, this trip wouldn't have been half as good without their expertise!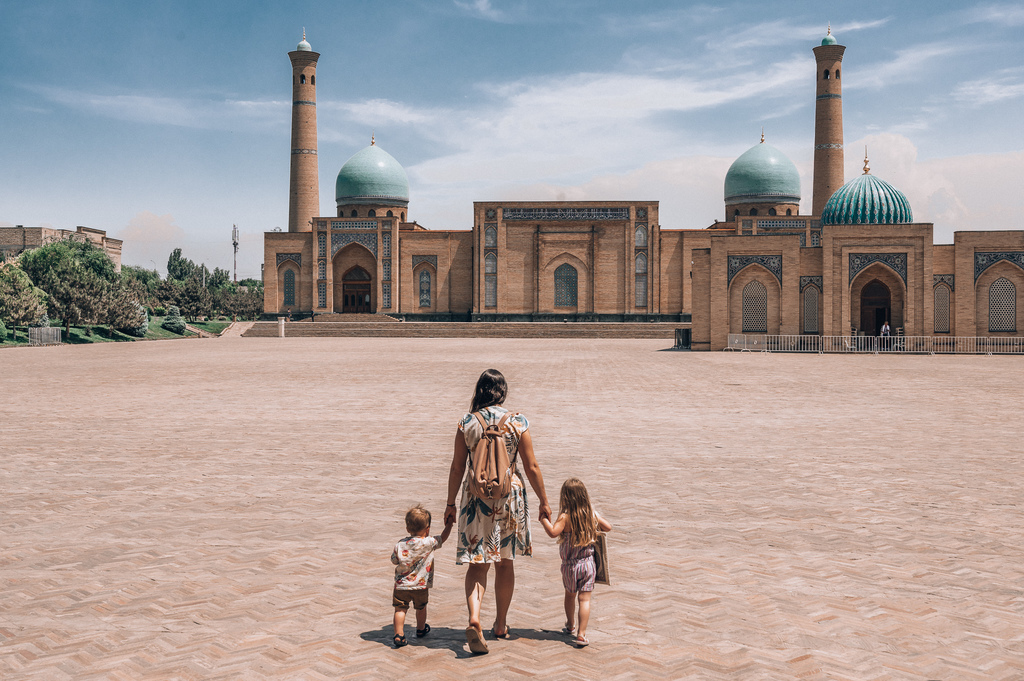 Uzbekistan Itinerary
Places to Visit in Tashkent
Chorsu Bazar – with every fruit imaginable, our well-trained monkeys tried to steal every cherry and apricot we passed. And can we talk about the ceiling of the indoor market and the globe shape of this place? It looks a little different than my local supermarket, to say the least.
Tashkent Metro – arches, mosaics and gorgeous chandeliers. When our guide asked if the New York subway looked similar, to which I said, yes, but if you add a few notes of urine and a gang of rats as the landlords. But seriously, don't miss the metro stations, they're each unique and super cool.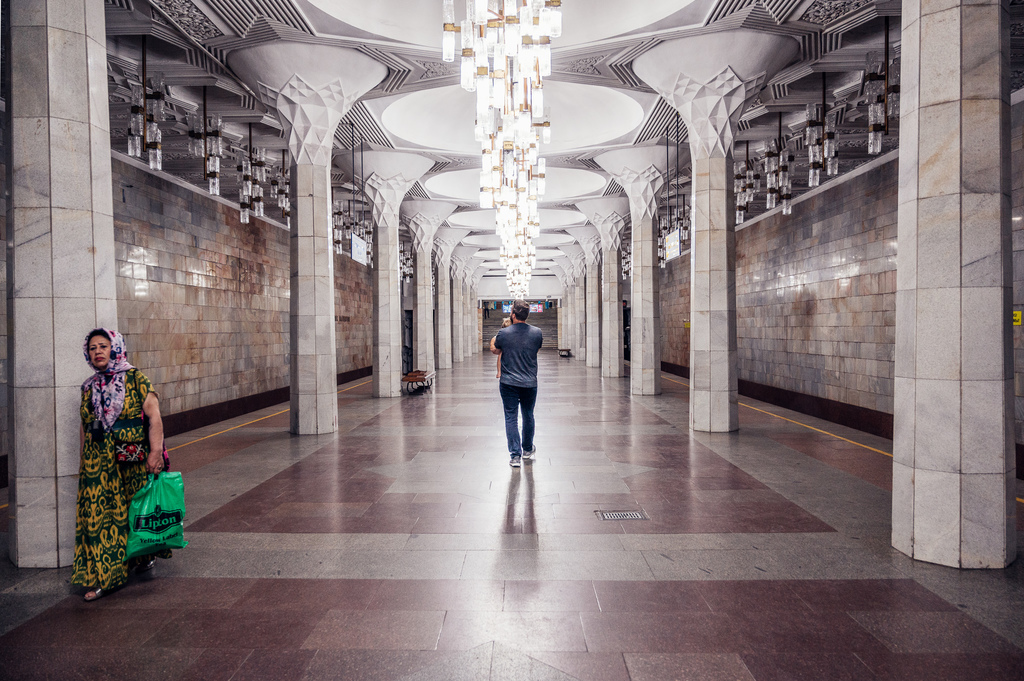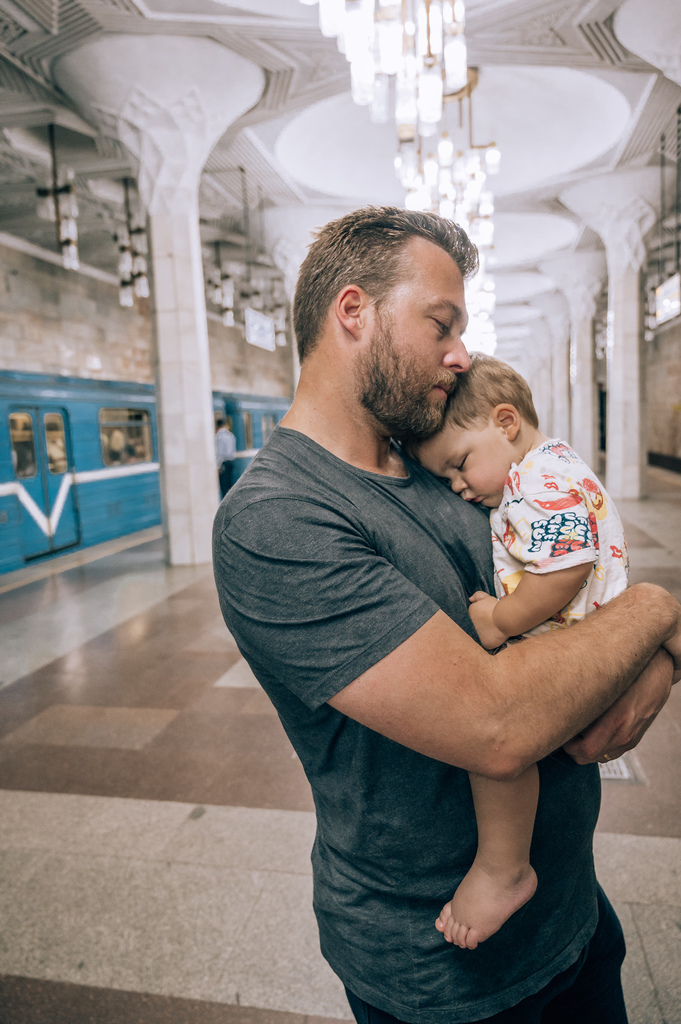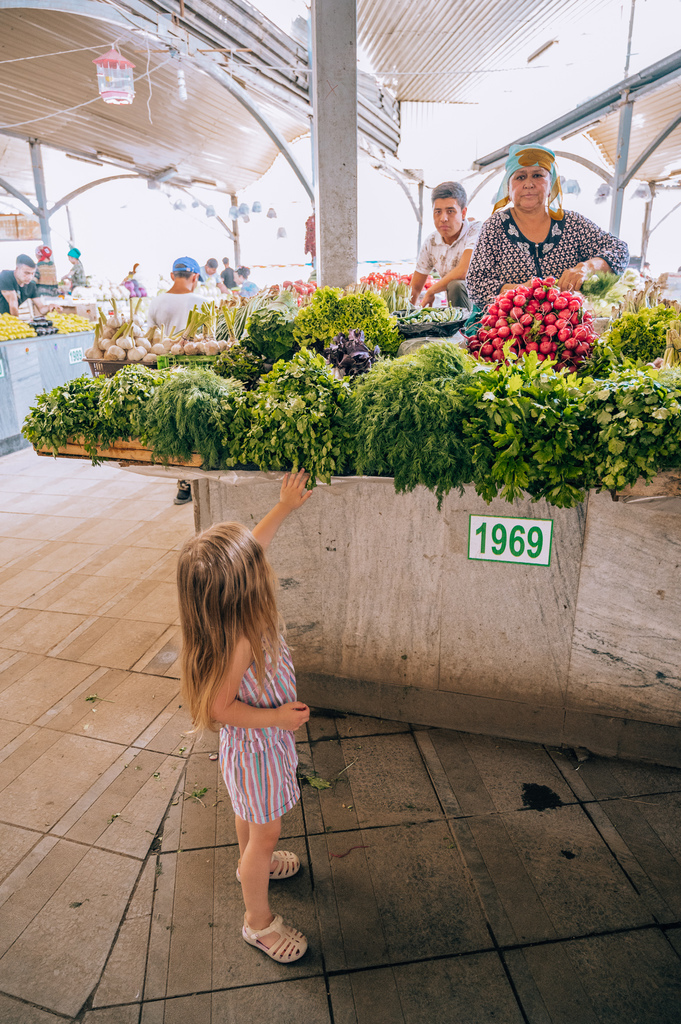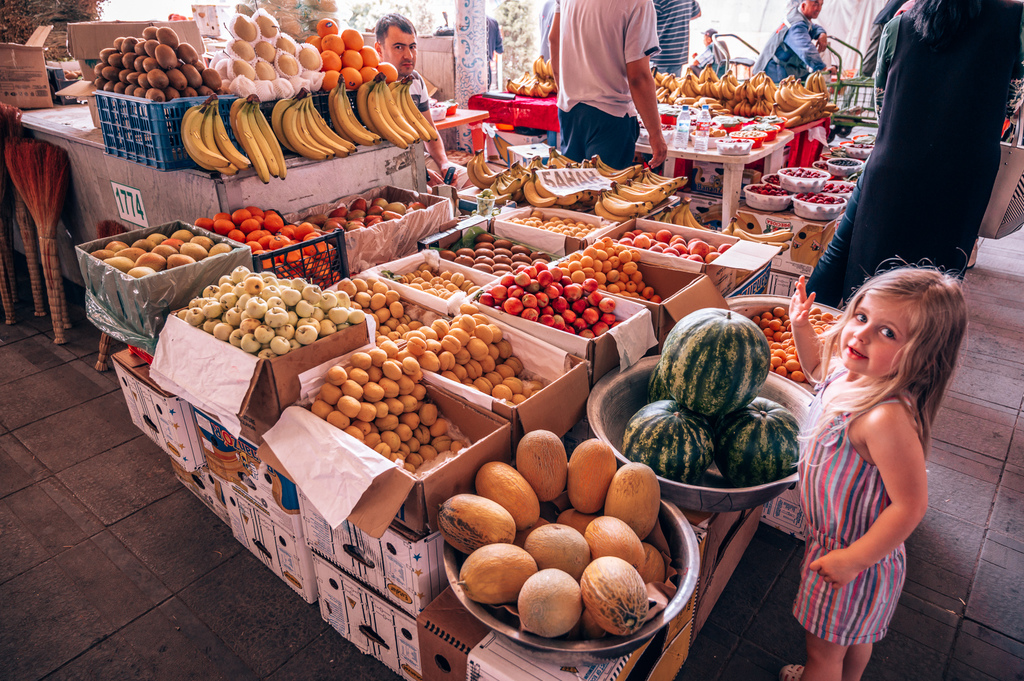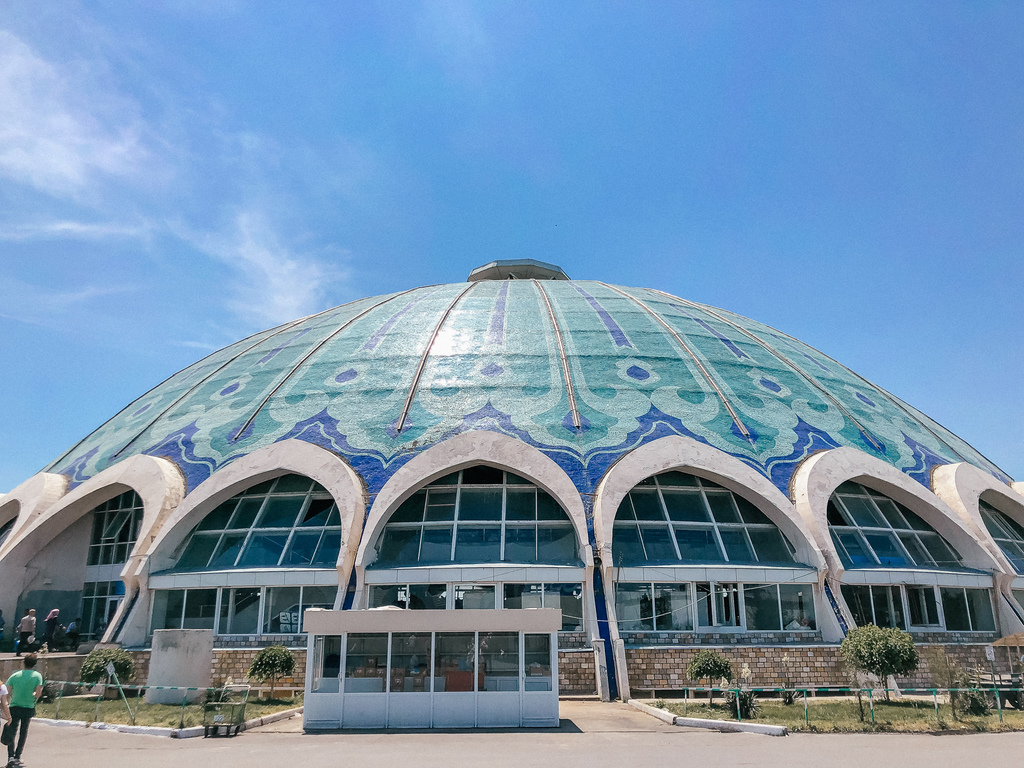 Hazrat Imam Complex – from the oldest Quran, which, FYI is seriously old, to shops with handicraft souvenirs, areas for prayer and a gorgeous courtyard, this was a solid place to introduce us to Uzbekistan and duck from the heat for a bit. Fun fact: Uzbekistan is HOT in May.
Lunch at Ibrohim Bek restaurant – from food to language, Uzbekistan has a lot of similarities to Turkey, so we buckled down and ate a feast of meat and baklava like it was our last supper. Insert meat sweats here.
Clean and modern – Tashkent goes down as one of my top cleanest cities in the world, and that's saying a lot considering I've lived in countries like Switzerland and Singapore, whose standards are scarily high. I don't know how, but I saw not one piece of trash or anything out of place anywhere we went. It's like the Uzbek Twilight Zone.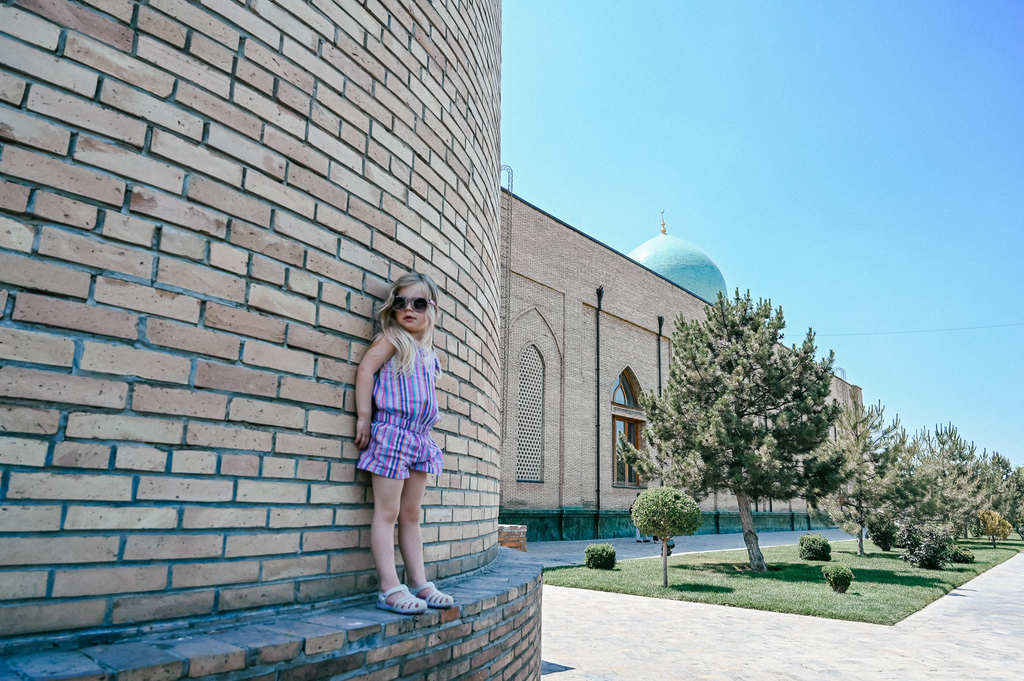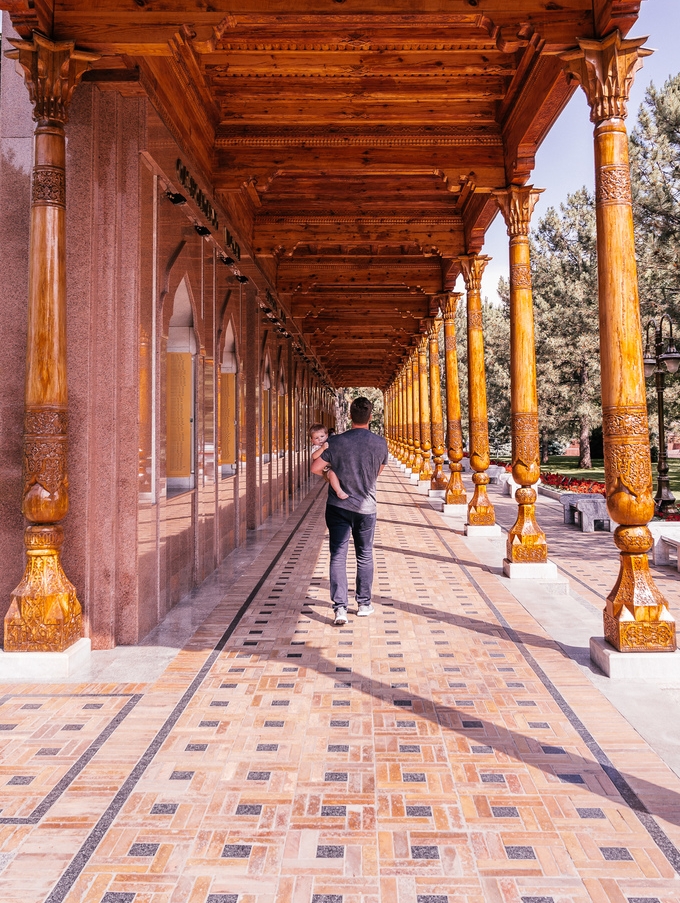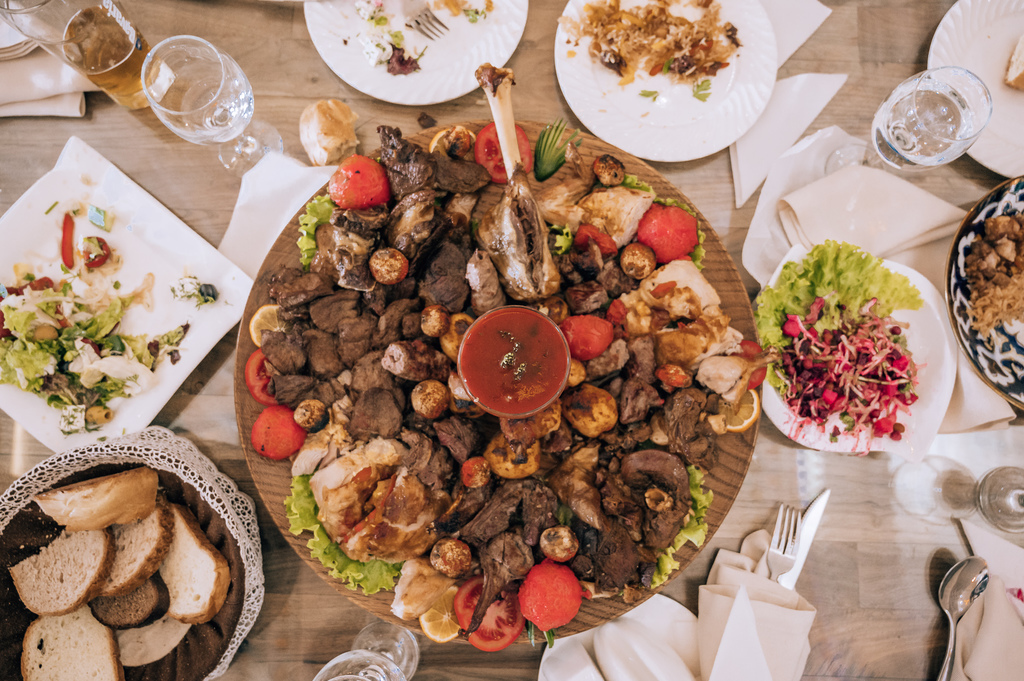 Tashkent to Samarkand Train
Pick your ride – there is a regular train, which takes 3 hours in one of those old school compartment trains where it's 6 seats behind each set of doors. Comfortable and a cool experience. You can also opt for the bullet train, which whisks you there in 2 hours in a high-speed train that looks like something you'd find in Europe or USA. Efficient and a faster option than its regular sibling.
Food on the Go – there's enough snacks sold on the train to keep even my two bottomless pits appeased and the stations were super clean and modern.
NOTE: You'll have to show your passports and tickets at security to even enter the train station.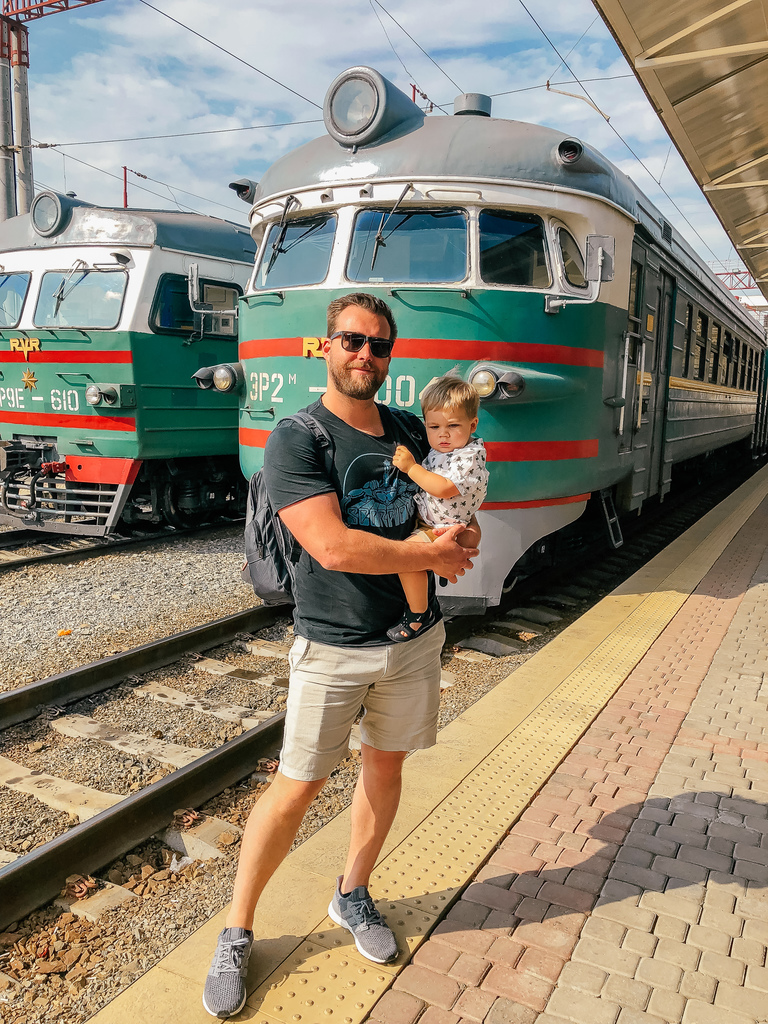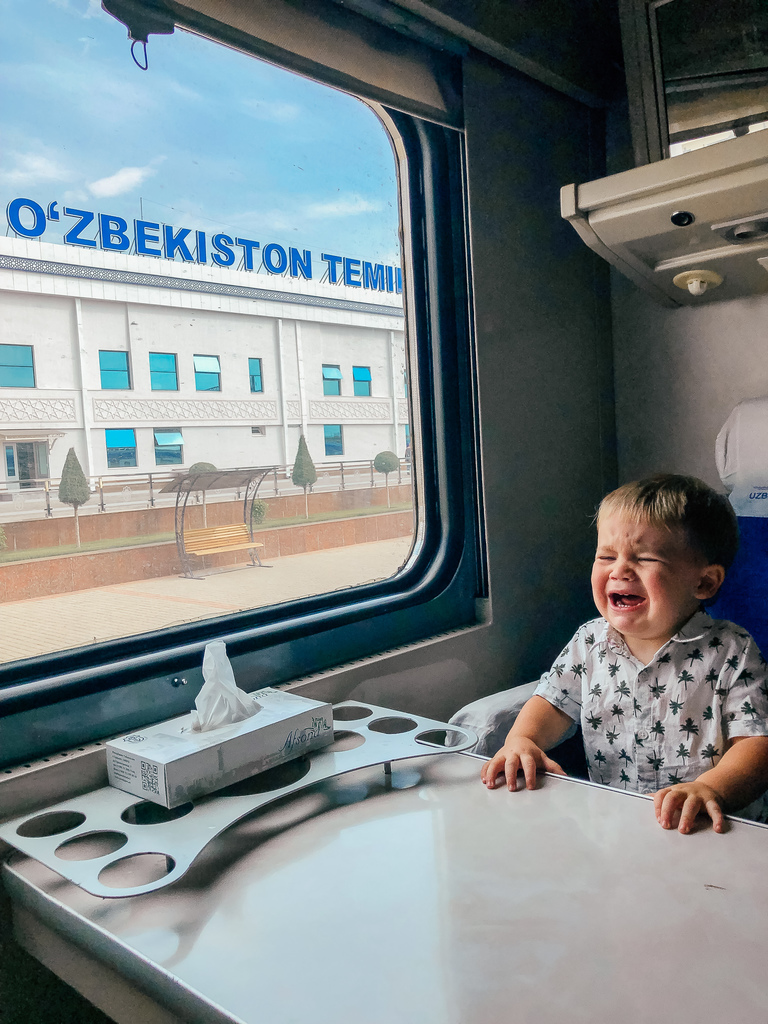 Samarkand Tour
Lunch at Platan Restaurant – after an early morning train ride, the first stop of our 2nd day was some local food at Platan, which was delicious and mighty filling.
Gur Emir Mausoleum – the burial place of Amir Temur and a seriously stunning set of mosaics and domes. When you're inside looking up just make sure you don't slip on anyone's drool from their jaws dropping open.
Registan Square – the real show stopper of Samarkand. This place is next level with 3 madrasas built in 15-17 Centuries. Full of beautiful mosaics, perfectly maintained courtyards and cool shops with Suzani embroidery, carpets, robes, hats…you name it, you'll want to buy it.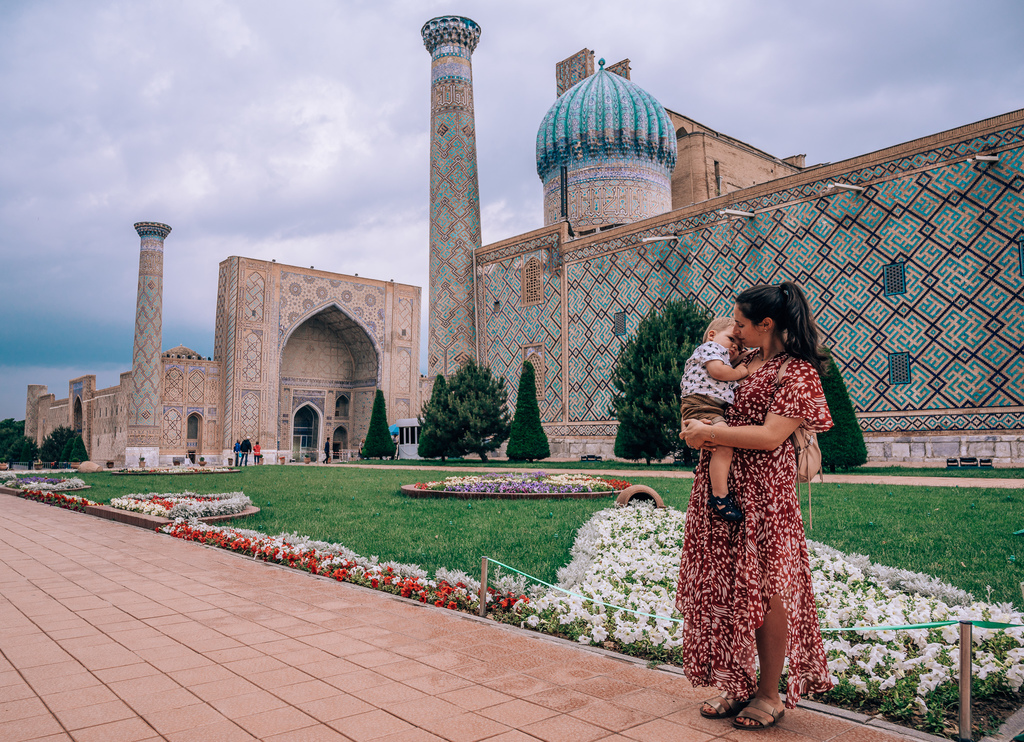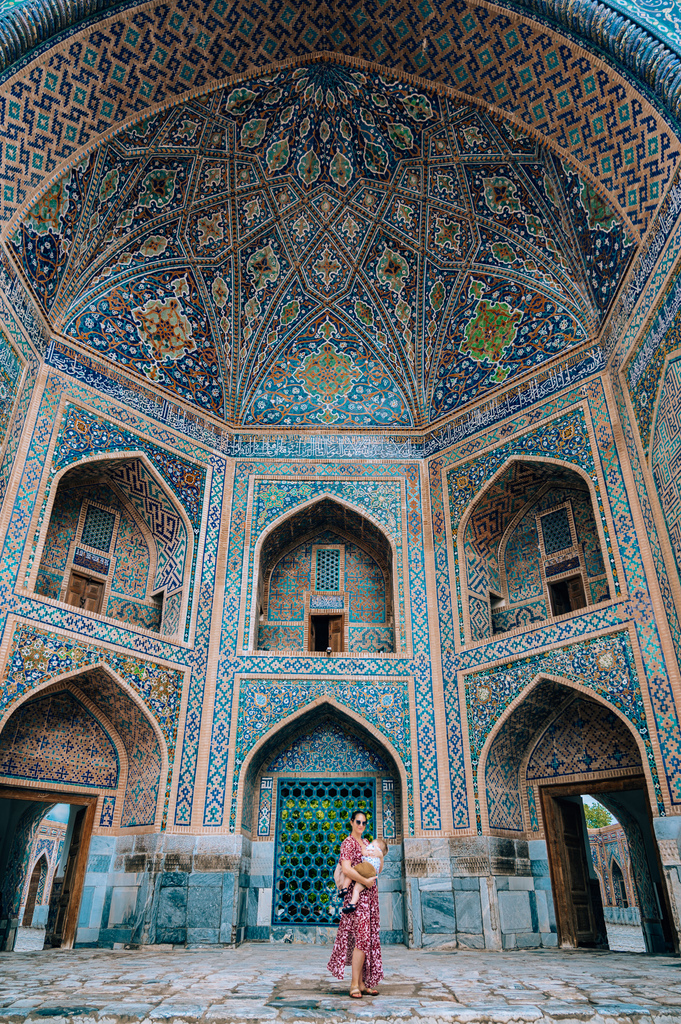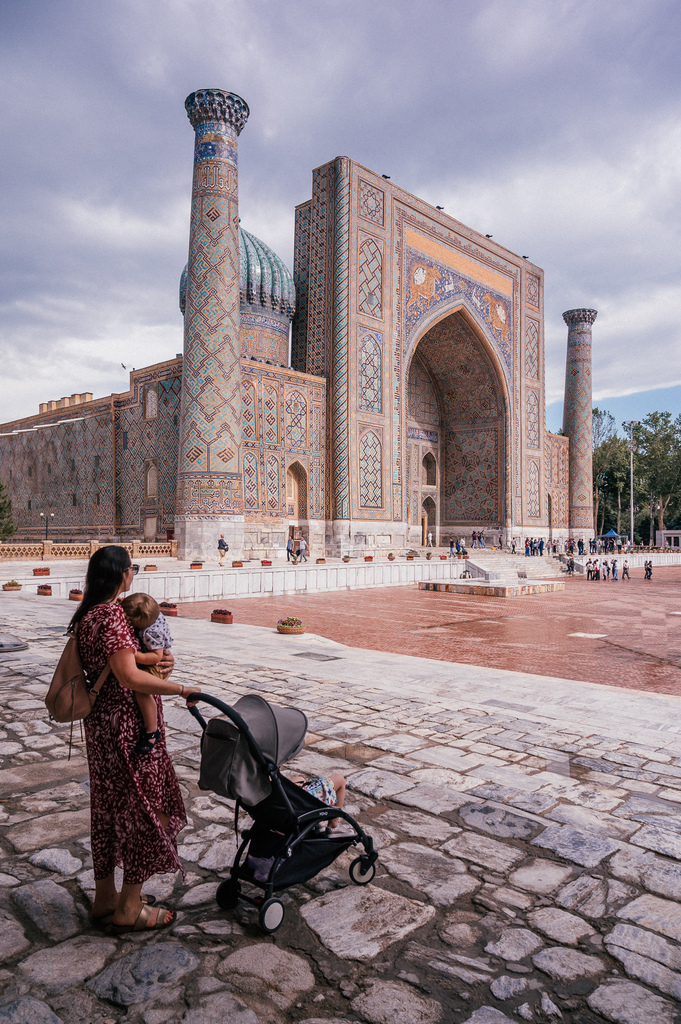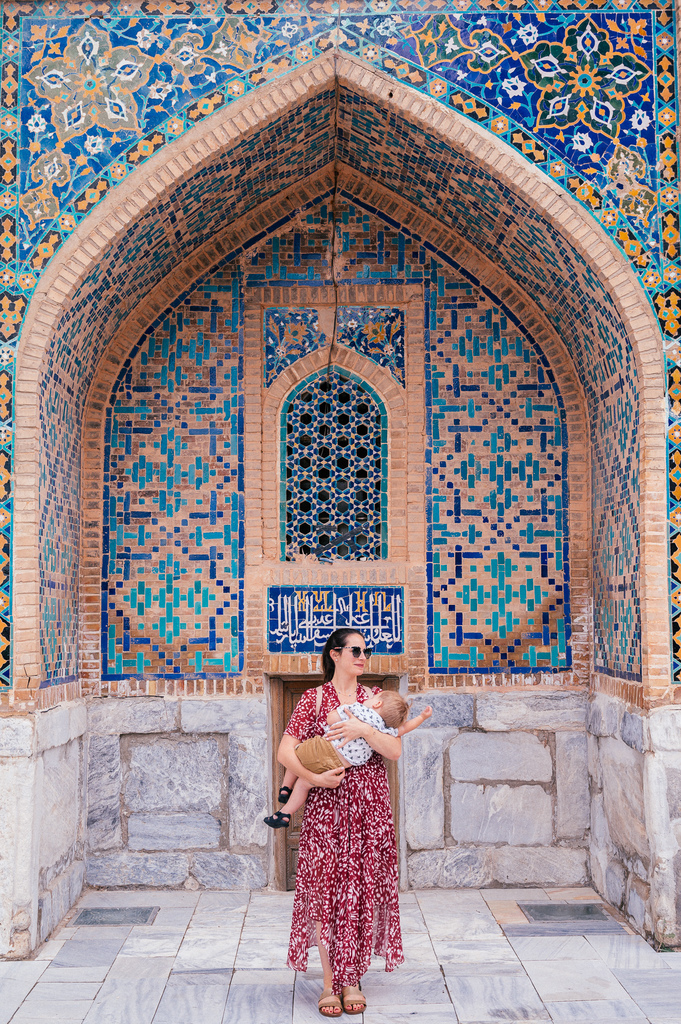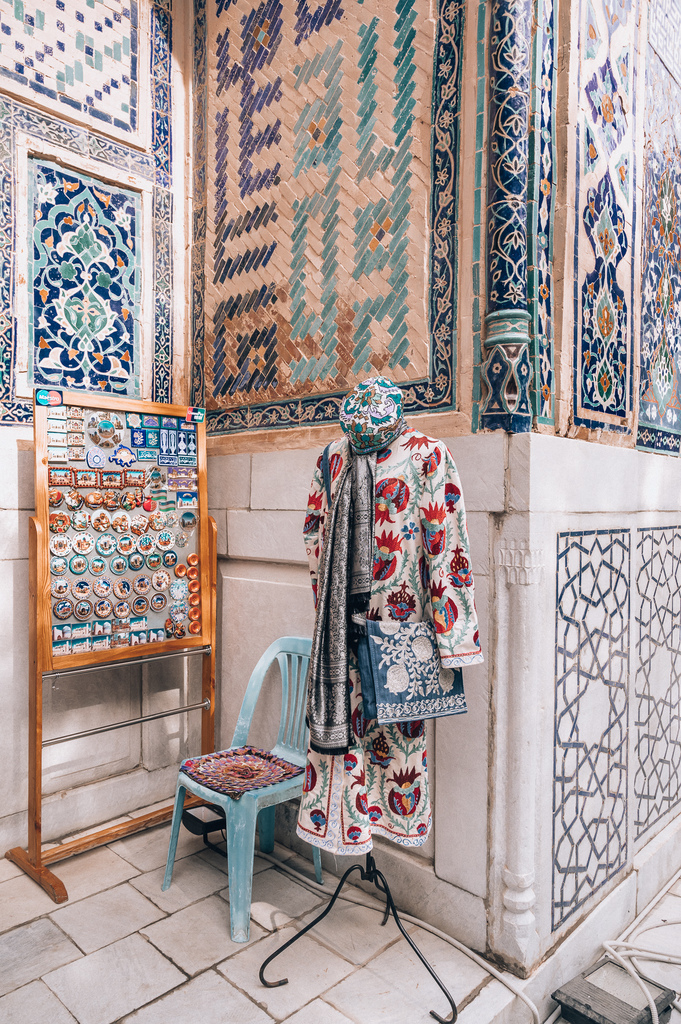 Samarkand to Bukhara Train
Again, you can choose between the 2.5-hour ride on the regular train or the speedy 1.5-hour journey on the bullet train.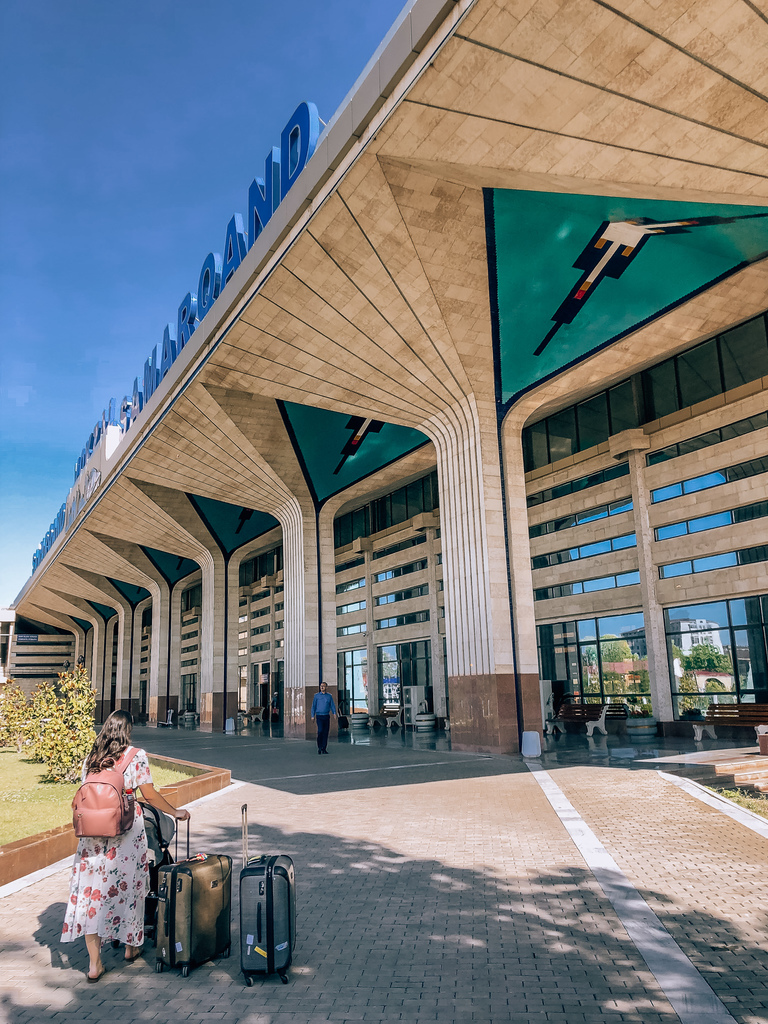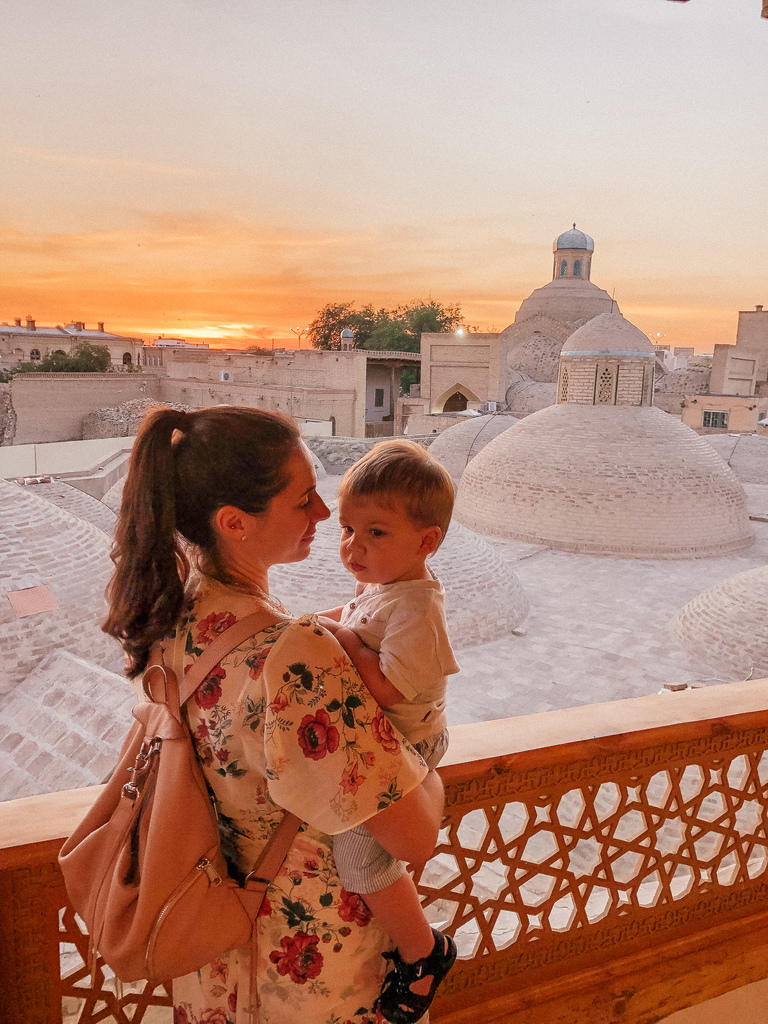 Bukhara Travel
Old Town – like somewhere out of an Uzbek storybook, it has to be one of the prettiest and well-maintained old towns I've seen. Domes that bubble up around you, beautiful white stones and courtyards with artisans everywhere. And don't get me started with the handicraft shopping here. It's awesome and dangerously bad for the wallet.
Sightseeing – Laby Hauz Complex, Nadir Divan Begi Madrasah, Magaki Attari Mosque, and a carpet museum are all within a stone's throw as you walk the old town.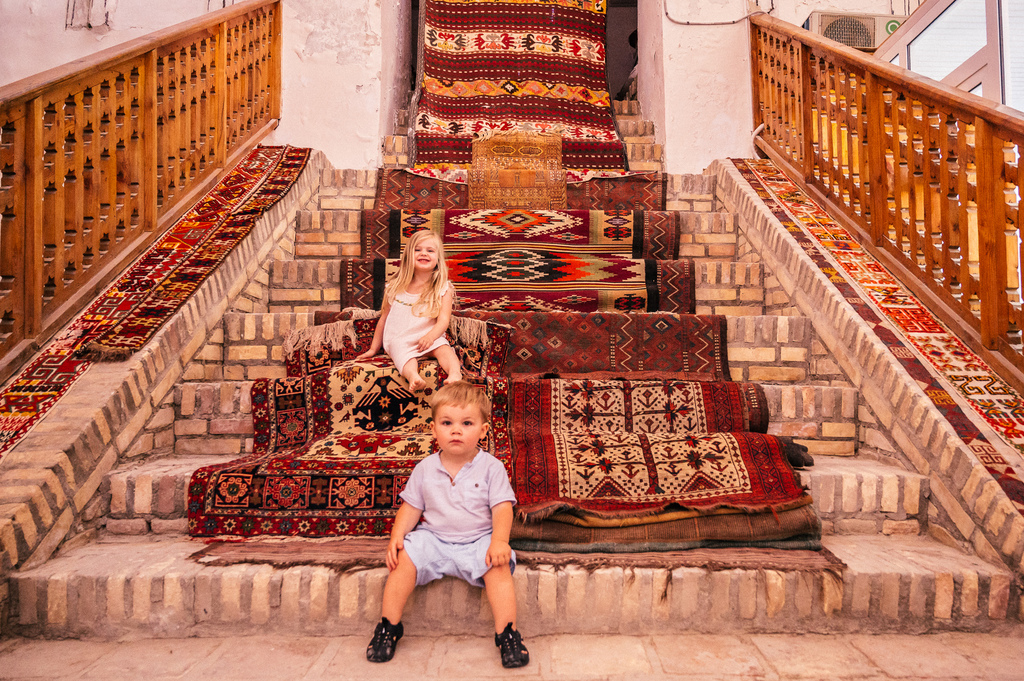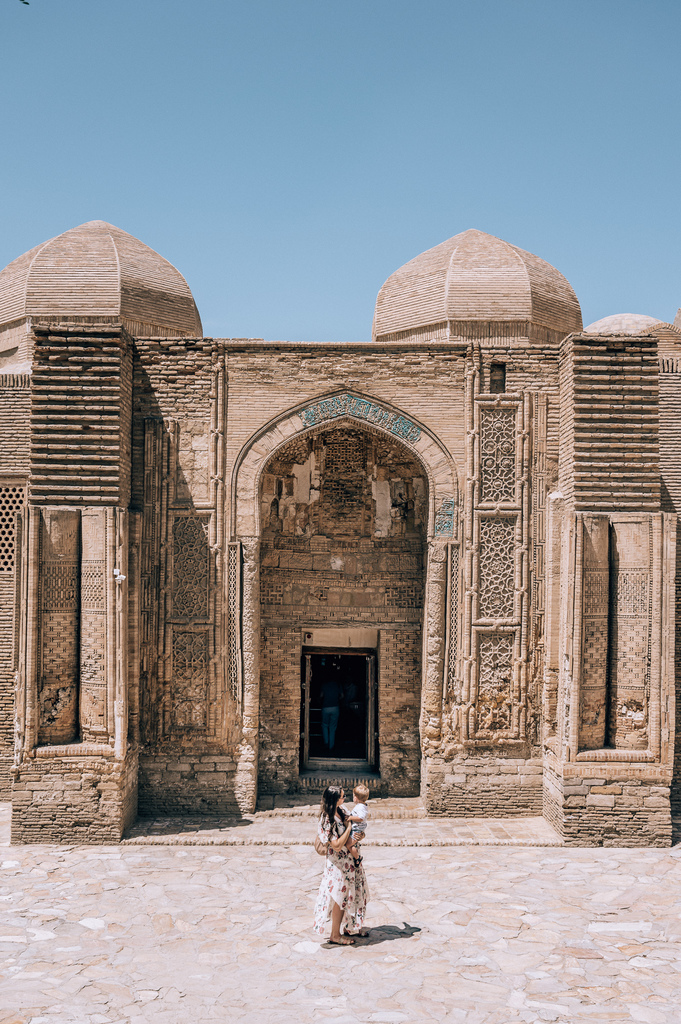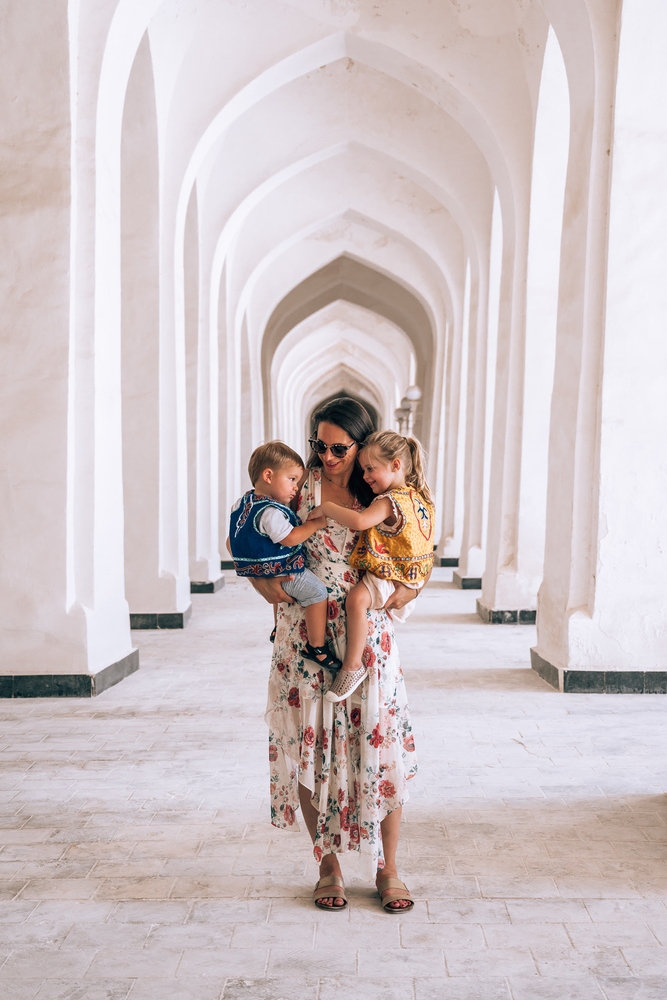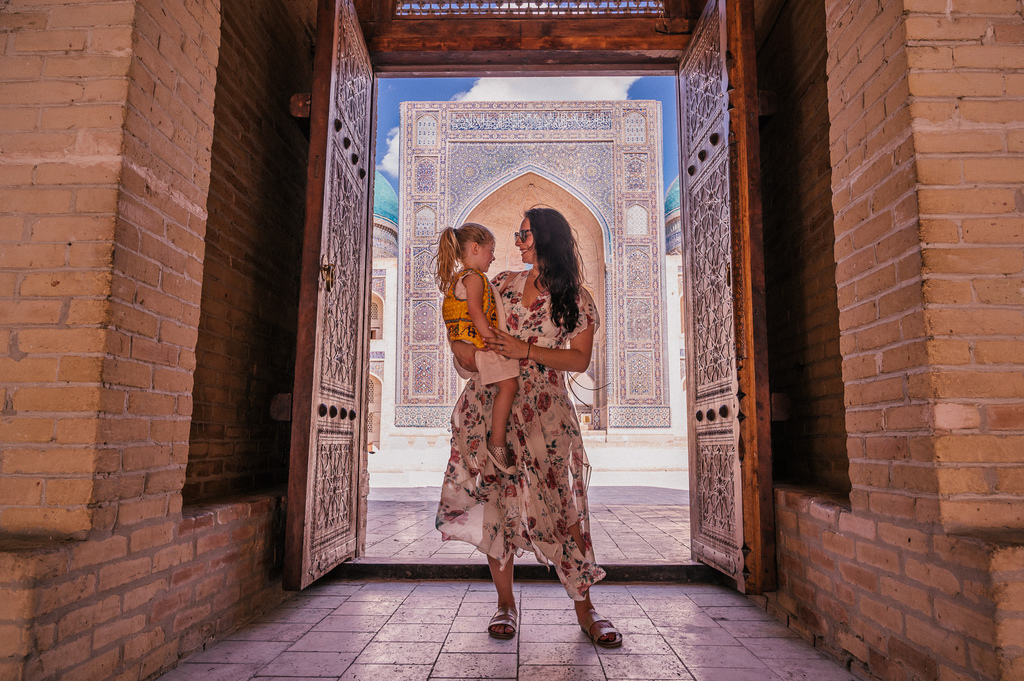 Nighttime – the center of the old town was so alive at night. The kids rode in electronic toy cars, the 3-year-old begged for a henna tattoo and dancing and music were everywhere.
Endless Options – there were so many other sites we saw in and around Bukhara from Samani Mausoleum and Ark Fortress to Sitorai Mokhi-Khosa Palace, there's almost too many to name. You could easily spend 2 days here roaming all the nooks and crannies.
Bibihanim Boutique Hotel – my favorite hotel during our time in Uzbekistan. It felt like a hip, trendy riad hidden on a safe side street in the Old Town, but clean and with solid WiFi and aircon. The owner also tried to marry their son off to Nala, so maybe we'll come back for the wedding.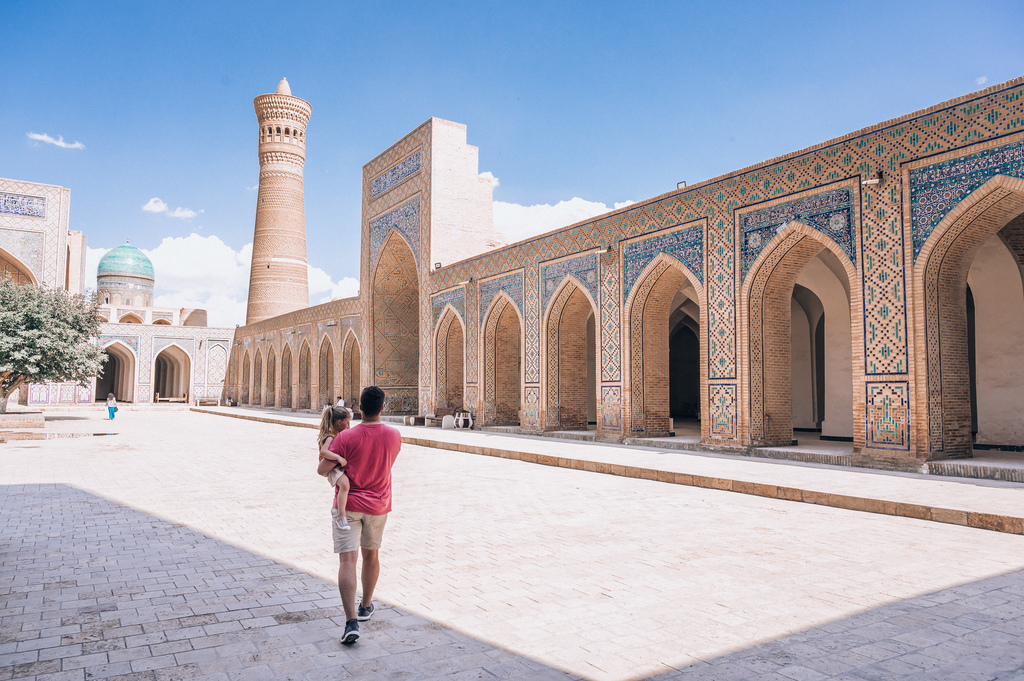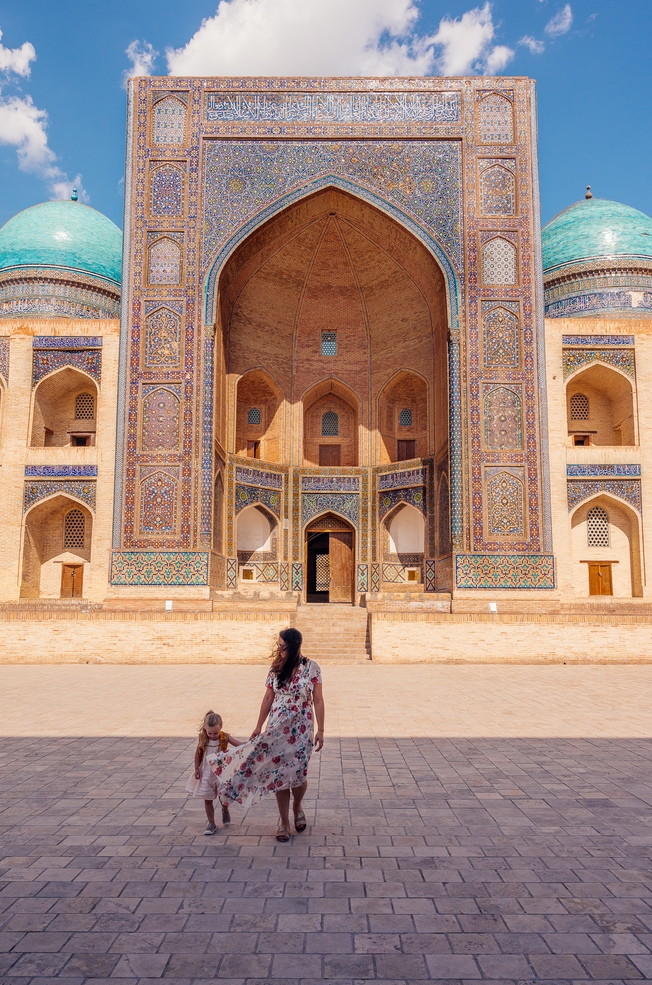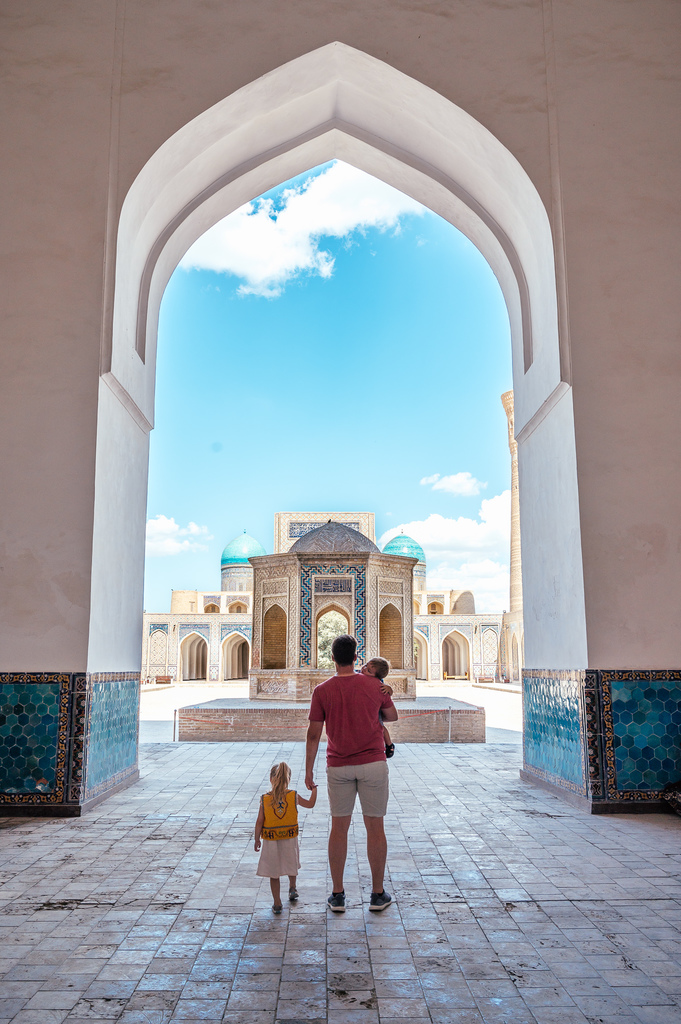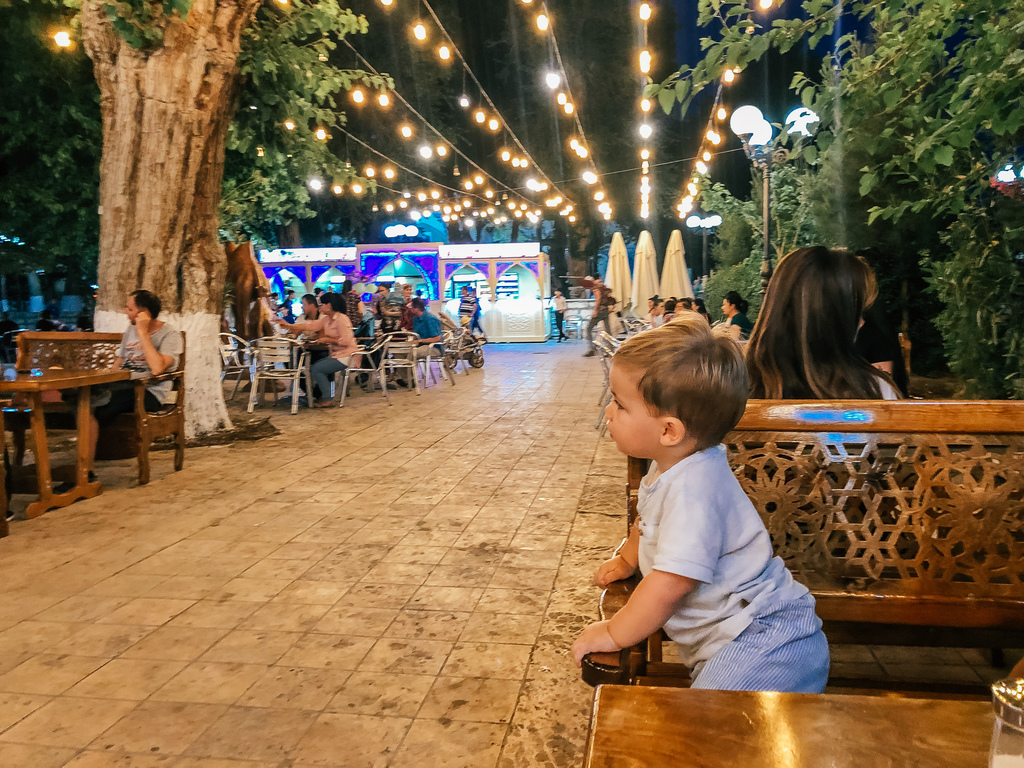 Bukhara to Tashkent Train
Time & Money – the regular train makes this a 6-hour ride, while the bullet train cuts it down to 4.
Bukhara Train Station Kids Area – the remote city of Bukhara, a UNESCO city, hours from the capital, has a kid's playroom at the train station that could rival a hotel kids club. Toys, slides and even beds for them to take a rest in, and all super clean. Color me impressed!
Uzbekistan Travel Notes Before You Go 
Uzbekistan Visa for US Citizens
Efficient and convenient e-visa for the 2 adults which took 3 business days to process online. Kids under 16 years old don't require visas, so that's a cost savings. All you need is $20 and a passport photo, which I used this website to adjust for Uzbekistan specific dimensions, and that's all folks! We had ours printed for immigration, but they chose to just look at the digital versions on my phone. Recently UK nationals don't require visas as well.
Uzbekistan Train Travel
Another area that get's an efficient and convenient sticker of approval. I guess these people know how to do transport considering they've been in the business of transport since the age of the Silk Road. Children under 5 don't require tickets, which cuts the cost down as long as you're all right with holding them on your lap. There's regular and bullet trains that get you between cities and a few trains you can hop on per day.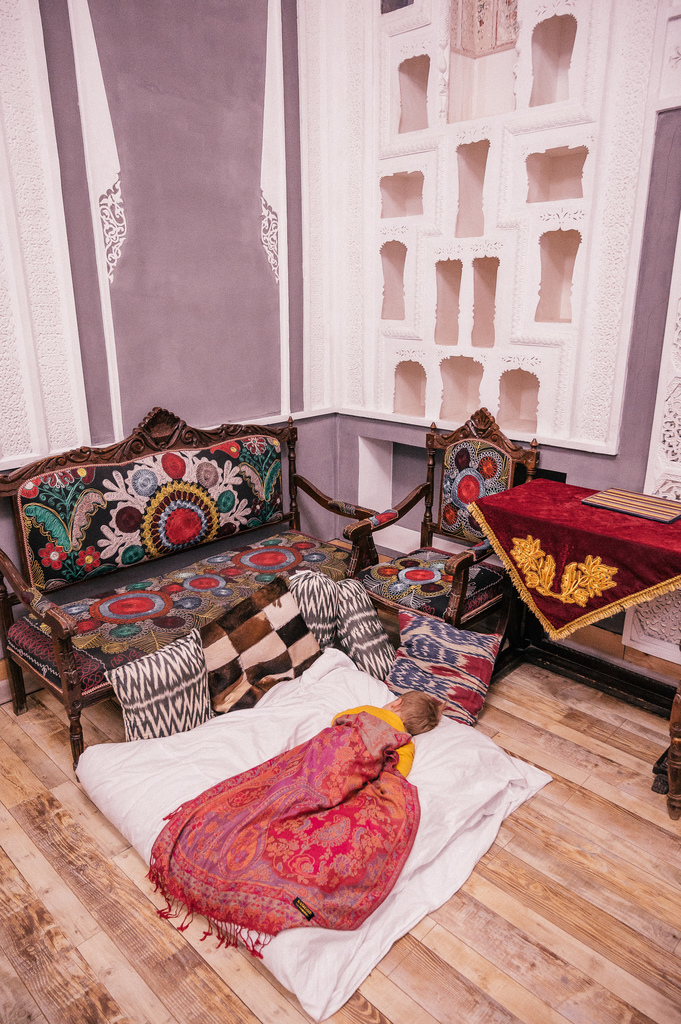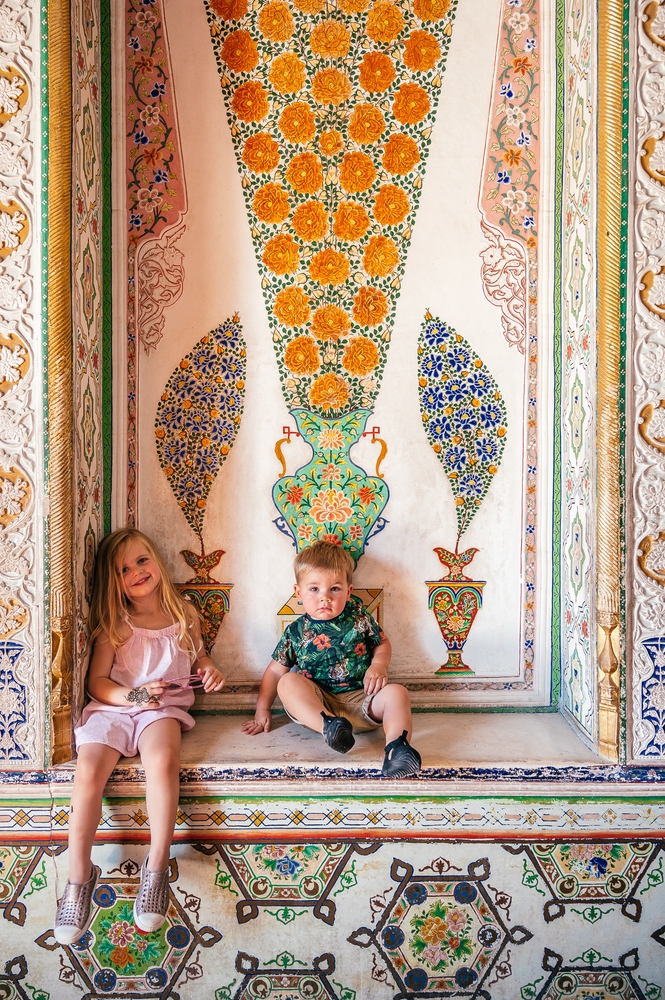 Uzbekistan Hotels
We stayed in 4-star hotels which were clean, had great WiFi, solid aircon and were happy to welcome the kids, something I can't say for many European hotels. One important note, you'll need to keep your registration cards from each hotel. They'll give it to you at check-out and the airport might ask for the cards upon exiting the country. I have no clue what this system is for but it's apparently a thing.
Tashkent Airport
It was efficient getting in but ranks as one of the slowest airport processes for us to fly out from. From the airport entrance to getting on the actual plane we went through 5 passport checks and our bags went through 3 scans. Needless to say, leave yourself plenty of time to get through those lines, because there's no Disney fast pass over here. 
Using Drones in Uzbekistan
Basically, it's a big no-no. You have to get a permit as a professional with accreditation, So, leave yours at home.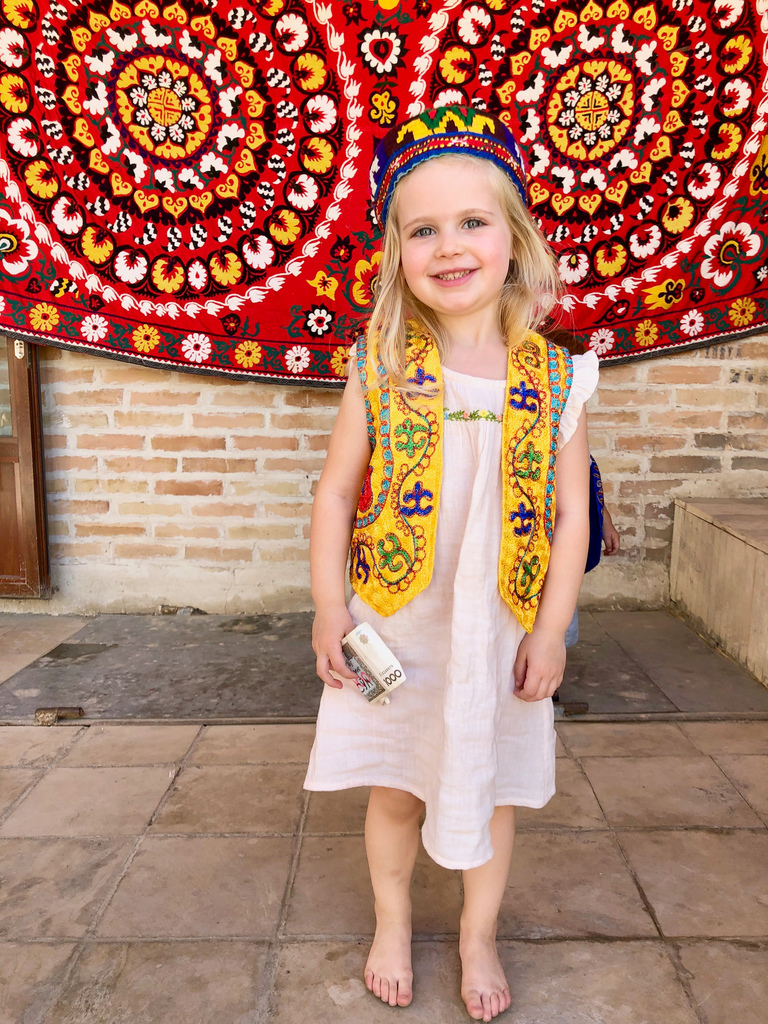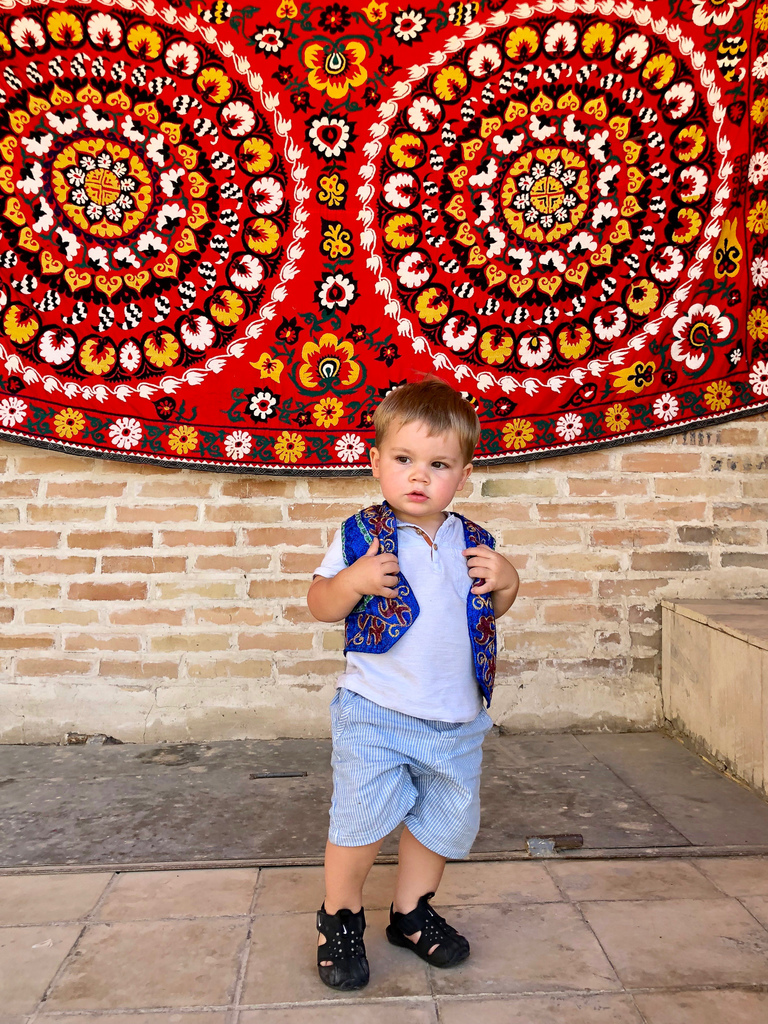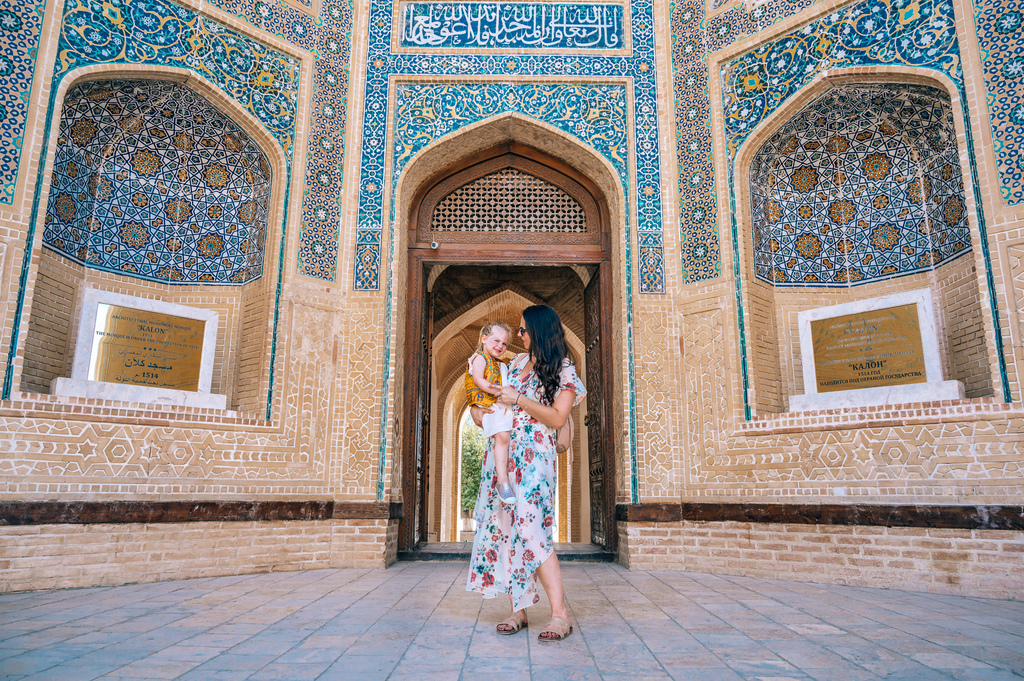 Tour Uzbekistan with these Helpful Tips While You're There
What to Wear in Uzbekistan
Even with Uzbekistan being a primarily Muslim country, it's pretty nice and casual on the dress code front. Covered knees and shoulders is the way to go whenever you visit a country like this with religious monuments being the main activity, but it felt pretty laid back with no head covering requirement in comparison to other countries in the region. Kids can wear whatever they want without covering their head, shoulders, knees and toes.
Is Uzbekistan Safe
We felt totally safe. In fact a lot safer in the main areas than we often do in tourist areas in Europe. We had a private guide and driver set up by Steppe Journeys which always helps of course, but I never felt unsafe or targeted, and we were never really in a crowded area where pickpocketing would have been a concern.
Uzbekistan with Kids
Uzbekistan had all the makings of a great place with kids. Clean, safe, plenty of space to run around. And like I mentioned before, they don't require visas for entry or train tickets if they're as little as our minions were during the trip. Our hotels offered extra beds for our 3.5-year-old and unfortunately didn't have a baby cot for the 1.5-year-old. We managed fine without a crib, but if it's a necessity for you then just have your tour company double check specifically for this.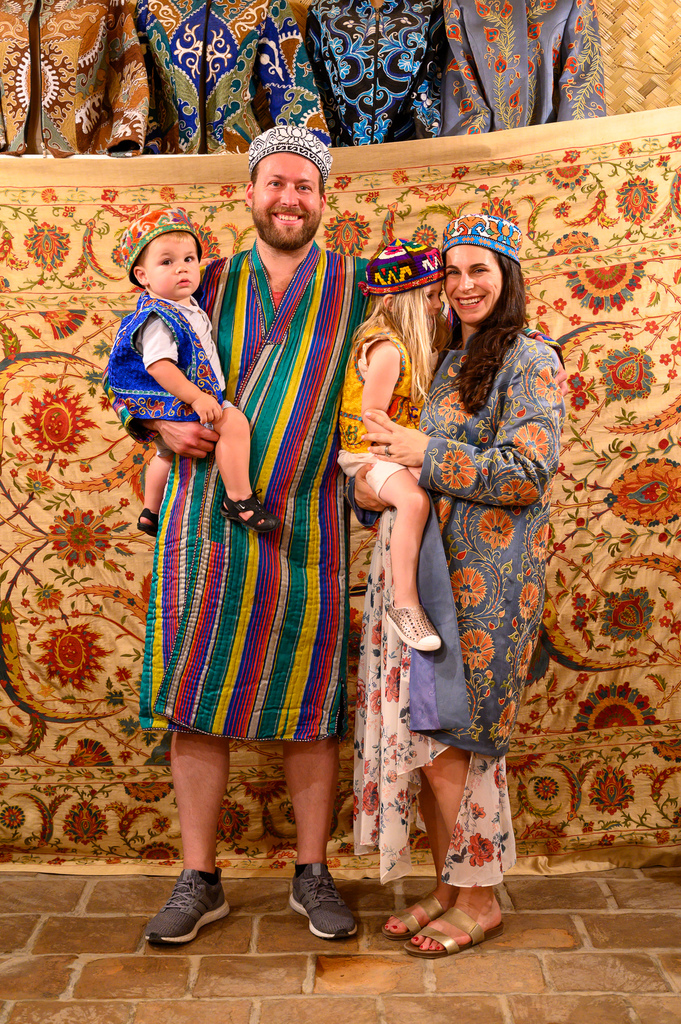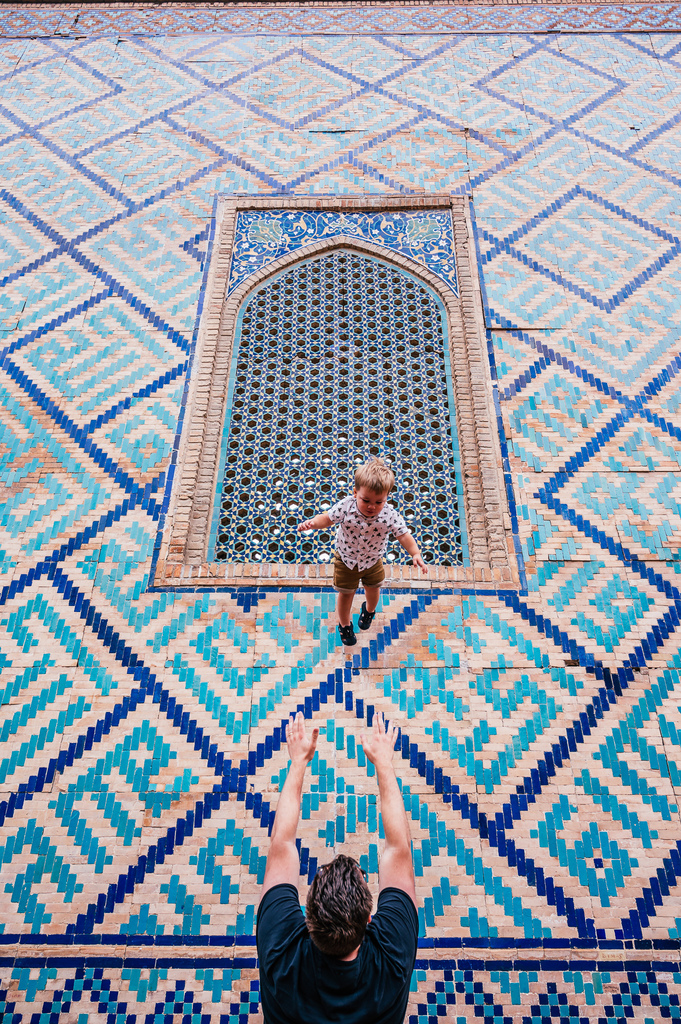 It's safe to say that Uzbekistan is the gateway drug that makes you want to tour Central Asia in its entirety and commit to more Silk Road holidays. If we had more time I would have loved to check out Kiva, the mountains, and the lakes. It's definitely possible to see the main tourist attractions in 4 days, but it means you're giving up a fair amount of what you could see in a 7-day itinerary or more. Next time I'd also tack on side trips to Tajikistan and Turkmenistan given how close they are to the main Uzbek cities, which would also make it a tour of Central Asia more than just one Stan.
Huge thanks to Steppe Journeys who sponsored our Uzbekistan tour. They were exactly the travel agency that we hoped for on our first journey into Central Asia. It's safe to say that I was beyond impressed with this country. Not only was it totally different than I expected, but it was beyond my expectations in so many ways like efficiency, cleanliness, safety, friendliness, and completely overwhelmingly beautiful sites.
With international flights into Tashkent from places like Dubai and New York, and new international routes opening up direct to Bukhara, Uzbekistan is a country about to totally take over tourism. And rightfully so, because it's beautiful, authentic, welcoming and amazing, and it's currently in my top 10 favorite places in recent years. Which is a mighty ribbon to give! So walk, run or maybe just fly to Uzbekistan with Steppe Journeys. You'll thank me later!
For more great tour companies in unique destinations like Israel and others, check out our Hotels & Tours page!