How to Pick a Travel Agency in Israel
I have been to Israel as a teenager on an Israel group tour, as a young adult on a free trip through Birthright Israel and now as a young family on a customized tour with Puzzle Israel as our private Israel tour guide. Different strokes for different folks is what a trip to Israel is all about. Whatever lens, budget, and timeframe you want to see the history and culture of Israel through, you can find with one of the best Israel tours the country has to offer. So, whether your aim is to focus on Israel Christian tours, an Israel bat mitzvah or one of the many Israel holiday packages, there's a tour made for you.
For us, this trip wasn't about a specific religion. Our kids are besties with Santa Claus and taught not to burn the house down during the 8 nights of Hanukkah. They love Cadbury Easter eggs and find matzo as dry as everyone else. I was raised Jewish, my husband was raised Catholic, our son has a Buddhist name and our aim is to expose ourselves and our kids to different versions of spirituality around the world, and then create a set of ethics and beliefs that work for us. With only three days to explore, we wanted to have a fun long weekend that the whole family would enjoy and eat enough falafel to be full until Fall. Luckily, we got the chance to partner with Puzzle Israel, who planned and executed our fast and furious itinerary with perfection. From guides to wines, they had it covered.
Why'd we choose Puzzle Israel as our private Israel tour guide over other Israel holiday packages? Let me give you a perfect example…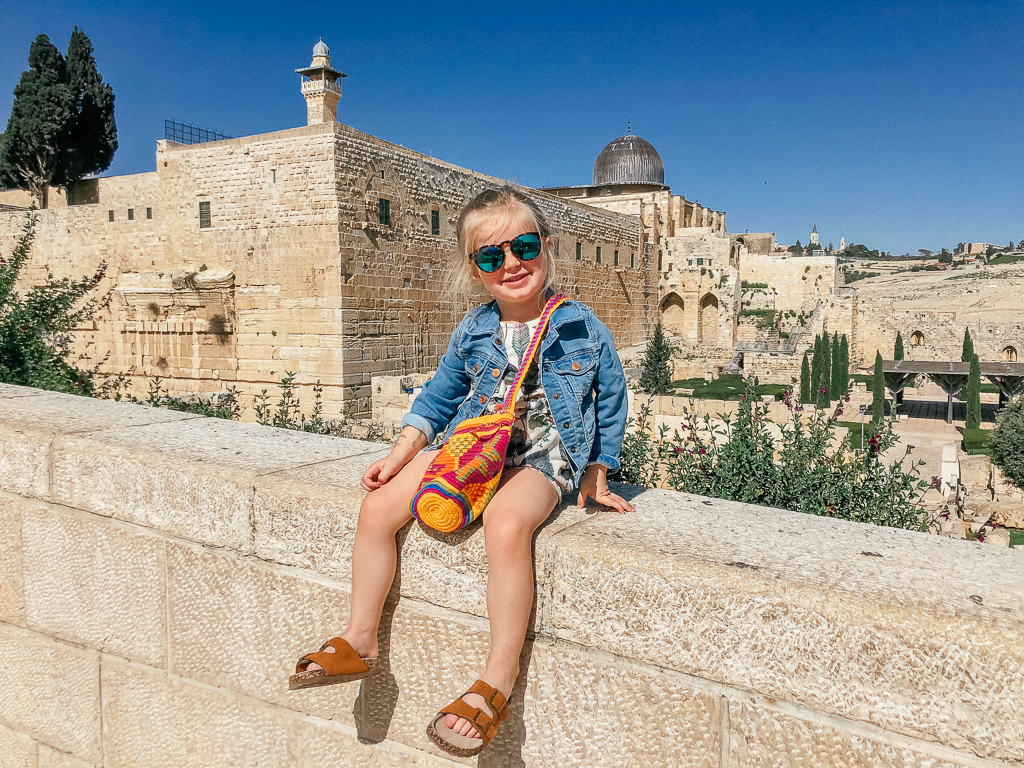 Why Choose Puzzle Israel as the Best Way to Tour Israel
Having been to the Dead Sea twice in previous trips, I was suspicious that it wasn't a great idea for our kids at their current ages. It smells of sulfur, it can be crowded and if they had even the smallest cut or diaper rash it'd feel like we were covering those areas in battery acid. And let's be honest, no amount of Dead Sea mud will reverse the aging these kids have inflicted on us. But since Chris and the kids hadn't been, I thought a family holiday in Israel needed to include it. Enter Puzzle Israel to save the day. As soon as we discussed some preliminary ideas for the itinerary, Nir, an owner of Puzzle Israel, stopped me when I said the Dead Sea. Being a father of young kids himself he basically said, "you could do it, but I don't think they'll like it and I can recommend a much better itinerary with wineries, caves and plenty of delicious food." Wineries? This guy really does know what parents of young kids need! And just like that, a family weekend in Israel plan was born, and one with a slightly higher chance of kids not screaming in agony from the saltiest water on the planet. Transportation with car seats, Tel Aviv food tours with ice cream breaks, climbing around ancient caves, tipping back local wines and a tour of Jerusalem for kids that included the holiest sites but in a way that gave our young family the best chance to respectfully and successfully experience the highlights of Israel in a short weekend.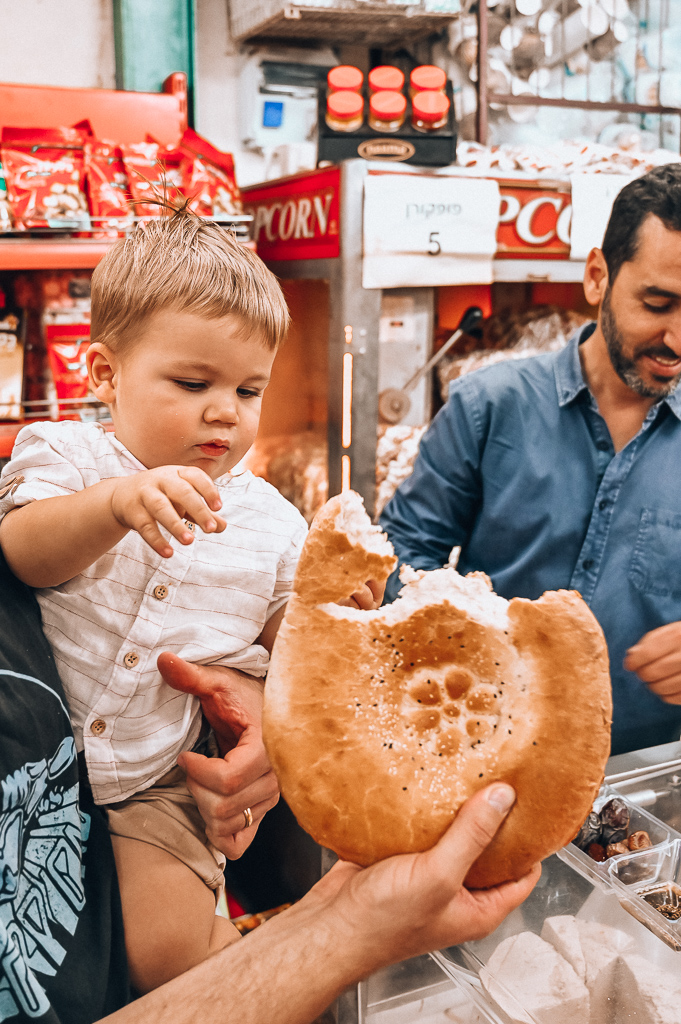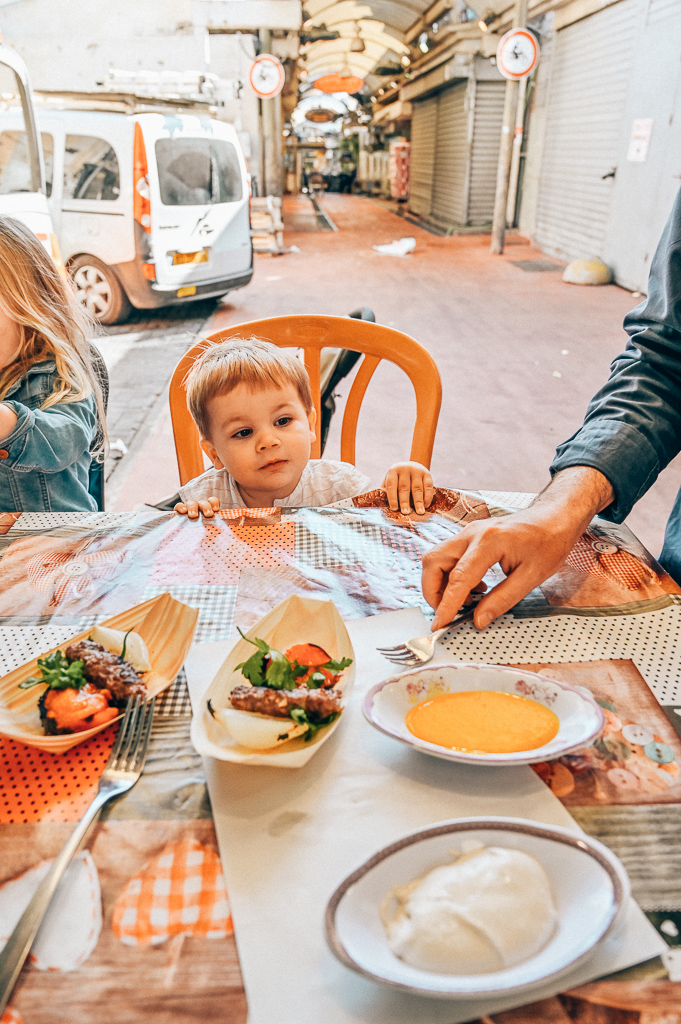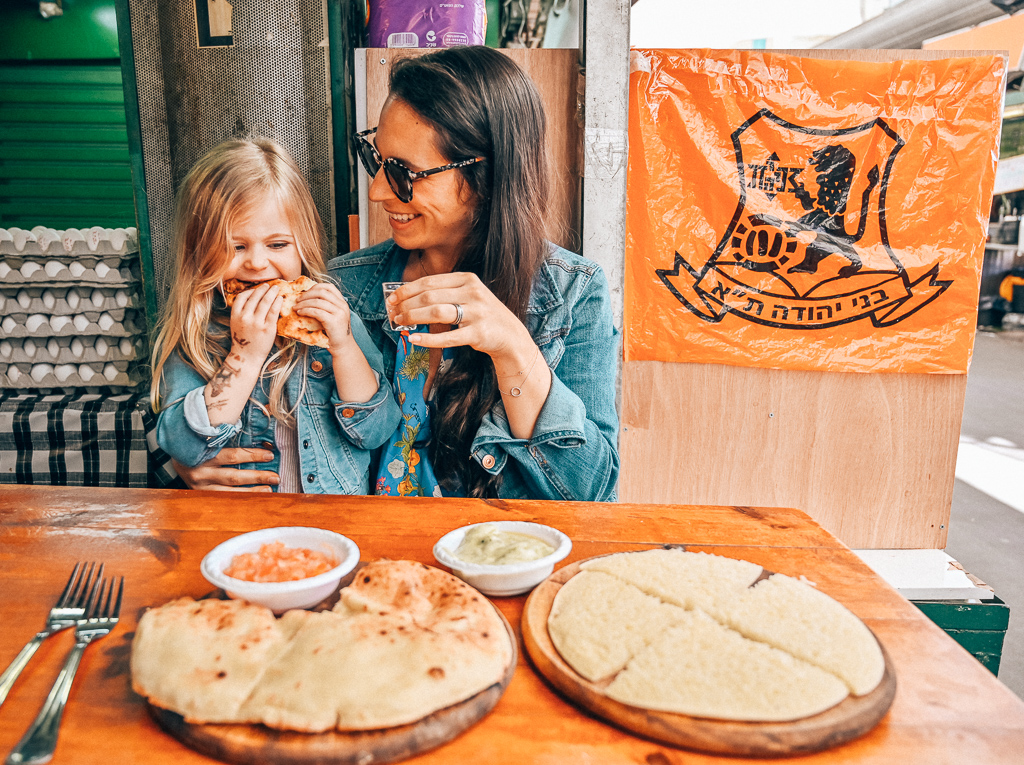 Experience the Best of Israel with an Israel Food Tour
You can't talk about seeing the best of Israel without talking about the food. And what would you know, we just so happened to be partnered with a private tour company who is run by chefs and specializes in food tours. Coincidence? I think not. We armed ourselves with two hungry kids and went into battle. The toddler tried so many new things at the market you would have thought he was hosting his own food travel show, while the preschooler kept her eyes on the prize, which were any cookie, pastry or rugelach she could get her hands on. Fun fact: when you bring your own toddler that's shaped like a falafel, the market owners will give you just about anything for free just for the pleasure of watching him consume their goods. From Egyptian to Iranian to classic Israeli food, this Tel Aviv food tour went so far beyond Israeli salad and shawarma, and the kids had a blast. Again, with Puzzle Israel at the helm, our guide David is a chef, foodie, and father himself, so no food fight or gyro diaper could phase him.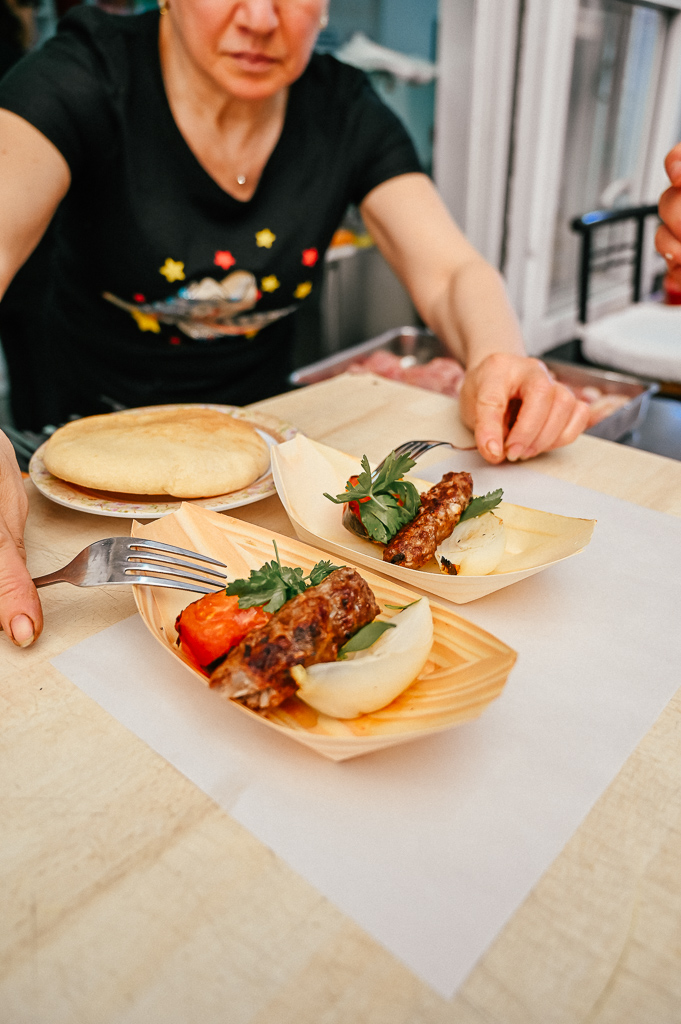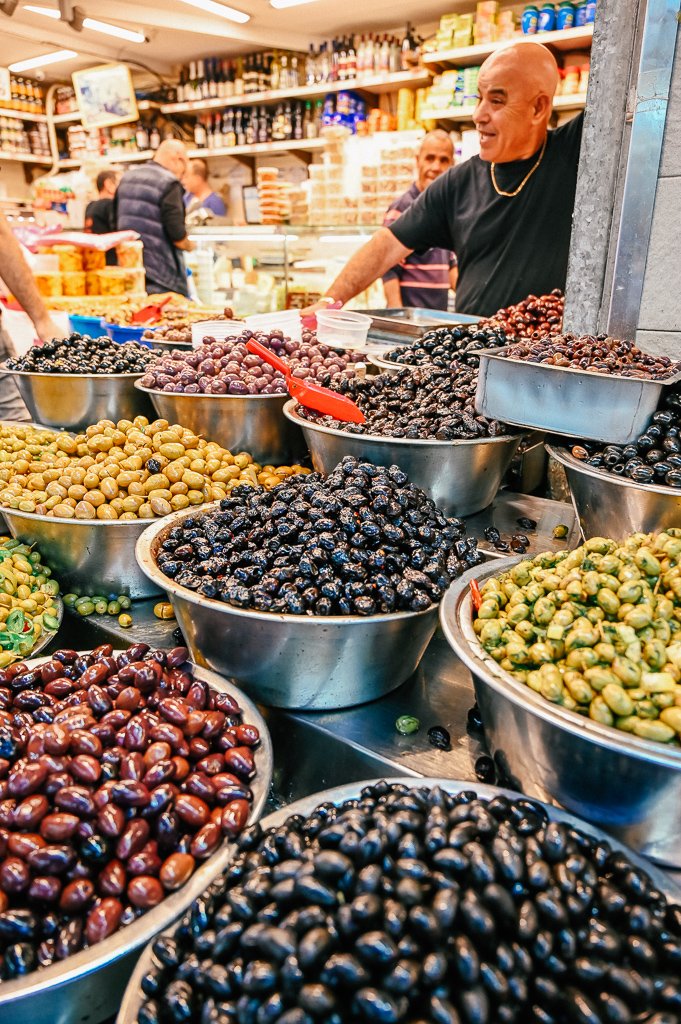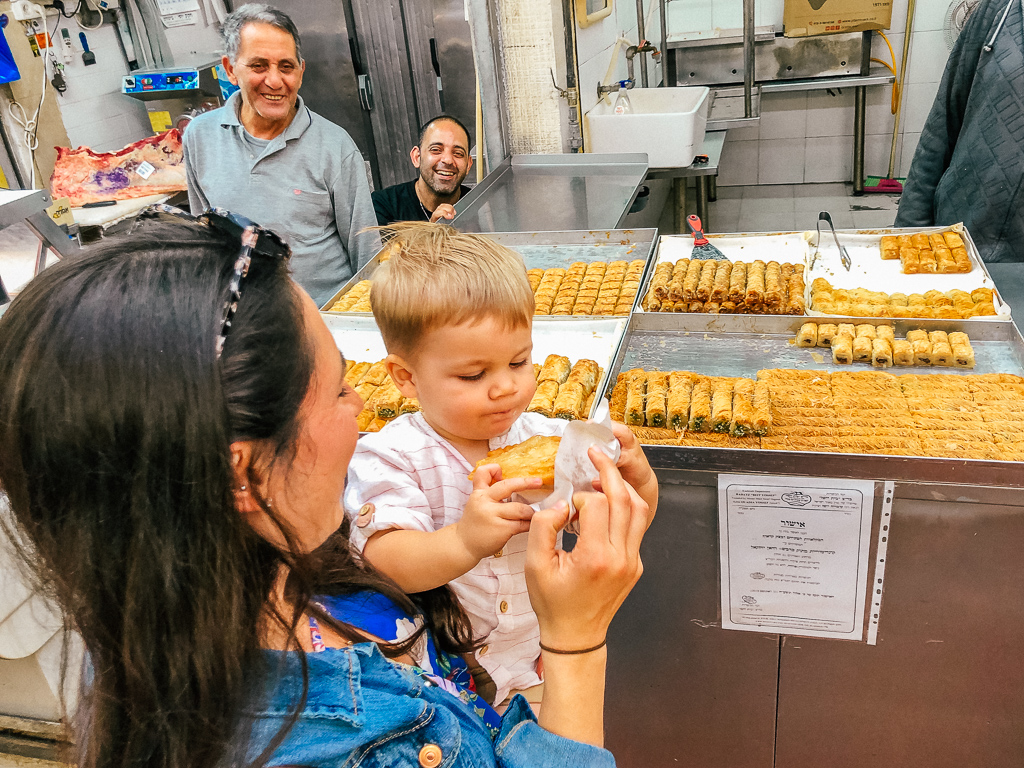 Full from the Tel Aviv food tour, David sent us off to the ultimate evening in Tel Aviv with kids, which was at Gordon Beach for some sunset ice cream and beach playground time. Because clearly what we needed was a mix of more food and the lightest form of exercise possible.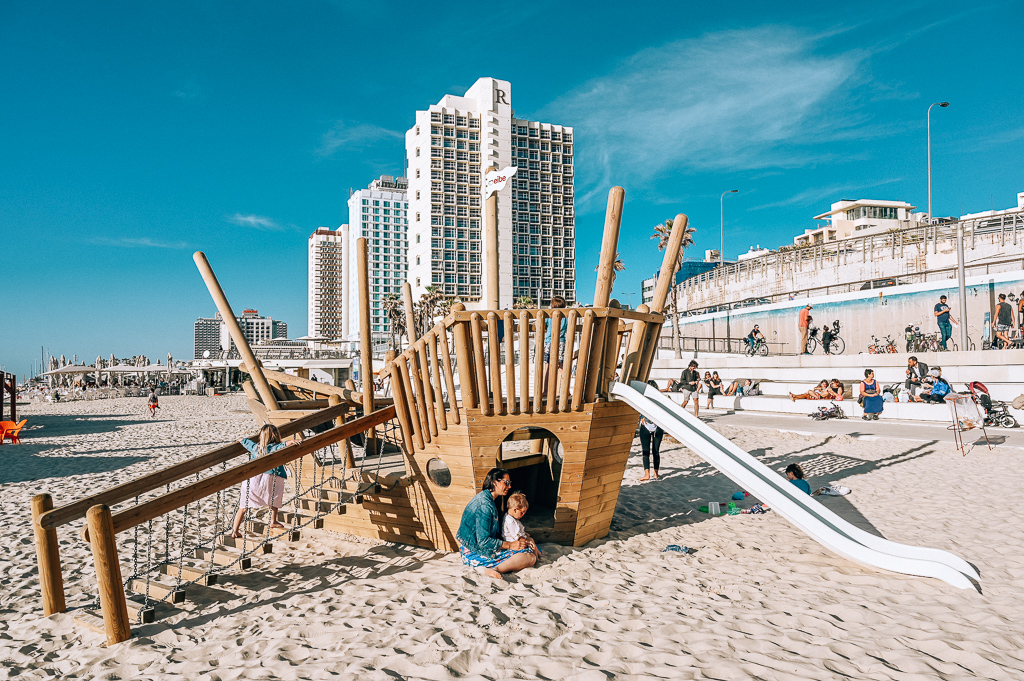 Safety in Israel
Let's talk about safety. Israel has a past, present, and future in making headlines for various issues. It's something we're always aware of when picking where and how we travel with the kids. While the news paints one picture, when you're in Israel, the only heat you're feeling is from the sun. When Nir asked if we'd want to see a special art project called the Path of Peace on the border of Gaza, my first thought was "Hmm that sounds dicey". Gaza is a territory that is often the center of issues in the country. My response to Puzzle Israel was, "I to want to visit Jerusalem, Tel Aviv, and experience as much as possible, as safely as possible. So just don't send me anywhere you wouldn't take your own kids." This kind of trust in a tour company doesn't come often, but in this case, I'm so glad I handed over the white-knuckled reigns of my trip planning to Puzzle Israel.
Not only did the Path of Peace provide a completely unique perspective, but it gave us a chance to talk about the idea of peace with our 3.5-year-old and put our hands to work creating a mosaic wall on the border of Gaza. We wrote notes of peace on the tiles and pasted them on the wall amongst the thousands of others that had done so before. And by we I mean the adults, because I'm pretty sure the toddlers wrote their birthday wish lists on their tiles, which may or may not have included a rainbow shaped unicorn cake. Either way, it was an unexpected highlight that I never would have put on the itinerary myself and was an experience our daughter still brings up, about the time she got to stick a heart tile on a very big wall.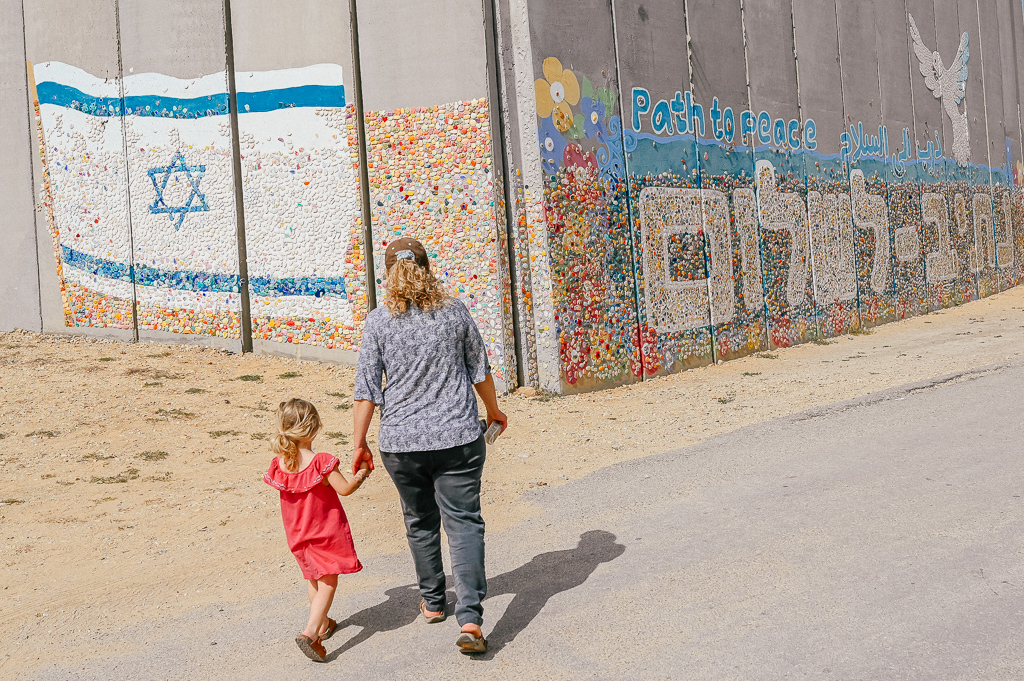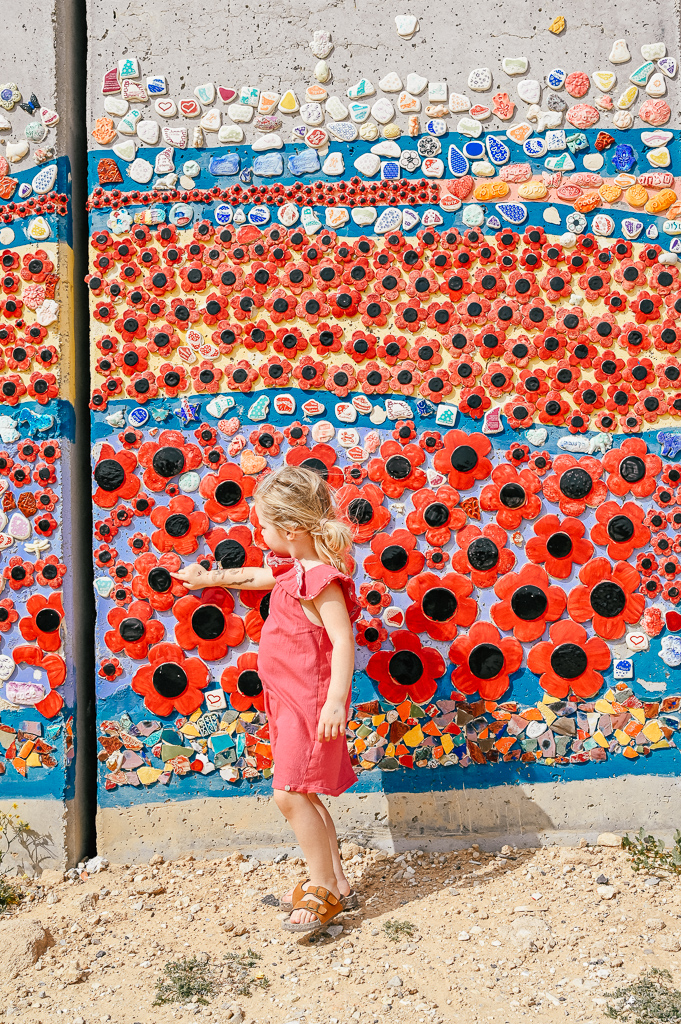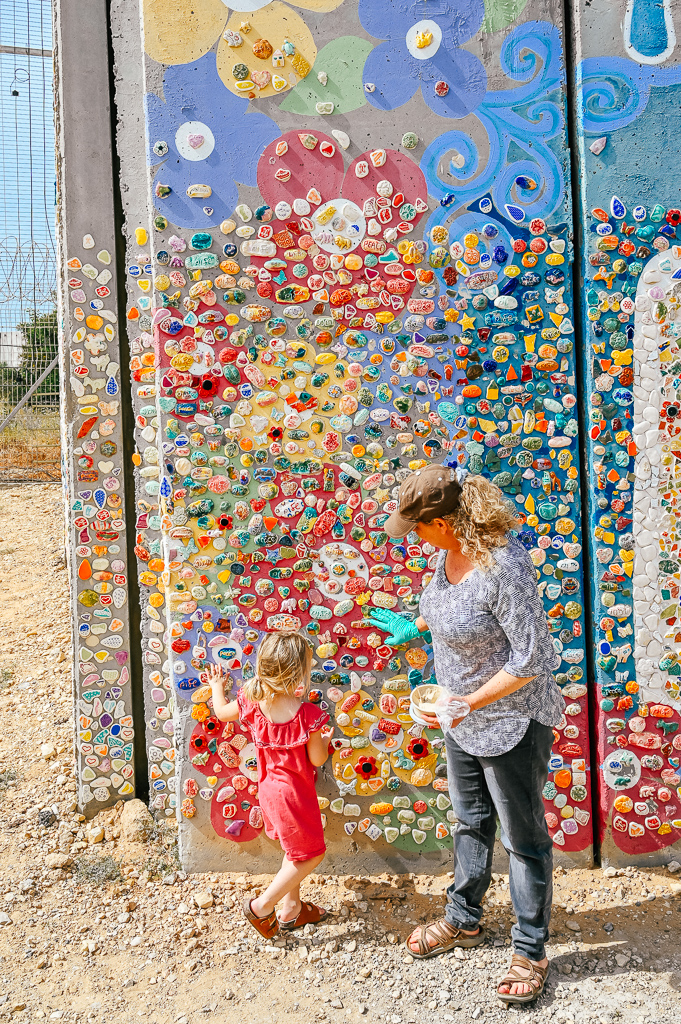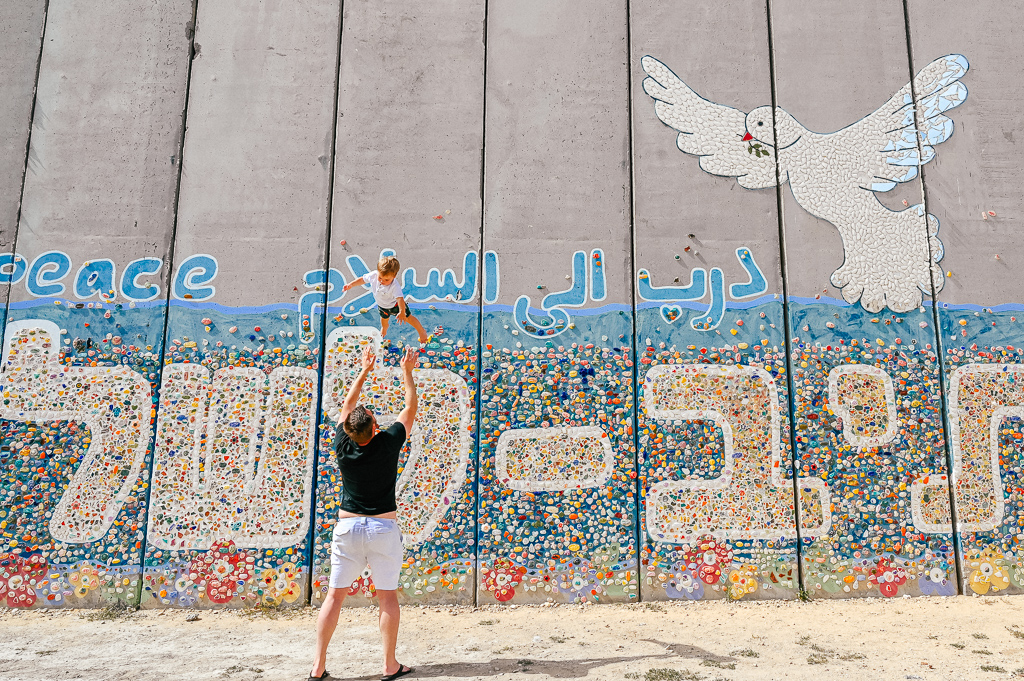 Israel with Kids
Everything on our weekend in Israel itinerary was made with the minions in mind. Our time in Jerusalem with kids was spent wandering through the old city walls, leaving a note at the Western Wall and taking in a place that made us feel younger than a face mask could. Tel Aviv for kids was an absolute highlight – playing on the beach, eating everything at the markets and trying to act like the trendy Israelis that surrounded us. And while some come to Israel just to take a trip to Jerusalem or have a weekend in Tel Aviv, to really experience all the fun the country has to offer, you have to get out of the cities. With our new guide Bar from Puzzle Israel, who was a very passionate Israeli surfer I might add, our Saturday itinerary was made up of art, caves, and wines, a combo I can get behind. The Beit Govreen caves were perfect for free-range kiddos, as they climbed and explored as if they were wandering the desert looking for a new spot to build their boutique cave hotel. And Srigim Winery was just the adult end we needed to a seriously great day.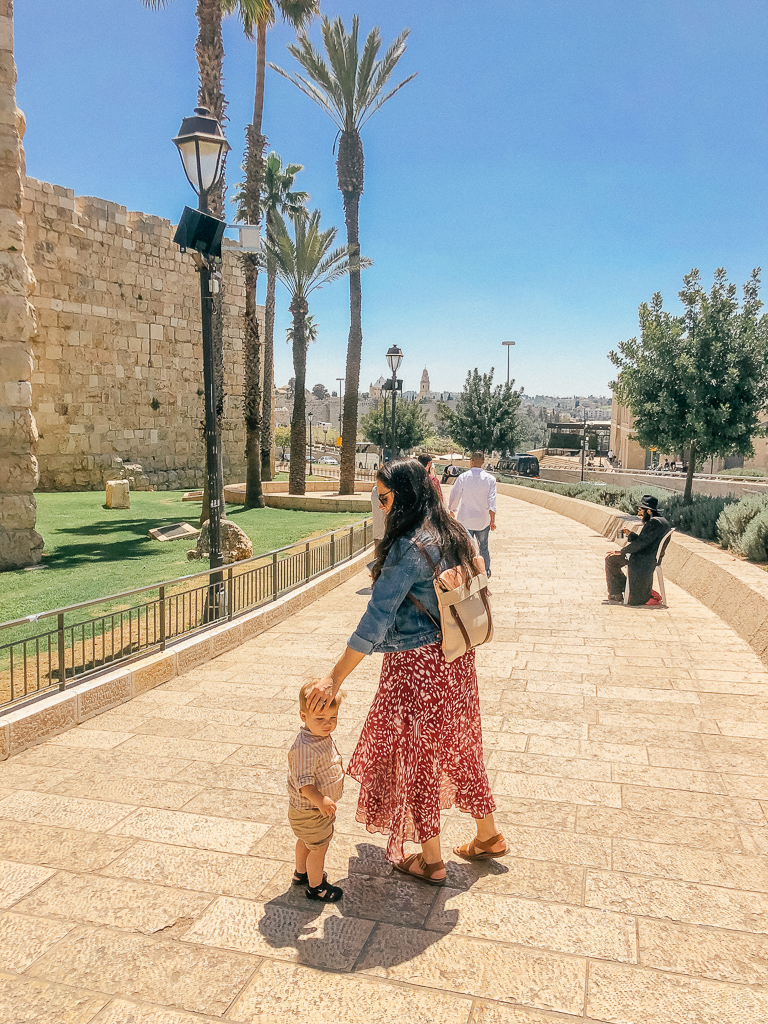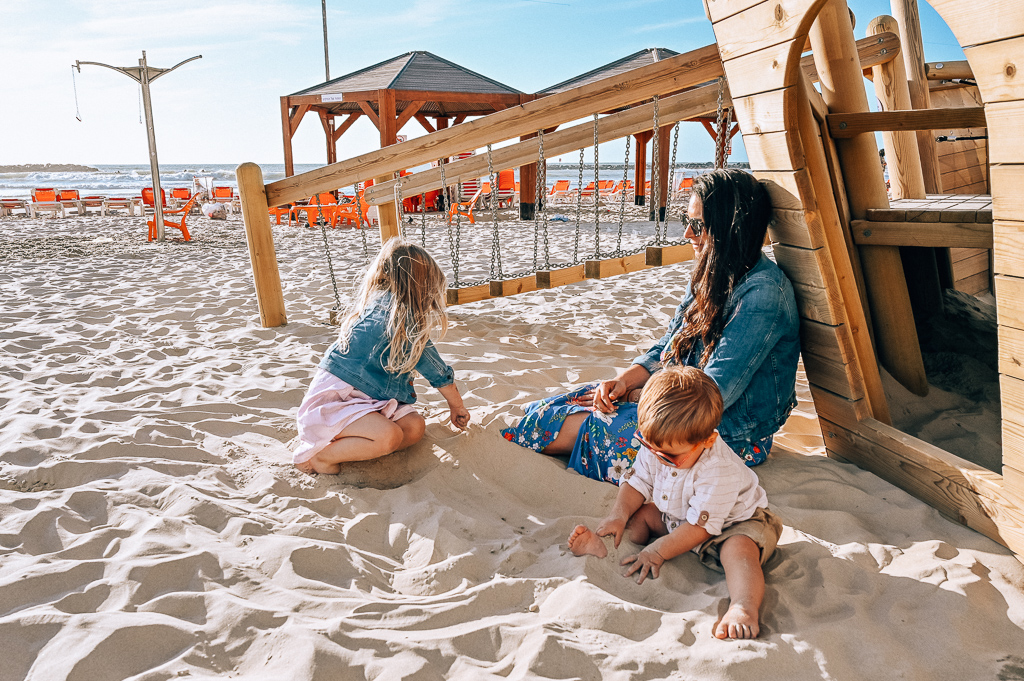 This is exactly why a private tour guide company like Puzzle Israel can make or break a family trip. Why spend time and money planning a trip to Israel, Googling "Israel tourist attractions" or "Israel places to visit" if they're not going to be right for your specific family dynamic. Puzzle Israel wasn't just applying cookie cutter Israel travel packages to us, they were creating the best tour customized specifically for us. And that's a major difference; no two tour companies are the same, and we've definitely experienced the negatives of putting our itineraries in the wrong hands, so I can't really say enough positives about our time with Puzzle Israel as far as best travel tour companies in Israel have to go.
Thanks so much for hosting us Puzzle Israel, you guys really know how to show off your beautiful country, and how to silence kids with some bourekas!
If you're planning a trip to Israel, definitely reach out to Puzzle Israel. They can plan any kind of tour you'd like such as family, adventure, yoga, culinary, teen, cycling or just a quick day tour in one of the many amazing cities Israel has to offer.