Let's tackle the literal elephant in the room, shall we? How young is too young for a kid to go on safari? To answer that, we first need to figure out how rare a lion likes their meat, because personally, toddlers are a bit too tough for my palette!
Going on safari is a spectacle for anyone with a set of eyes and a pulse. From fuzzy cubs all the way through awkward mane growing puberty stages, no toddler, tween or teenager can resist the live action leopard prints and circle of life montages that safari holidays bring to life. While a family safari holiday is a total dream for any kid who likes animals and big roaring trucks (otherwise known as ALL children), finding a safari lodge that allows kids under 12 can be a serious challenge. Which is exactly where Gondwana Game Reserve swoops in for the win as one of the best African safaris for families in South Africa.
Let's break down the details of this 3D showing of the Lion King, shall we?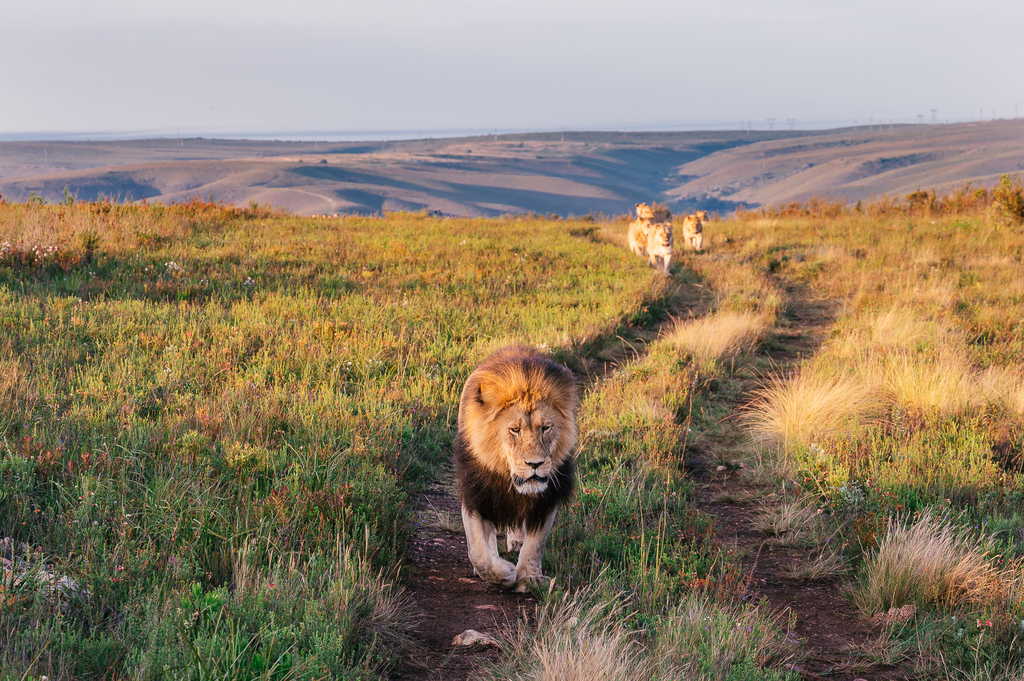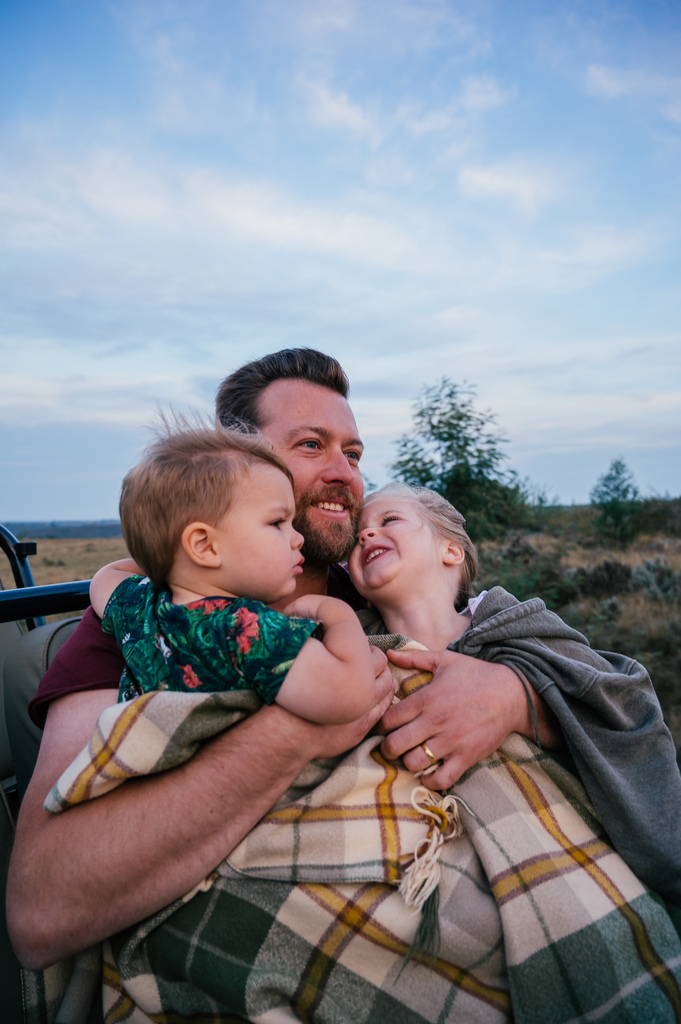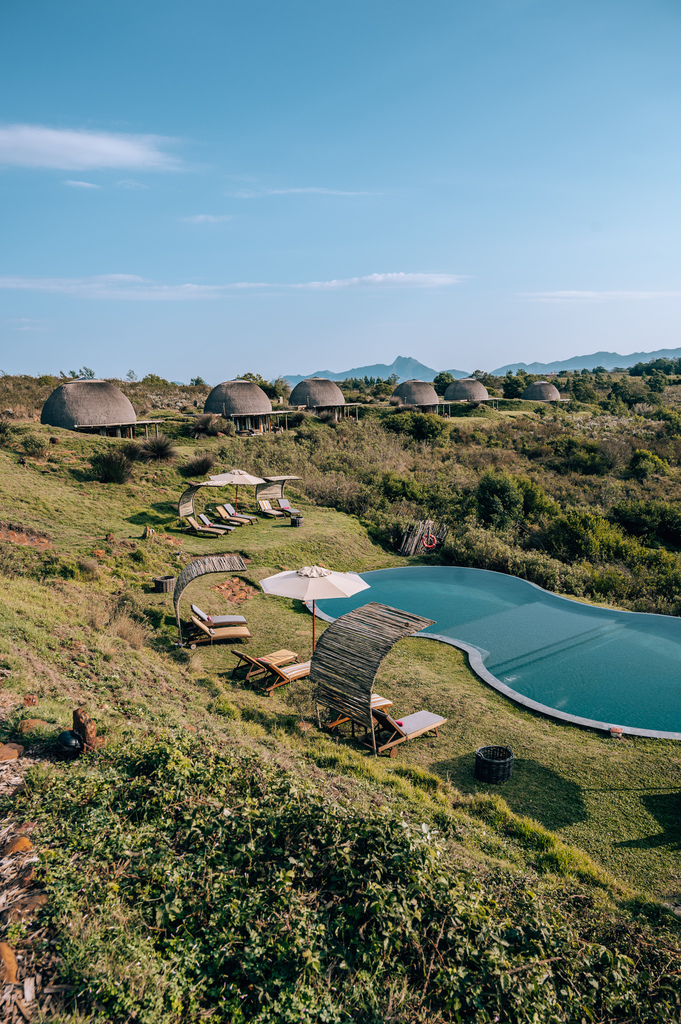 FAMILY SAFARI HOLIDAYS
Having lived in South Africa, I've been on safari all over the African continent, from the Okavango Delta of Botswana, up the Big Daddy Sand Dunes in Namibia and over to the Great Migration of Kenya and Tanzania. We've even jumped into the Jungle Book and did a pulse raising Tiger Safari in India when our daughter was at a delectable medium rare age. Needless to say, I know a thing or two about safaris both pre- and post-baby bait in tow. Each destination is a totally different type of adventure suiting different types of travelers. When it comes to safari with kids, or specifically safari with toddlers, South Africa is tough to beat. Being that most of South Africa's game reserves are malaria-free, conveniently located with easy access to emergency care if needed #becausekids, priced for every budget and chocked full of more large scale animals than Disney's Animal Kingdom, it's a clear winner in the family safari category. Even with all that, South Africa can often lack in early access to its wildlife for kiddos. But not Gondwana Game Reserve, who provides young kids multiple ways to take part in the action!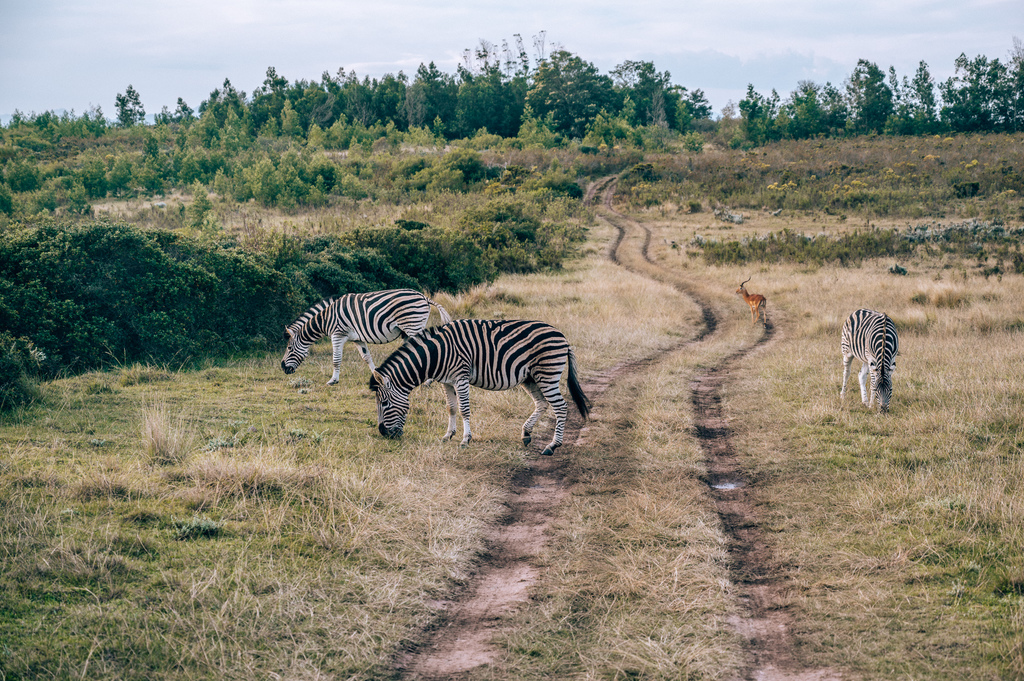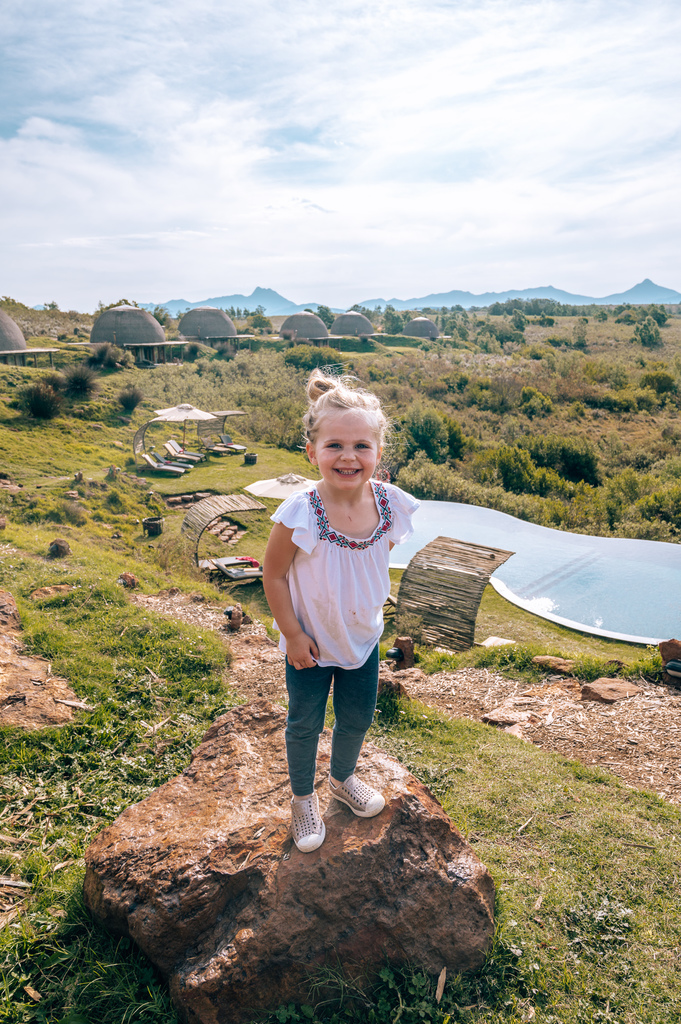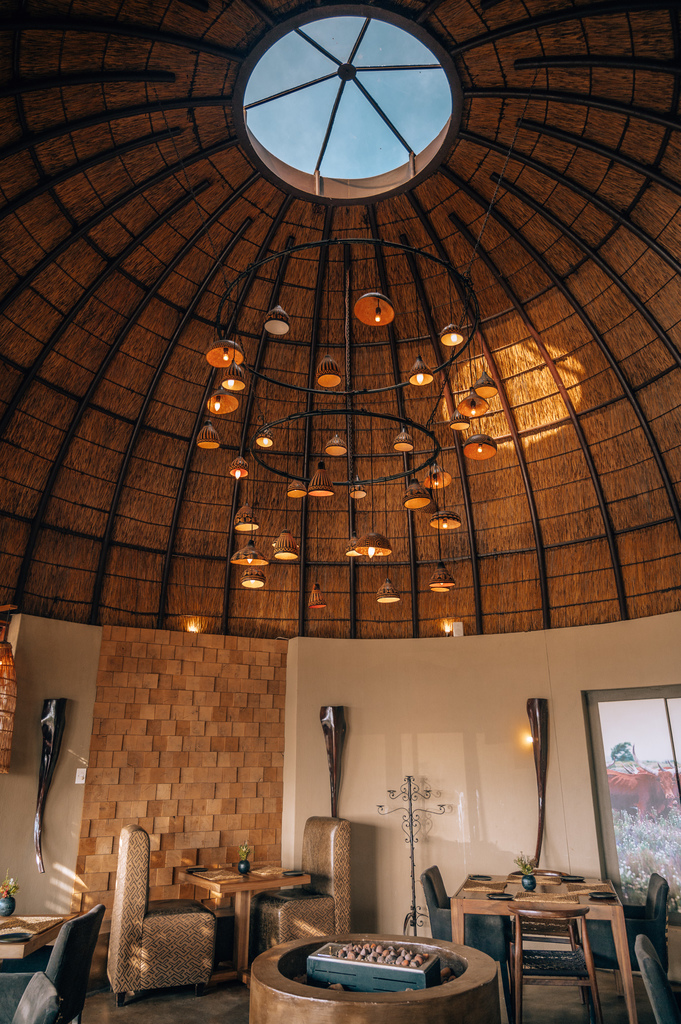 GONDWANA GAME RESERVE
Gondwana Game Reserve is a private game park in South Africa's Western Cape, covering a massive 11,000 hectares (26,000 acres). It hosts everything one pictures in a dream safari holiday, with sightings of the Big 5 (lion, leopard, rhinoceros, elephant, and Cape buffalos) as well as groups of zebras (known as a "dazzle") or parades of elephants marching through the bush. They even have male and female rhinos, which is as good of a sighting as it gets on safari given their dwindling population numbers. Did you know a group of rhinos is called a "crash"? A fun party fact and equally useful for a rhino pick up line…"Hey wanna crash later? (insert rhino wink here)". Needless to say, it's pretty legit as far as game reserves go. Their spa is filled to the brim with my favorite African line of skin care products, the amazing Africology, and the main areas of the lodge consist of a gorgeous pool, shaded loungers, a bar, restaurants and small shop, making up a perfectly sized safari lodge.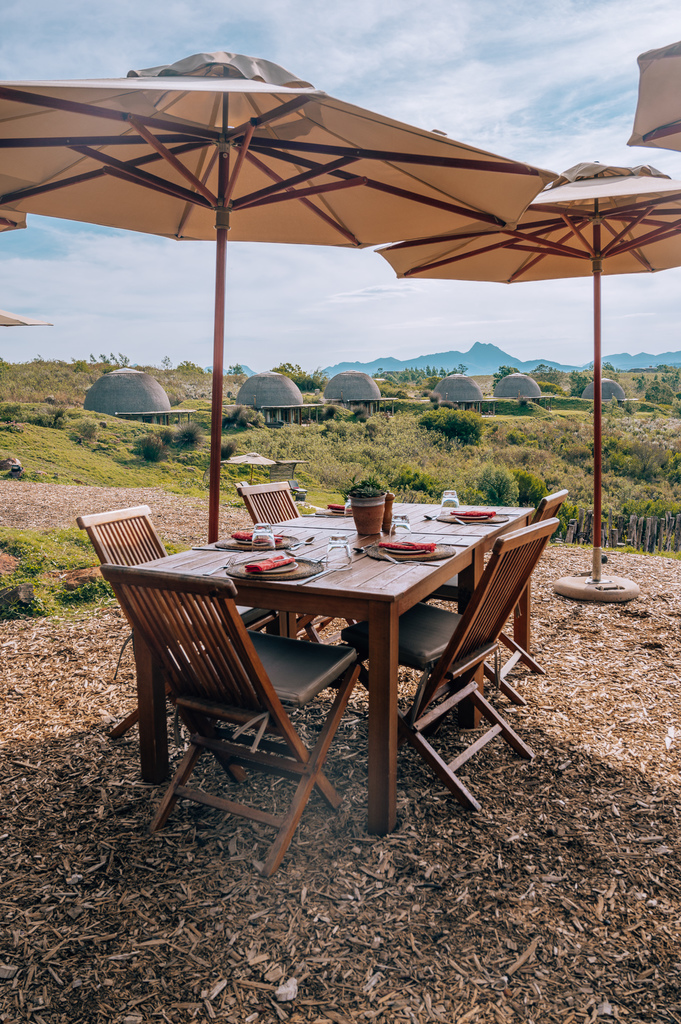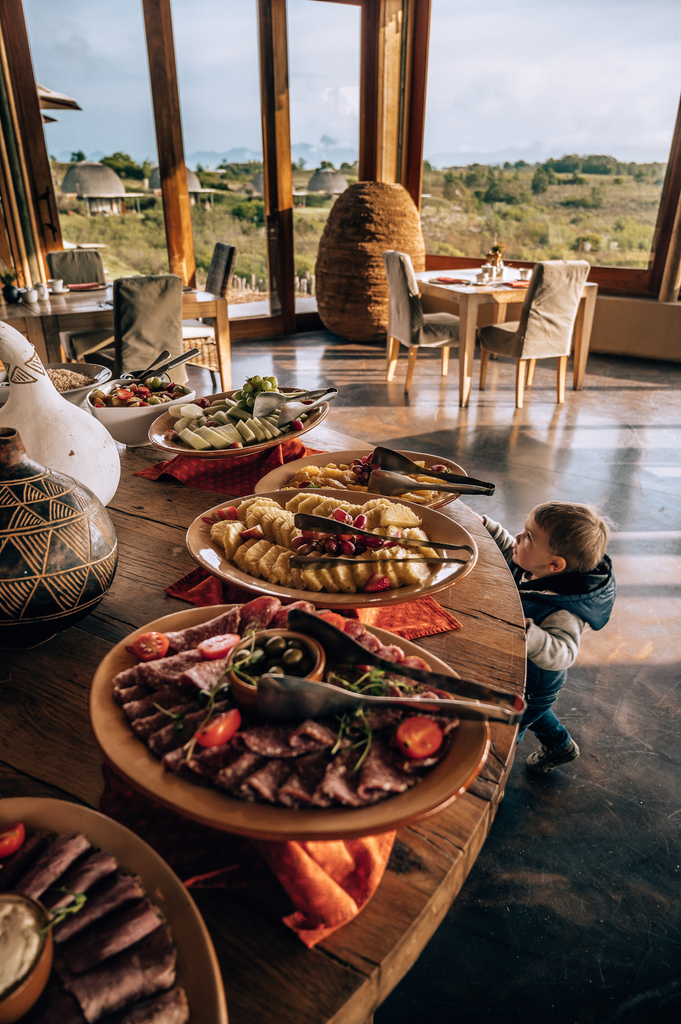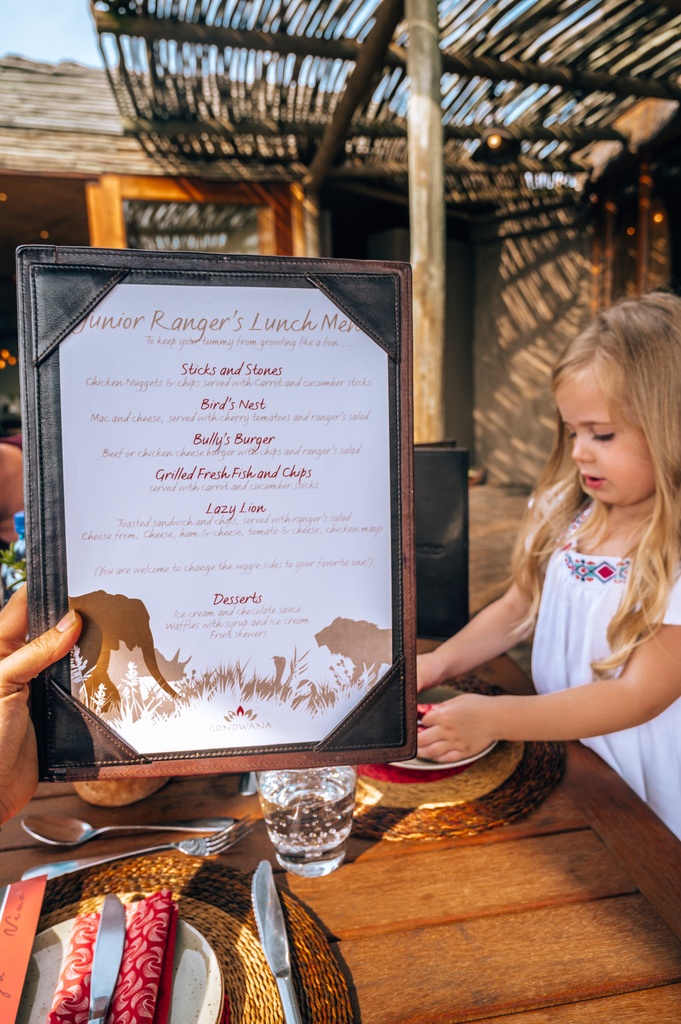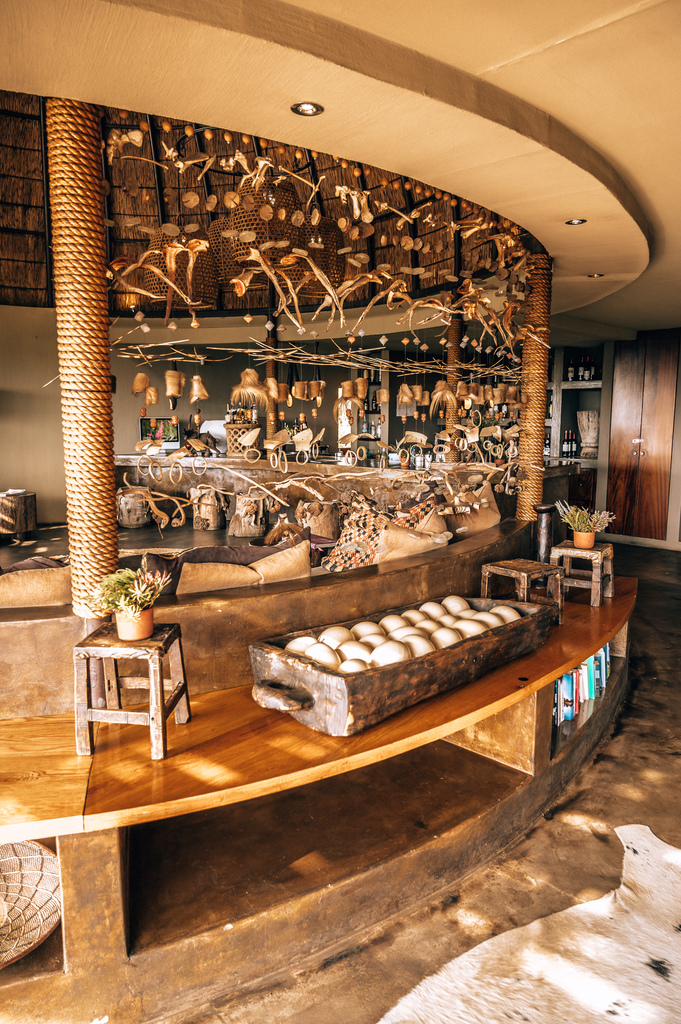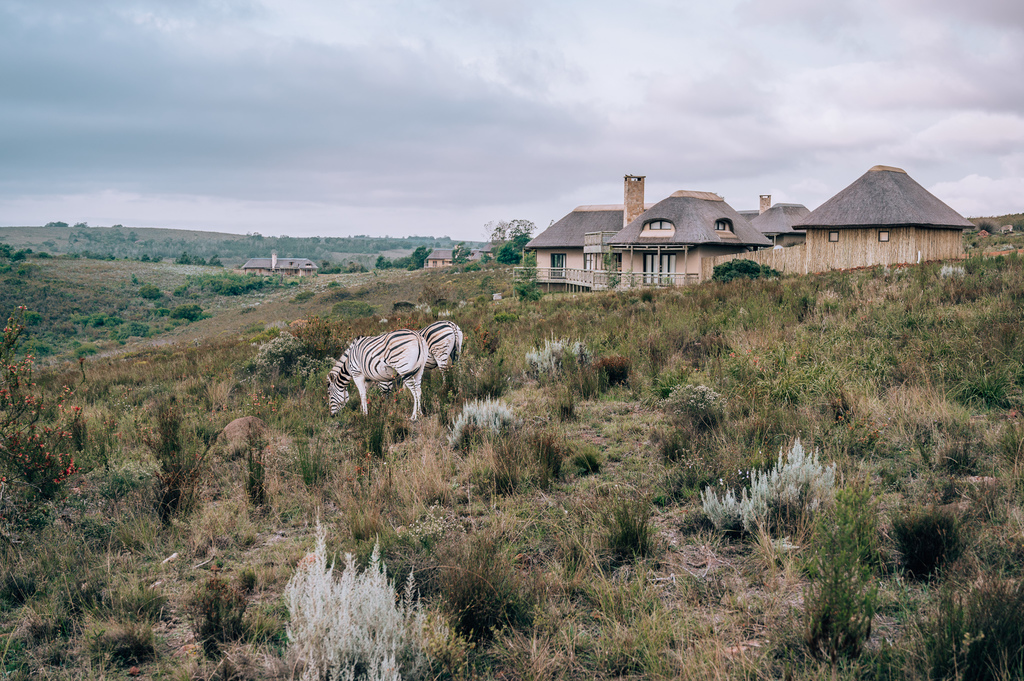 GAME RESERVES NEAR CAPE TOWN
One of the most attractive parts about Gondwana Game Reserve is its enviable location being just a 4hr drive from Cape Town. While many other safari lodges come with a pricey semi-private plane ride into the depths of the African bush, you can strap the kiddos into their car seats and drive straight from the beaches of Cape Town, stopping only to pick up some South African wines in Franschhoek, and be at Gondwana by lunchtime. Or, if you're like me and you fear long drives with your kids more than a pride of lions heading your way, then George Airport is just 45min away and has a ton of flights from Cape Town, Johannesburg and other cities all over Africa. I half expected Gondwana to feel as close to civilization as it is, but was pleasantly surprised to feel as properly in the wild as you would in farther flown locations. While I wouldn't say that Gondwana is close enough for a Cape Town safari day trip, it's certainly perfect to combine with an itinerary that includes Cape Town, whereas the popular Krueger National Park in the Eastern Cape is much more of a schlep if you're trying to achieve both in one go.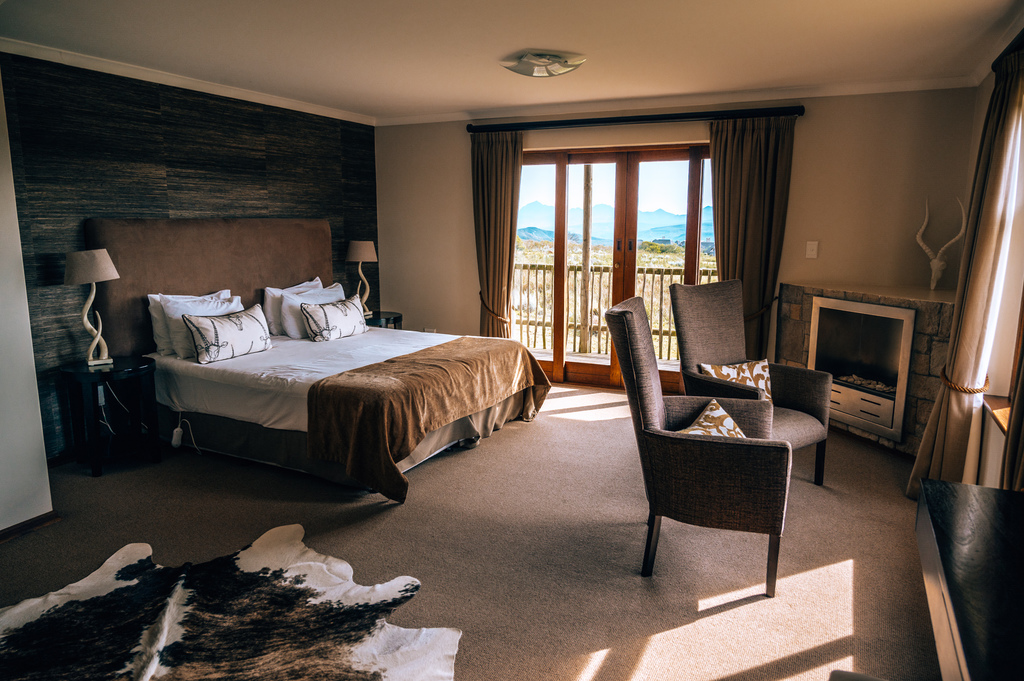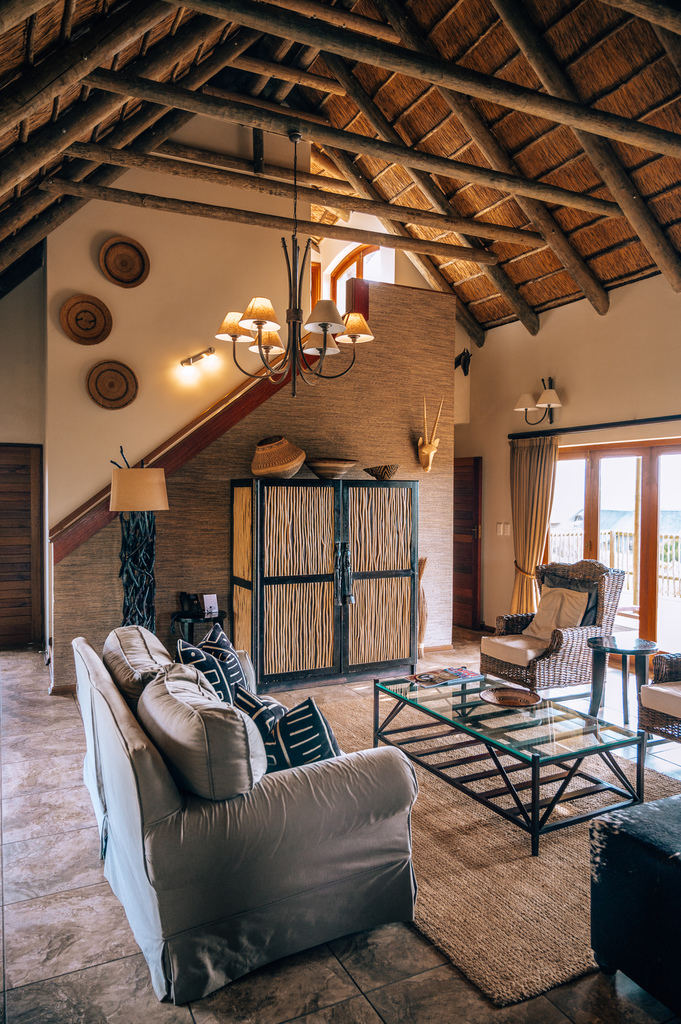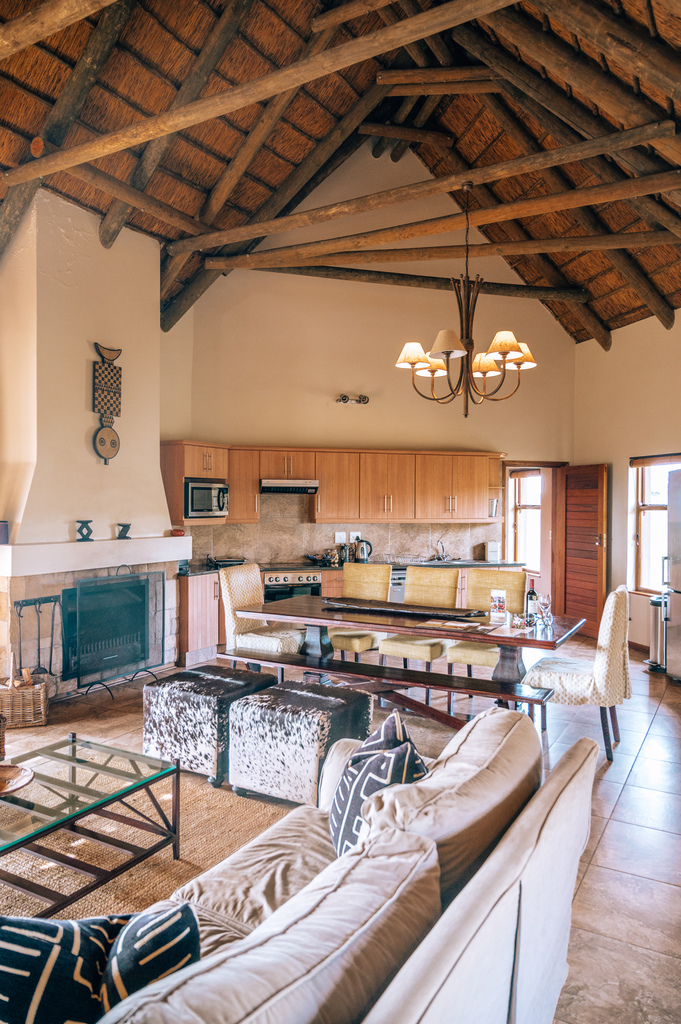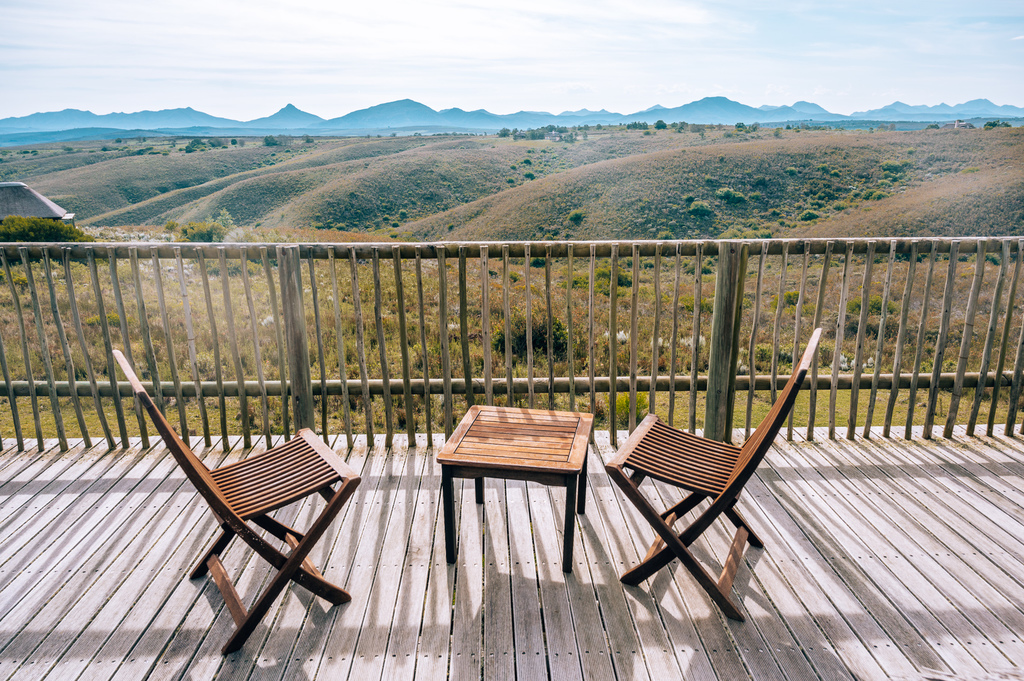 FAMILY SAFARI ACCOMODATION
Regardless of destination, the thing that keeps mothers and fathers awake at night during their trip planning is, what will the sleeping arrangements be?! Because nothing says family trip like everyone sleeping on top of one another…which also means no one actually sleeps. Gondwana Game Reserve offers a variety of accommodation options, the most family friendly being their 3 and 4 bedroom Fynbos Villas that are next level comfort. In fact, our 3-bedroom villa was bigger than our house! At 2,400 square feet, we all got our own rooms and could split time between the fully equipped kitchen, dining room, living room and wrap around deck. Rollaway beds and baby cots are one version of family-friendly features that Gondwana offers, but SPACE from one another is a whole other key item on the family holiday wish list that Gondwana completely achieves. On the subject of space, not only did we feel it within the villa, but the Fynbos Villas are also spread far out from one another, giving a really private vibe. And to give others space from the antics of our young cubs, the fact that we could order some of our meals to the room while the baby napped or after a late game drive when we didn't think the kids could hold it together in a public dining area was an extra relief that made this setup perfect for an African family holiday.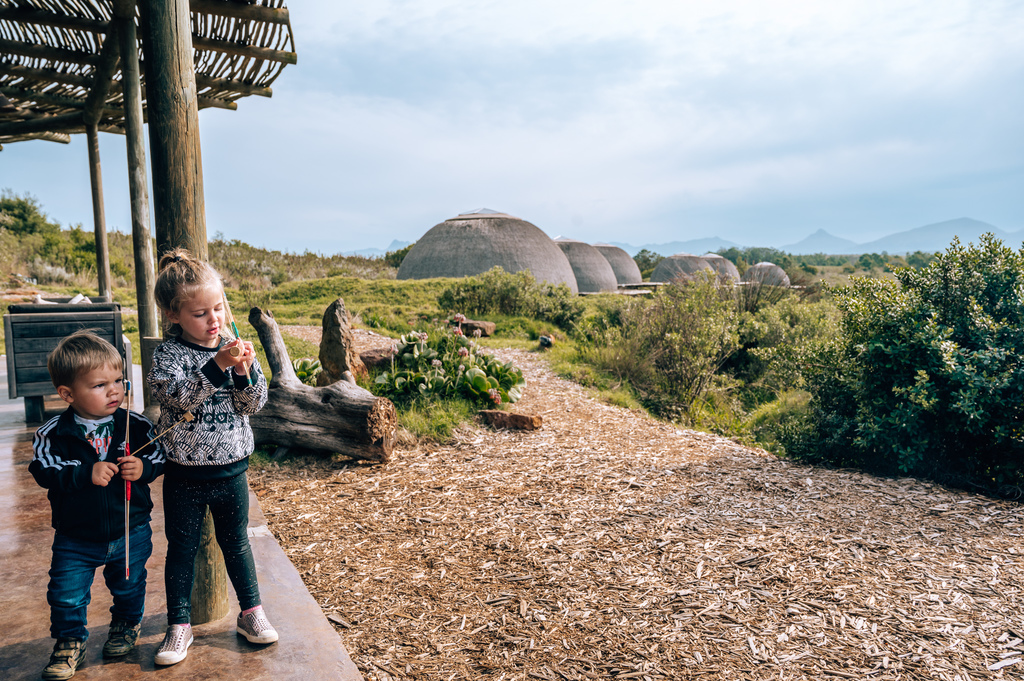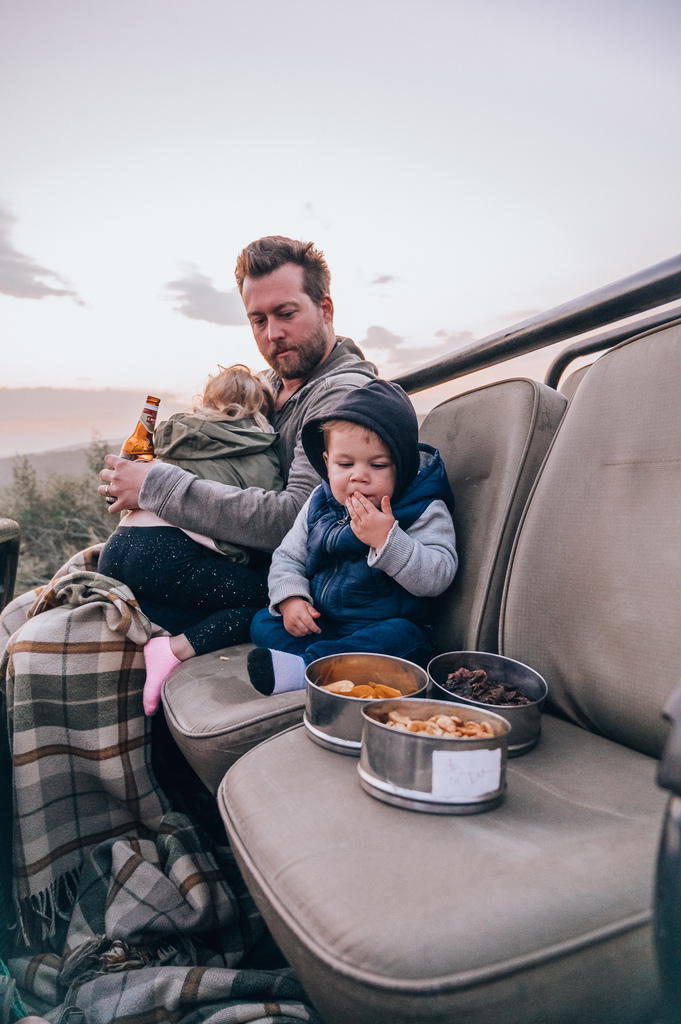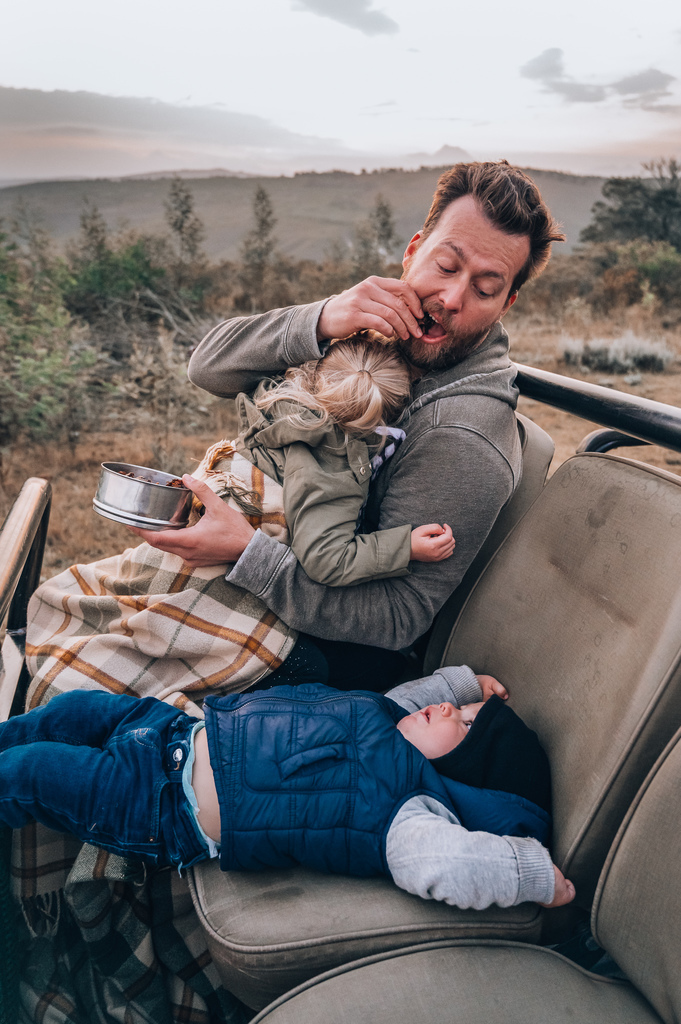 AFRICAN FAMILY SAFARIS
Here's how a normal safari day goes pretty much anywhere in Africa: Get up early before sunrise to do a game drive that lasts a few hours, head back for breakfast, chill, eat, drink, nap at the lodge during the heat of the day, and then you head back out for an afternoon game drive for a few hours which usually includes sundowner cocktails, and then back to the lodge for dinner. Fun fact, if you just replace the word "lodge" with "house" and "game drive" with "grocery store" you basically have our normal weekend schedule at home right there! Safaris are perfectly set up for kids (and parents) nap schedules, which is yet another reason it's perfect for kids of all ages.
Beyond game drives, Gondwana offers hiking, fishing, mountain biking and a Junior Ranger program for kids under 12. The kids got a fun Rangers backpack upon arrival with safari booklet, activities and some other gems that kept them entertained for long enough for us to order a sundowner. In the Junior Ranger Program, our kids made bow and arrows to enact a real-life Hunger Games for us to watch and took walks to the elephant graveyard, which was a set of bones from various animals that had met their Mufasa fate. Kids can do short game drives to see the flora and fauna around the property as well as the birds and the bees, which hopefully means I'm off the hook for that parental convo.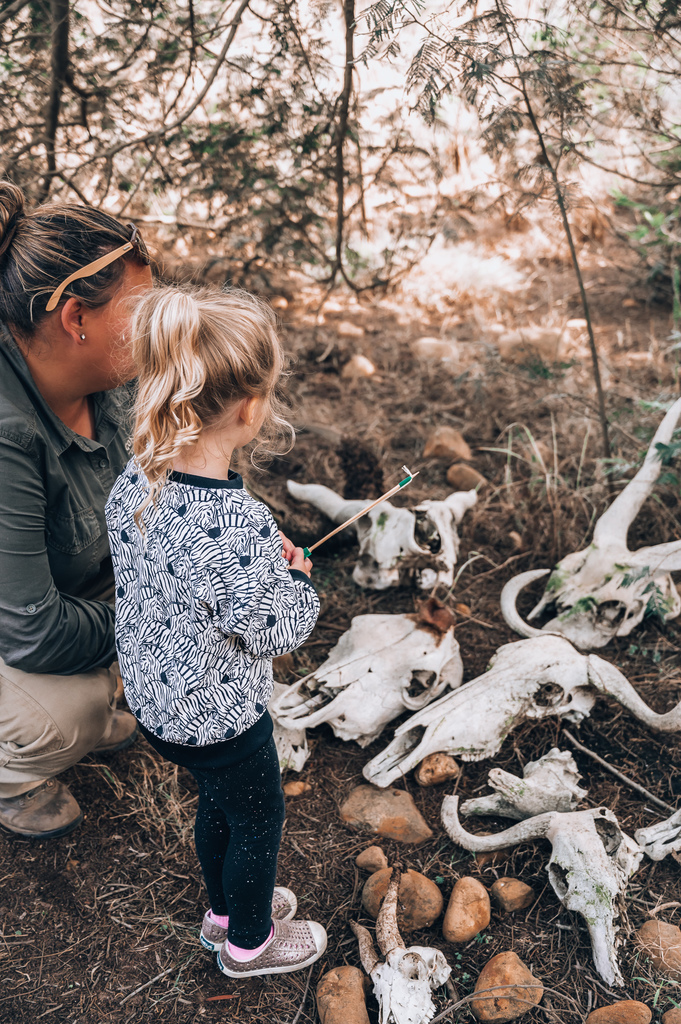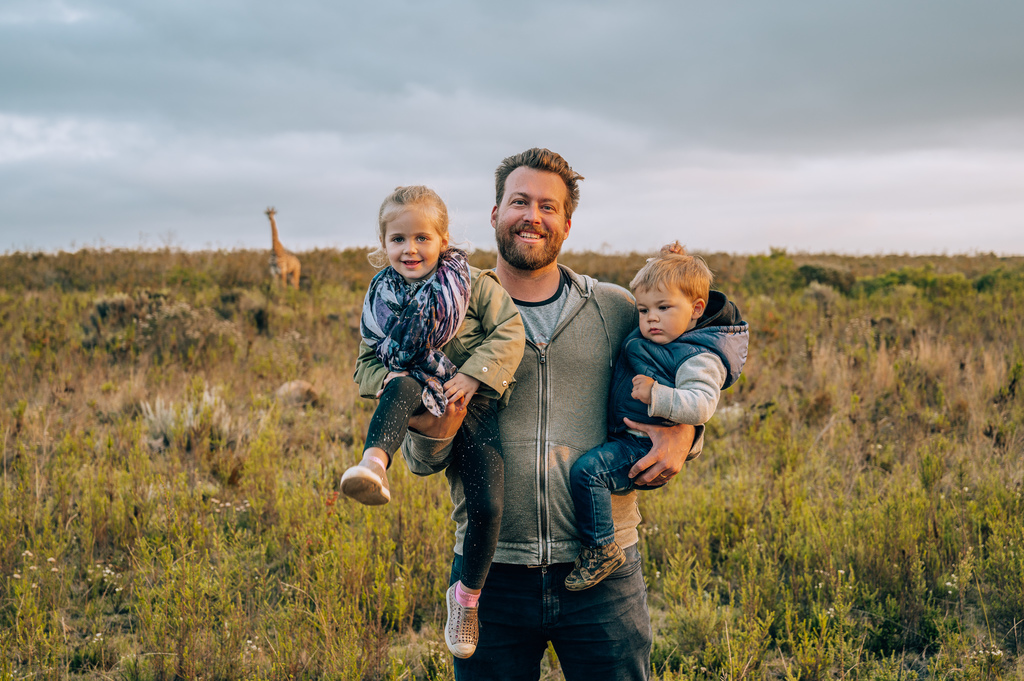 SAFARI WITH KIDS
Now for the million-dollar question: Can young kids go on the real game drives? And the answer is YES!…and kind of no. Gondwana's policy on kids between the ages of 2 to 6 is that they're not allowed on a standard game drive with other guests, because if the kids freak out and get eaten, Gondwana wants to contain that trauma to the crazy parents who brought their kids within biting distance of dangerous animals (at least that's my interpretation of the fine print). To accommodate, the lodge team can try to make a private vehicle available for families with young kids, which has a surcharge, however, this is only subject to availability and isn't bookable in advance. Which means you have to chance it, and if you're going during high season then there's a higher chance that they don't have enough vehicles to spare a private one to a family. In the effort for full disclosure, when we arrived we had to push for the kids to be allowed on any safari vehicle, private included, which was luckily remedied by our amazing experts at Epic Private Journeys who planned and executed our South African itinerary. My best advice for families wanting to take their young kids on safari is to book Gondwana and then hope/push for the best once you arrive. And if there's not enough vehicles, book one of the many babysitters they have on staff, enjoy adult time on safari drives, and let the kids enjoy the Junior Ranger program at the lodge. While it's not the perfect solution, Gondwana is still a rare lodge that not only gives kids a chance at going on an adult safari, but offers lodge activities in case that's not possible, and allows you to bring young kids on the premises, which so many do not.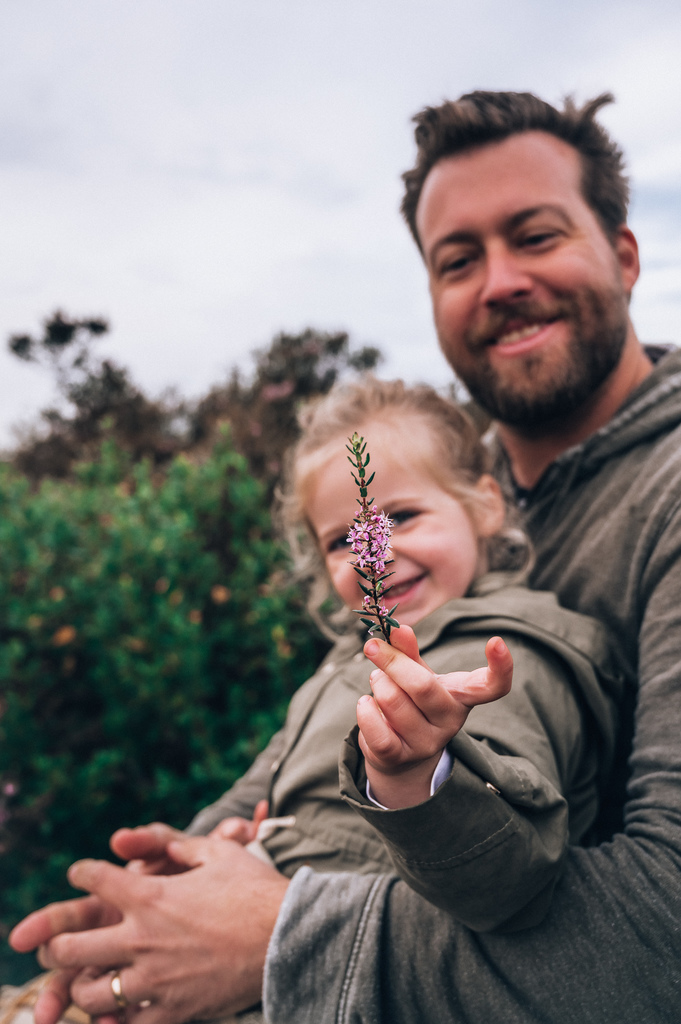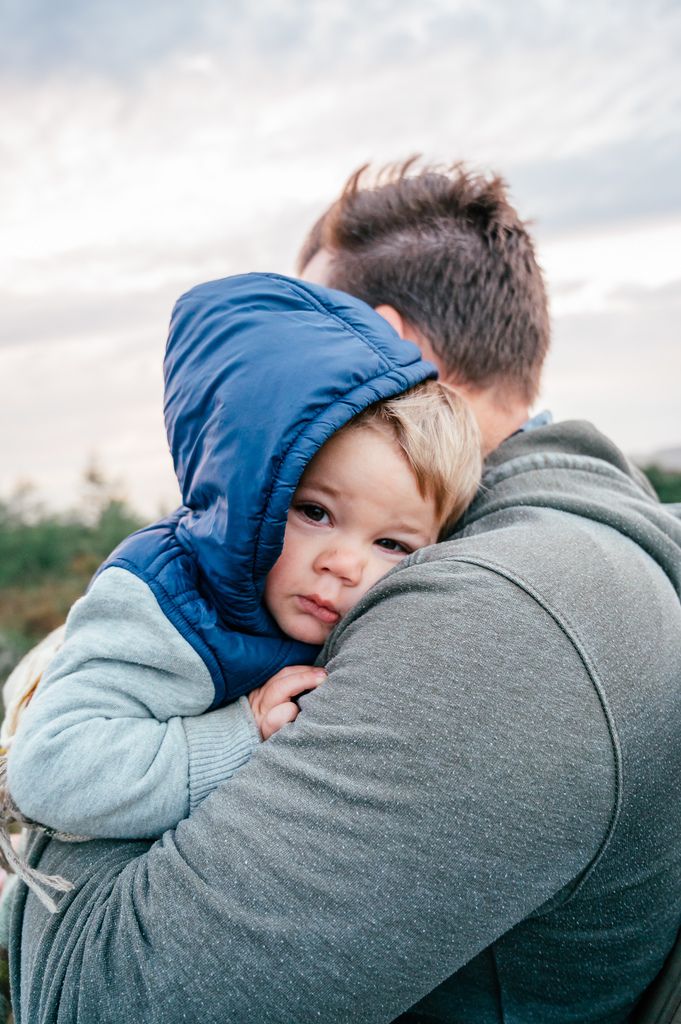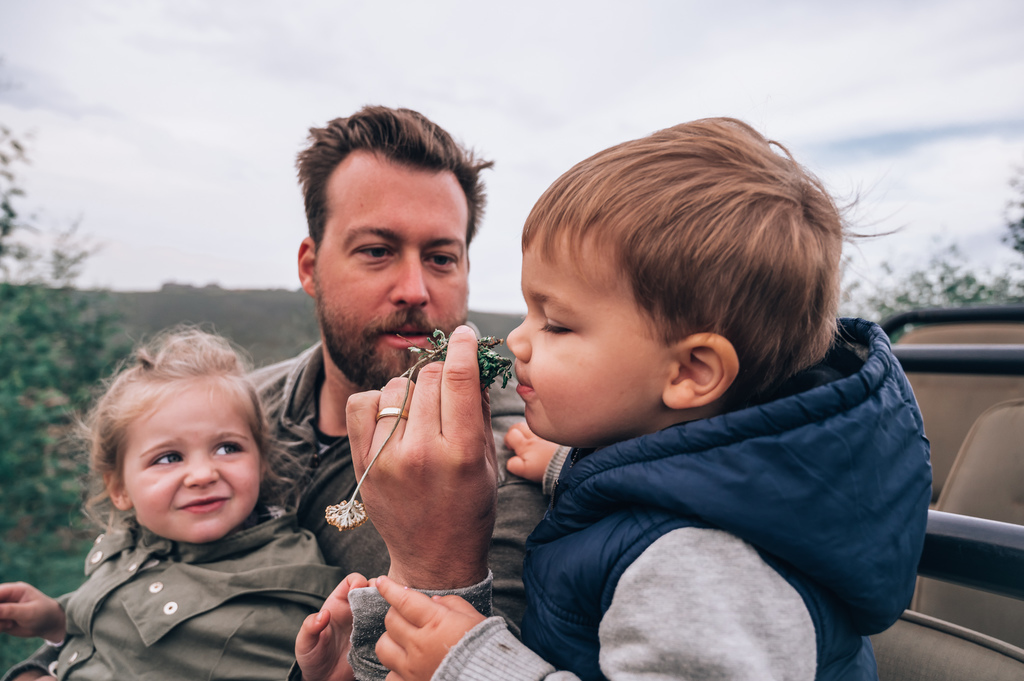 AFRICAN SAFARI PRICE
Like babies, safaris can get expensive, fast! I've been on safaris that will be the backbone of my children's college essay for why they need a scholarship. This is yet another area I was impressed with Gondwana Game Reserve. A family of 4 with young kids in the exact villa we stayed in could achieve a 3-day safari holiday with all meals and game drives included for less than $2,000 total. That's what you'd pay PER DAY PER PERSON at some other places. So yea…Gondwana wins for price point in my book. You can choose full board, half board, basically you name the board, you can book it. And our favorite family travel thing to hear, "Kids stay free" applies to all kids 5 years old and younger. Kids 6-11-year old stay for 50% of the adult rate. And no additional flights to far off lands continue to keep the price down since you can travel by car straight to the lodge.
My top tip for any South African family holiday is to combine a variety of activities into one itinerary. A few days in Cape Town with kids is a ton of fun, and nothing goes better with whiney tots than some time in the South African winelands. And then add on a few days at Gondwana Game Reserve to get some safari in the books. Even for an African honeymoon I would recommend the same mix, because you don't have to spend your entire holiday, or your life savings, on safari to feel like you've experienced one of the coolest travel moments this world has to offer.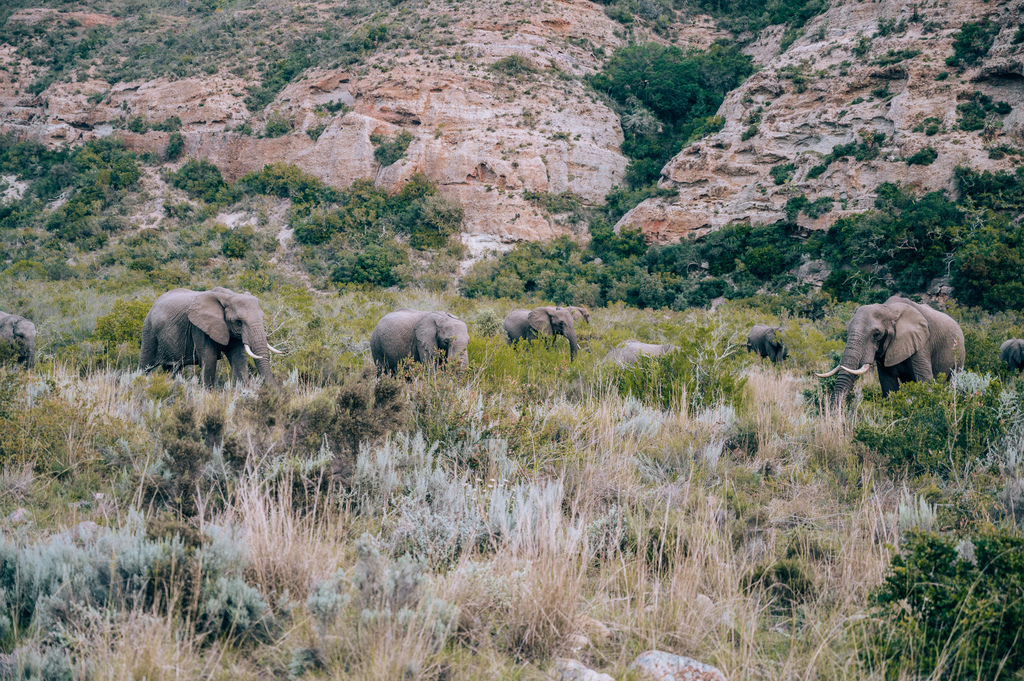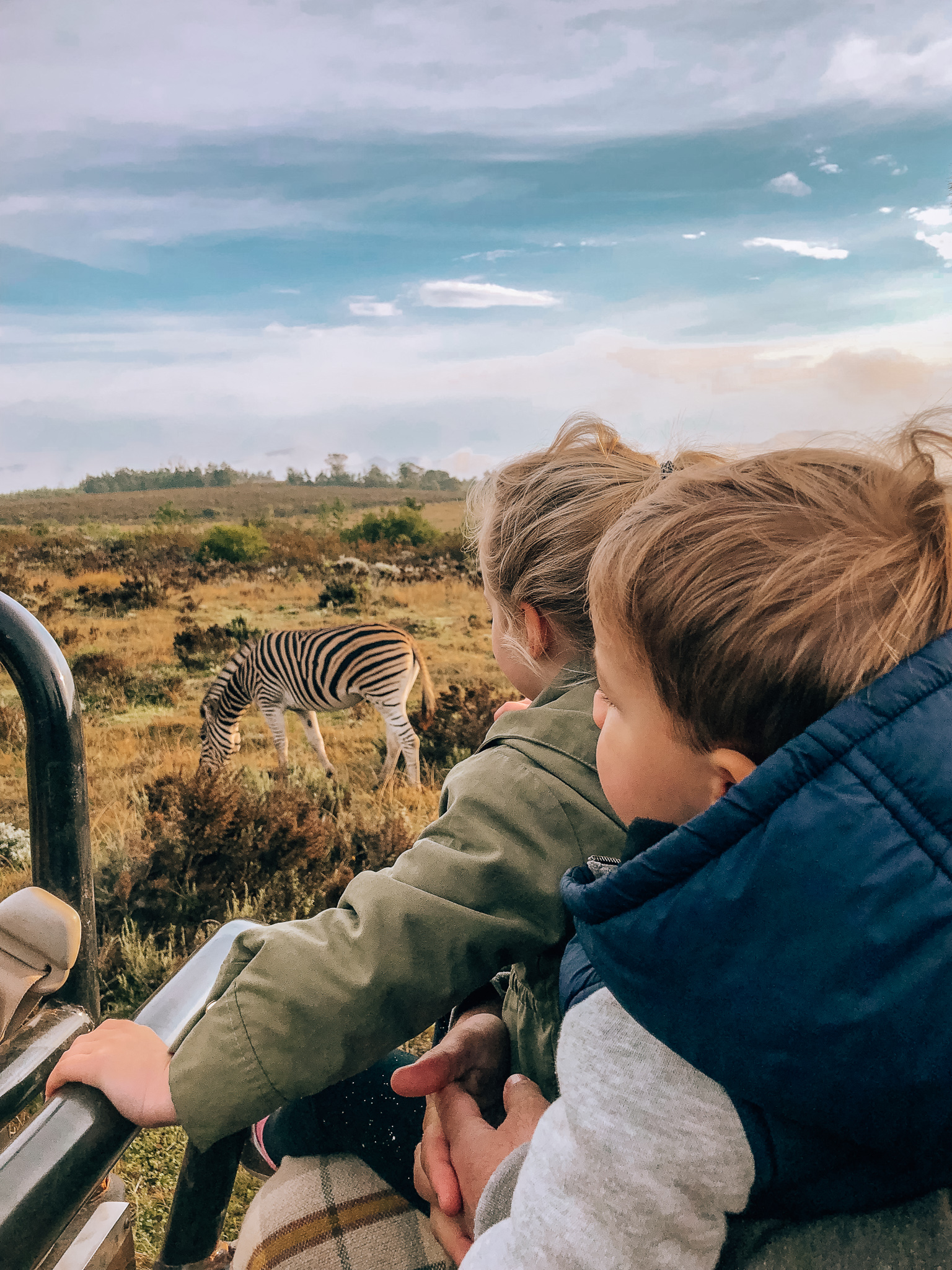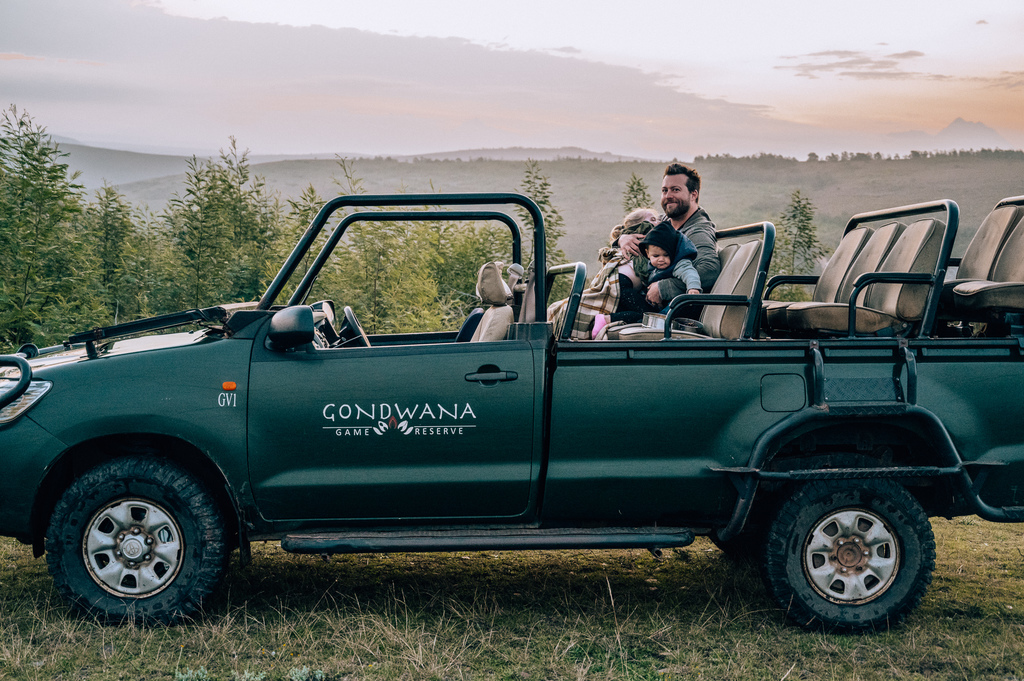 Thanks to Gondwana Game Reserve for hosting us so we could experience a really unique family trip to Africa, which both the kids and parents will be retailing for years to come!
For more information on everything South Africa has to offer from honeymoon planning to what to do with those honeymoon souvenirs, check out the links below!