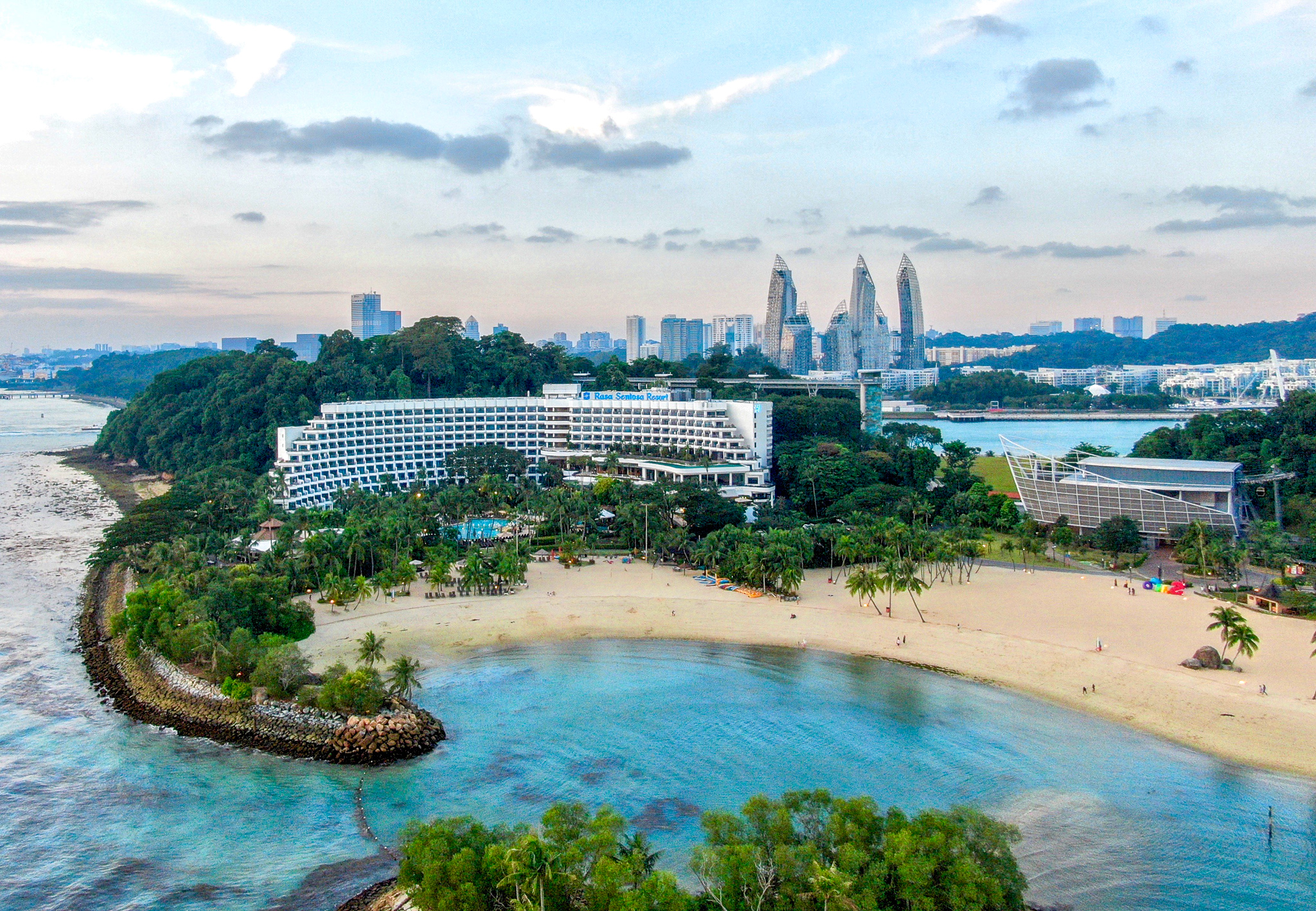 Generous.   
No, I'm not talking about my ideal waistband on a pair of pants. I'm talking about an experience where I felt, more than just a value in the money spent, that the place I stayed felt generous to its guests. What does that even mean, right? Considering we live in a time of travel where every inch on an airline is an extra dollar, and every extra piece of clothing you bring could cost you the arm and leg that were supposed to go in them, it's not shocking that this concept is confusing and almost impossible to find. Truthfully, I didn't even know I was looking for it until I found it. Yet, here I stand, after a recent few days at Shangri-La's Rasa Sentosa Resort & Spa, just 20min from downtown Singapore, ready to show you the Shangri-la Sentosa light!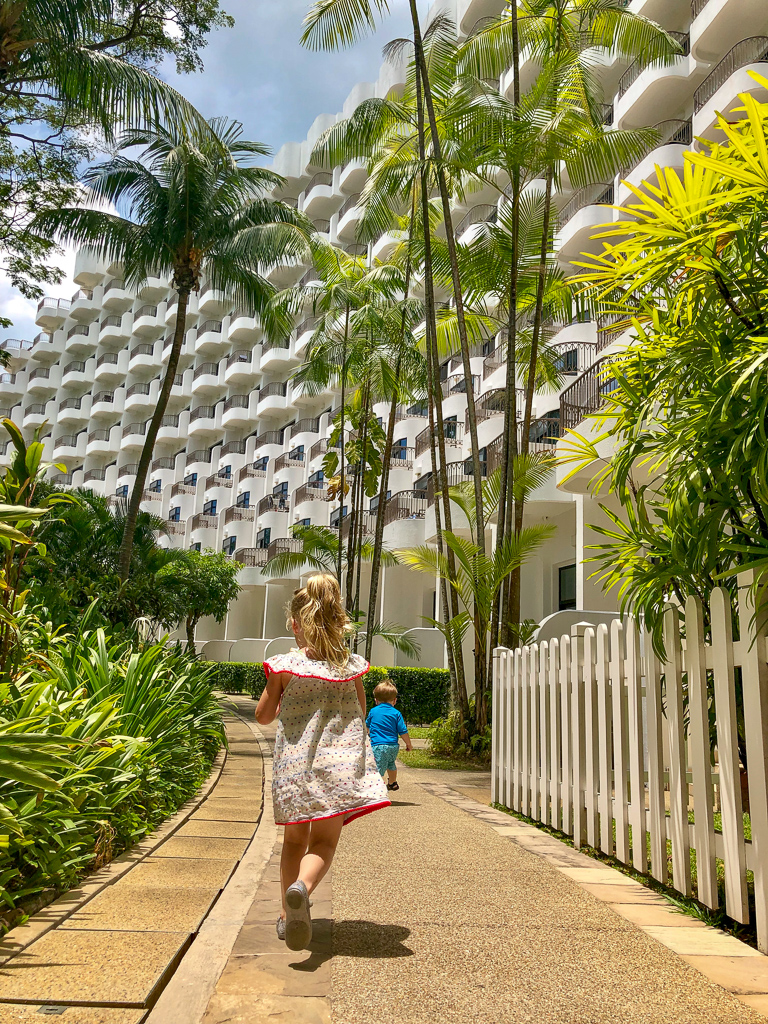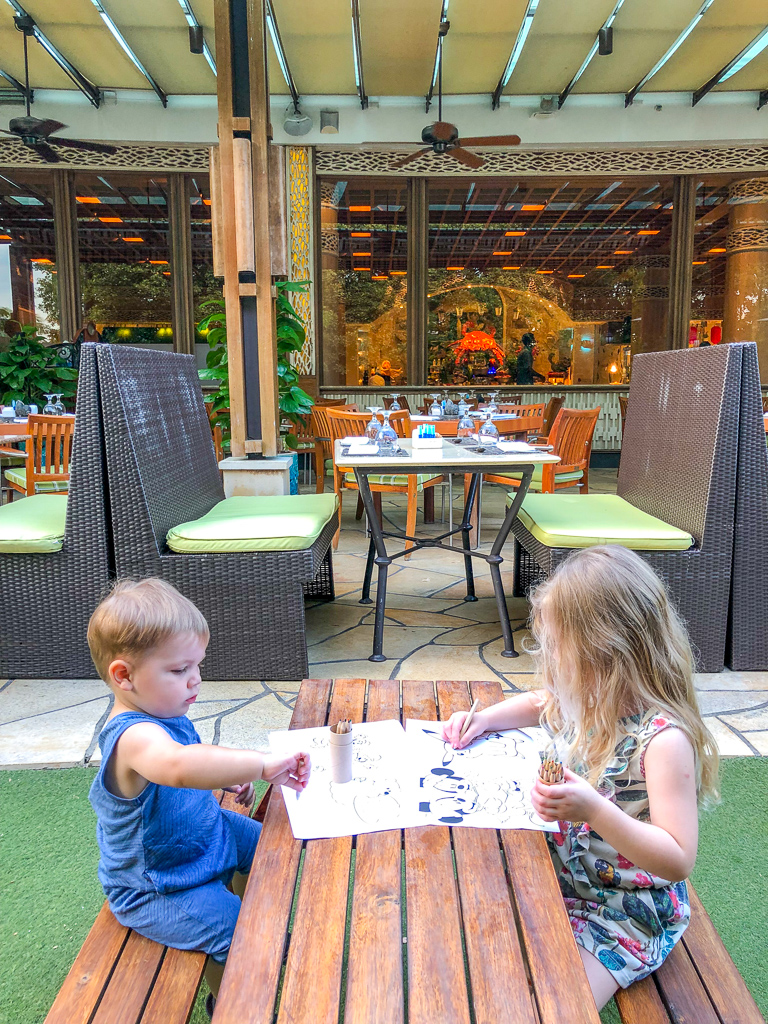 Let's jump right into the good stuff and I'll tell you what this supposed white peacock of generous travel looks like. Spoiler alert, actual white peacock included. En route to our room, we were pointed out the main features of the hotel like normal – here's the pool area, there's one of six bars and restaurants on property, these are the free self-service laundry machines…PARDON ME?! I think my head spun around at exorcist speeds. Free laundry service?! But why wouldn't you charge me $3 for each pair of children's underwear or even $10 per an entire load of laundry?! And their response? "We don't charge for it because it's easier for the guests if we don't." I mean…! Shangri-La Sentosa wants their guests to come and stay for as long as they want, without a silly thing like laundry holding them back. Because guess what? Kids get dirty, like really sticky, gross and disgusting all before 10 am, so let's not stress about it on vacay, right? I've stayed at my fair share of five-star resorts in my years, and never, not once have I ever seen this. Also, you know you're a family travel blogger when you could write an entire article just on the laundry machines #momlife.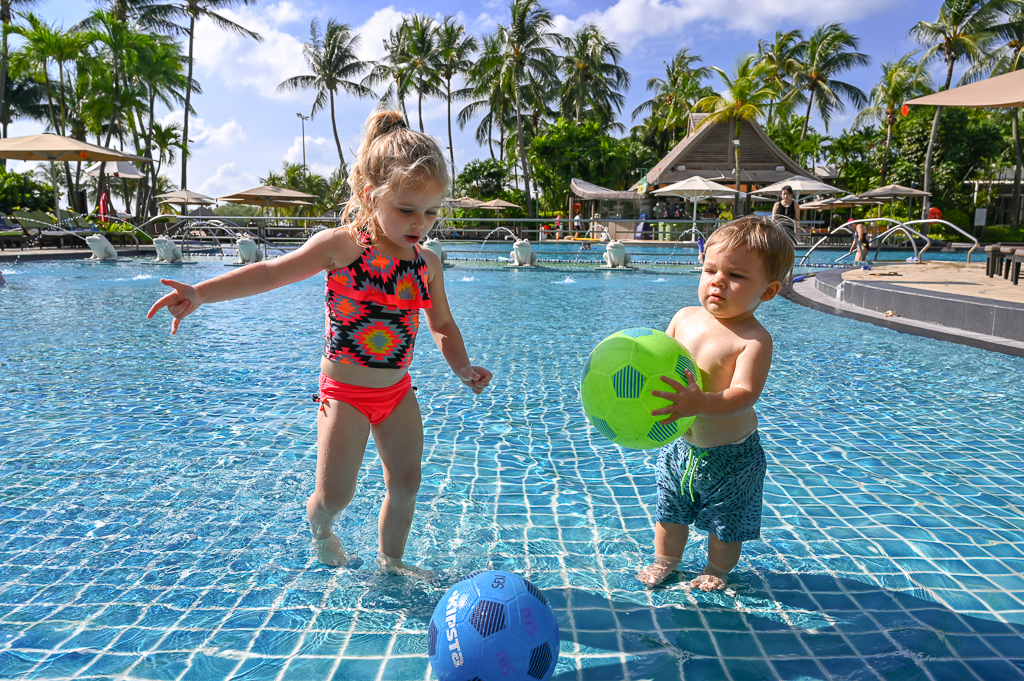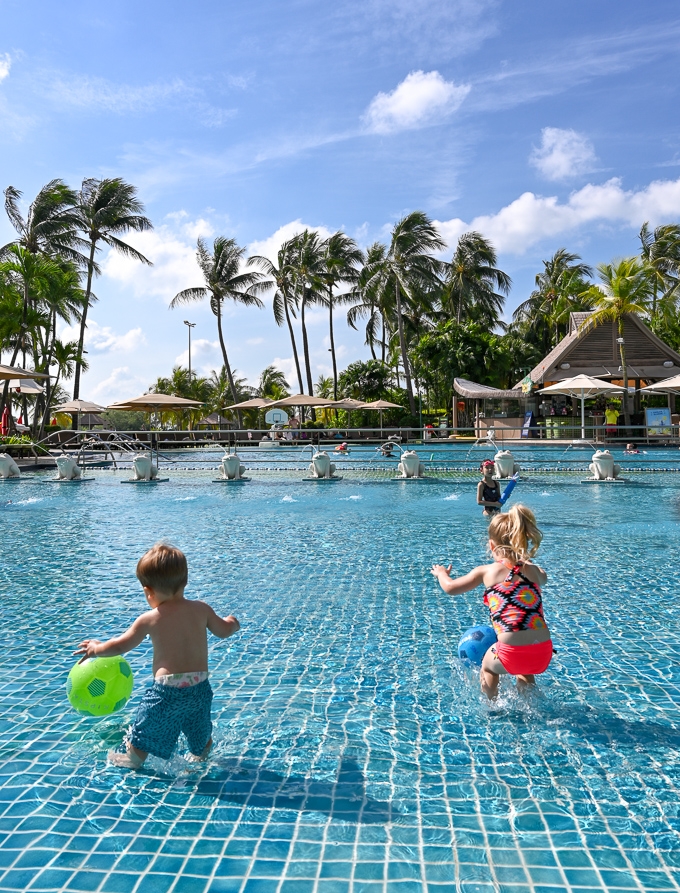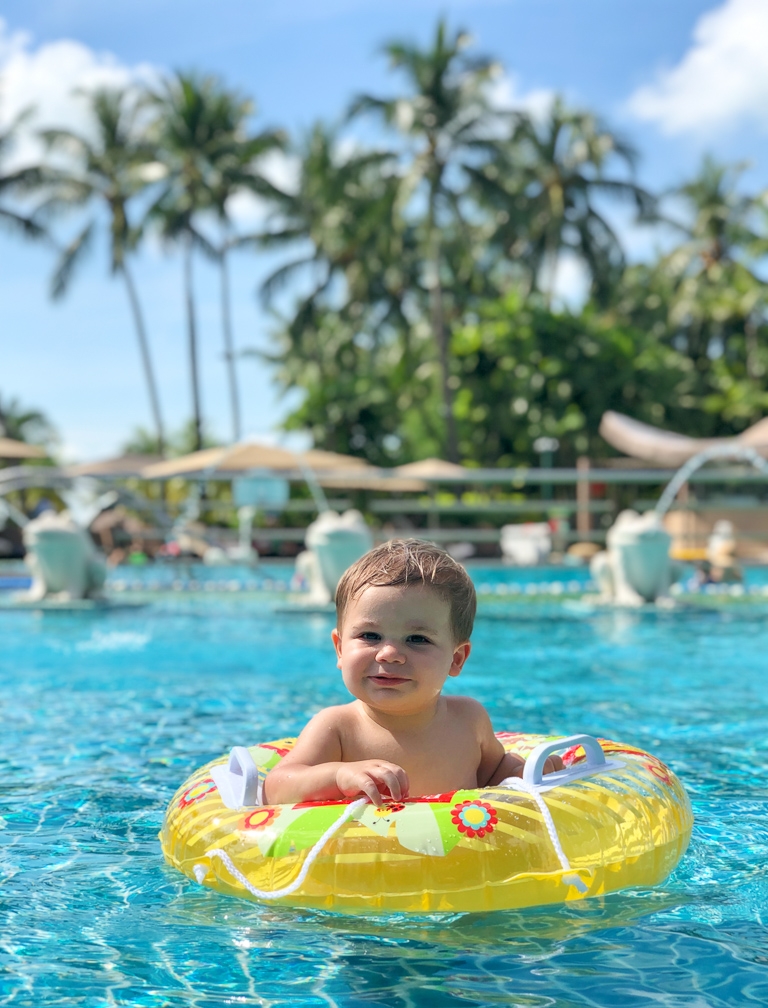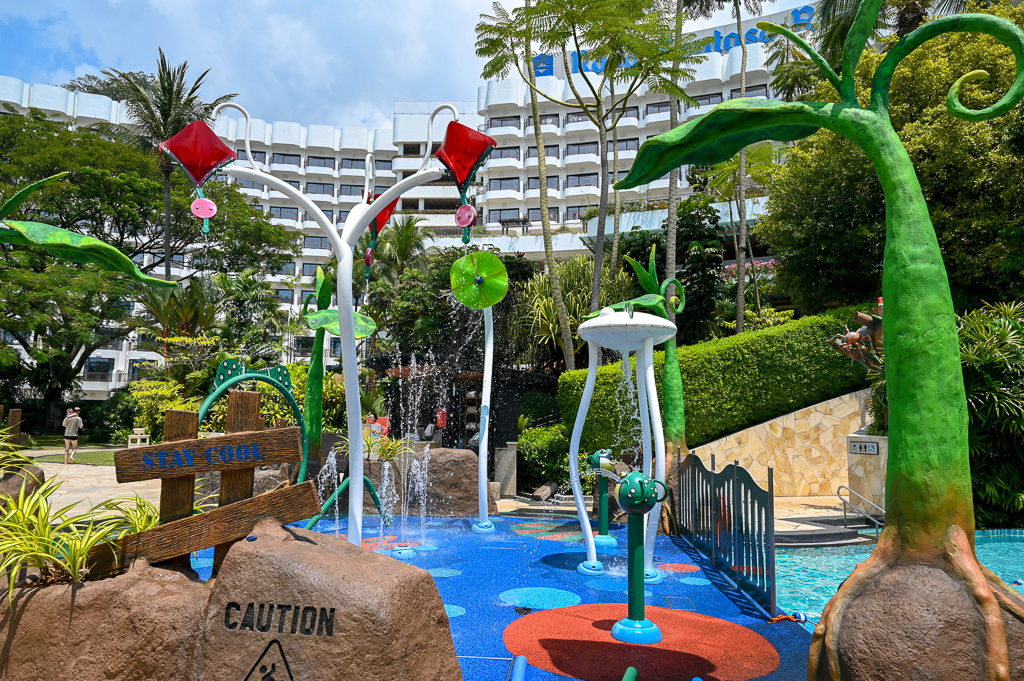 Next up on our tour of generous travel at Shangri-La Sentosa, we found ourselves at the gorgeous pool area which comprised of a splash pad, a very large shallow pool, a deeper more adult-friendly pool, and three water slides. When I first went in with the kids, I immediately got the whistle blown on me by one of the many surrounding lifeguards, and I was pretty certain it wasn't a cat call because of the sexy one piece I was strutting. The lifeguard informed me I needed the baby in a swim diaper to go in, to which I sheepishly replied I didn't have one. His response? "Not a problem, there's complimentary swim diapers at every towel stand." Yet another moment where they could have sent me to the gift shop for a pack or charged me for a single diaper at the stand, but nope. Shangri-La Sentosa isn't about the nickel and dime. They want you to enjoy their facilities while keeping them Singapore levels of sanitary. Another totally foreign concept that shouldn't be all that foreign.  
One important note about their shallow pool is that it was probably the best pool I've been in with the kids. It slowly graded downwards until it was about chest high on my preschooler at it's very deepest. I shockingly managed, and actually fully enjoyed taking my 3.5-year-old and 18-month-old to a pool, by myself, without anyone even coming close to drowning. I mean, that in and of itself is a ringing endorsement, right?!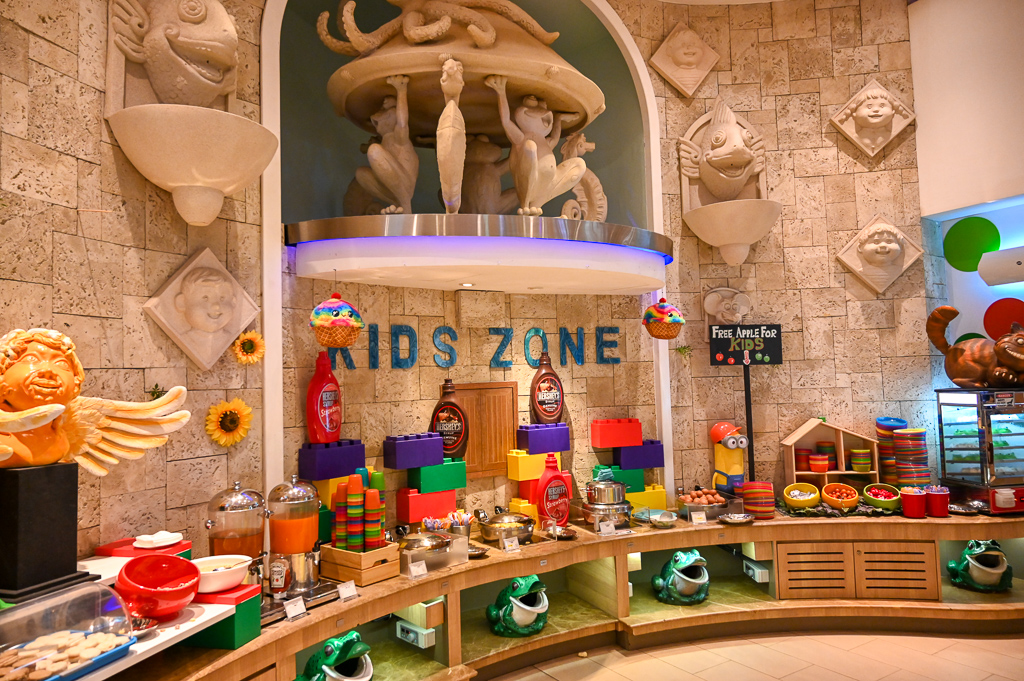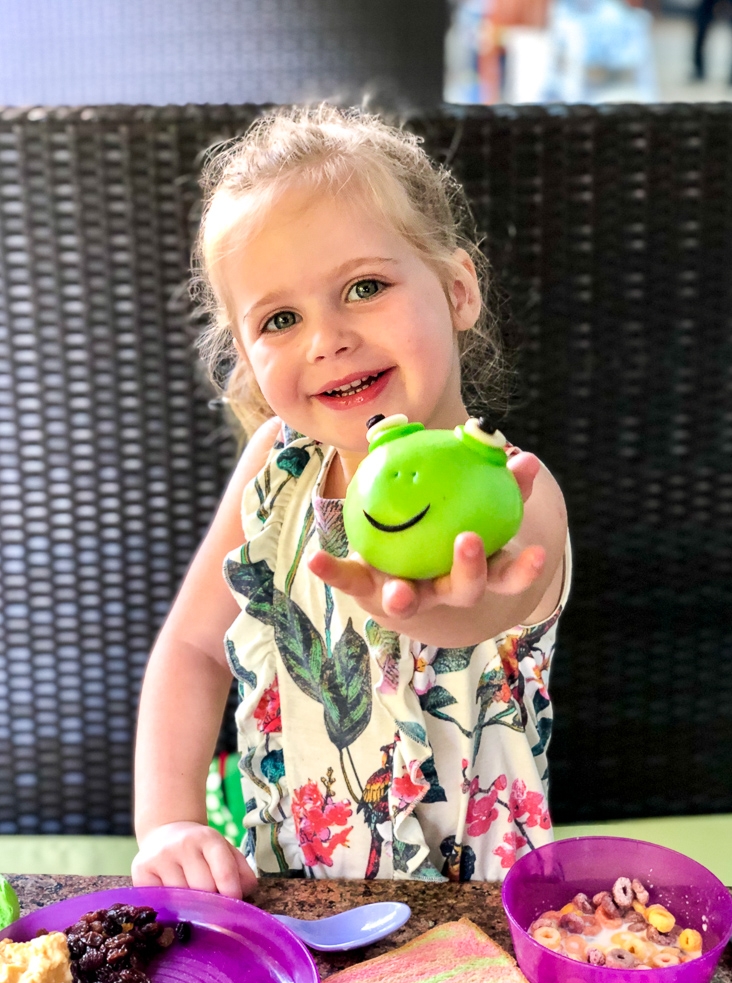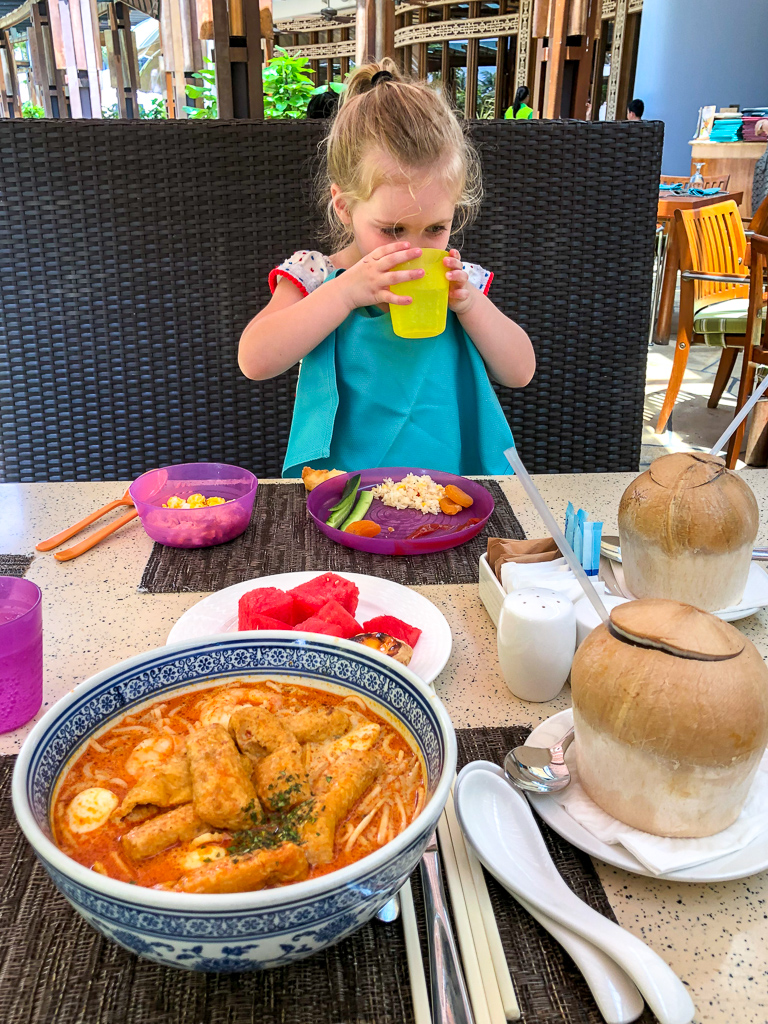 That brings us to the food, oh glorious food. If there's one thing that people think about when Singapore comes up it's all the amazing flavors it brings to the table. So how does Shangri-La Sentosa flex its generous attitude towards food? Kids eat free up to 11 years old! Most hotels and resorts we've stayed at caps the whole "kids eat free" at 5-years-old. I've never seen an 11-year-old age limit. I mean, that's basically a mini adult!  
And while we're talking about food, can we just take a moment for Shangri-la Sentosa's epic buffets? I have to admit that I can be a total hater on hotel lunch and dinner buffets. Breakfast buffets I love, but I'm often let down by most hotel's lunch or dinner buffet. They often feel stale and lack flavor because they're made for the masses, and just not for me. But Shangri-La Sentosa, on the other hand, brought it every meal. From East to West options, Laksa stations to salad bars, everything was beautiful, full of big flavors, was fresh and delicious. And OMG the kid buffet! They had an entire buffet section at kid height with all kid-friendly food like pasta, frog-shaped baos, nuggets, and desserts. Basically, I've never seen my kids run to a meal so fast, which is saying a lot considering I own some world champion eaters.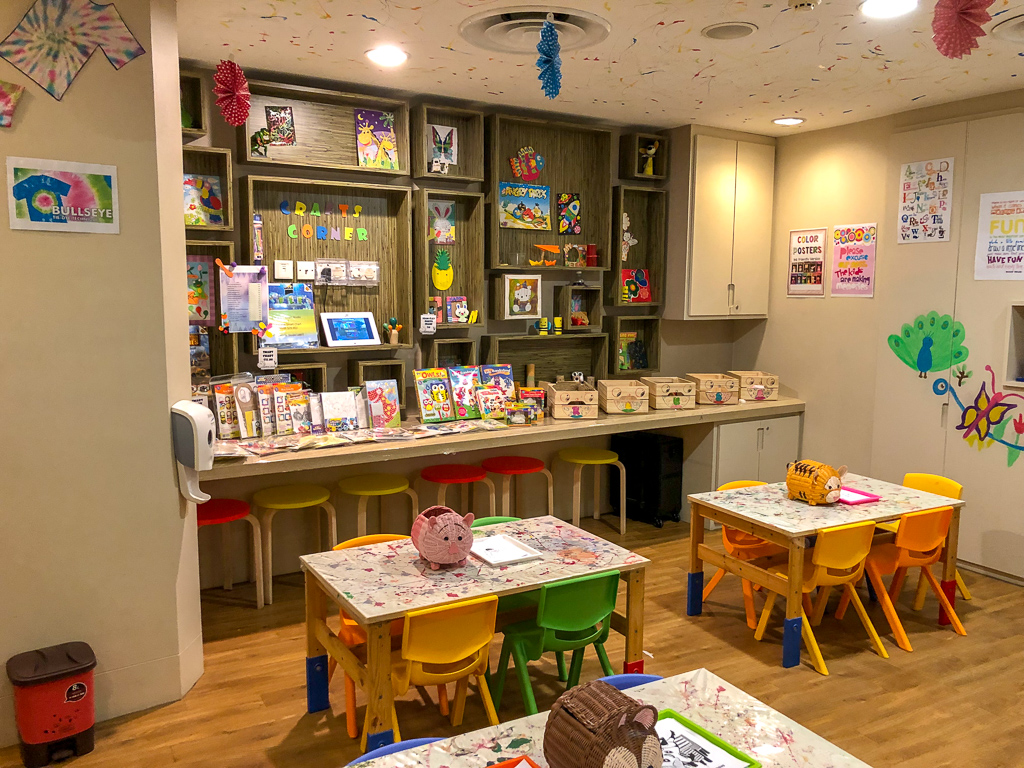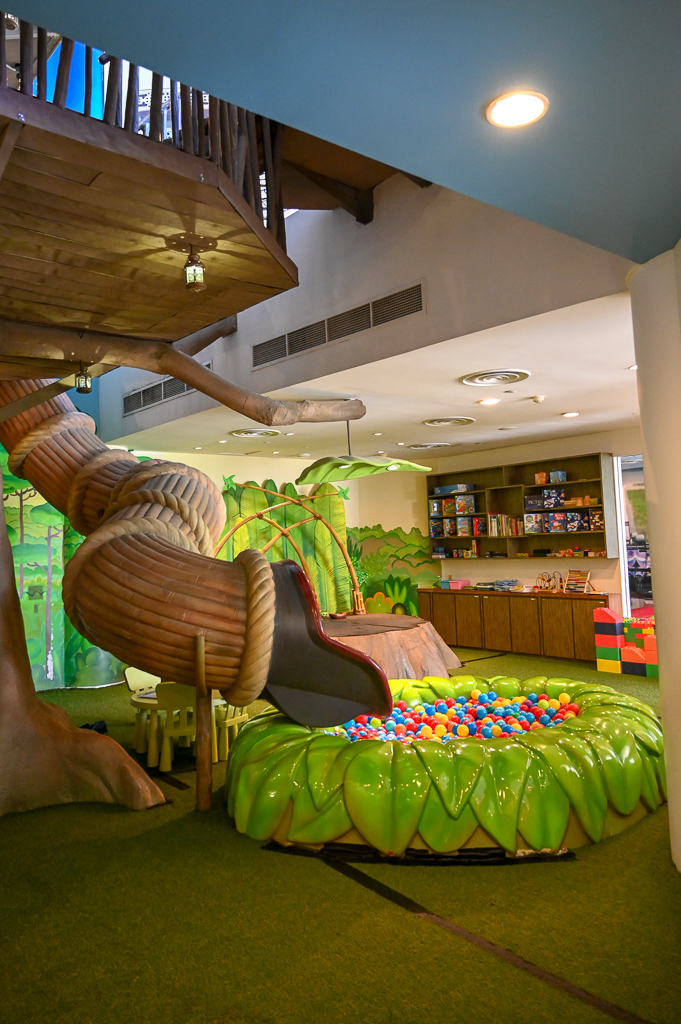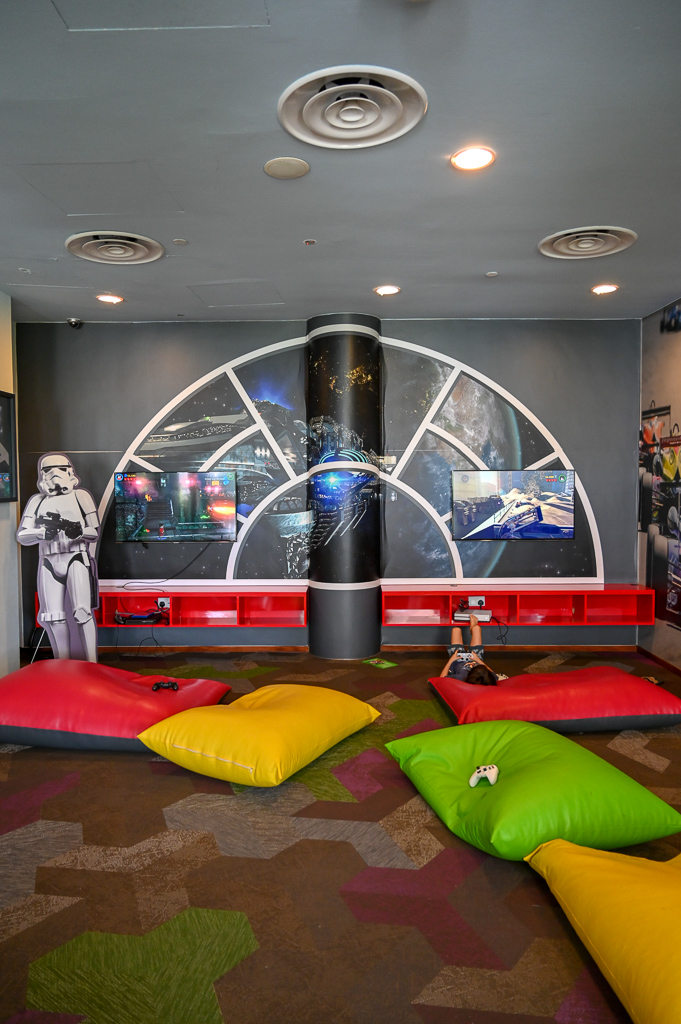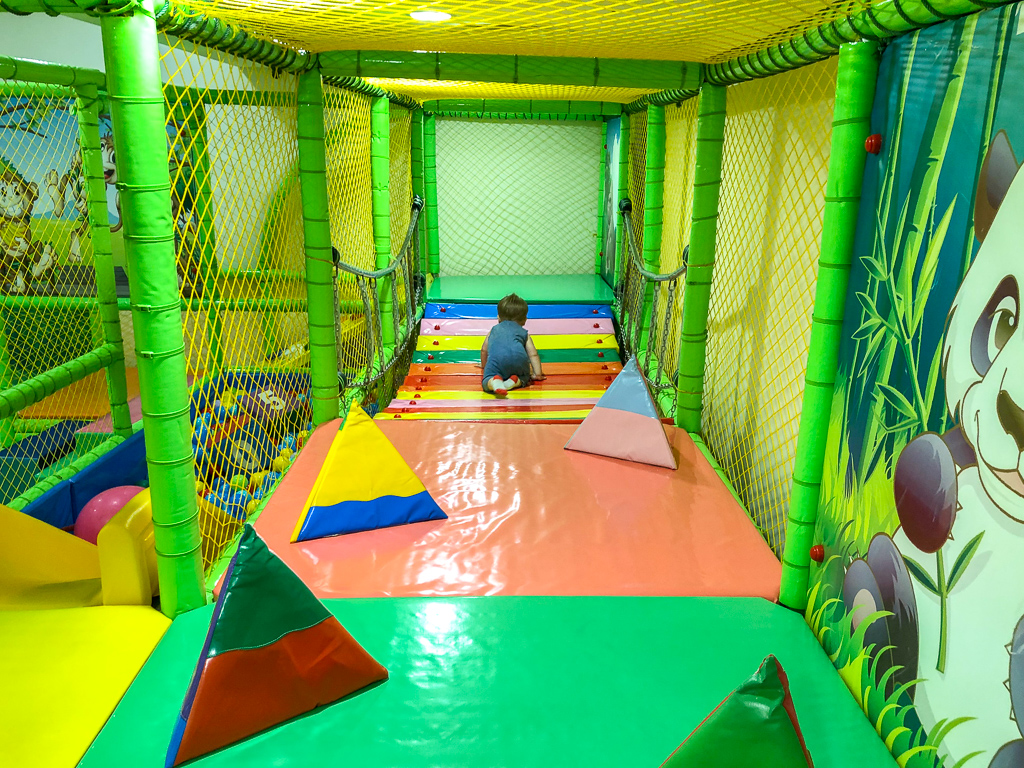 Now on to the kids' club, which as you guessed it, is generously free! This kids' club is far from a basement ball pit. The Shangri-La Sentosa Toots and Mini Toots Club is basically an entire section of the resort which is split up by age. 5 and under are in the Mini Toots Club, which has access to the soft play and craft rooms. Because they're young they do need parental supervision, unless you opt to pay for a babysitter to join them. The older kids get the main Toots Club which comprises of a two story tree house area, video game room, ping pong tables, foosball tables and a daily schedule of activities that would get any kid psyched to spend the day away from their embarrassing parents. They can feed your kids lunch while there as well, so it can be an all-day affair or just a few hours, whatever floats your boat. Beyond the facilities, by far the most impressive part of the Mini Toots and Toots Club was the sanitation. Clearly, soft play and sanitation are not two words that usually go together. But of course, combine Shangri-La and Singapore and you have a match made in germ–free heaven. To enter the kids' club everyone must remove their shoes, wear socks, have their temperature taken and use hand sanitizer. Why this isn't done at every soft play and daycare center I'll never understand.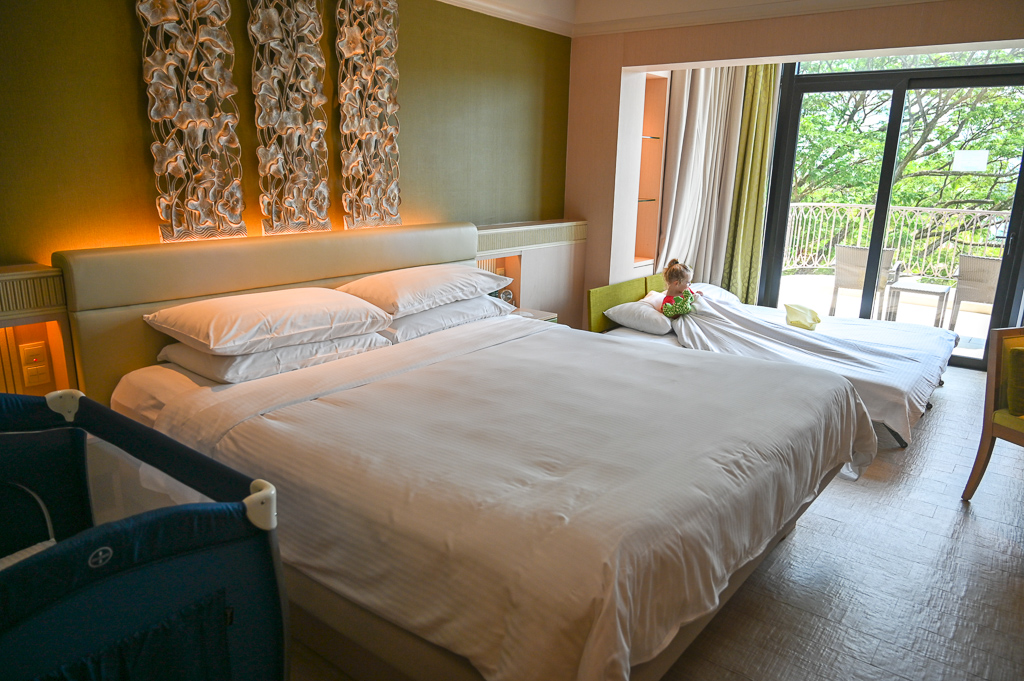 As for the hotel room, we had a family room with a large king bed, a pull-out sofa bed for the 3-year-old, a portable crib for the toddler, and a nice balcony with a view of the pools and beach. While the kids fell in love with their new toy, Toots the frog, the mascot of the Shangri-La kids' clubs, I fell in love with the generous kid amenities in the rooms. A step stool in the bathroom so my 3-year-old can go to the bathroom and wash her hands by herself, kid toothbrushes, baby friendly soaps and shampoos, and a big bathtub to throw the grimy kids in after a long day of play.  

There was so much to love about this place that I haven't even mentioned the main draw most people visit the Shangri-La Sentosa for, which is the beach! Shangri-La Sentosa is the only beachfront property in Singapore. Which means they hold both that title, as well as the most family–friendly resort in Sentosa. With beach activities like kayaking, as well as beach and grassy playgrounds, the kids were so busy every day they basically begged to go to sleep at night.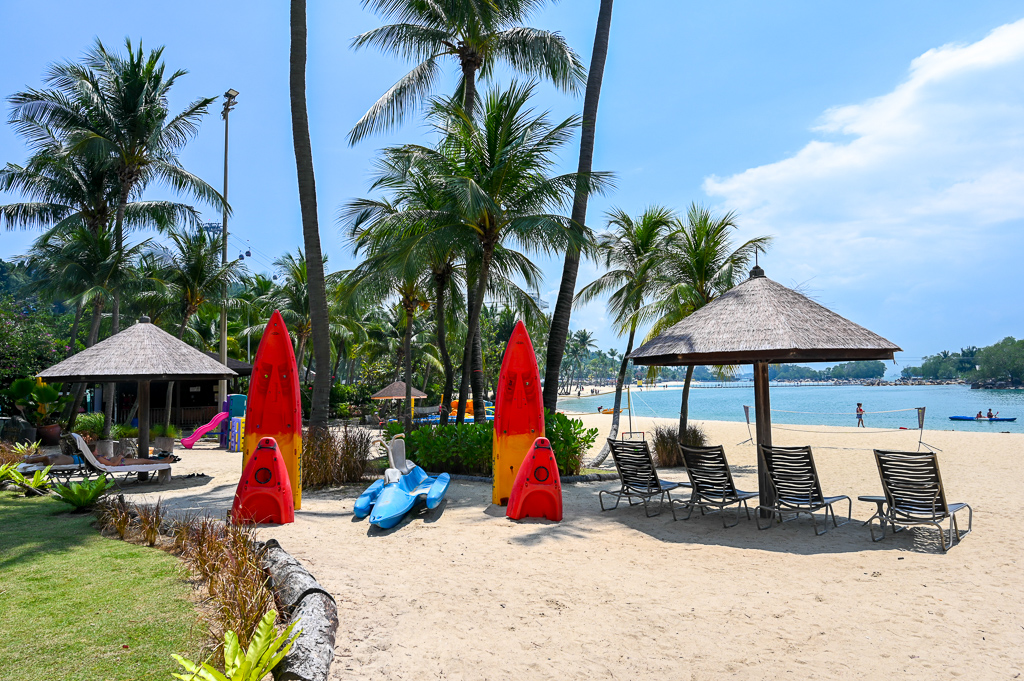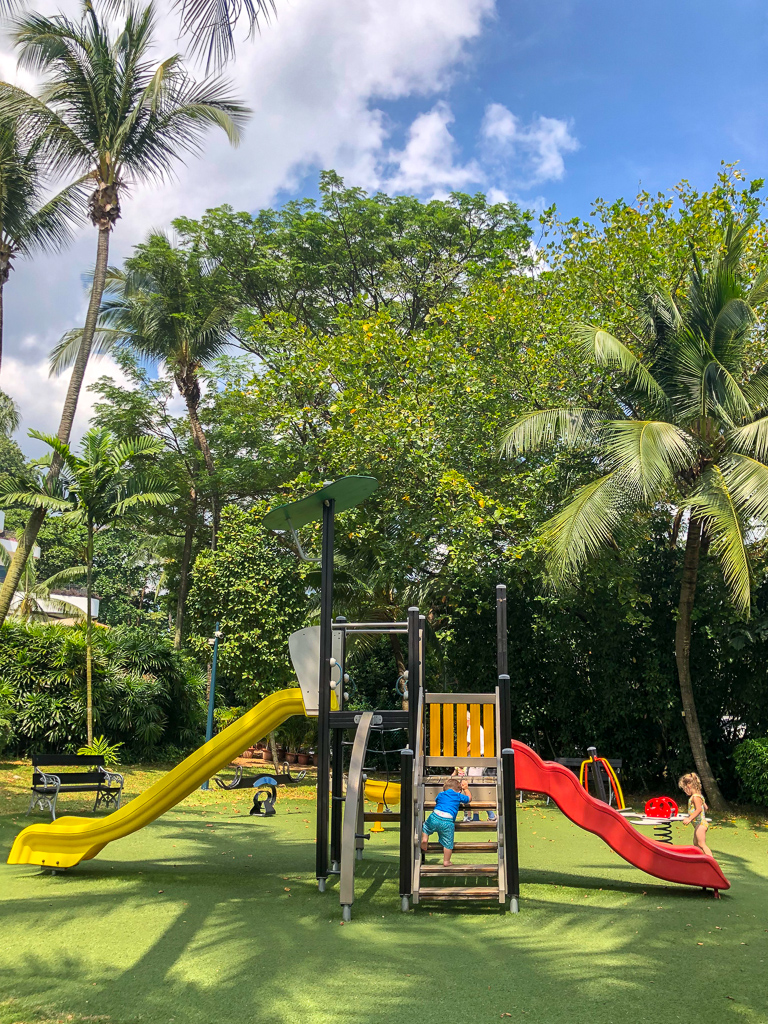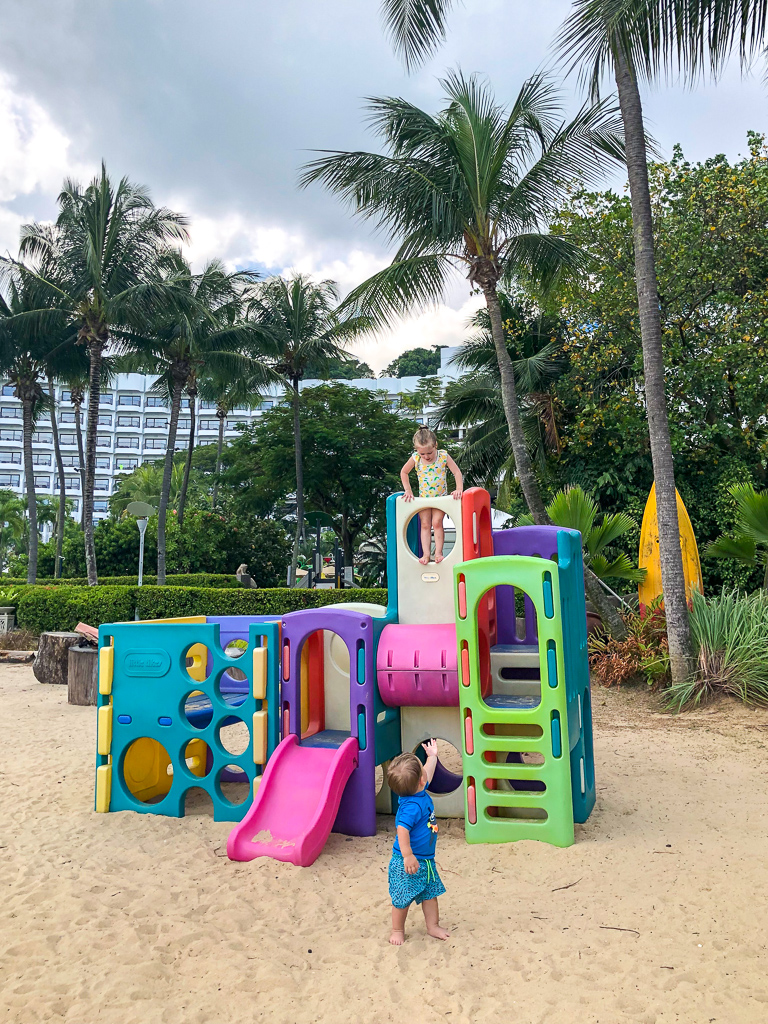 Now that I've gushed more than a mother of the bride, it's time to chat about the very few aspects of the resort that would still be on my wish list if I were making a hotel of my dreams. Number 1 is pool floaties. Very serious stuff, I know. The hotel provides pool noodles and life jackets and sells blow up pool floats in the gift shop, but don't offer them for free around the pool, which basically meant my toddler kept stalking other kids for their personal floats and then losing his mind when I had to give them back to their rightful owner. Number 2 is shade. As far as a shaded kids pool goes, the only one that existed was at the bottom of the water slides, which meant we only had so much time in us for the main pools because my kids live in Switzerland and are therefore as pale as the Swiss snow. Third and final, it's a busy hotel, like very busy, and clearly for a reason! With over 450 rooms that are almost always totally full, this isn't a quiet, private boutique experience. You have to time your meals to ensure you don't wait in a line and there's lots of activity always surrounding you. Are any of these things deal breakers? Absolutely not, they're totally minor details. I mean, I also wish I looked like a Victoria's Secret model who could eat like a world champion, so there are wish lists and then there are necessities right?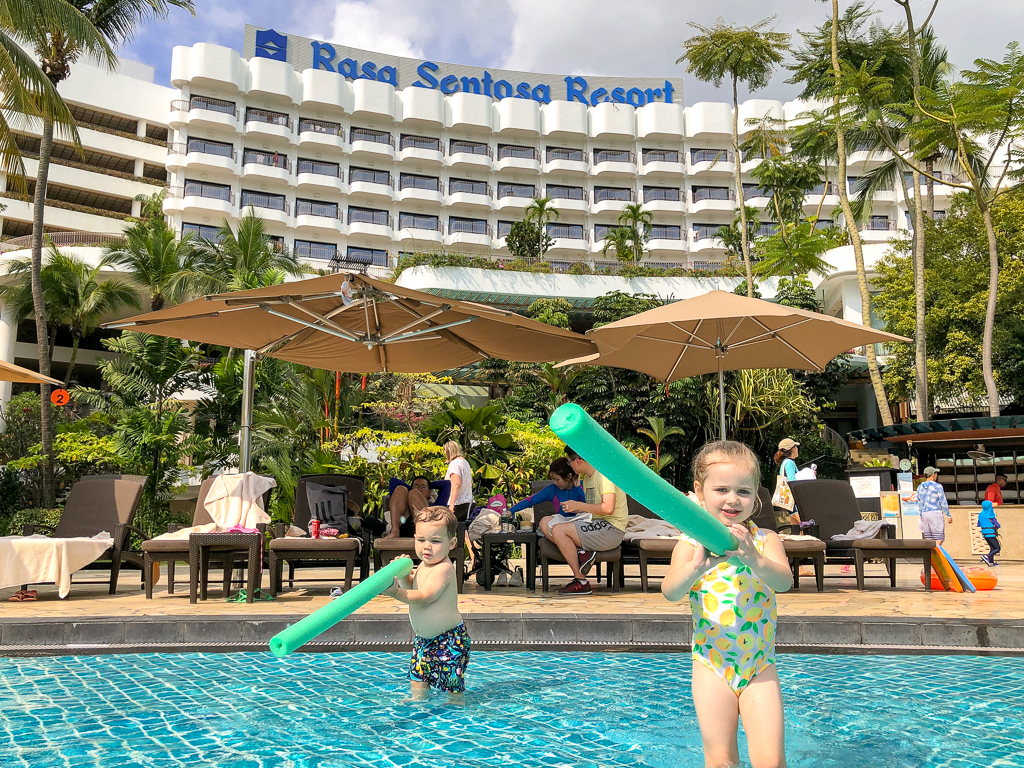 What's so amazing about staying at the Shangri-La Sentosa is how close it is to downtown Singapore yet how far away it feels from downtown when you're there. You can spend your morning shopping on Singapore's Haji lane and then your afternoon at the pool with the kids burning off energy in the Toots Club. It's got the best of both worlds which is really a unique offering since most relaxing resorts are often isolating. Even just staying on Sentosa you have all of Sentosa World activities such as the S.E.A Aquarium, Universal Studios, KidZania, iFly, and Mega Adventure Park, as well as all the shopping and eating one could ask for. I've lived in Singapore and have visited probably half a dozen times since then, and I have to say, out of anywhere we've stayed, the Shangri-La Sentosa takes the cake for family-friendly accommodation in Singapore. And if everything I just wrote doesn't make you want to book immediately, there are free roaming peacocks at the resort that will greet you during most of your meals as well. Add all that to a seriously amazing Family Fun Package with discounts, family friendly room setups, and more and you should have the momentum you need to book yourself some holiday time at the Shangri-La Sentosa!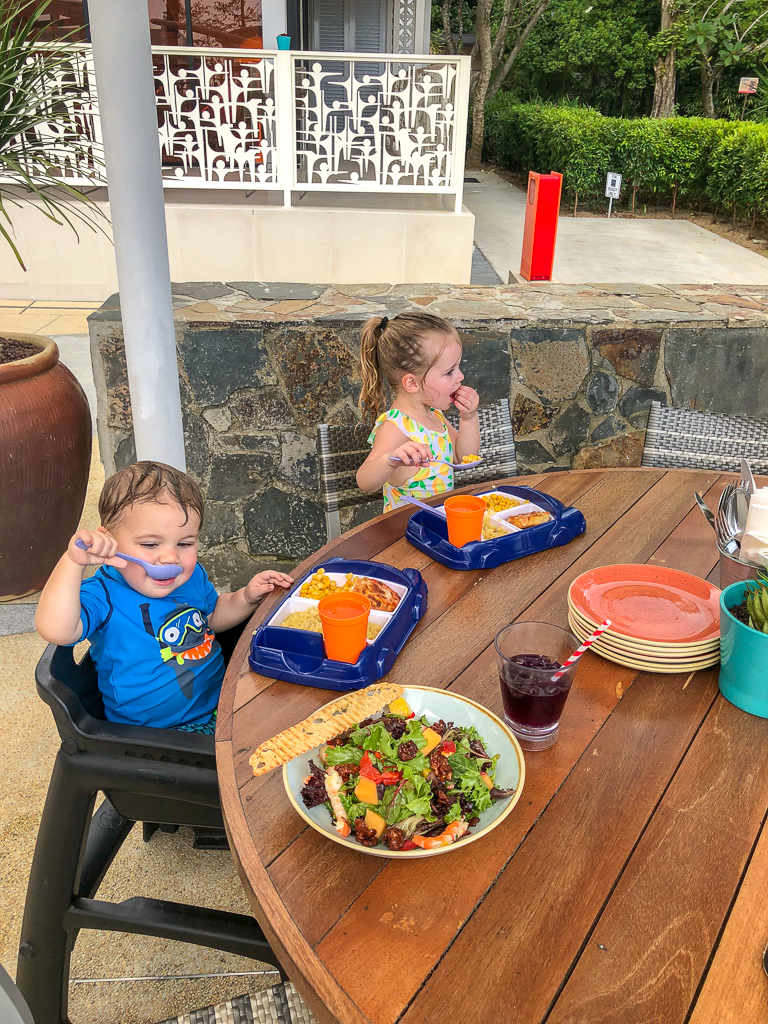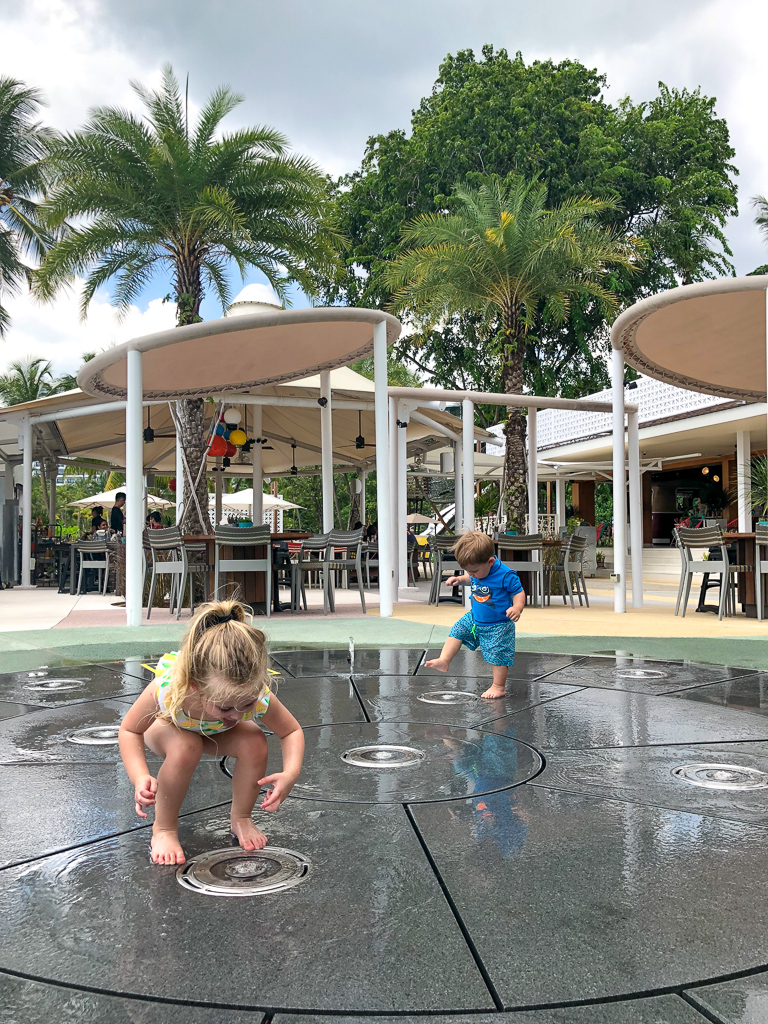 Thanks to the Shangri-La's Rasa Sentosa Resort & Spa for partnering with us on this post and hosting our stay in exchange for this review. I'd remind you that all my reviews, whether sponsored or not, are always honest, but I think it's clear that this place is on another level of family–friendly destinations. I mean, free laundry with a side of swim diapers? I couldn't make this stuff up if I tried! And if you're looking for a good Singapore itinerary check out my 48hrs Singapore Itinerary I made just after we lived there which hits all the highlights.