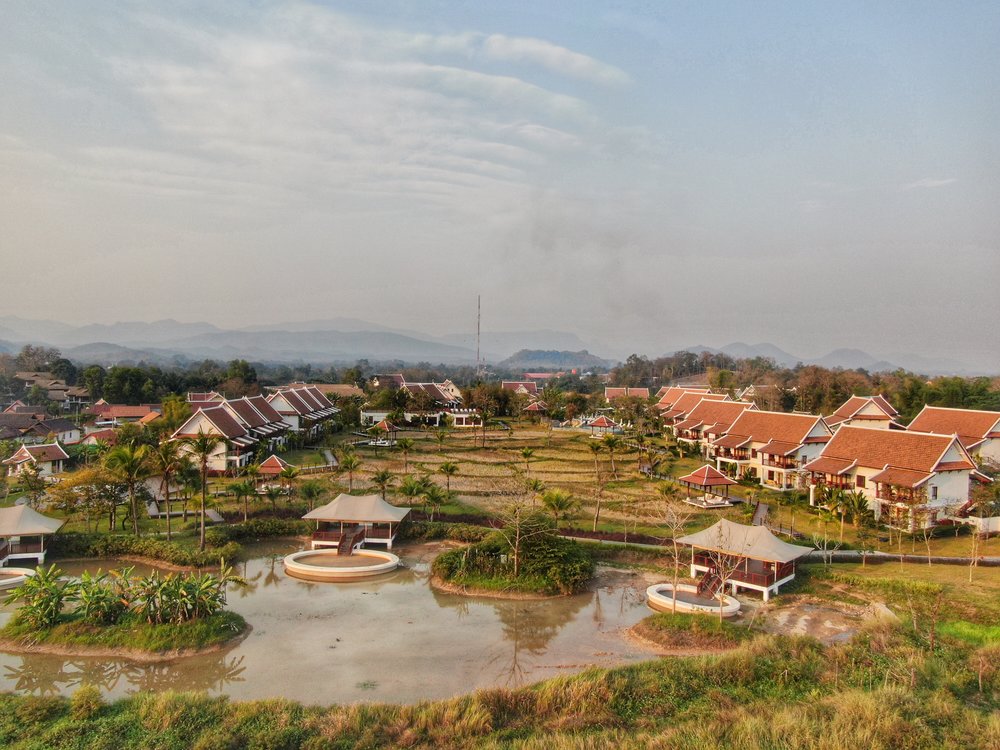 Many people think of the Far East as, well…far. Just the thought of schlepping young kids to the other side of the world will send any normal human being into a full-body sweat before they've even hit the South East Asian sun, and for good reason. The flight time, time difference, "unique" modes of transportation, foreign foods, high cost of going that far, unknown accommodations, overall, it's a logistical nightmare that most people take a hard pass on. Believe me, I get it. All those things are taken into consideration when we make our travel plans too. But I have a secret: there are mirages of hotels that make it possible to create amazing family memories in far off lands.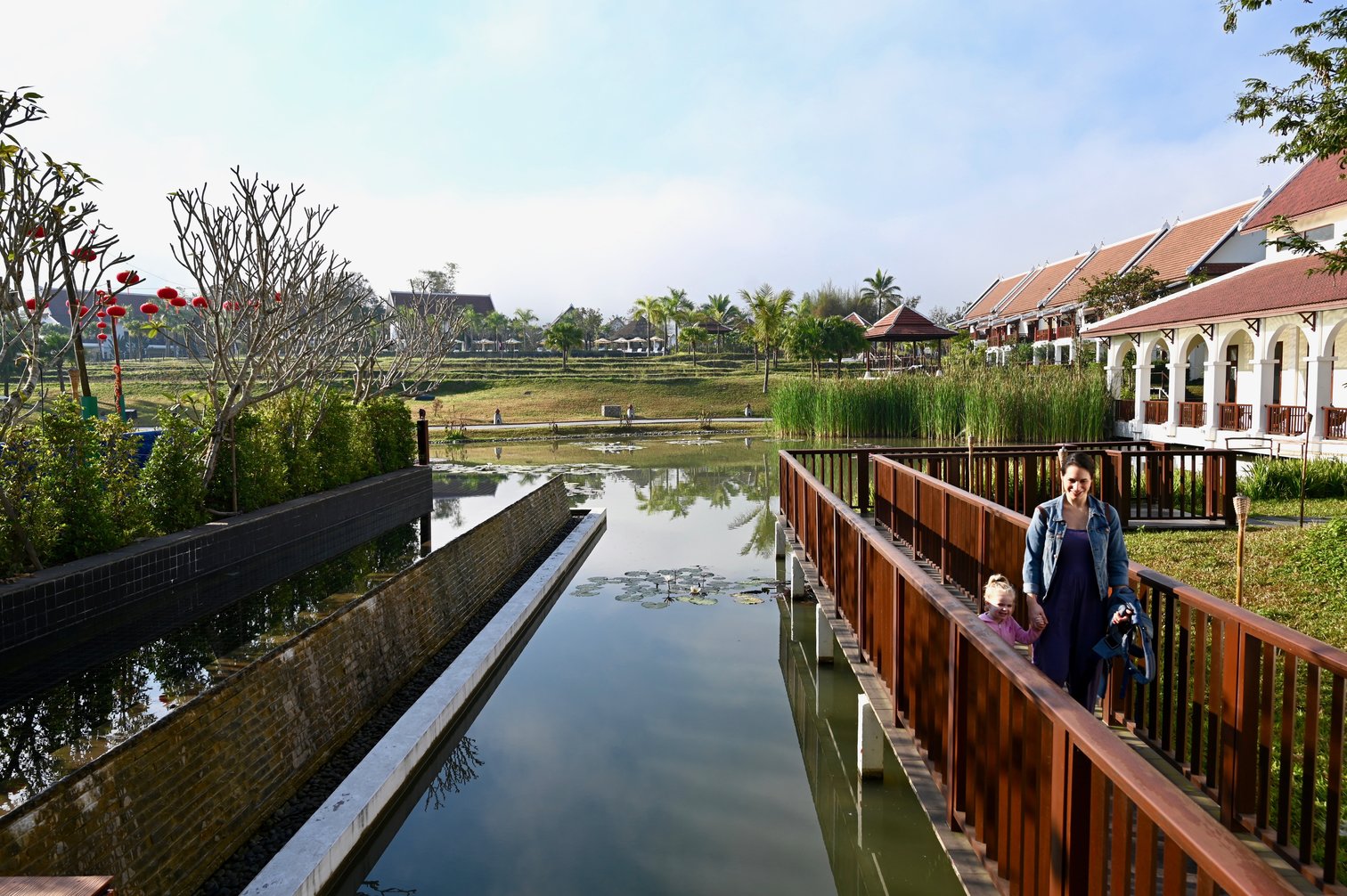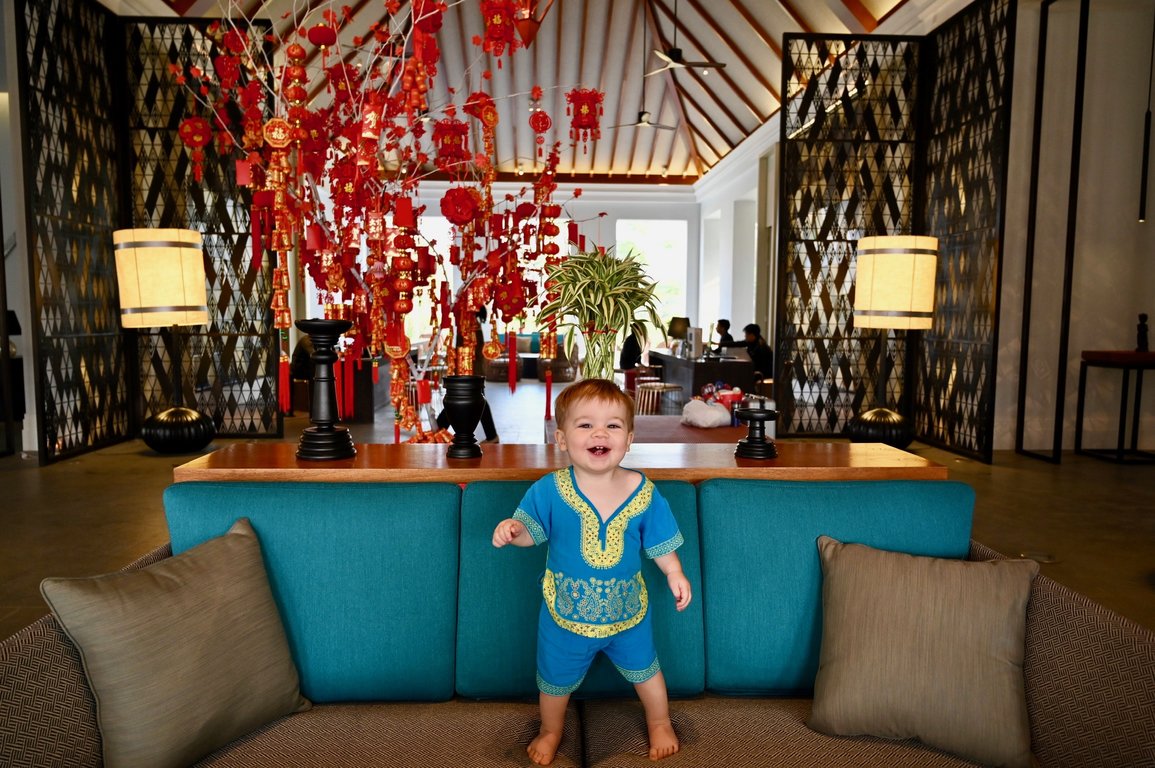 Having never been to Laos, I was eager to ensure that our first visit to the city of Luang Prabang went smoothly. Or as smoothly as a trip can go with a wild one-and-a-half-year-old and a sassy three–and–a–half–year-old #lowexpectations. Little did I know that a place called Pullman Luang Prabang was ready to make our family's trip possible and take it above and beyond what I had expected. I was lucky enough to partner with them and report our findings, so here's everything you need to know to fall in love with Laos when kids are on board.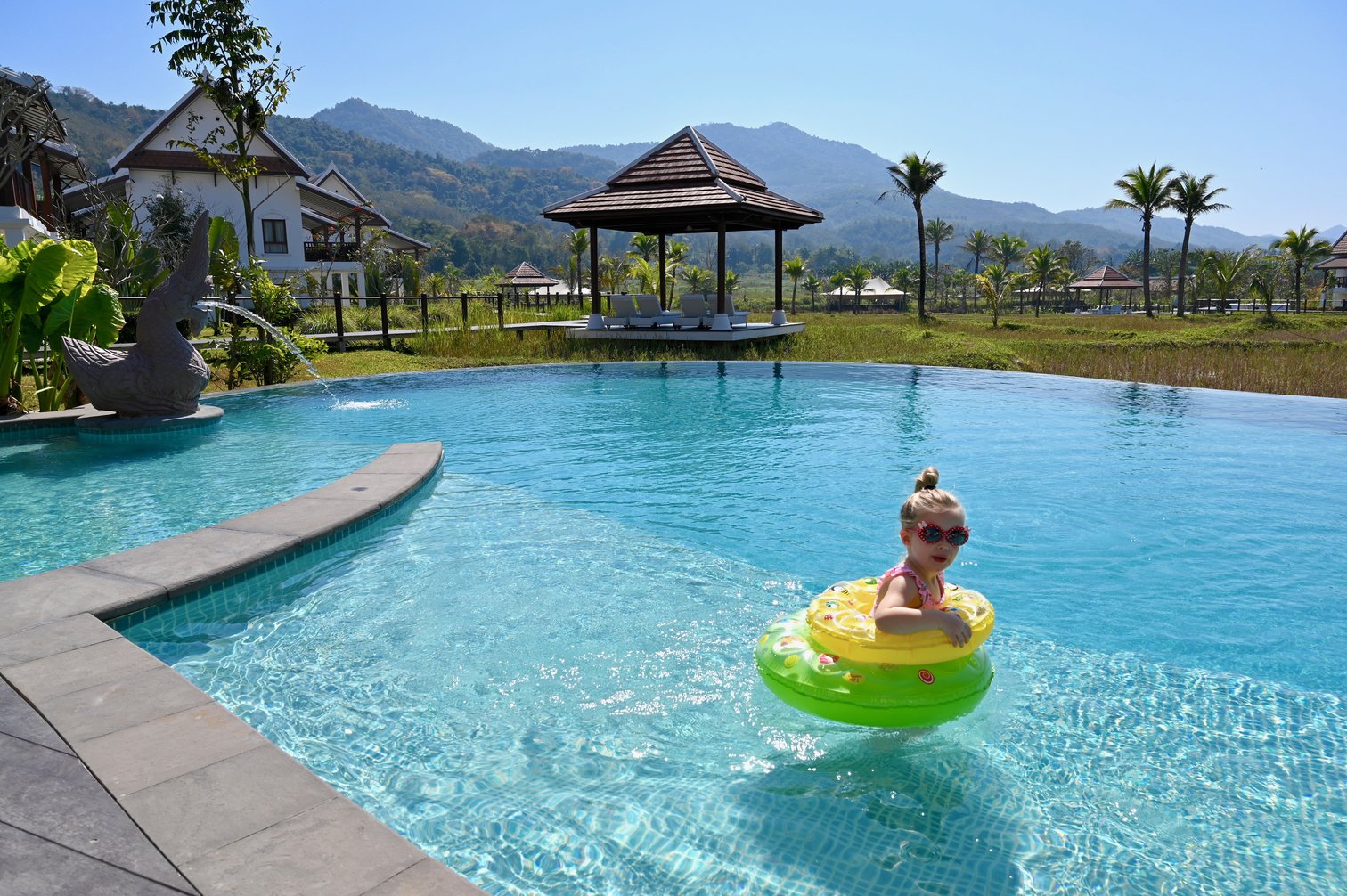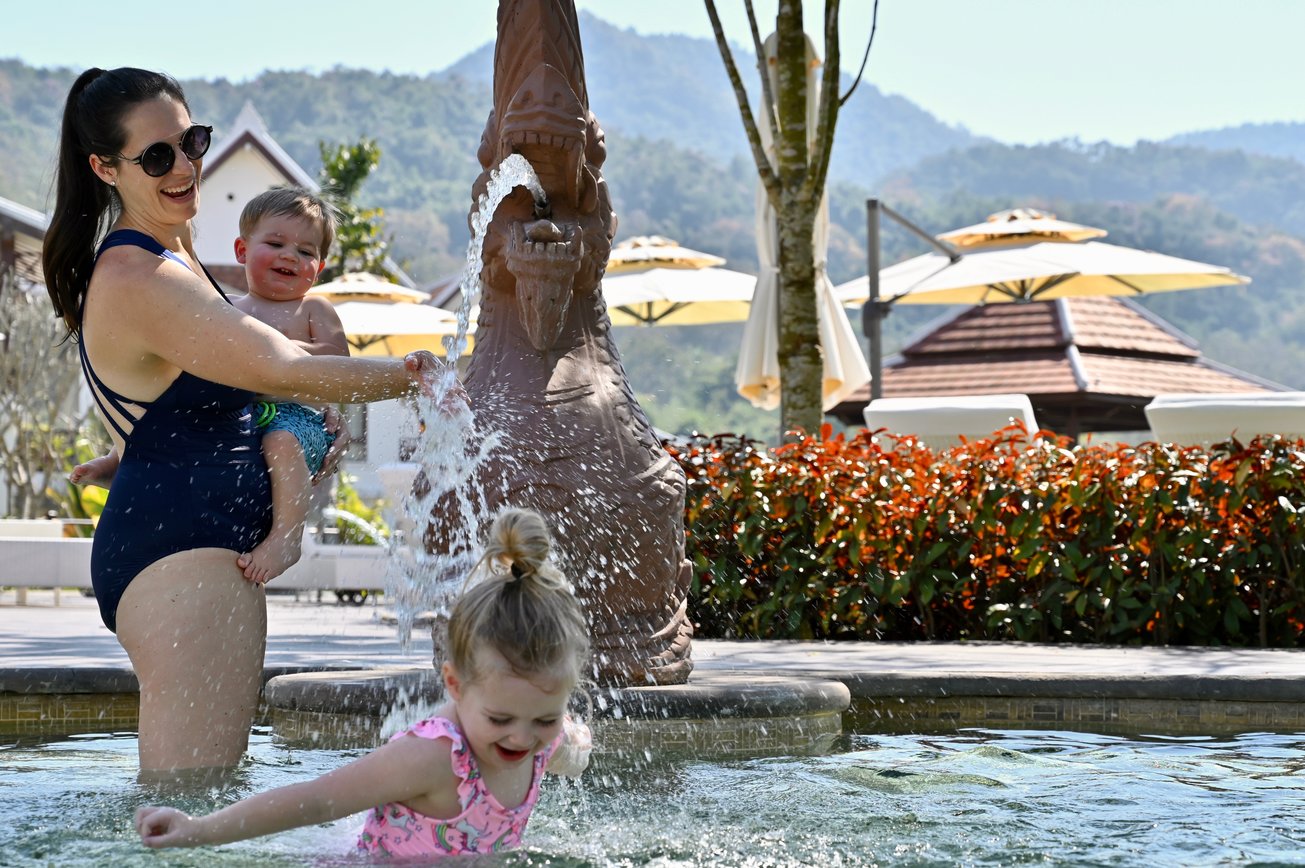 Laos has always been on our list of dream destinations, but it's taken us until 2019 to actually make it happen. Now that I'm here I wish we hadn't waited so long. Laos, being one of the safest places in the world, as recognized by the World Peace Organization, let's you take a deep breath from the moment you step out of the plane on to the mountain surrounded runway. A quick visa on arrival system costing $35 per person for U.S. citizens makes entering the country a snap, and then you're ready to rumble. Straight into the air-conditioned hotel van, we went to the newest family–friendly resort in Laos.  
The brand new 5-star family hotel, Pullman Luang Prabang, manages to strike a unique balance of being modern yet traditional, serene yet exciting, grown up yet kid-friendly, all while remaining steeped in the local culture. Basically, it looks too nice to bring your kids into while being overly welcoming to them, as if they don't know what these monsters are capable of.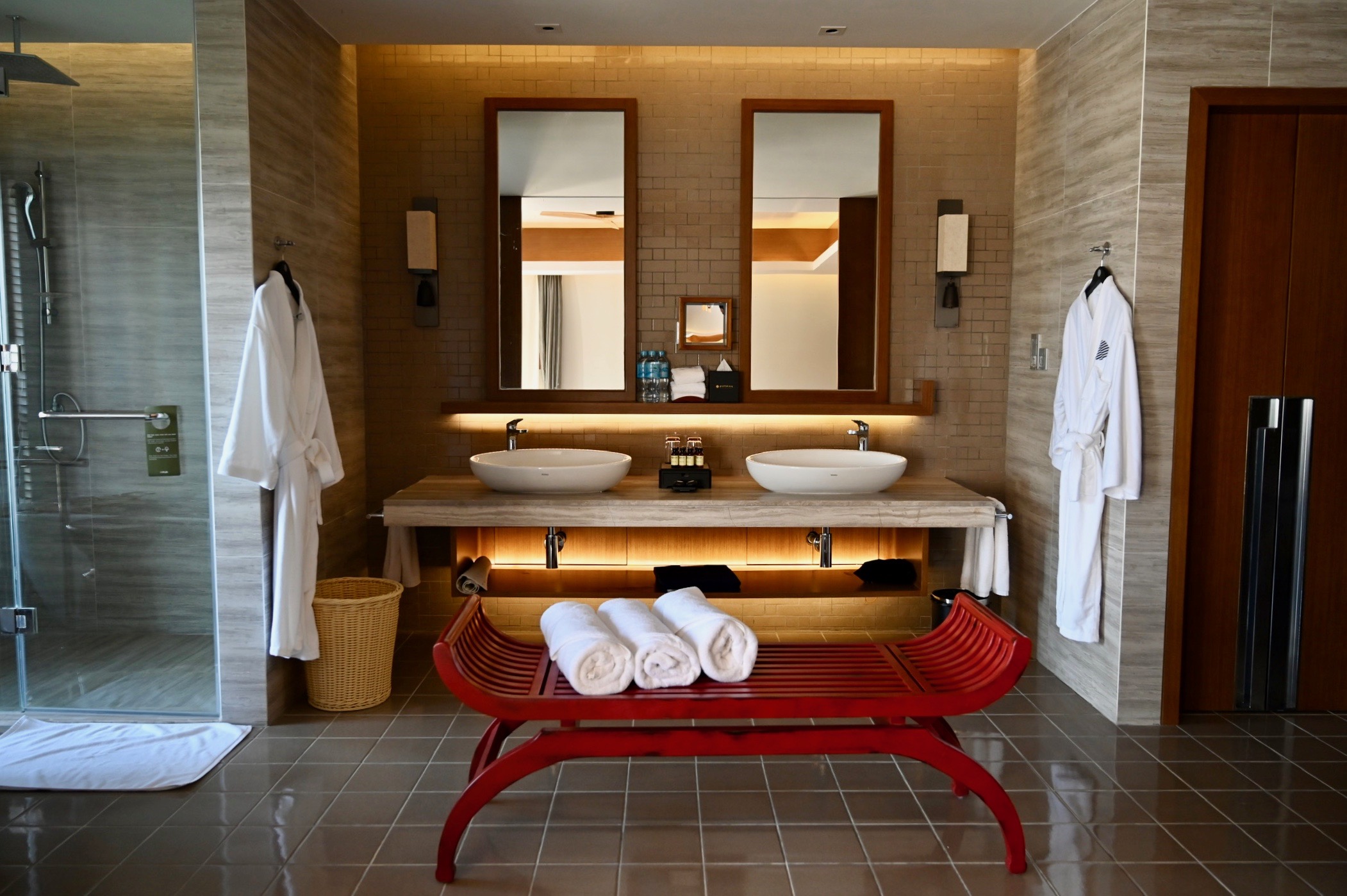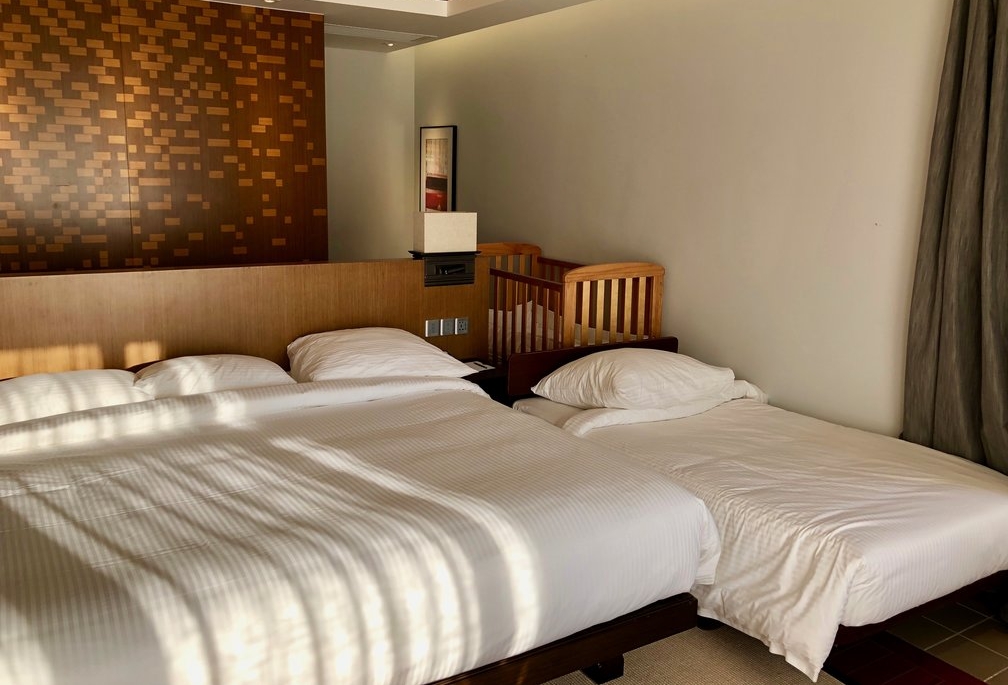 Here's the deal with the property: opened in 2018 over a whopping 16 hectares, Pullman Luang Prabang is not a dainty small resort, yet also not a commercial monstrosity (another balance they've masterfully stricken). They've spread out the 123 rooms, suites, and 2 bedroom villas so you barely feel the other guests around and often feel like it's your own private property. For reference, we stayed in February 2019 when the resort was at 60% capacity, and I think we saw 6 other guests during our entire stay. From an adult height, you'll see a well-equipped gym, adults only pool, beautiful spa with tranquil treatment rooms, chic restaurant, serene gazebos overlooking rice terraces and two trendy bars and patio.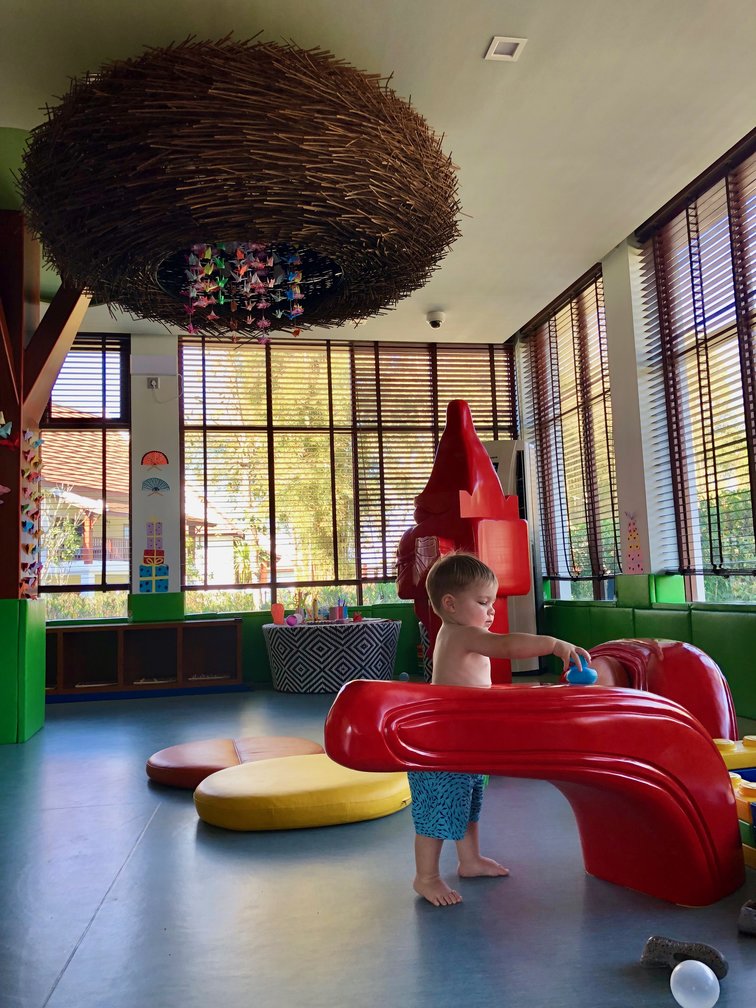 For the 3ft and under crowd that we brought with us, they zoned in immediately on the little kid pool that was short enough for even our vertically challenged toddler to splash in, a kids pool with water slide, pool floaties and a kids club that's packed to the gills with toys, dress up clothes, arts & crafts and a program of daily activities that'll have even the most hyperactive child monk level focused for hours on end. The kids club is free for 4-12-year–olds to be there without parental supervision. You can leave the 0-4 crowd there as well, and a small babysitting charge includes a dedicated staff member caring for them while you run away as fast as you possibly can. Other family–friendly amenities include nice wooden cribs instead of old musty travel cots, large extra beds for the free–to–roam aged kids, high chairs in the restaurants, babysitting and laundry services and rooms big enough to hold our family of four without feeling like we were climbing over one another just to brush our teeth.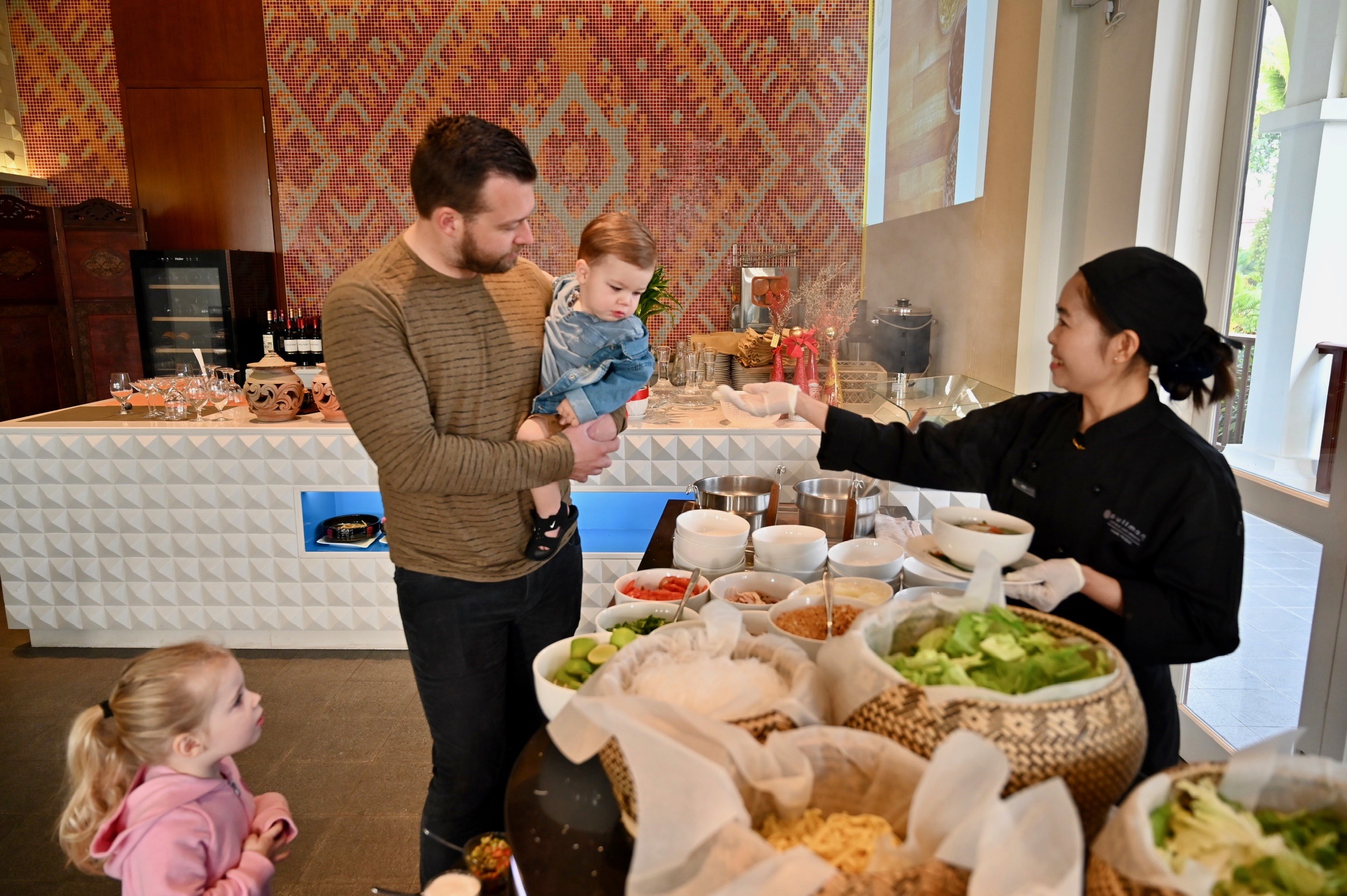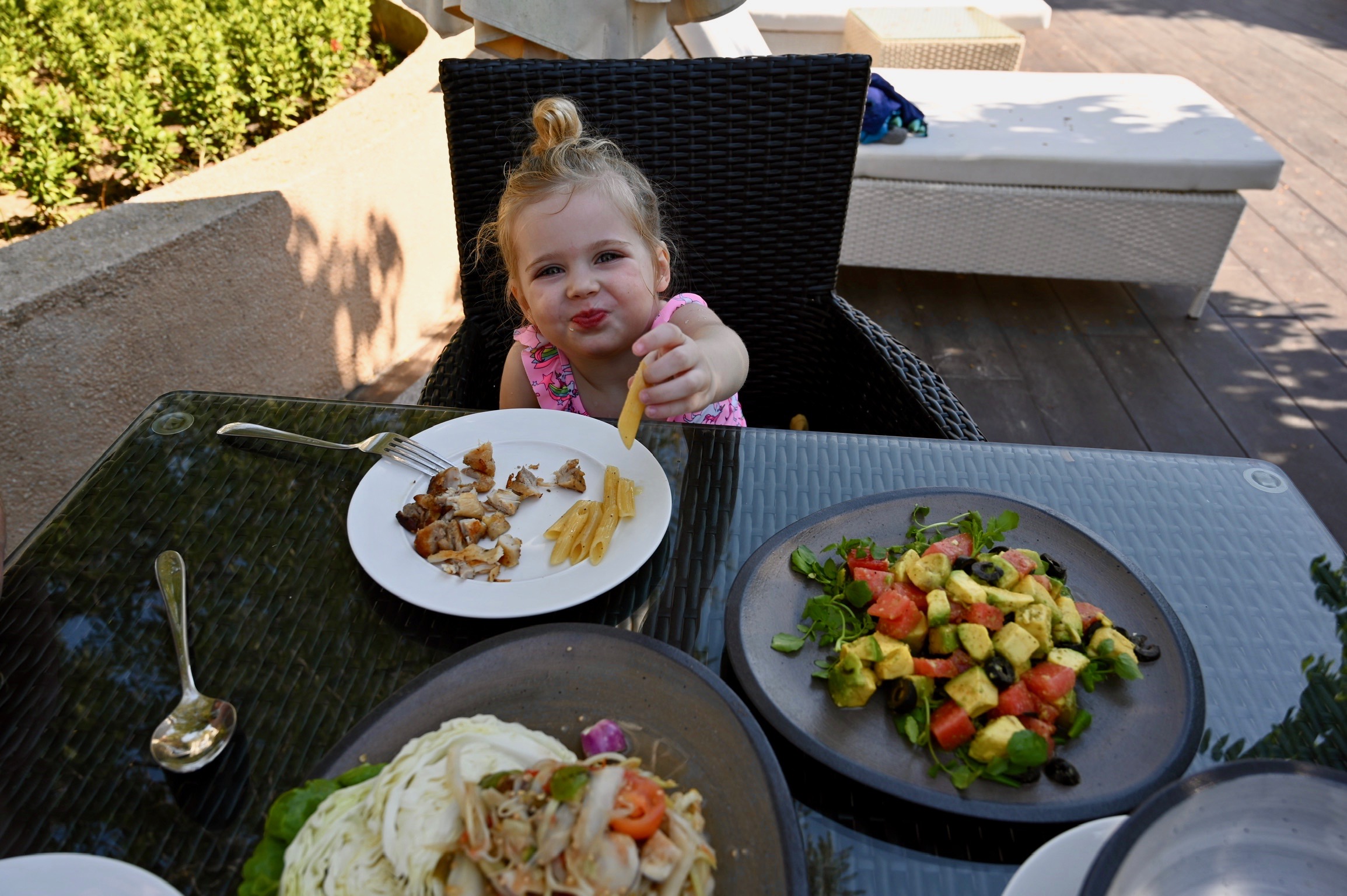 One thing I really appreciated about Pullman Luang Prabang was the price of the food and drink on property. Because nothing is worse than paying sky high prices for a kid's bowl of pasta just because you're within arm's reach of your bed.  As a family of 4 who can eat our weight in just about any type of cuisine, our midday meal on property broke down to lunch with appetizers, mains, waters, and beers settling around $30 and dinners, whether buffet or a la carte, topping out below $50. What's better, KIDS EAT FREE (my three favorite family travel words) is fully applied here! Sure, it's more than if you ate at a local restaurant or the night market, but let's be real, with two toddlers having a reasonable hotel option is necessary. All of their a la carte meals were delicious and their breakfast buffet had everything someone from the East, West or Upside Down would want.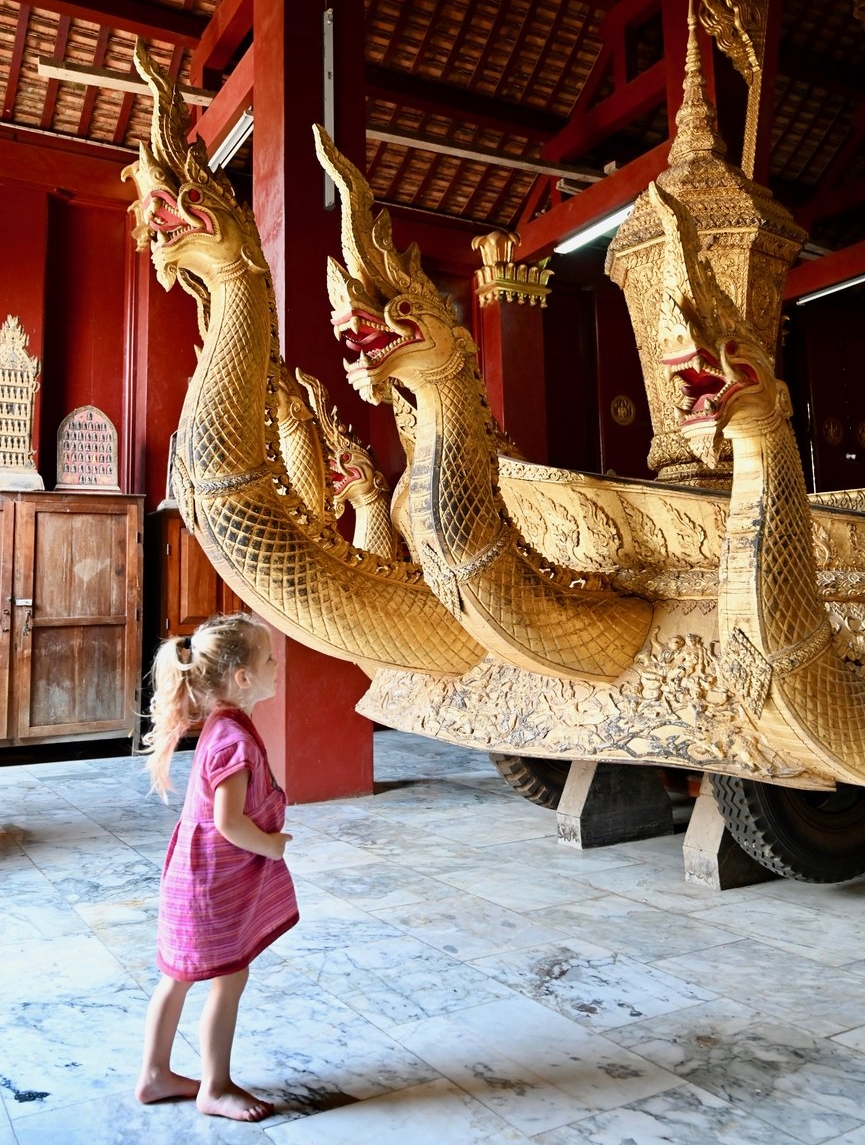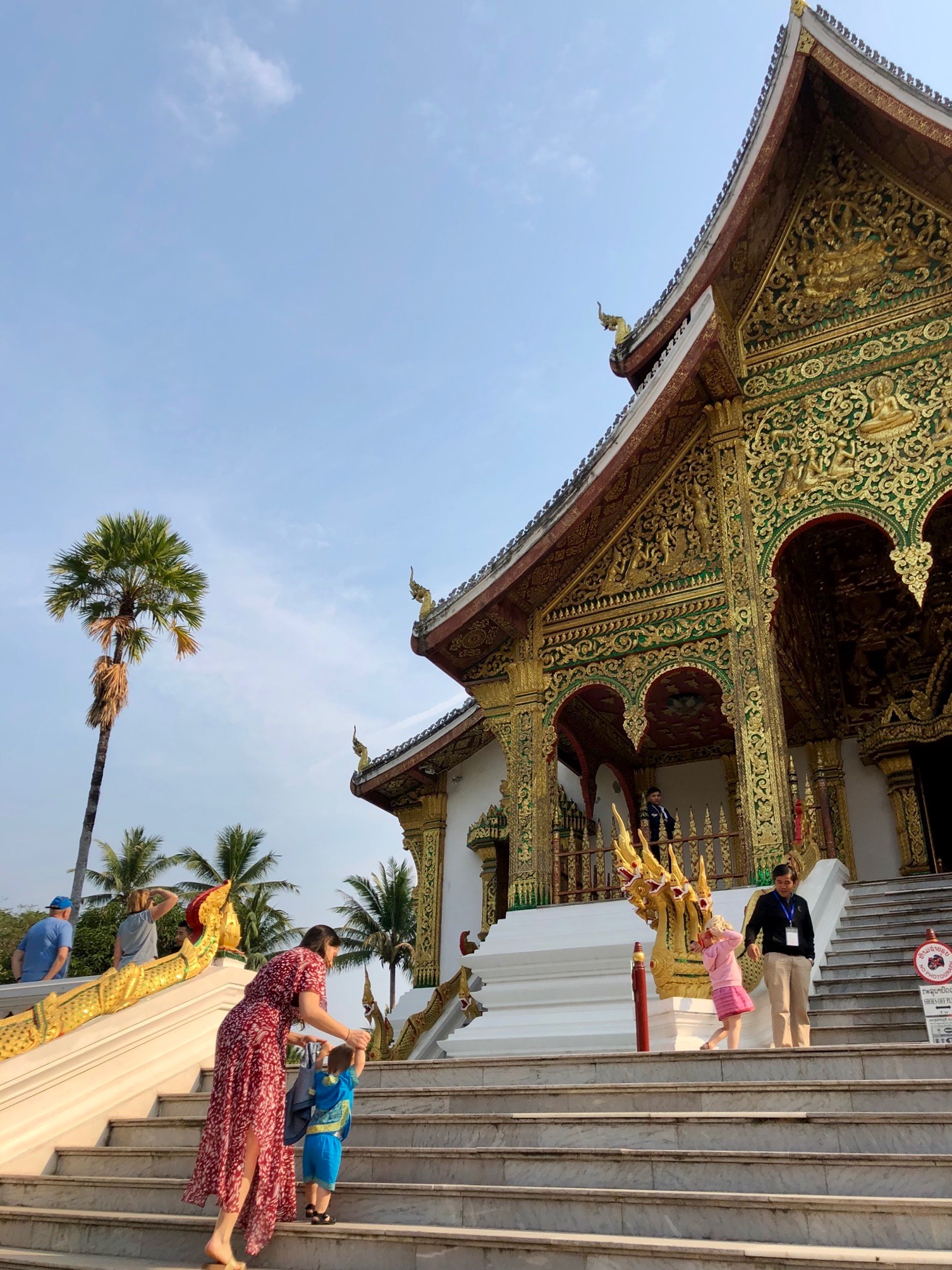 You could easily while away all day at Pullman Luang Prabang, which is tempting considering how much there is to do for the whole family. But Luang Prabang has so much to offer it'll surely lure you out. Finding a legit tour company to take you around to the best sites is another nerve-racking aspect of trip planning. Luckily, Pullman Luang Prabang set us up with Trails of Indochina, who was nice enough to host us for 3 tours over 2 days. Not only did they take us up the Mekong river by traditional boat and show us the Buddhist temples within ancient caves, they also led us to the dreamy Kuang Si Falls where we took a refreshing (read: cold) dip and even got to see some rescued moon bears play around in the bear sanctuary.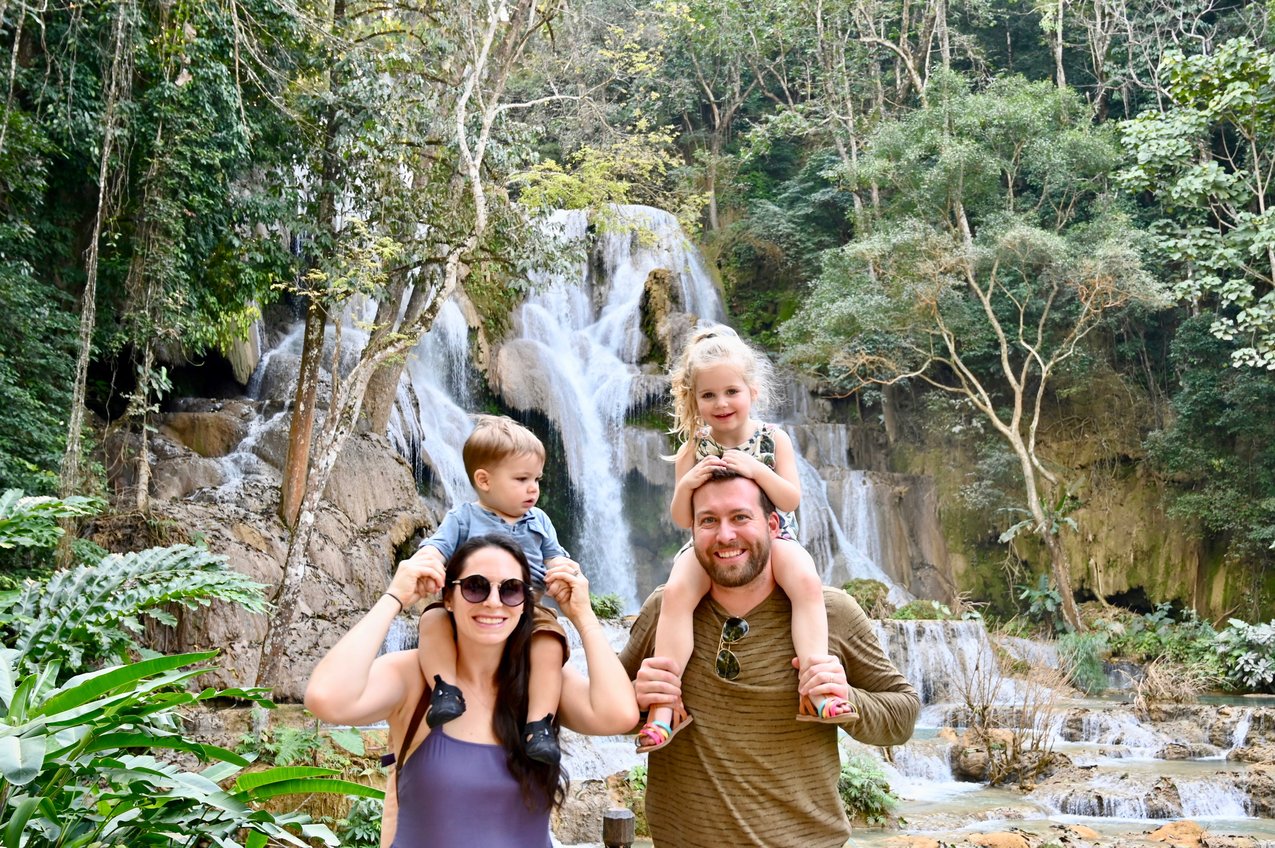 We spent our second-day exploring local temples around the city, the King's Palace, an artist community producing gorgeous handmade textiles and walking 300 steps up to the Stupa. Our guides Johnny and Cammy carried our kids across streets and bridges, and never even blinked during multiple meltdowns. They told us everything we wanted to know while realizing only one of us would be listening at any given time, while the other wrangled the kids. Their itinerary completely enhanced our stay and you can easily see why a high-end brand like Pullman partners with a top tour company like Trails of Indochina to give their guests an unforgettable experience.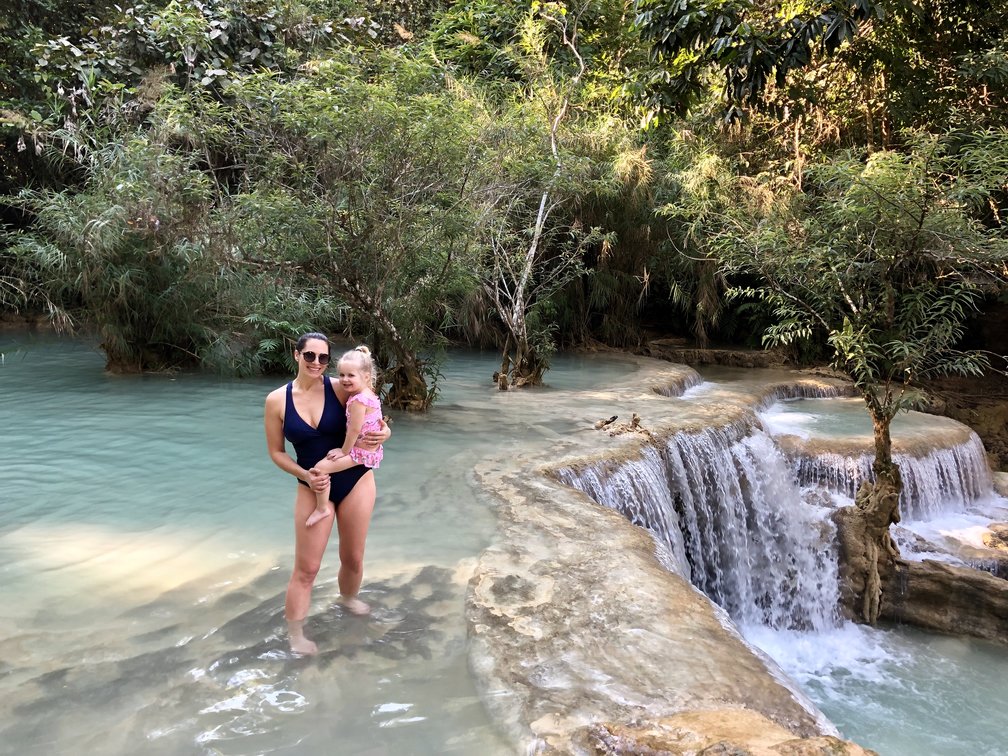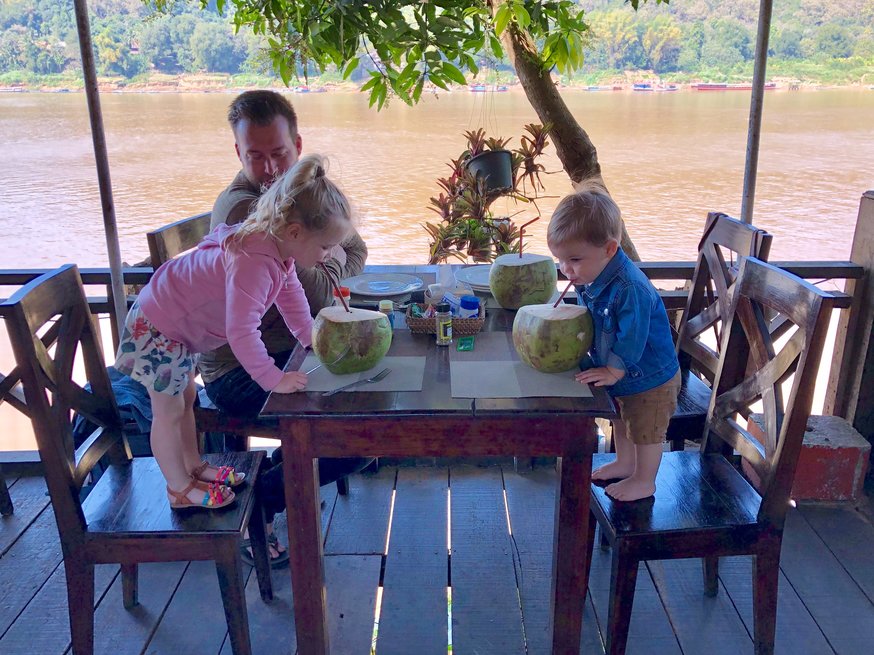 A hotel shuttle to the night market and a morning drive to the monk offering at 6 am along the Main Street were two more convenient parts of the Pullman Luang Prabang experience that made our stay so unique and doable. The fact that our time at Pullman Luang Prabang was really quite special wasn't a fluke. The resort has clearly put a lot of thought into the details that help families of all ages and sizes feel comfortable making the trek to Laos.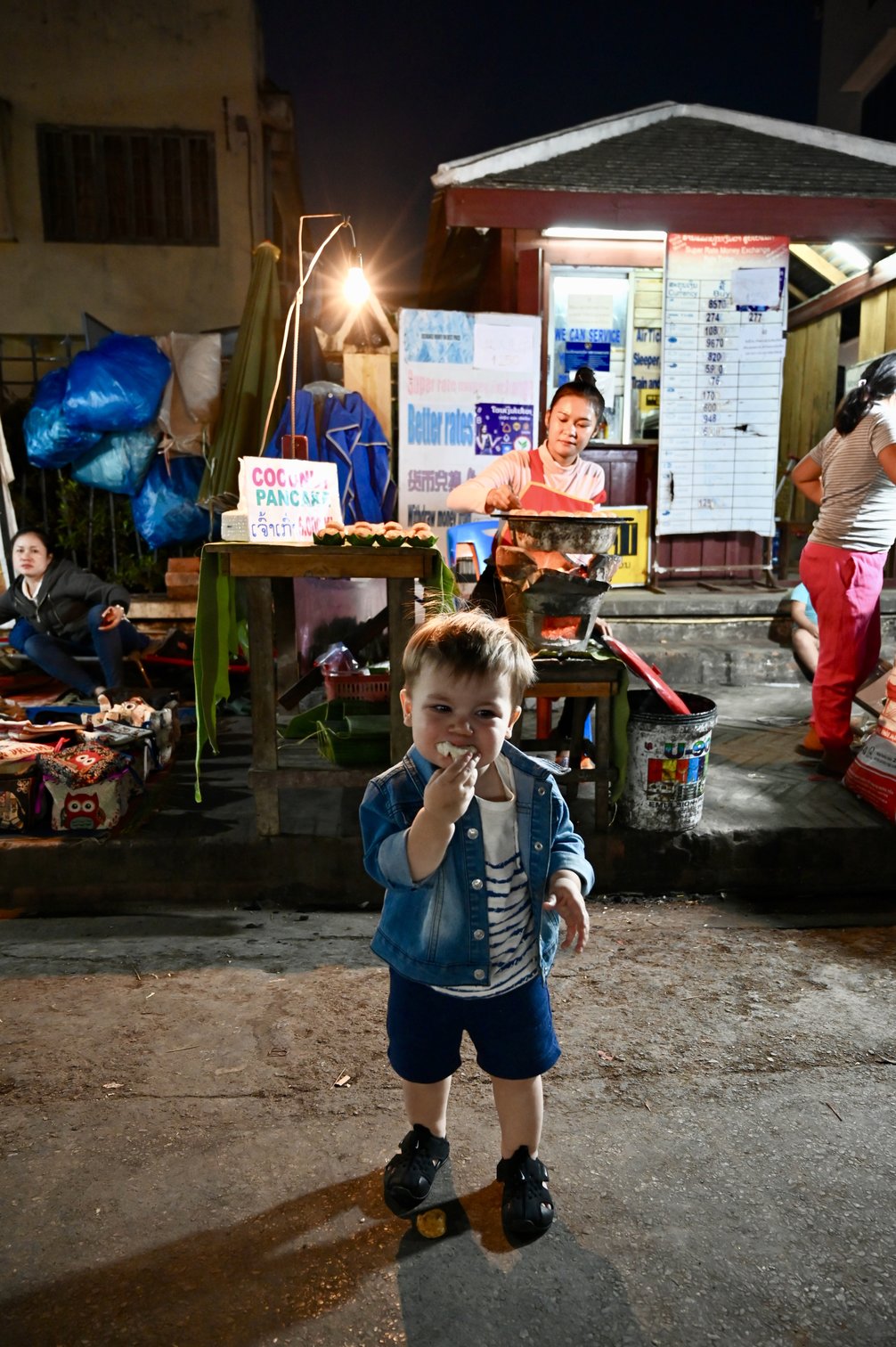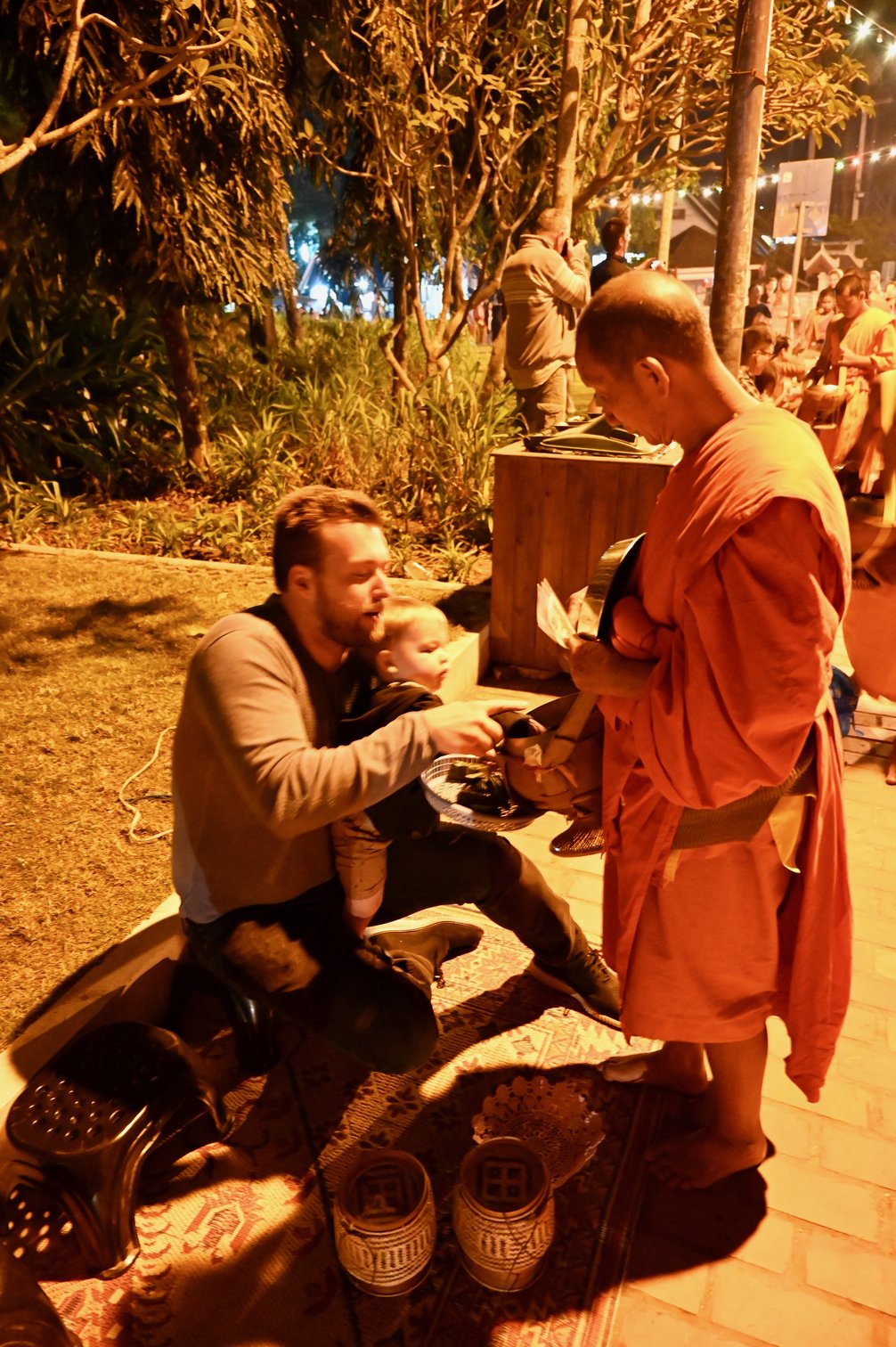 Pullman Luang Prabang has done such an amazing job that there was very little to critique, but in the interest of full transparency, I'll give three observations that I'd rank "good" versus their normal "great". First, the a la carte menu, whether it be for lunch or dinner, had tons of options, each better than the next, whereas the buffet was a bit more standard and limited. There's also only one restaurant until they build up their private dining pagodas, which will be beautiful and romantic, and perfectly set for my troublemakers to destroy one day.  So basically, their a la carte options spoiled us so much that their dinner buffet, which was good, was a hard comparison. Secondly, their bathrooms had a light that stayed on all night, which I assume is to ensure people don't injure themselves going to the toilet. But for us it just meant that we couldn't stash the baby in there to sleep.  Lastly, it would be that the resort staff, while incredibly nice and always looking to help, sometimes didn't speak English. In their defense, there was always someone nearby to easily help with any moments that were getting lost in translation. More than anything, this just highlights how less developed the tourism industry here is compared to its neighbors in Thailand and Vietnam. But then again, that's part of the Laos charm that you come here for. Fewer people, less commercialism, more local and authentic. I'll take a game of translation charades over feeling like I'm in a Disneyworld version of Asia any day, which is easily a trap you can fall into when booking family–friendly accommodations in more well-known cities and destinations in South East Asia.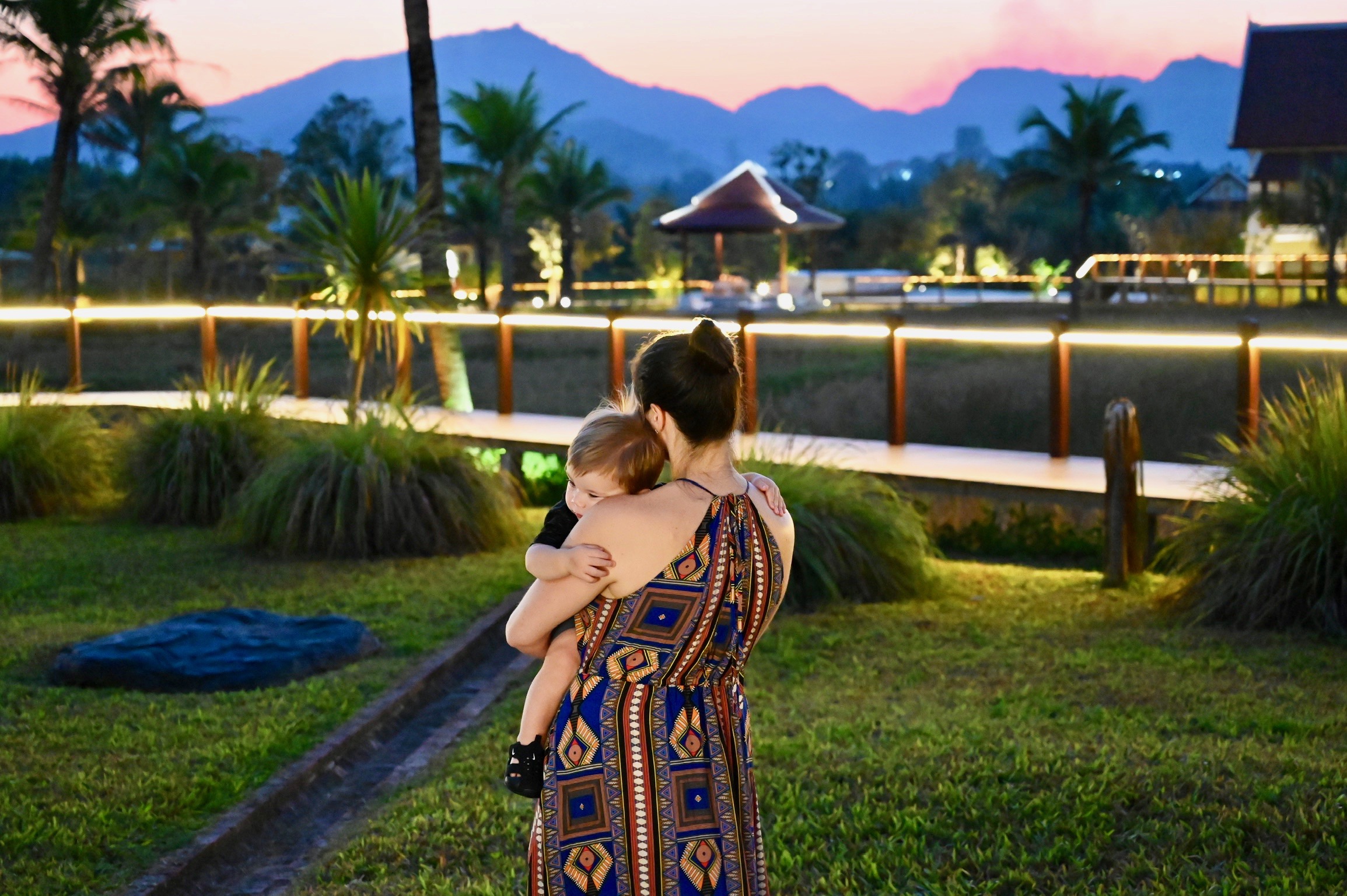 With direct flights to Luang Prabang from all over the world, Laos should be on everyone's bucket list destinations, and not just the experienced travelers who've already seen the bigger hits of its neighboring countries. Laos deserves a spot amongst the best this part of the world has to offer, and I can't imagine a better place to stay with your family than Pullman Luang Prabang or a better tour company than Trails of Indochina. Thanks for hosting us Pullman Luang Prabang, you made our family trip to Laos one we could have only dreamed of. And because I just couldn't stop taking pictures of this place, below you'll find even more photos of our time at Pullman and in Luang Prabang. Because there's no such thing as too much of a good Laos thing! For more great hotels make sure to check out our other reviews on our hotel page.